Ford's Escape has definitely passed the test of time, outlasting its Mazda Tribute sibling and surviving through four generations and numerous different iterations. The model has evolved with the crossover industry consistently giving buyers what they want, which has led Ford to consistent sales success. 2020 marks a full rejuvenation for the right-sized Escape, also welcoming new powertrains including the return of the Escape Hybrid as well as a first-ever plug-in hybrid. Back in 2019 we traveled to the Bourbon Trail with Ford to preview the new Escape (reviewed here), but were eager to get behind a model that should prove popular with buyers.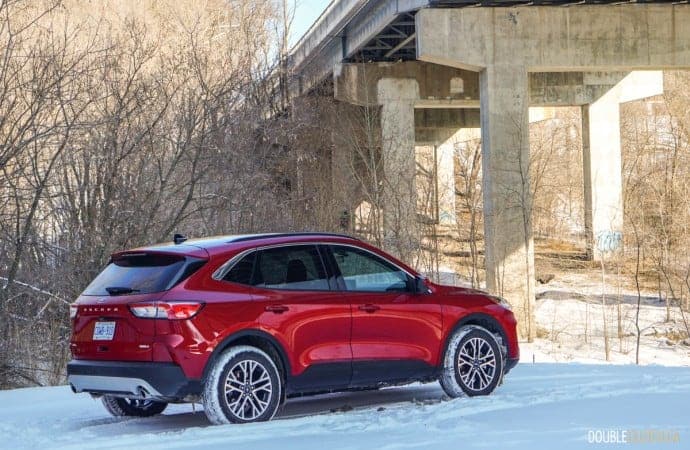 This is the 2020 Ford Escape SEL AWD with the 1.5-liter EcoBoost powertrain, the entry level engine for the car. Its modest cylinder count of three suggests that it's bare-bones, though power numbers are on par with other models in the segment. The turbocharged-three's honest 180 horsepower and 177 lb-ft. of torque aren't that far off from the likes of the Subaru Forester and Honda CR-V. The Escape hustles along with minimal eagerness, but unless you're coming out of something significantly more powerful, feels more than adequate on the road. The three-cylinder is definitely on the buzzy side, fairly lazy, and in the case of our tester, heavier thanks to the added weight of an all-wheel-drive system.


A new cylinder deactivation system is in place here, which can shut off one of the three cylinders at consistent speeds. It's not as refined as GM or Chrysler's cylinder deactivation systems, though in fairness, those are only available on much higher displacement engines. This little three is tasked with a considerable amount of work. Those really craving more power can opt for the 2.0-liter turbocharged four, which ups power and torque numbers to 250 and 280, respectively. Also worth mentioning is that the 1.5L is down on towing capacity to 2,000-pounds, rather than the 3,500 on 2.0L models.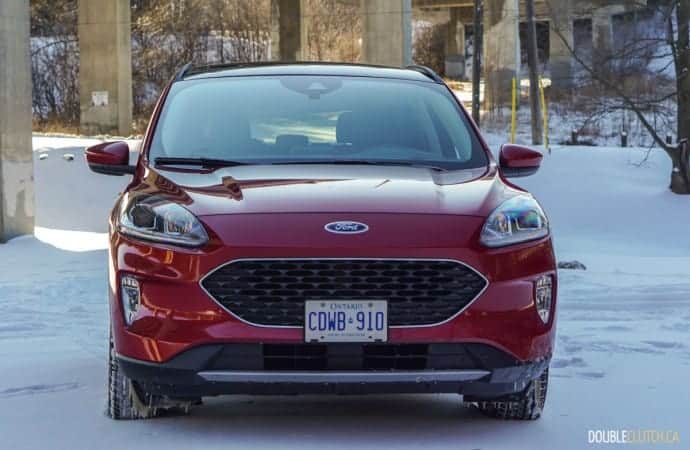 Prodding the Escape along on its way is a new eight-speed automatic gearbox, one that's tuned for comfort rather than performance. It works to the SUV's advantage, because out on the open road, the Escape SEL is an exceptionally smooth operator that hums along quietly and without any drama. And you know what? While that sounds bland and uninspiring, it's surprisingly relaxing to drive and exactly what the average Canadian buyer needs. The Escape has enough capability to get out of its own way, return decent fuel efficiency numbers, and just be a great companion for whatever your commute might throw at you.
Speaking of fuel consumption, Ford rates this example with the three-cylinder and all-wheel-drive (front-drive is standard on this trim) at 8.9L/100km city and 7.6L/100km highway, for a combined rating of 8.3L/100km. Our test took place in the heart of winter, with a heavy mix of city driving, and came back at a very reasonable 8.6L/100km. As expected for everything in this segment save for the ridiculous requirement of the Mitsubishi Outlander (reviewed here), the Escape gets by just fine on regular grade gasoline.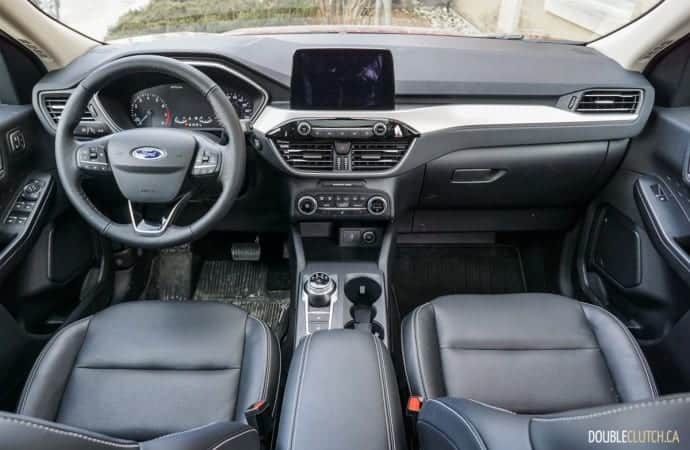 The Escape's cabin is also completely redesigned, and offers a great amount of convenience. Drivers will find the seats reasonably comfortable though they could benefit from some more lower back support, and rear accommodations are perfectly suitable for full-sized adults as well. Unlike the Nissan Rogue (reviewed here), the Escape sticks to tradition with only two rows of seating, though the second row bench can slide forward and backward to provide some extra room if so desired. The seats also fold flat and make for a cargo area that makes for easy cargo loading and can swallow up all of the necessities young families like mine have. Plus, it'll swallow a hockey bag or two once the kids get older, as well.
Ford has done a swell job ensuring that all major controls are well-designed and clearly marked. The gear selector is now a rotary knob, which is just fine, as it takes up minimal space and contributes to the overall airiness of the cabin. A cubby up ahead of it is large enough to hold your smartphone and has a USB-C port for connectivity. The climate controls are blatantly obvious, easy to establish muscle memory and access without thinking, and the infotainment system has two physical knobs for volume and tuning. The latest version of SYNC 3 is quick to respond and supports Apple CarPlay and Android Auto.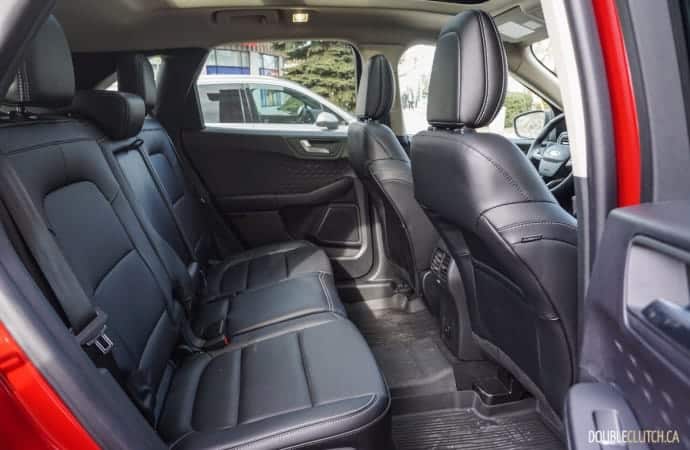 Ford Canada prices the 2020 Escape at $28,549 for a base S in front-drive trim, and stepping up to all-wheel-drive will cost an extra $1,500. The SEL starts at $35,049 with all-wheel-drive. Our test vehicle was optioned with $3,450 of toys including a panoramic sunroof, premium paint, Co-Pilot360 with voice activated navigation and adaptive cruise, and winter floor rubber. The total as-tested sticker came to $38,499.
The new model's styling doesn't hurt, either. When the third-generation Escape arrived for the 2013 model year, it was complimented on its new-age design and design language that was unconventional for the nameplate. It did away with the blocky truck-like looks of the previous two generations and went for a sleek look that worked well. This latest one pretty closely resembles the new Aston Martin DBX as well as, from some angles, the Porsche Macan (reviewed here). Save for the Mazda CX-5, all of the Escape's direct competition is sticking with designs that are traditional and "normal", which works to Ford's advantage.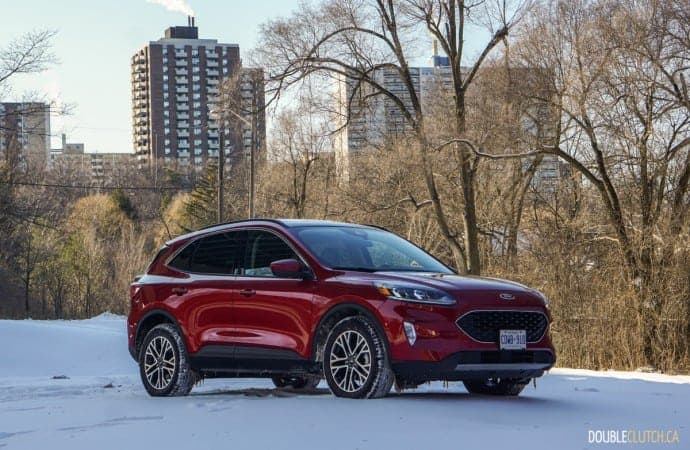 With every major automaker playing in the compact crossover class, some pretty top-notch entries have come to market in the past year or so. The new Subaru Forester and Toyota RAV4 are pretty much class leaders, and the latter like the Escape also offers a hybrid variant. Those wanting sportiness will want to look at Mazda's CX-5 (reviewed here), though the leaders in the "smooth" category remain the Honda CR-V and the Escape. It really boils down to preference, brand loyalty, and in some cases, available incentives contributing to the overall price.
The 2020 Ford Escape SEL AWD is better than it has ever been before, but really does go to the next level with better refinement and ride quality than it previously offered. While this three-cylinder model isn't as quiet in operation as its four-cylinder sibling, it still offers most of the other attributes. It's easy to see why the Escape is as popular as it is. Whether it's within Ford's ever-expanding crossover line or when compared to major competing players, the handsome Escape is just plain good.

See Also:
2020 Ford Escape Titanium
2019 Subaru Forester Sport
2019 Volkswagen Tiguan Highline