It's the dead of winter and there's no shortage of snow here in Ontario, perfect full-sized SUV season! Infiniti has made some updates to the 2022 Infiniti QX80 ProACTIVE, and we had one to test during a very cold week. The second generation QX80 has gone through two complete facelifts and multiple rounds of updating to keep it relevant. We were very curious to see how the aging QX80 would compare to some of the younger guns in the field.
One thing is for sure though, time has not worn on the Infiniti's visual impac. The fact that they are not plentiful on the road contributes to its striking appearance, but the QX80's sheer size and dramatic styling definitely still catch plenty of admiring glances. Walking up to our top-of-the-line 2022 Infiniti QX80 ProACTIVE, the smooth curves finished in Heramosa Blue and sitting on gorgeous 22-inch alloys it's hard to imagine that we're looking at a basic design that's over ten years old.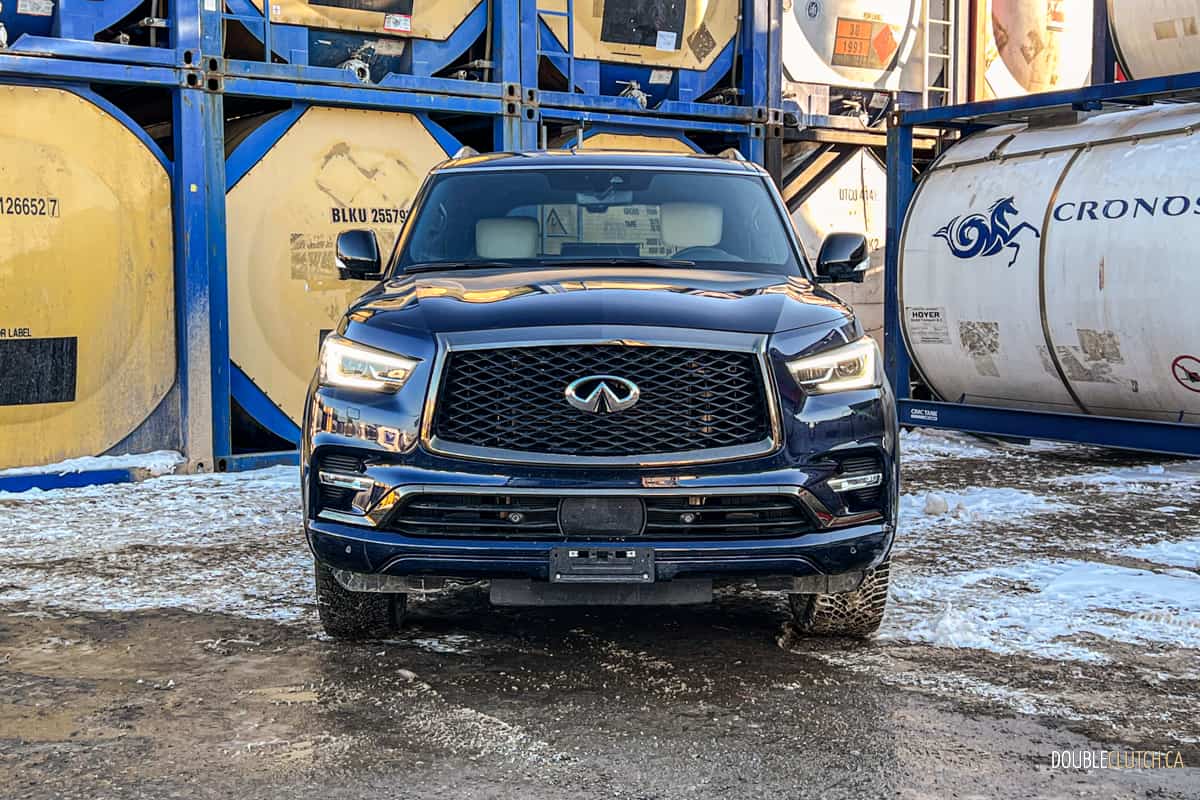 Big is an understatement here as every dimension of the QX80 seems oversized, but it carries its weight well and looks better proportioned than it's close sibling the Nissan Armada. Smooth lines, a dominant Infiniti grille flanked by powerful LED headlamps, and tasteful chrome touches throughout really do give the exterior an immediate upscale luxury feel.
The QX80's dimensions carry inside as well with a cabin that is best compared to a small living room. Head, leg and shoulder room is in abundance in all three rows, and the ProACTIVE trim comes equipped with big quilted buttery soft leather seats that are a work of art with contrasting stitching and piping that carries onto the centre console and door panels. The upscale leather really gives the space a rich feeling. In the second row are dual entertainment screens neatly built into the front headrests with wireless headphones and remote control.
For 2022 the QX80's infotainment system was redesigned, an update that was long overdue. The new center stack is a lot cleaner looking and now includes a built-in wireless charging station hidden behind a retracting door. The new infotainment screen looks much slicker, and I am glad that Infiniti resisted the temptation to go overboard with its size; this screen looks very proportional to the rest of the dash. The screen menus themselves are a little busy and as a result take tom getting used too, but the resolution is great.
The biggest improvement is a rotary dial control now mounted on the center console which can be used to control all the screen's functions without reaching up to touch it. The downside is that to accommodate the dial along with the gear selector and large rotary control for the 4×4 system, the center console had to be reworked. It's lost a convenient storage bin and the cupholders have shrunk to no longer accommodate my oversized 'early morning drive' mug.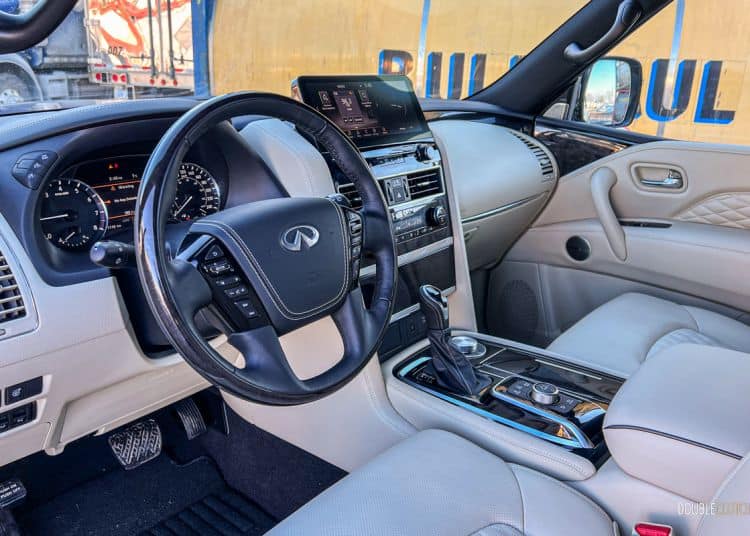 The QX80 is available as either an eight-seater with second and third row benches or a seven-seater with second row captains' chairs split by a well appointed console. The captain chairs in our tester are as well finished and as comfortable as the front seats, but the fixed center console is a annoying when it comes to cargo flexibility. The third row can be raised and lowered using power controls in the rear hatch, which will come in handy as cargo space is limited with the third row up.
The second row is manually folded and also flips forward with easy to provide easy ingress to the third row. Neither row folds perfectly flat, so cargo is inclined rearward, a common annoyance of mine after having spilt cargo a few times over the years.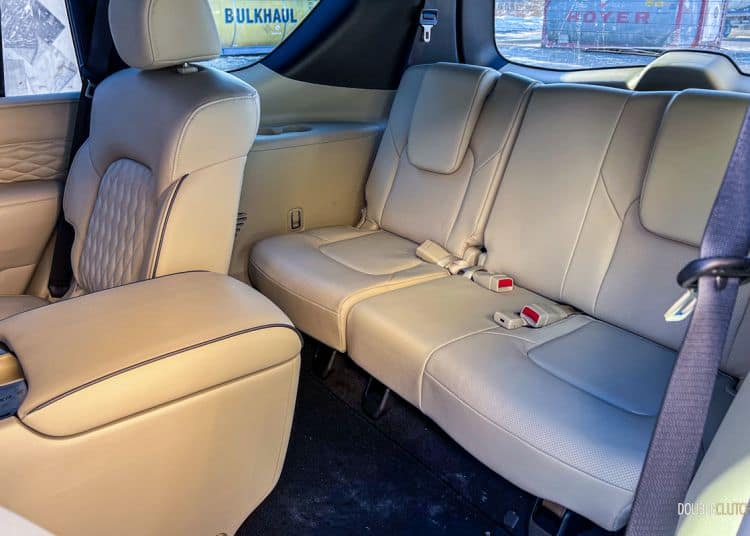 The QX80 is powered by Nissan's 5.6-liter direct injection V8 which delivers 400 horsepower and 413 lb-ft. of torque at 4,000rpm. Those are impressive numbers and puts the QX80 right up there with some of the most capable full-sized SUVs, including its 8,500-pound tow rating. It's mated to a seven-speed automatic, and like a proper SUV should, the QX80 rides on a fully boxed full length frame, meaning it doesn't just look tough, it is tough.
The V8 and seven speed combo are fairly smooth and quiet, but the seven-speed does occasionally struggle to find the right gear which can make for some jerky action. The naturally aspirated V8 pulls hard and smooth, with just a touch of V8 growl.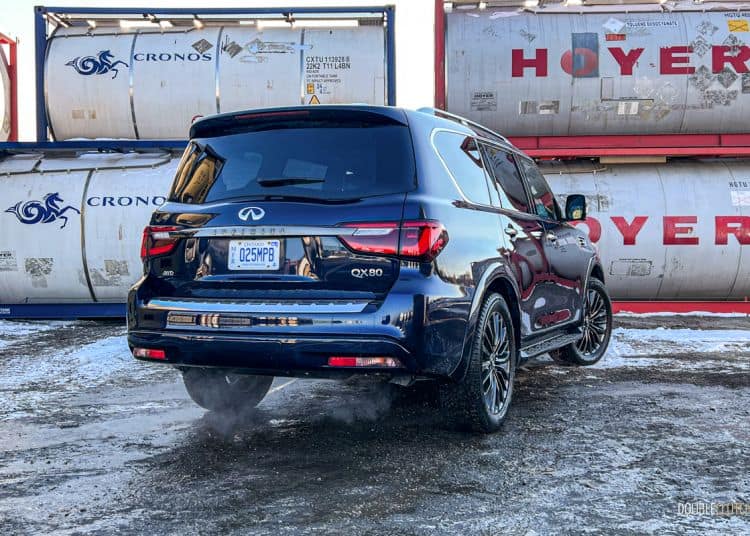 That sort of power, size and capability does not come without its costs and in the case of the QX80 you will pay dearly at the pumps. After a week of mixed driving, in cold wintery conditions the truck's average fuel economy sat at 17.6L/100km. That secures it the title as one of the thirstiest vehicles I've tested in the last few years, and one of the areas where the platform does show its age. Luckily, the QX80 is happy on regular fuel, but that's a small consolation.
What it costs in gas the big Infiniti gives back in overall ride quality and comfort. For a full-frame SUV, without fancy and costly air ride suspension like you'll find on many of its competitors, it has excellent ride quality. Copious amounts of sound deadening, and acoustic glass, also ensure that the QX80 is library silent inside too. The SUV's tall seating position, soft ride and light steering make it very pleasant to spend hours in.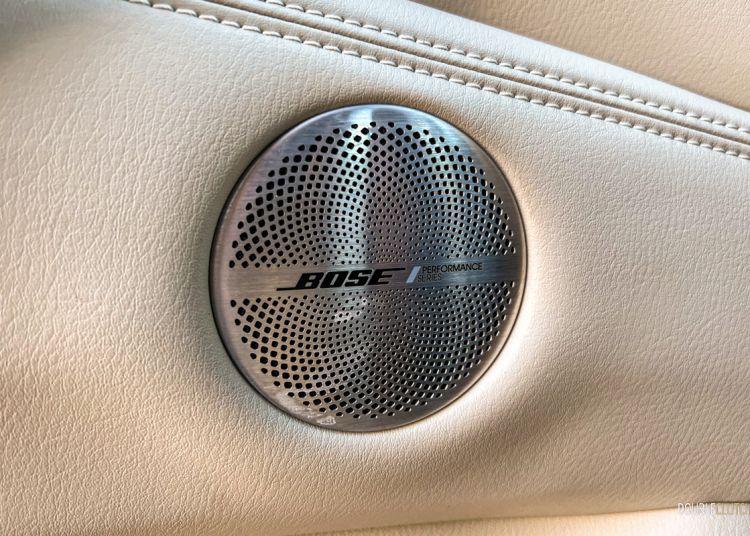 Despite its size, the QX80 is also fairly easy to maneuver around thanks to a tight turning radius and lots of help from the 360 view cameras and radar parking sensors. I do wish the steering had a little more confidence in its on-center feel, but this is a small sacrifice for the levels of comfort offered here.
The Infiniti QX80 now only comes in two trim levels, the entry Luxe trim which starts at $81,695 and the top-end ProACTIVE which starts at $89,695. As a luxury SUV, even the Luxe trim comes very well equipped, opting for the ProACTIVE just adds nice-to-have features such as the 22-inch dark finish wheels, dark chrome exterior accents, adaptive front lighting, intelligent cruise control, smart rear view mirror and a handful of other nice touches.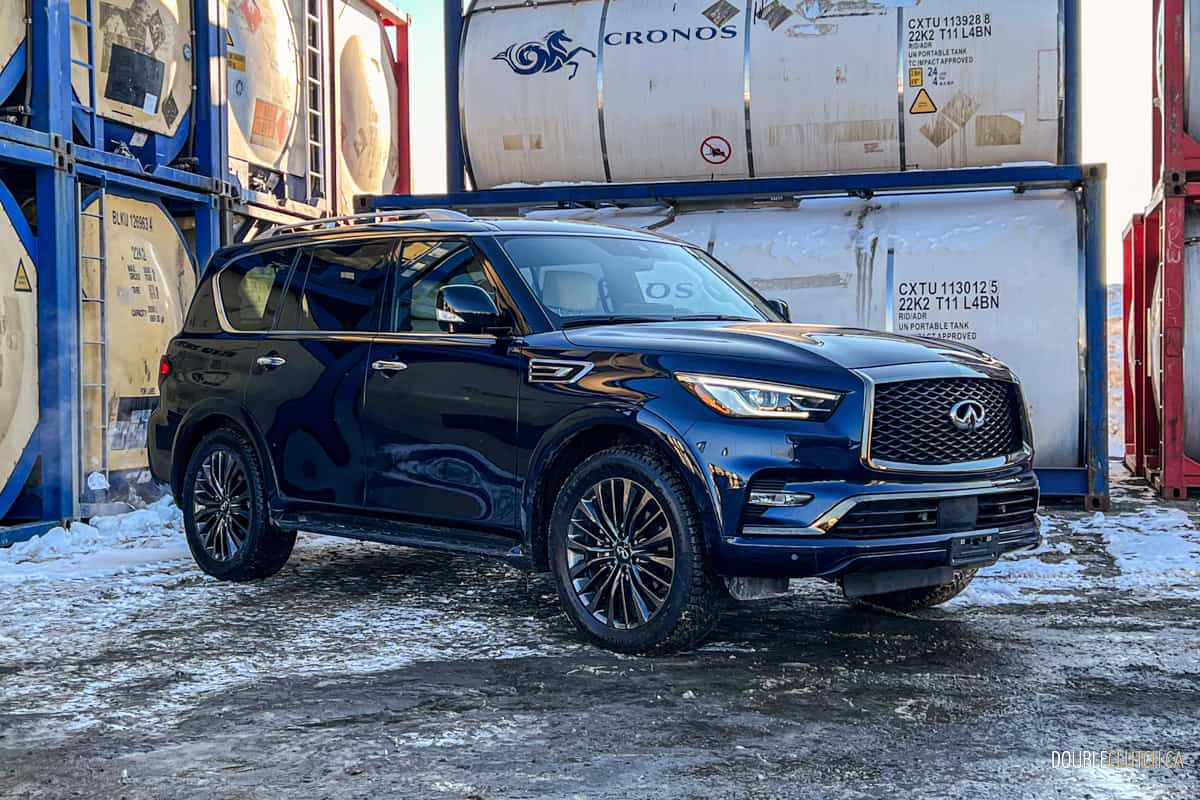 We enjoyed the QX80's comfort and capability, especially during this miserable weather. However, the fuel economy hits hard with gas prices at an all time high, especially with so many fresher competitors on the market that boast some of the latest fuel saving tech. The interior just isn't as well thought out as competitors and that's frustrating with an SUV that should embody versatility. That said, pricing is aggressive for a full-size, full frame luxury SUV, and it's certainly not lacking in features, materials, or passenger comfort.
See Also:
2021 Dodge Durango SRT Hellcat