The Nissan Armada has been a long-standing member in the full-size SUV segment offering rugged outdoor capabilities as well as impeccable towing capacity for families that love adventure. The second-generation Armada was released in 2017 and Nissan recently gave it mid-cycle refresh that gave it handsome looks and more updated technology to allow it to stay relevant. We have the opportunity to give it an early evaluation; this is the 2021 Nissan Armada Platinum.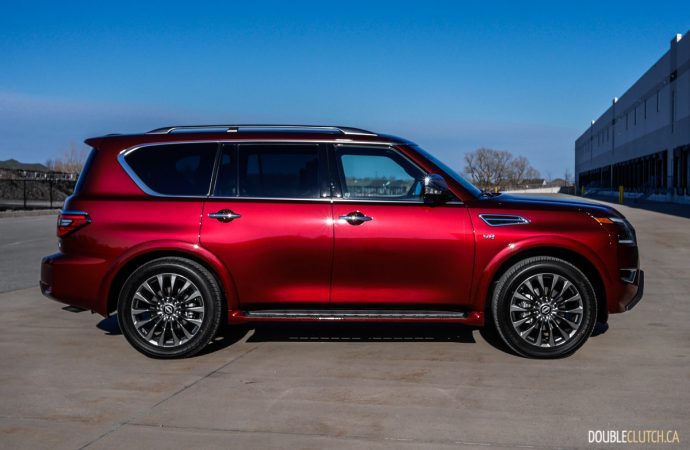 We noticed the updated and more modern styling as soon as the 2021 Nissan Armada Platinum arrived. It features a more squared design language that looks fresh and less bulbous than last year's model. Its styling is still unmistakable as an Armada as Nissan had retained most of the design beyond the A-pillars, and we love how commanding it looks on road, especially when paired with the standard 22-inch wheels. Those with a keen eye for detail will notice a new Nissan logo all around; the 2021 Armada is the first Nissan to carry the new logo which signifies a new era in the historic Japanese automaker.
The absolute best feature on the 2021 Nissan Armada is the creamy 5.6-litre Endurance V8 engine carried over from last year's model. Even with its rated 400-horsepower and 413 lb-ft. of torque, the Armada is far from what we can consider 'fast', and instead we get a smooth surge of power on demand. The seven-speed automatic transmission is also a good one. It seamlessly directs power to its rear wheels under normal driving conditions, and the Armada can split the power with the front wheels when traction is needed. Most of the time, the Armada operates at under 1,800 RPM, adding a level of refinement to the overall driving experience.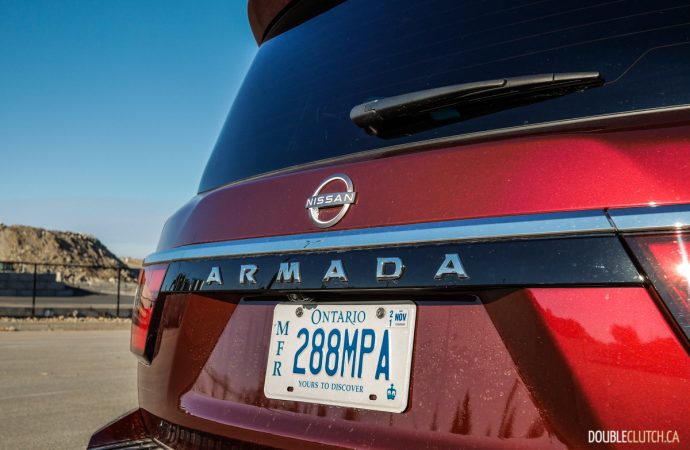 Steering on the Armada is light and easy with a hint of road feel despite those meaty 275/50R22 tires. The chassis is tuned for comfort and Nissan managed to keep the secondary body motion in check. No one expects an Armada to be a canyon carver but the handling is predictable with good brake feel. Towing capacity is rated at an impressive 8,500 pounds, and all-new for 2021 is the standard integrated Trailer Brake Controller with tow hitch receiver on both grades as well as a Trailer Sway Control system that automatically applies the brakes and slow down the vehicle when sway is detected.
Given the mammoth size and the big V8 engine, we knew fuel economy is not going to be kind to the 2021 Nissan Armada Platinum. We observed an overall average of 17.8L/100km in our city heavy commute, falling short of the 17.5L/100km city estimates posted by Nissan Canada. Estimated highway consumption figure is a bit more acceptable at 12.9L/100km. To make matters worse, premium grade gasoline is recommended for the 98.3-litre fuel tank so owners can expect hefty gas bills.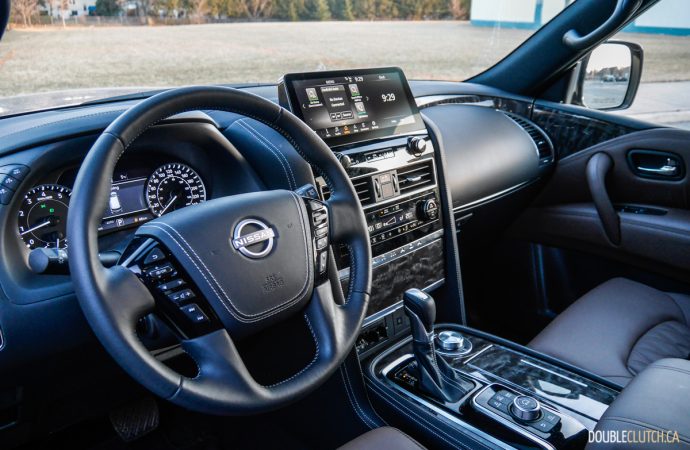 The interior of the 2021 Nissan Armada has also seen a massive overhaul. The first thing that drivers will notice is a new 12.3-inch touchscreen display that is a huge win over the old and dated eight-inch in the outgoing model. Resolution is vivid with split-screen support but we did not like that the screen is angled too far away from the driver. The Nissan infotainment is good to use with the support of a rotary dial below the shifter; Nissan had done away with most of the shortcut keys for the radio system in pursuit of a simplified layout which is sorely missed. Wireless Android Auto and Apple CarPlay integration is supported with wireless charging capability.
As expected based on its size, there is good head and legroom in all three rows. We found that the front passenger seats lack lateral support to be comfortable for long trips or off-road adventures, and we wish Nissan had expanded the standard sunroof to a panoramic one. Nissan engineers had put in extra work when designing the windshield to reduce wind noise resulting in a cabin that is whisper quiet no matter the road condition ahead.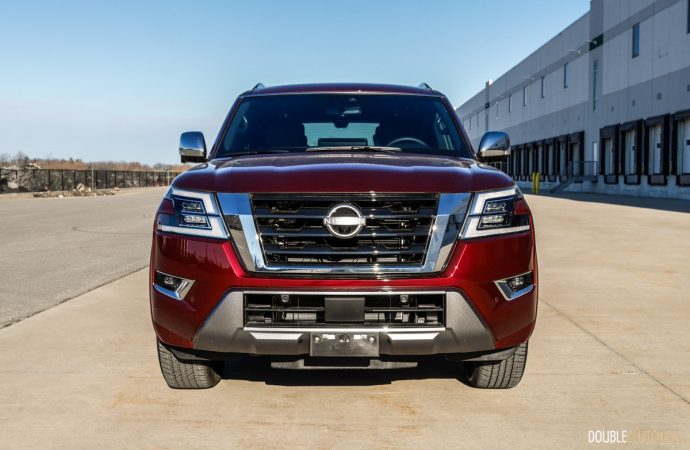 The Armada Platinum comes with a full suite of driver's assist systems called Nissan Safety Shield 360 which includes Lane Departure Warning with Intelligent Intervention, Forward Collision Warning, Backup Intervention, Digital Rear View Mirror, Blind Spot Warning and Intervention, Rear Cross Traffic Alert, Around View Monitor. The system works well together to keep the occupants and pedestrians safe but we noted the parking sensors can be a bit sensitive at times, which can be a bit startling.
The 2021 Nissan Armada only comes in two trim levels, SL and Platinum, with starting prices of $68,498 and $76,998 respectively. The Coulis Red Pearl paint colour costs $300 which brings our as-tested total to $77,298. It competes head-on against the Toyota Sequoia which also offers similar outdoor appeal with a truck-like personality. The Armada Platinum features a slightly more modern interior and a much quieter cabin especially on the highway, though we suspect buyers know which one they want before they even test drive, as these two Japanese body-on-frame SUVs each come with their own distinct appeal and fanbase that are different than typical full-size family SUV shoppers.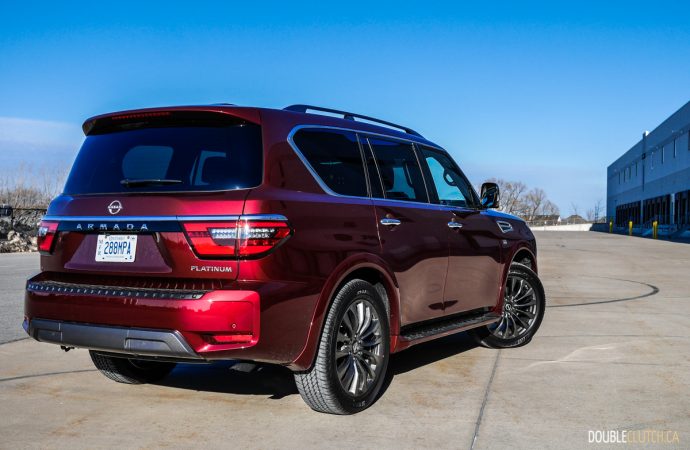 The refreshed 2021 Nissan Armada Platinum is not without its flaws, notably its lack of seat comfort and a thirst for fuel. However, its creamy powertrain and the whisper quiet ride quality help to balance out some of its flaws, and those who are looking to upgrade from their older Armada would probably be happy with the updates without losing any of its rugged character.
See Also: