Today's automotive landscape seems to present a new hybrid or pure EV every few weeks and in doing so, it feels like the end of the combustion engine is coming sooner than expected. With manufacturers now dropping dates of their full commitment to pure EV's, this week's test car is more like a slap to the face to these decision makers and environmentalists. Stellantis decided that the world needed another sport utility vehicle that seats six but also get to their destination really quickly. Enter the 2021 Dodge Durango SRT Hellcat – environmentalists be damned.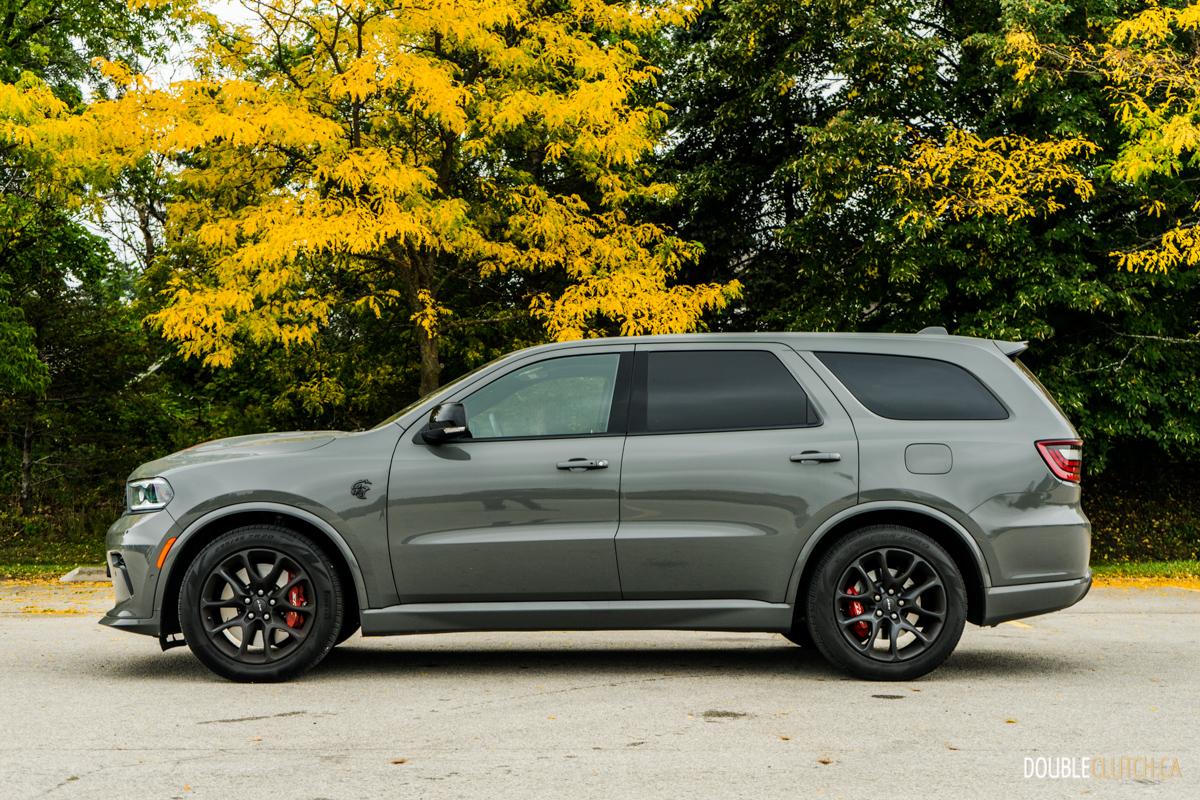 Walk around the Dodge Durango and you know it's big. There are several models available starting with the base V6 variant, and we have the top spec SRT Hellcat with its bulging hood and twin stripes that suit this sport utility perfectly. Though built on a platform that many would consider long in the tooth, Dodge has managed to make this SUV something unique and packing the ability to surprise anyone that gets behind the wheel.
With the ability to tow 8700-pounds, the Durango Hellcat tops all midsize crossovers currently on the market. Seating for six in a pinch and impressive cargo space when moving four people make this a viable choice for those heading up to cottage country and need to tow a trailer or large boat. Just make sure to select the Trailer Tow Group IV package ($950) so you have the four and seven-pin wiring harness as well as the important trailer brake control. If you need to seat seven, you will need to opt for a Dodge Durango SXT, GT or R/T model.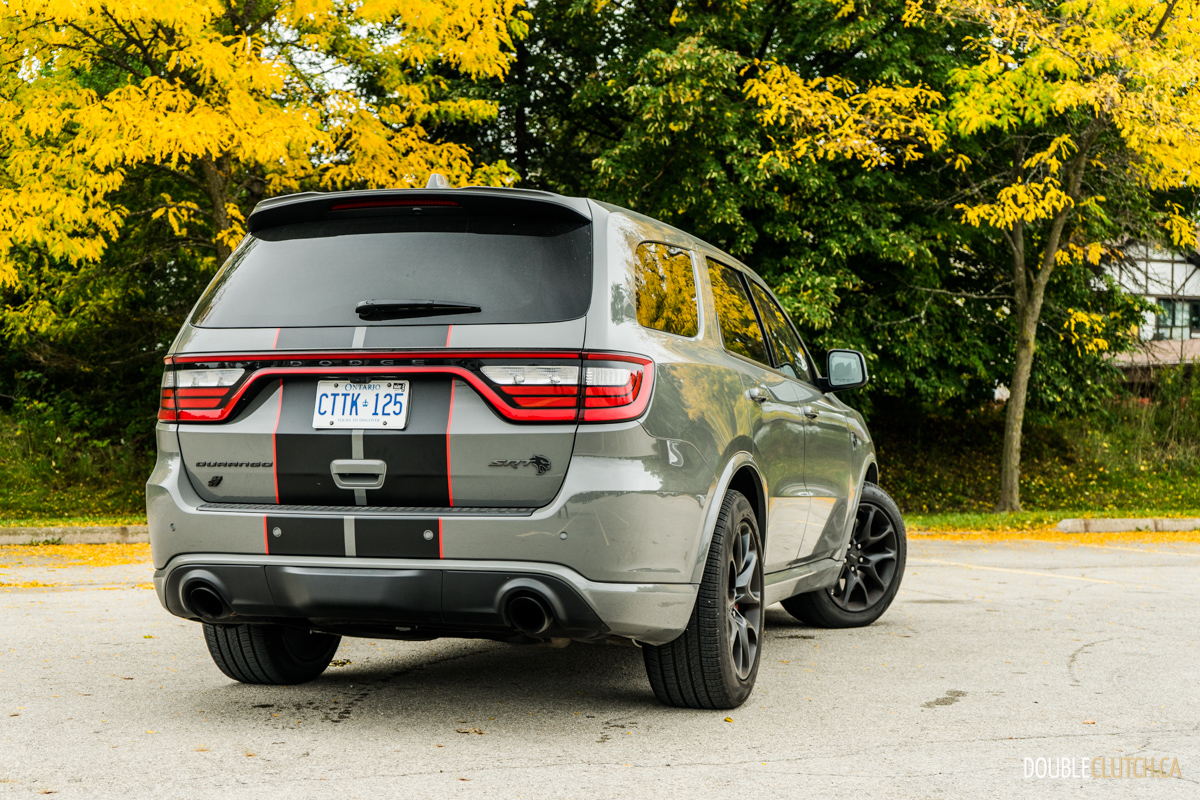 Though the interior may lack the sophistication and modern design of a Kia Telluride or Mazda CX-9, the Durango's controls are downright easy to use and it comes with enough technology that you're not left wanting more. The Uconnect interface works perfectly here with the 10.1-inch touchscreen. Wireless Android Auto and Apple CarPlay are standard, and setting up is a breeze. The optioned 825-watt Harman-Kardon 19-speaker sound system sounds fantastic and can replace the throaty exhaust notes with high-quality audio if you desire.
Delve into the infotainment screen and you will see the various drive modes available, and these modes are adjustable within the SRT menus even further. The level of customization is simply brilliant and shows that the engineers at SRT made sure that customers' needs and wants were covered.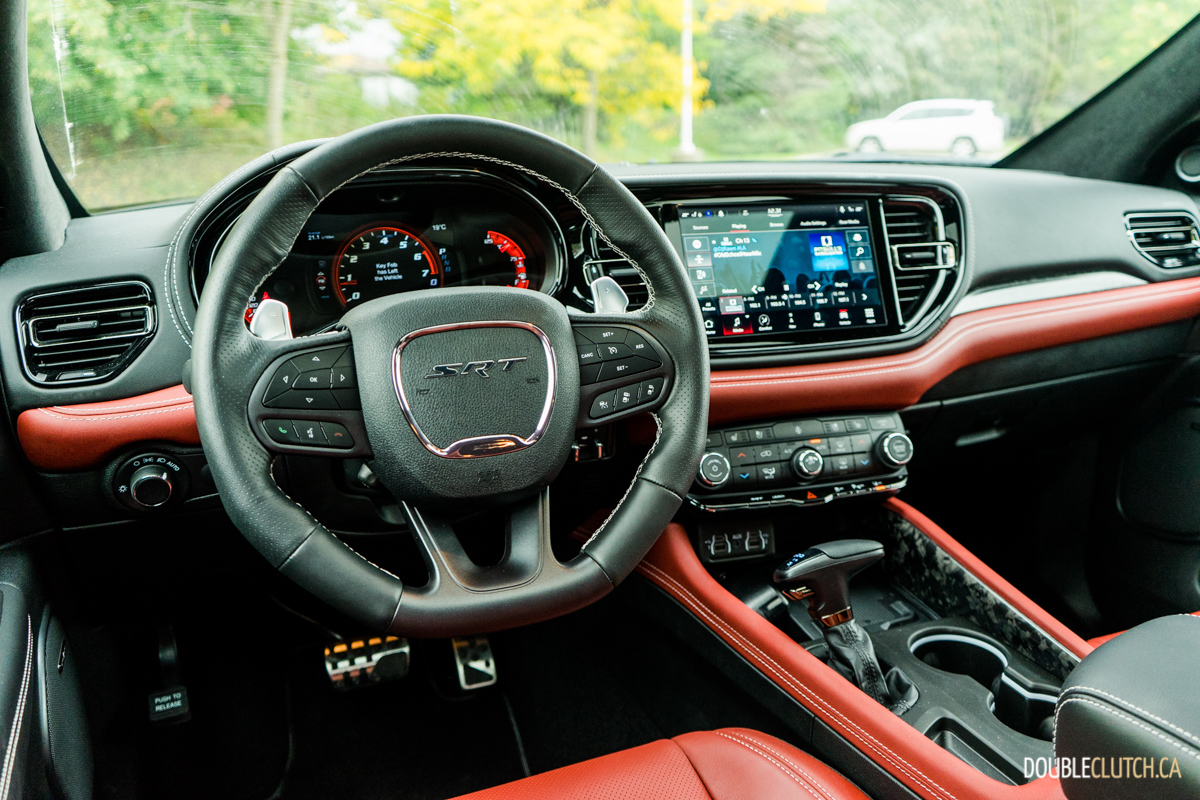 Red leather seats (heated and cooled) and trim break up the normally all black interior. Faux carbon fiber trim is a nice touch but don't fool anyone into thinking it's real. The SRT Hellcat name and logo are embossed in the front seats which add a nice touch. Alcantara roof lining adds some pizzazz to the interior and helps elevate the quality level. Optioned twin screens in the rear with DVD capabilities are present in the second row to keep passengers occupied on long road trips.
Surprisingly, this behemoth handles much better than most would expect.  At times you forget that this is a crossover with the ability to seat six passengers. Specially tuned adaptive dampers help control this 5334-pound crossover while riding on 20-inch wheels. Body roll is minimal and you can confidently toss the Dodge Durango SRT Hellcat knowing that it's well controlled. Braking is equally as strong due to its massive 15.75-inch six-piston calipers up front and 13.8-inchers in the rear. Stopping power should not be an issue under any circumstances.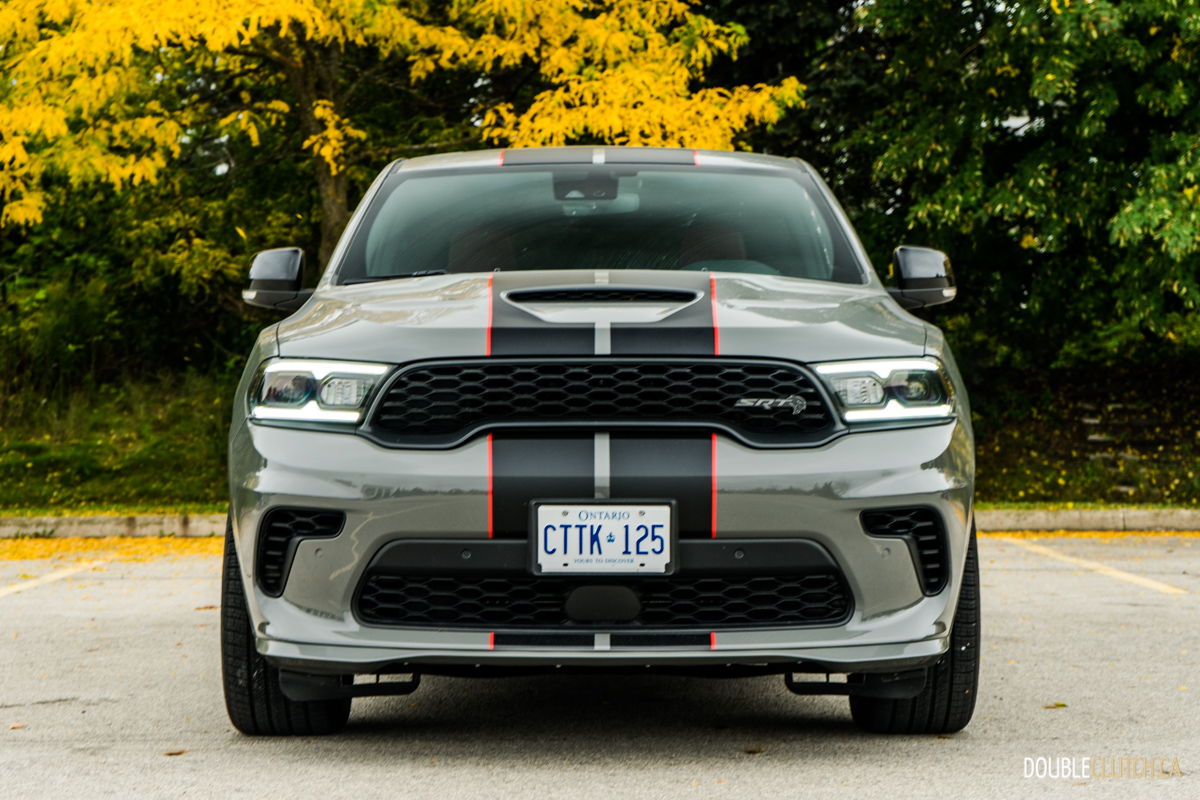 Something this large has no right to move this quickly and with such little effort. The 6.2-liter supercharged HEMI SRT Hellcat engine is a masterpiece and force of nature all rolled into one. It deserves a spot as one of the best engines ever made. This beast makes wonderful noises that an EV could never replicate.
Pushing an asphalt shredding 710 horsepower and 645 lb-ft. of torque to all four wheels allows this to launch like a Dodge Charger or Challenger never could. 0-100km/h comes in around 3.6 seconds and this thing snaps off the quarter mile in a NHRA (National Hot Rod Association) certified time of 11.5 seconds.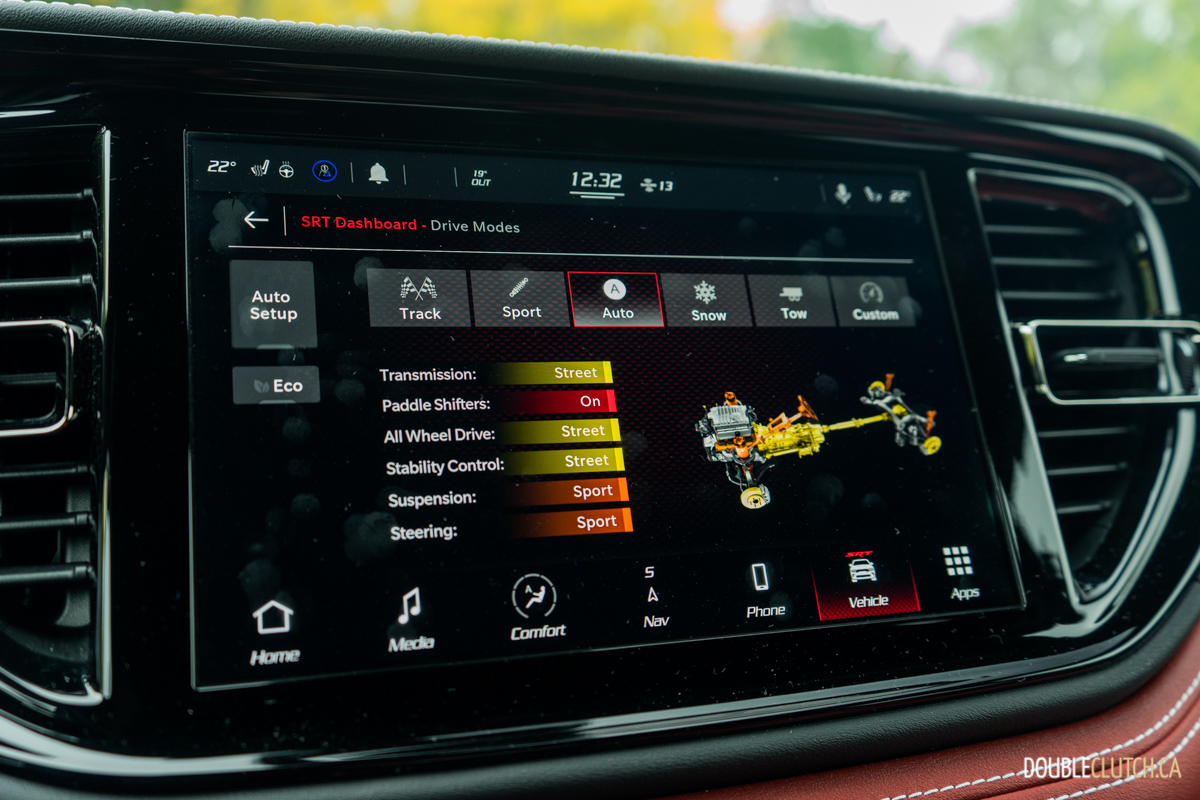 With all this power, fuel efficiency is bound to take a hit – Durango Hellcat owners will need deep pockets or have their own gas station to feed this monster. Over the course of several days and near-even split of highway and city driving, we achieved 20.8L/100km. Dodge's fuel economy ratings are 13.8L/100km on the highway and 20.5L/100km in the city. Naturally, premium fuel is also required to satisfy the heart of the beast.
The entry point for a Dodge Durango with a V6 engine starts at $43,489 and with seven models to choose from, customers will have to decide what fits their budget and needs. Buyers that want to go all out with exclusivity and power can opt for the SRT Hellcat tested here, which starts at an eye-popping $104,184. With all the options on our tester, the cost ballooned to $137,610. It's hard to believe that this would be considered a performance bargain, but it really is when compared to similarly packaged crossovers such as the Lamborghini Urus or BMW X5 M Competition.
Making the 2021 Dodge Durango SRT Hellcat even more special is the fact that it will only be offered this year. Just for that alone, a strong case is made to pick one up as the industry has been moving away from large displacement engines, preserving the value. With seating for six, best in class towing capabilities and impressive handling, a strong case can be made to grab one if you can stomach the deep fuel bills.
See Also:
2020 Lincoln Navigator Reserve