The attendant at the Singapore Airlines lounge has noticed my vacant stare into the distance. While I'm very certainly sitting at table J104, my mind is elsewhere, back in time, thinking over the four days of my journey up until this point at the Goodwood Revival 2021. I've made a habit of replaying my entire journey prior while waiting for my flights home, savouring the memories and cementing them within my mind.
We received an invitation from the folks at Jaguar Canada to experience a taste of their latest vehicles, their performance technology hub: Special Vehicle Operations, as well as a segment of their history. They'd arranged drives in the 2022 F-Pace SVR, as well as the new revised XF, before turning the clocks back another 55 years to participate in the Goodwood Revival – a race stuck in time, and what many would consider to be the world's best costume party. Let's start at the start, and move forwards into the past.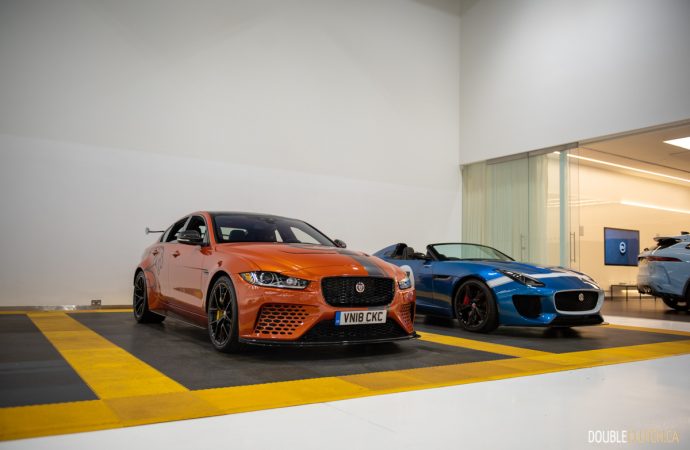 First on the clock, the F-Pace SVR. Jaguar has given the exterior a mid-cycle refresh, adding their own nods to the past throughout by masterfully integrating the shape of their historic "lozenge" logo throughout the grille, headlight details, and lower intakes. They've also managed to harmonize the forward radar sensor and the "Growler" logo, cleverly doing away with that awkward black rectangle that interrupted the grille design on the previous model year.  
Pluck the doors open and you'll find a very different greenhouse than a year ago, with everything but the glove box being tossed aside and replaced. This is where the design team really shines, adding more nods to their past with more of the lozenge logo stitched into the seats, stamped into the knurling on the mode-selector, and even the volume control roller next to the redesigned gear selector, which also gets a bag of lozenges stuck on. It all works together subtly, making for a dignified and stately cabin that also maintains functionality.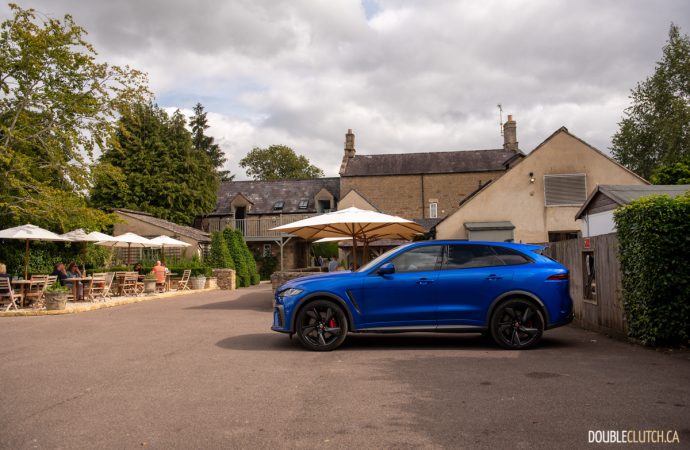 You'd be hard pressed to find something you don't like, but since I'm meant to hunt for exactly that, I'll place the gear selector in my sights. There's no doubt it's considerably more functional than the wheel-selector its replacing, but there was more than one occasion when I found myself tugging the knob to no effect. That's because the shifter's lock-button is just a tad too low for your fingers to notice and depress while selecting gears. Most will get the hang of it quickly enough, but a tweak could have prevented the embarrassment I felt when I couldn't put the F-Pace in "drive" when setting off for the first time.
While the interior itself has been graced with a striking redesign, so too has the entire interface for the infotainment in all upcoming Jaguars. With the new "Pivi" interface the UI/UX team at Jaguar has stepped their game up a lot. The layout is much more intuitive, Apple-esque, and faster to navigate. The vast majority (Jaguar claims 90%) of functions can be accessed within 2 taps on the screen, which any driver can appreciate.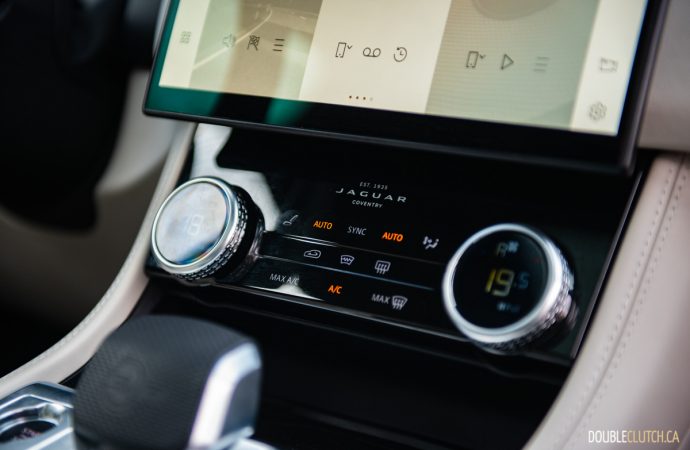 Alas, all the beautiful design is done a disservice by the hardware in the unit, which caused some noticeable lags in navigation. Despite the efforts of my co-driver (the esteemed Larry Printz) more than one roundabout exit was missed on our journey from downtown London to Jaguar's headquarters in Coventry.
The chipset just couldn't keep up with the pace of the F-Pace and the 550hp, 516lb-ft produced by the 5.0L V8 supercharged engine, and to be fair neither could my brain. Under heavy acceleration the F-Pace SVR produces enough G-force to give you a facelift, which certainly adds value to the $96,250 starting price. However, when it's not performing unlicensed surgery on you and your passengers, the F-Pace has stately road manners, with imperceptible shifts and buttery suspension.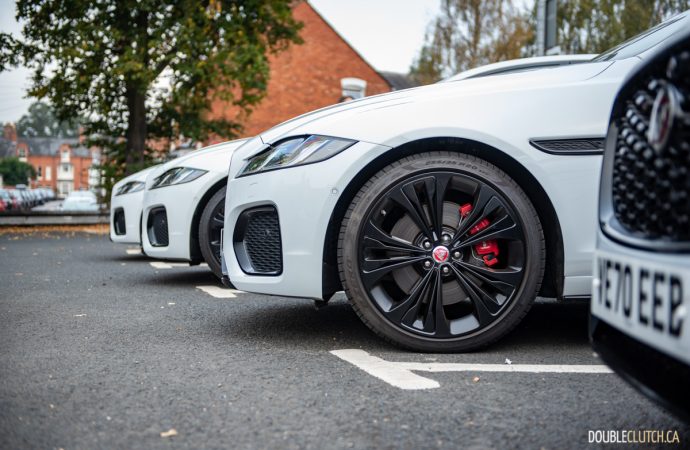 The route from downtown London to Coventry provided enough variety in road surfaces to fully understand the two sides of the F-Pace, which is a soft, cuddly kitten in Comfort mode, and a… well a pissed-off, fully grown Jaguar in Dynamic. With the twist of a dial you can choose between whichever you'd like, but, with a trip to SVO you can also make your F-Pace into something completely unique.
Jaguar's SVO, or Special Vehicle Operations facility is the home and heart of their performance vehicles. Here, not only are the SVR variants of their lineup conceptualized, designed, tested, and built, but customers looking to create a truly unique vehicle can view a large number of bespoke configuration options in the flesh. Anything from custom paint colours, to engraved door handles, to armour plating – the options are pretty much endless.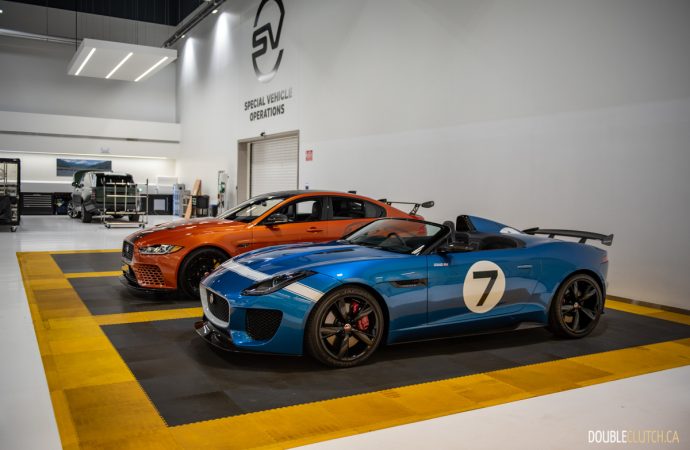 Even without putting my own money on the line, I was overwhelmed at just how many different choices there are to make. Some clients can spend a full day here just going through the different swatches, threads, and fabrics, but if you're as indecisive as I am, you might consider trying to find a hotel nearby. Of course the folks at Jaguar are happy to help you with the design, because let's face it, not all of us are cut out to spec cars.
The next day, I stepped a little further back in Jaguar's history into the latest version of the XF, a staple with the marquee since 2007 which, like the F-Pace, has been refreshed for the model year. Its also been given a full redesign inside the cabin, and while the company has made some minor tweaks to the exterior, but again, they're small nods compared to the totally new kit that's been packed inside.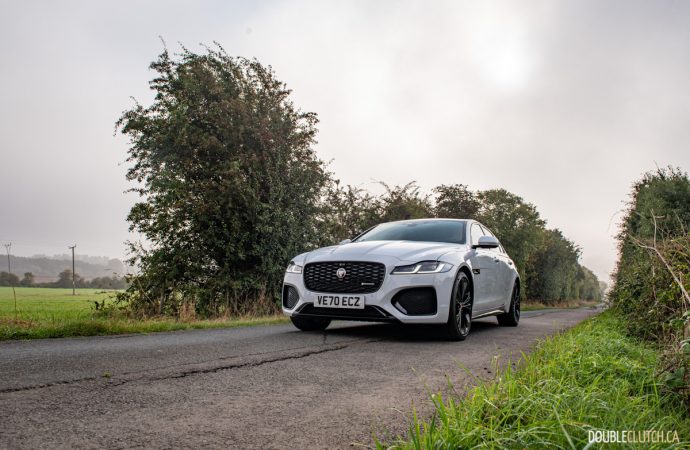 There's the same 11.4-inch touchscreen that graces the F-Pace I drove the day before, also sporting the Pivi interface, and I found myself quickly familiar with all of the controls and functionality. Most of the finishes and design are nearly identical, which not only helps with brand cohesion, but also makes for a damn good value proposition when you're getting an interior that's just as refined in a vehicle that costs more than $30,000 less. Small things like wireless charging in the alcove forward of the gear selector do mean the XF feels just as premium as it's more expensive siblings.
As we set off from Stratford-Upon-Avon it's quick to realize the XF isn't quite as fierce as yesterday's coach, but that's really not the point of the car, either. The 2.0-liter boosted four-cylinder produces 296 horsepower, which doesn't compare, and it isn't supposed to. The XF offers a more subdued driving experience, without even coming close to feeling like it's underpowered or underwhelming.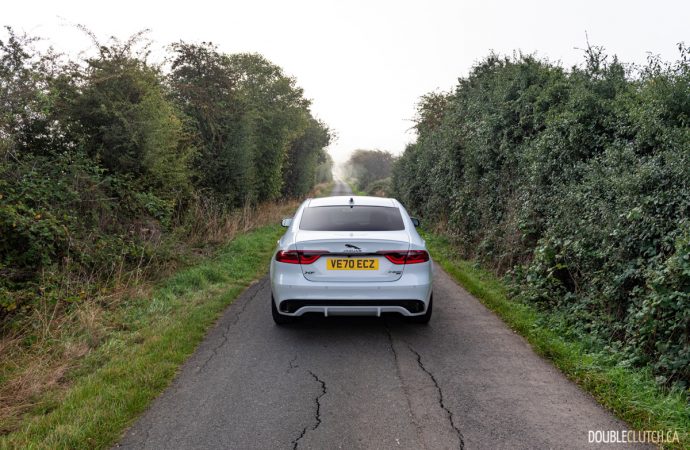 Spirited passes in dynamic mode still will spark the neurons in your lizard brain that crave satisfaction, without burning through your work's benefits allowances on chiropractor appointments. There's comfort, but there is still soul, and excitement. Much like British wit, but on wheels, there's class and sting in the same sentence. 
Everything about the XF feels elegant and but without lacking gravitas. The steering is weighty where it needs to be, shifts in manual mode hit like a well placed comma, interruptive to your acceleration but with purpose and poise. The suspension serving three courses of comfort without a melted bowl of body roll for dessert. It made for a relaxing ride through the foggy Cotswolds and towards our mid-day destination: Bremont watches.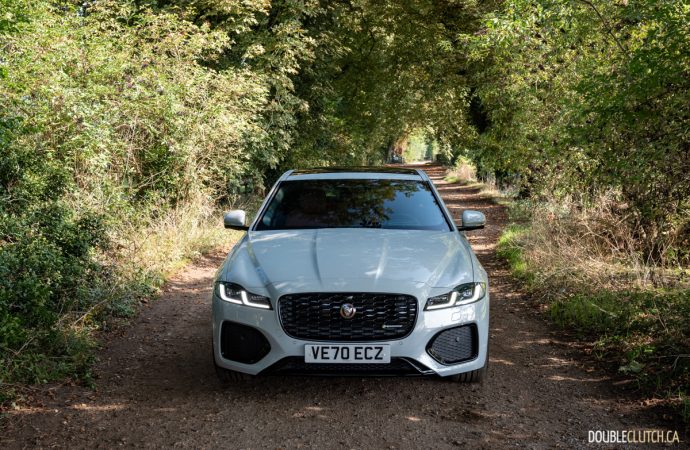 Bremont and Jaguar have been partners for a while, and it's not anything unordinary to see luxury cars and watches on the same menu for many aficionados of either realm. Both being quintessentially British brands, it really comes as no surprise to see them working together. Some people might see both brands as underdogs batting against much higher volume competitors. After all, opening a watch company based anywhere other than Switzerland is brave to say the least. However, both brands have stood the test of…. ah shit, the pun is just unavoidable… time. There, I said it. Sue me. But I'm not wrong.  
The two companies also share deep roots within the British military (albeit that Jaguar roots wear a Land Rover badge mostly), and of course their businesses also rely on innovative and precise engineering to keep them competitive and relevant. Their connection and partnership is palpable, with a Series 1 E-Type that belonged to the founders' father sitting front and centre as you walk into the lobby. It's also fitting since Bremont created a series of watches to celebrate 60 years of the E-Type, and the moment I left their headquarters I regretted not shelling out for one to wear the following day to what I was looking forward to the most on this journey: the Goodwood Revival.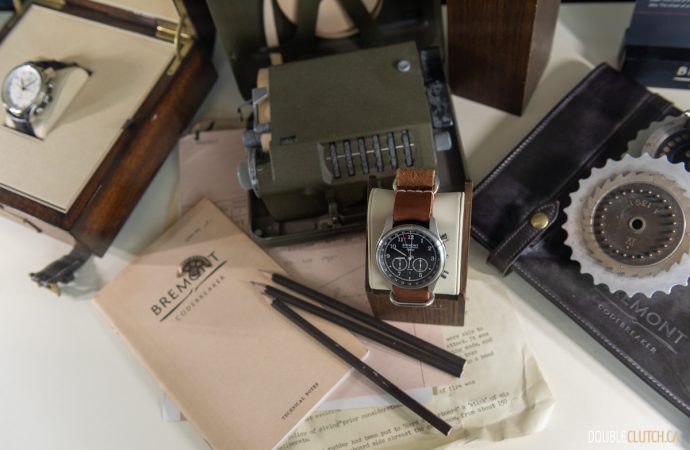 Of course most anyone who has any interest in automobiles or motorsport has likely heard of Goodwood, but in North America, unless you're a diehard fan of classics, the name is synonymous with the Festival of Speed. You'd probably be forgiven for this association anywhere outside of England, but you'd be glossing over something far more special. Revival might not be dedicated to showing off (and selling) the most cutting edge and technologically advanced hypercars that money can buy today, but it is about doing exactly that with just about any car made before 1966, and doing it with undeniable style.
What many don't realize is that Goodwood, while not only being a three-day long series of classic car and motorbike races, is also probably the worlds largest and (because of the aforementioned racing) best costume party. Visitors flock in every year in full period-authentic dress, donning outfits to mimic soldiers, rockers, mods, mechanics, gentlemen and ladies of an era long gone by.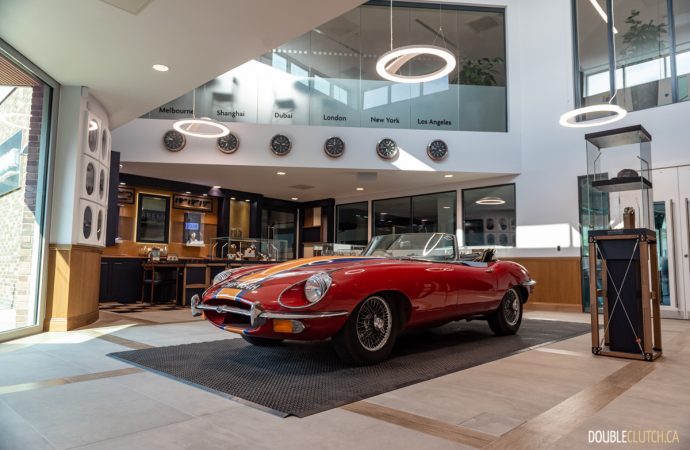 Everyone is out to have a good time and play the part they've dressed in. There's even paid actors that the organizers bring in to further up the ante. I saw a group of nuns roaming the grounds together, and was harassed by a half-drunken bookie to place my bets on an upcoming race while trying to make my way into Jaguar's VIP lounge through their gambling establishment.  
I've no idea what bet I placed, but I'm certain I owe them a significant amount of money because I said yes to everything they asked as my eyes scanned the room, taking in the odds scribbled on chalkboards, crumpled slips, and even a couple flasks and crumpled neckties scatters throughout. No detail is too small, and the organizers have gone through great lengths to maintain period-correctness.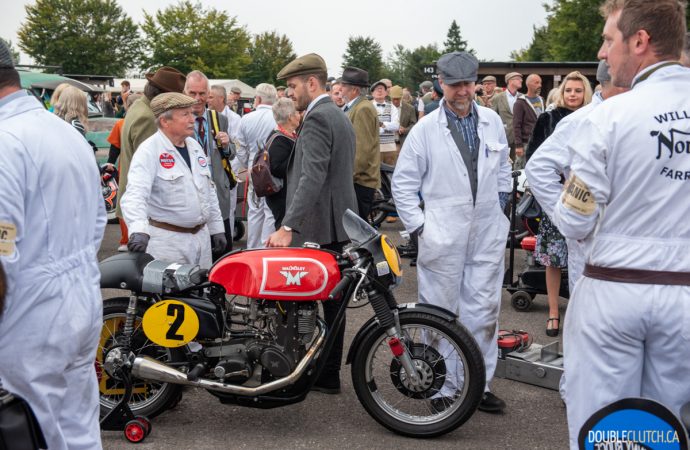 Indeed this makes a fitting venue for Jaguar's restoration and historic division, Jaguar Classic. This is the arm of Jag that allows some of the most high-profile and distinguished clients breathe new life into cars of a bygone era. Their team of specialists are able to locate and restore some of Jaguar's most stunning and voluptuous cars from the ground up, using modern technology and techniques to create perfect continuations of the likes of the E-Type, C-Type, and D-Type if you have the cash.  
There isn't really a better place to showcase their skillset than here at the Revival, and I found myself lost in the curves of the D-Type Continuation for a bit longer than I'd care to admit. Our hosts had to pull me away for one final piece of history before my trip back home. A trip through the countryside in one of three very special E-Types.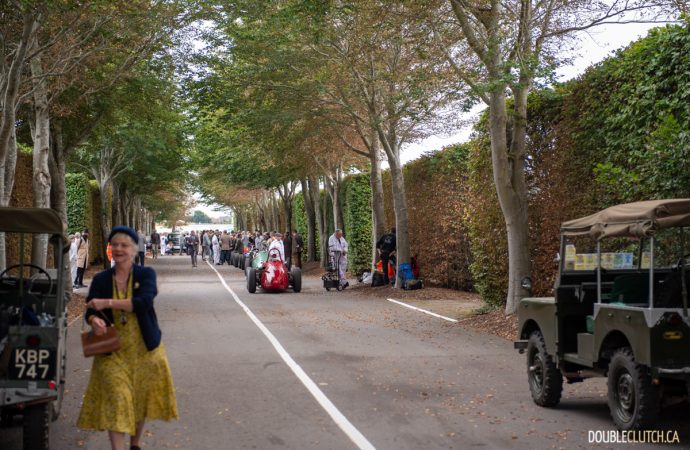 As my chauffeur pulled up to the chateau where we'd set off from, I immediately locked eyes on exactly the car I wanted to ride in. A 3.8L Series 1 soft top in Carmen Red with red and black interior that just so happened to belong to the late Mike Hailwood, a legendary car and motorcycle racer who died in a car crash in 1981 while on his way to grab some fish and chips. My furthest step back in time so far, the E-Type was built in 1961 and had just over 1400 miles on the clock. It's hard to describe just quite how special it felt even to just be driven around in a car that was a part of racing history, even by association.
There's really no way to infuse this same charm and character into a modern car, despite many attempts to do so. Everything is just as it was, just as it needed to be, frozen in time. As my driver gently pushes through the gears, exhaust crackling, the smell of petrol stinging my nostrils, I catch my moment of zen.
It passed in a heartbeat, the last three days and Goodwood Revival 2021 forever cemented in the past. "Oh, yes. My table is J104. That's my food." Time to head home.
See Also:
First Drive: 2021 Land Rover Defender