In a world where the luxury sedan appears to be dying a slow death, Jaguar has made some changes. As of this writing, the XE compact luxury sedan, which we genuinely liked, is now dead. The larger XF has lost its six and eight-cylinder powerplants over the years, now offered only with a turbocharged four-cylinder gasoline engine. This year marks a mid-cycle refresh for the car, so we jumped behind the wheel of a 2021 Jaguar XF P300 R-Dynamic to see whether it has still remained competitive or relevant.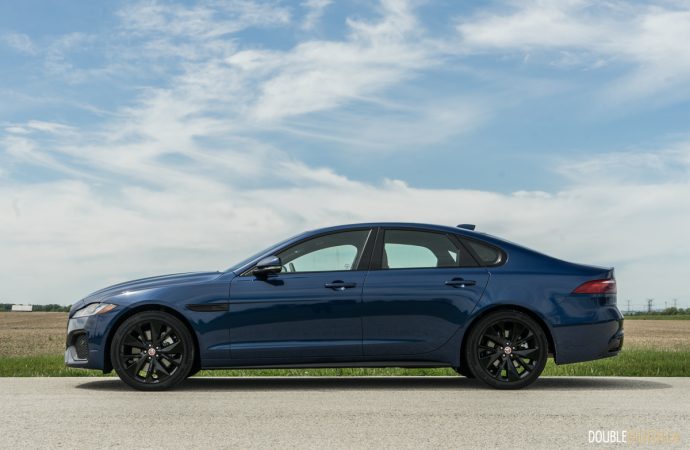 Styling is one area where this big cat still rules. The gorgeous rounded styling has aged extremely well, and has been an XF strong point since the car's inception more than a decade ago. It's objectively beautiful, much like just about everything else Jaguar has to offer. The LED lighting all around is stunning, and the updated fascia only modernizes a classically elegant design. I'm personally not a fan of the black wheels against the otherwise-pretty Bluefire paint, and would prefer a more traditional silver look, but apparently I'm the anomaly here.
The interior has seen a complete rework for 2021, and this is an area in which the XF is just about class leading. The terrible infotainment system in the outgoing car has been replaced with a lovely 11.4-inch touchscreen housing an all-new interface. It's easy to use, fairly straightforward, and obviously contains the latest smartphone integration. We did experience hard failure of Apple CarPlay on numerous occasions, and had to re-boot the car to get it to resume.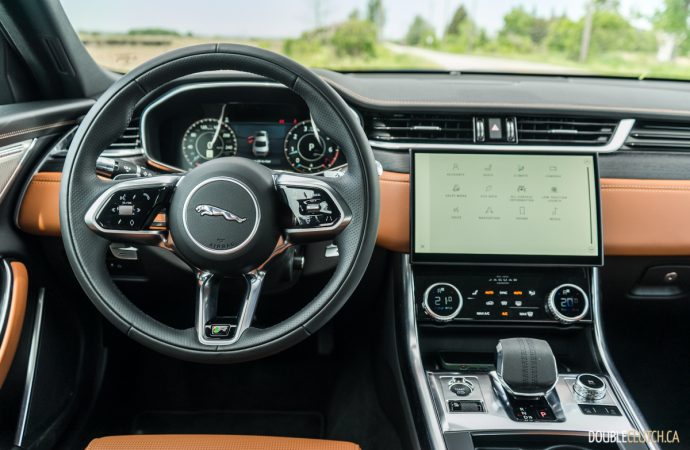 From a visual standpoint, the Siena Tan perforated leather is breathtaking, and all of the materials around the XF's cabin ooze luxury. There are no hard plastics here like you'd find in the Mercedes-Benz E-Class, and the instrument cluster is all very elegant. The redesigned steering wheel feels great, and the seats front and rear are superb. With this being a mid-sized sedan, rear accommodations are more than reasonable. The old rotary shifter is gone, and in its place is a regular electronic lever.
While the interior and exterior are all most excellent, the XF does fall flat on its face as it pertains to the powerplant. All options except the turbocharged four-cylinder are gone, and the boosted 2.0-liter is satisfactory at best. It offers 296 horsepower and Jag claims a 0-100km/h sprint time of 6.1 seconds, which is equivalent to that of a Toyota Camry V6 from fourteen years ago. There's also significant turbo lag off the line, and the idle stop-start system is slow to disengage, making things feel even slower.
Fuel ratings for the 2021 XF are 10.6L/100km city and 7.7L/100km on the highway, for a combined 9.3L/100km. Our 500-kilometer test with a good mix of driving environments returned 9.8L/100km, right in line with what Jaguar suggests. The 74-liter tank requires 91-octane premium fuel, just like its competitors.
The XF isn't quick at all, but does display exemplary highway manners. It holds high speeds with the grace of a British luxury sedan – er, saloon – and is extremely quiet in operation. The eight-speed automatic transmission is eager to upshift and maximize efficiency, which also translates to a relaxed atmosphere. This XF also has a sport suspension, which felt adequately firm but with near-perfect ride quality. The E-Class is the benchmark in this regard, but the XF isn't far off.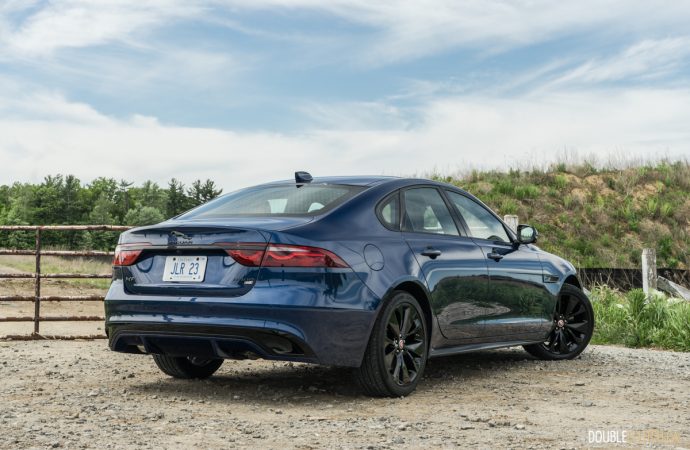 The 2021 XF starts at $60,570 and is only available with one engine and in one trim, P300 R-Dynamic. All-wheel-drive is standard, along with a host of other features expected at this price point. Our car had a few options including a Black Exterior Package ($535), black 19-inch wheels ($500), heated rear seats, Meridian sound system ($600), and 18-way heated and cooled front seats ($300). A curious omission from the standard features list is adaptive cruise control, which costs $1,200 extra. All in all, our tester came in at $67,065 before destination and fees.
From a comparative powertrain standpoint, the XF P300 competes with the four-cylinder versions of the Mercedes-Benz E 350, BMW 530i, and for the two Canadians that may buy them this year, the Audi A6. The Mercedes does the four-cylinder very well, so if you're okay with a substantially worse infotainment system in favour of a smoother motor, the E-Class may be the way to go. The 5-series is a top pick in the class in six or eight-cylinder form, but the base 530i isn't quite as good.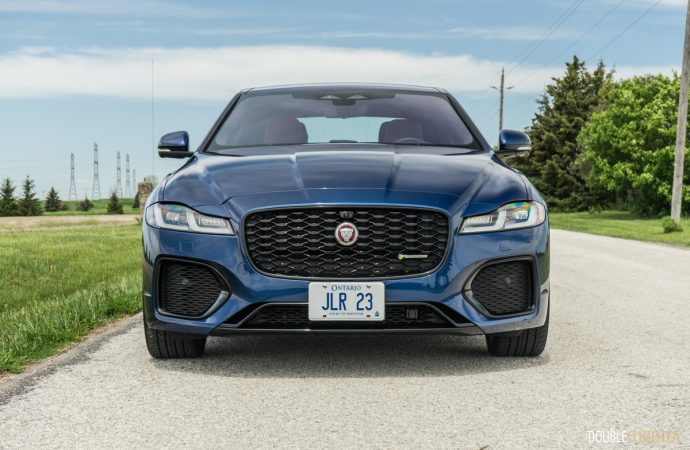 Since Jaguar has discontinued both the compact XE and full-size XJ, this remains the only four-door in a lineup full of crossovers. It's pretty evident where the brand's focus is, along with electrification. The XF remains competitive in its class, but has lost a lot of character that came with the wilder, more eager engine options. A throaty exhaust rumble and/or the whine of a supercharger were token Jaguar sedan traits over the years, and it's kind of a shame to see an XF without either.
The 2021 Jaguar XF P300 R-Dynamic is still a good out-of-the-box choice if none of the obvious German contenders jive with your taste. It has character and styling that's class leading, inside and out. It's distinctive and makes a statement wherever it goes, and that's a personality trait that the upscale British saloon car has retained. The powertrain may be a letdown, but for most of today's buyers, that's not a deal breaker in the least.
See Also: