The original Land Rover came to be right after World War II, and it was a purpose-built vehicle with legitimate off-road credentials. Over the years, the Defender, aside from its cult following, vanished, and the Land Rover brand became more in sync with buyers that frequent the local Costco parking lot rather than overlanding every weekend. Fast forward to this year and the most anticipated new vehicle on Canadian roads is the 2021 Land Rover Defender 110. We followed up to our first drive by spending a week with it and evaluating its many important attributes.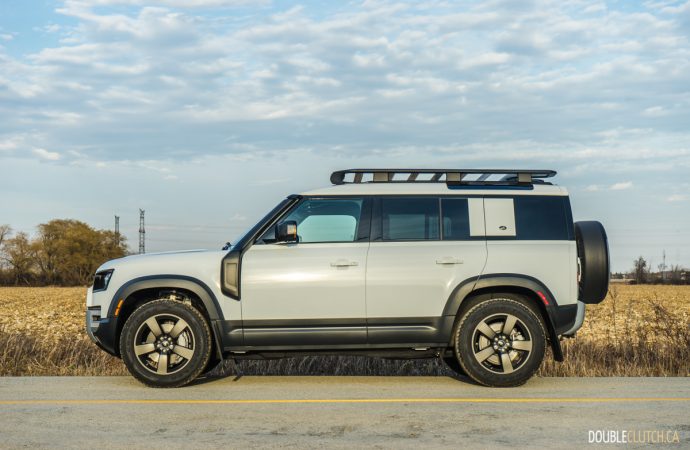 In my very subjective opinion, the new Defender does retro extremely well. The slab-sided design, two-box shape, and rear-mounted spare tire all accurate and respectful homage to the original legend. Taking its retro qualities into account, the SUV still appears modern, fresh, and like nothing else on the road. Two body styles are available; the five-door 110 model that most will buy is tested here, and a three-door Defender 90 is the starting point. Plenty of accessories including roof racks, a side-mounted box for gear, and more are available through Land Rover.
Two powertrains are available, starting with a 2.0-liter inline four-cylinder. It puts out 296 horsepower, 295 lb-ft. of torque, and hits 100km/h in just over eight seconds. The P400 model here packs the more desirable option, a 3.0-liter inline six-cylinder. It's turbocharged and paired to a mild-hybrid system, and a 48-volt lithium ion battery. All of this stuff is also hooked up to an electric supercharger. This comes together for 395 horsepower and 406 lb-ft. of torque, for a 6.1-second sprint to 100km/h.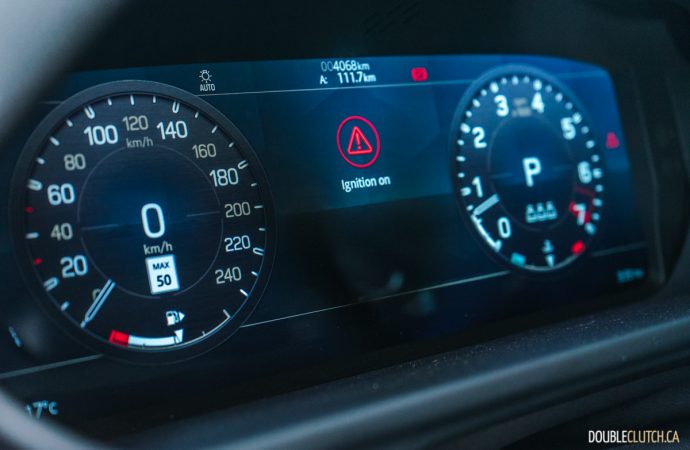 The Defender is remarkably agreeable in the way that it carries itself. Performance is more than adequate, with ample power everywhere in the rev range. The eight-speed automatic is perfectly tuned, and response is just about immediate. On-road ride quality is sublime, with the long travel air suspension doing a sublime job of absorbing all road imperfections before they're transmitted to the driver. It's buttery smooth and feels almost up to par with the current Range Rover in body control at highway speeds.
Take that left turn at Albuquerque to head off the pavement, and the aluminum monocoque frame shines. The air suspension can adjust ride height by up to 40 millimeters to give additional clearance, up to a maximum ground clearance of 291 millimeters. The generous 38-degree approach and 40-degree departure angles are significant, and it can climb a 45-degree incline. Thanks to a new system dedicated to wading that protects components from water, the Defender can wade through up to 900 millimeters of water.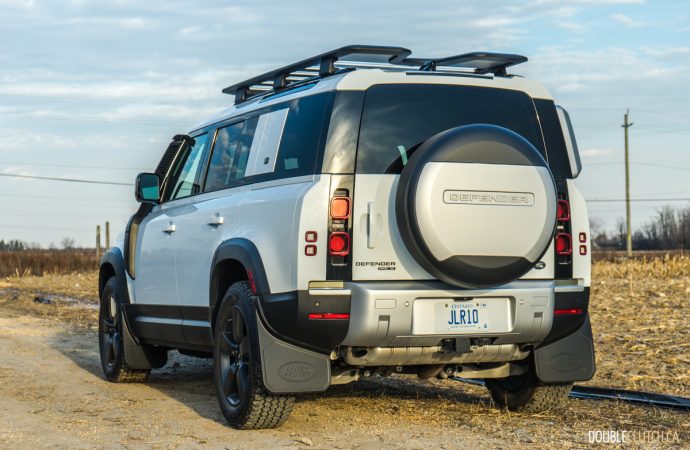 Body roll is surprisingly well controlled for a vehicle with the rough aerodynamics of Buckingham Palace, which is even more surprising, and the electrically assisted power steering has a good amount of feel getting to the driver's fingertips. The all-wheel-drive system is permanent, using a two-speed transfer case. Our test vehicle was also equipped with the Electronic Active Differential on the rear axle that allows for torque vectoring to balance the right amount of power between the left and right wheels.
Adding to the off-road chops of the Defender is a properly nutty camera system that allows drivers to see a trick view throughthe hood at obstacles, reducing the chances of hitting rocks or ending up stuck. The cameras can also display a full exterior view of the vehicle, which allows for maximum control and knowledge sent to the driver of the Defender's current environment. All of this usually comes with a penalty at the fuel pumps, and the Defender surprises here as well, with a 12.1L/100km combined number observed over a week's worth of driving.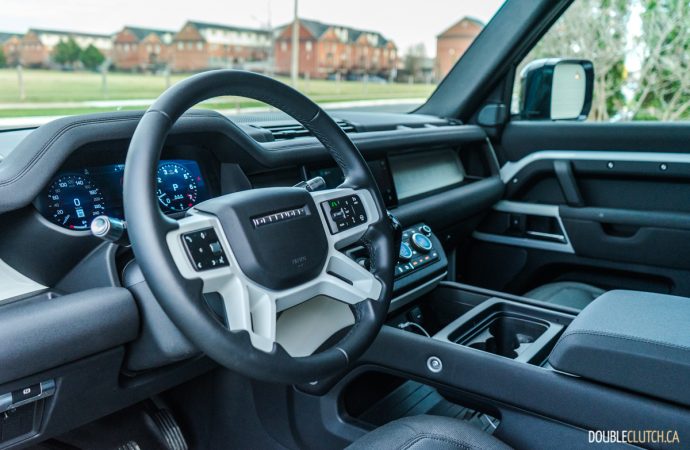 Inside the Defender, Land Rover has continued with the minimalist theme, with a retro design that's more in tune with their current lineup. Materials are all high quality, though very obviously a step down from Range Rover's offerings. But by no means does this thing feel cheap – there are fine leathers used, along with some very rugged synthetic cloth accents in all the right places. Three rows are available, though our very accessorized tester had a hard shell down in the cargo area, and space for four or five adults is more than generous.
The interior is very spacious with an airy feeling, and Land Rover's InControl infotainment system is in its most minimal form – this is for the best. The touchscreen houses a native system and can also handle Apple CarPlay and Android Auto, and thankfully, climate control uses hard buttons rather than a second touchscreen as in other JLR applications. The shifter is also on the console; this is due to the fact that a front bench seat is optional, and in the case of our tester, a massive console area has enough room for all daily carry items and more.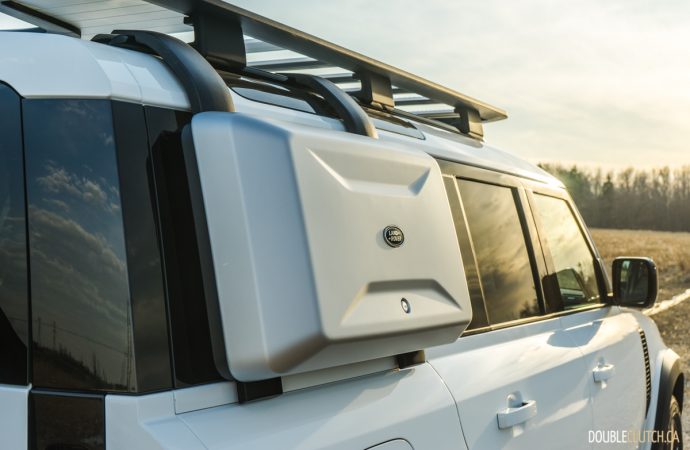 Land Rover Canada prices the Defender 90 at $59,700 to start, with the five-door 110 at $65,300. The P400 engine – trust us, you want this – starts at $75,900. The beauty of the Defender is that there is plenty of customization available, starting with body appearance packs for various outdoorsy lifestyles, Terrain Response, wheel packages starting with rugged steel wheels, going all the way up to our $93,000 high-spec tester that looks like a Stormtrooper. As pictured, accessories allow for a ton of customization as well. A new Defender X model is the most capable model in the line, and starts at $96,000.
The Defender sits in an odd place on the market – nothing in its price point really competes with it. It has the ruggedness of the Jeep Wrangler and new Ford Bronco, but really does offer higher levels of luxury like the far more expensive Mercedes-Benz G-Wagon. Aficionados who want far better on-road quality and actual comfort over the mainstream offerings will find their match with this option, because the 2021 Land Rover Defender 110 is definitely one of the best new SUVs available today.
See Also:
First Drive: 2021 Land Rover Defender