It's been a few years since you entered the workforce, your 2001 Toyota Corolla is on its last legs and you've managed to score that promotion you were hoping for. Suddenly, you need a car that looks presentable in a white-collar setting. You could buy a Mercedes-Benz A-Class which is very complicated, a BMW 2-series Gran Coupe which is very ugly, or an Acura ILX which is very outdated. Or you could buy this, a very well-specced 2021 Mazda3 100th Anniversary Edition.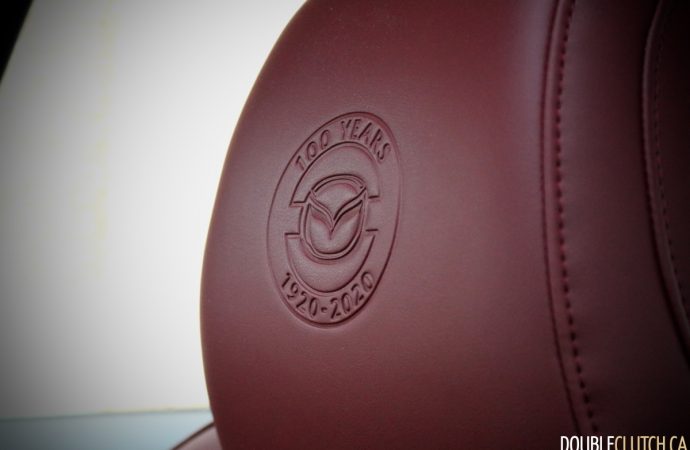 This is not a Mazdaspeed3 successor. It doesn't scream "Witness me!" as abominable torque-steer attempts to sublux the driver's left shoulder, nor does it come festooned with scoops and wings and a mad Clockwork Orange grin. Instead, the 2021 Mazda3 100th Anniversary Edition is here for grown-up soft-grunge Tumblr kids with office jobs.
The 100th Anniversary Edition commemorates 100 years of Mazda with some very special trim treatments. Customers can have one in any colour as long as it's Snowflake White Pearl while the leather interior comes trimmed in a rather fetching Garnet Red and Pure White colour scheme. A special 100th Anniversary crest comes embossed into each front seat headrest, emblazoned on every wheel centre cap, moulded into each key and displayed on each front fender. It's unique without being tacky, a style we're now accustomed to seeing from Mazda.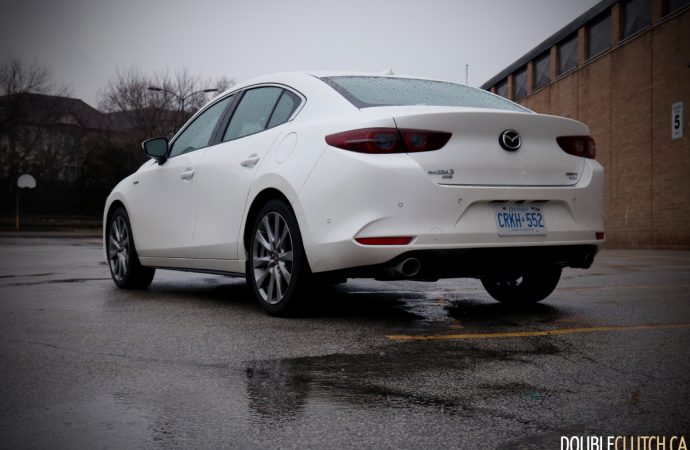 Mazda's always focused on the little things, which is part of why the inside of the Mazda3 displays markedly better attention to detail than most competitors. All of the interior lights are the same colour temperature which gives a subtle, upscale feel. Moreover, every single knob and button operates with incredibly satisfying tactility and the volume knob doubles as a seek/track switch which makes so much sense. In the trunk of sedan models, Mazda has fitted one of the nicest trunk pull-down handles of any car under $100,000. It's a sturdy, elegant piece of injection-moulded plastic that feels ready to serve its purpose for as long as time itself.
Zooming out a touch, the interior design of the Mazda3 100th Anniversary Edition is very avant-garde. Minimalist sculpture is the overarching motif with a sweeping textile-clad main dashboard trim piece, a rhombus-shaped infotainment screen and an exceptionally nice three-spoke steering wheel. This sculpture carries over onto the front seats which are a bit of a mixed bag to be perfectly honest. While tall drivers will find thigh support for long drives lacking, the backrests are absolutely excellent and offer a great blend of comfort and support. The heated seats are wonderfully effective and the heated steering wheel button is right next to the one for the driver's heated seat.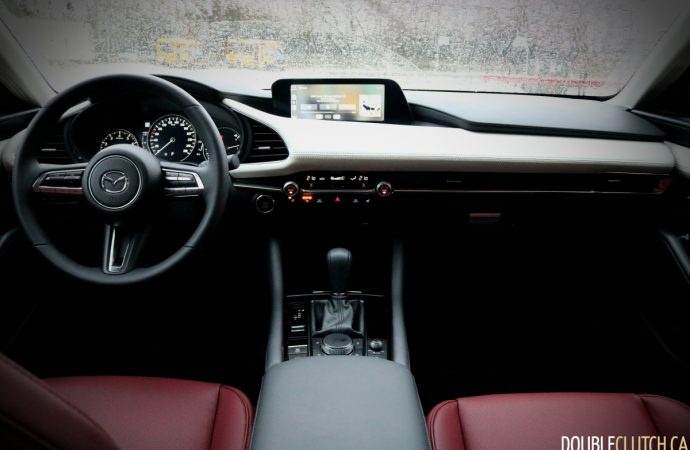 And so the Bose system in this latest Mazda3 is night and day over the Bose system in the previous-generation model. Bass is tight yet punchy, treble is crisp without being shrill and overall system clarity is quite good. Adjustable staging means drivers can select just how immersive they want the surround sound to be and Mazda's commitment to road and wind noise reduction allows the system to shine. Kudos also go to the lovely metal speaker grilles in the doors which imbue a premium feel.
While 250 horsepower sounds like just a small jump over competitors, 320 lb-ft. of torque is a big number. More than some heavy-hitting entry-level performance cars of a few years ago like the BMW 335i. As a result, the turbocharged Mazda3 is surprisingly potent although it doesn't make a huge fuss about it. Smoothness is the word of the day and with fewer gears than the competition and peak torque hitting at just 2,500RPM, the 2.5-litre turbocharged engine and six-speed automatic gearbox rarely get tripped up.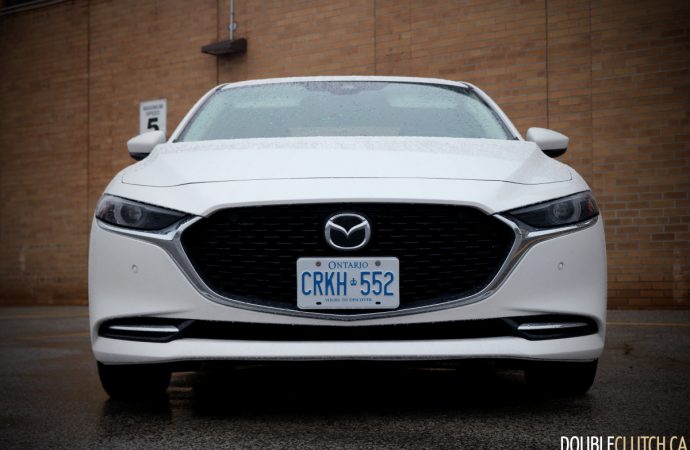 One tiny but important note, those big numbers are only generated on 93-octane or higher gasoline. Fill the tank with regular fuel and output drops to 227 horsepower and 310 lb-ft. of torque which is still more than competitive with what other entry-level premium cars make on premium.
So does the turbocharged Mazda3 feel all-wheel drive? Yes and no. While it pulls itself out of corners with a more rear-biased feel than most compact all-wheel-drive vehicles, it actually de-couples the all-wheel-drive when turning into a dry corner for better feel. As a result, it doesn't have the sheer grip of a Subaru WRX but it's no worse off than a Mercedes-Benz A-Class. Mazda's all-wheel-drive system is predictive and uses everything from the windshield wiper settings to the wheel speed sensors to prime itself and can kick into action rapidly in slippery conditions or under hard acceleration. As a result, we never felt an ounce of torque steer during our week of testing.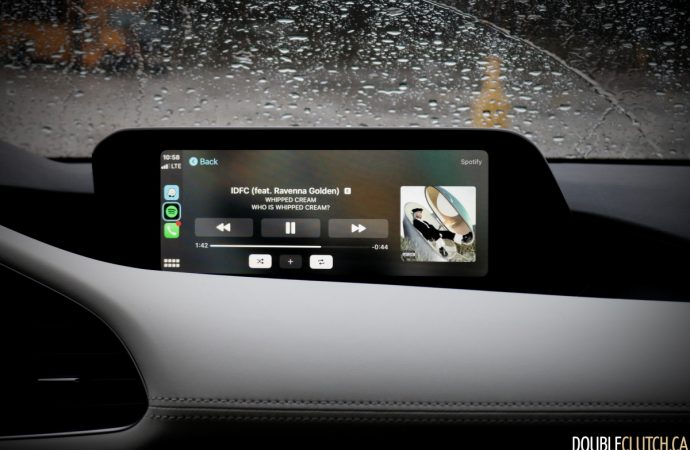 Despite Mazda no longer being the Zoom Zoom car company, they've tuned in a euro-style sportiness to the 3's chassis. It's eager to turn into corners and reasonably communicative when the limits of adhesion are approached. As for ride comfort, the Mazda3 certainly travels down the road firmer than mainstream compact cars or even the Mercedes-Benz A 250 but it has a sense of solidity that the BMW 2-Series Gran Coupe lacks. Every bump in the road is controlled with no excessive pitch, roll or murmurs through the Mazda's structure.
Fuel economy? Ahh, yes. Compared to its competitors, the turbocharged Mazda3 isn't that easy at the pumps. We averaged 9.8L/100km on 93-octane fuel which stings a bit at the pumps. However, our test car was still within the break-in period and fitted with winter tires so fuel economy could improve with more driving and summer tires.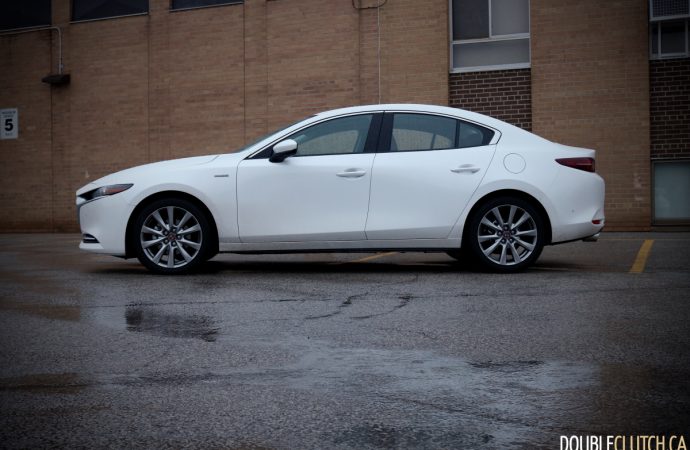 Active safety systems are a big deal in the automotive industry today and a loaded Mazda3s come with just about all of them. Adaptive cruise control works deftly under most conditions, blind-spot monitoring is spot-on and the quality of the 360-degree parking camera system is up there with the latest tech from Mercedes-Benz and BMW. One interesting omission is lane-centering, although Mazda says that's because drivers who rely on lane-centering systems can become complacent.
So how much does this fully-loaded, turbocharged, all-wheel-drive, limited-edition Mazda3  cost? A Mercedes-Benz A 220 sedan starts at $37,300 and doesn't even come with leather seats or a heated steering wheel at that price. BMW's 228i GranCoupe starts at an even more expensive $42,800 so surely this Mazda must be knocking on the door of $40k, right? Not quite. The 2021 Mazda3 100th Anniversary Edition comes loaded to the teeth for just $36,100. While a loaded Acura ILX is $210 less than this special Mazda 3, it lacks the refinement, power and all-wheel-drive traction that makes the Mazda such a catch.
See Also:
First Drive: 2021 Mazda3 Turbo
2020 Toyota Corolla Hatchback XSE