TORONTO, ONTARIO – The Mazda3 has been one of the best picks in the mainstream compact class since its launch in 2004. Now in its fourth generation, the car offers more variety than ever, with multiple engine choices, sedan and hatchback body styles, front and all-wheel-drive configurations, and availability of both automatic and manual transmissions. Now, they've kicked things up another notch. We were sent over a 2021 Mazda3 Turbo, in GT sedan form, painted in Mazda's stunning Soul Red paint.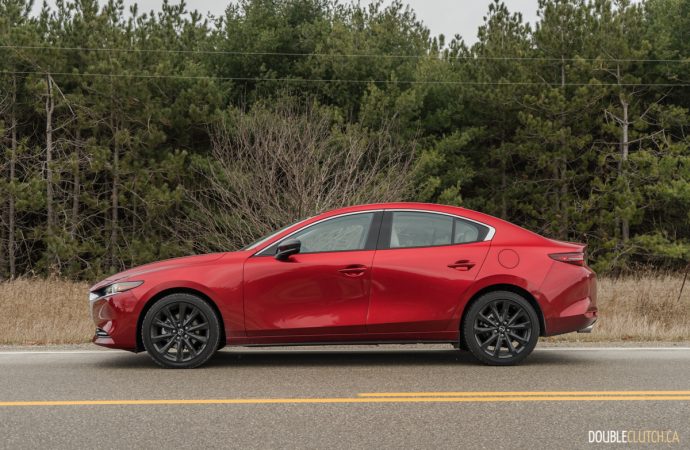 To get the basics out of the way – this is not a successor to the Mazdaspeed3, nor is it a wild torque-steering machine. This is a very necessary engine upgrade to the Mazda3 for those of us thought that the 2.5-liter naturally aspirated motor just didn't cut it. This turbocharged 2.5-liter four is shared with other models in Mazda's lineup such as the Mazda6, and outputs a peak 250 horsepower and 320 lb-ft. of torque. This is when running on premium 93-octane fuel, and on regular, these numbers drop to 227 and 310, respectively.
We didn't particularly love this engine in the CX-9, where fuel economy suffers. It's a good engine, but not quite suited to a three-row crossover where a naturally aspirated V6 would fare better. Here however, it's punchy and lively – the Mazda3 is the most perfect application of the Skyactiv-G Turbo engine. The 10.5:1 compression ratio helps with economy, and the Dynamic pressure turbocharging means it's responsive as all heck.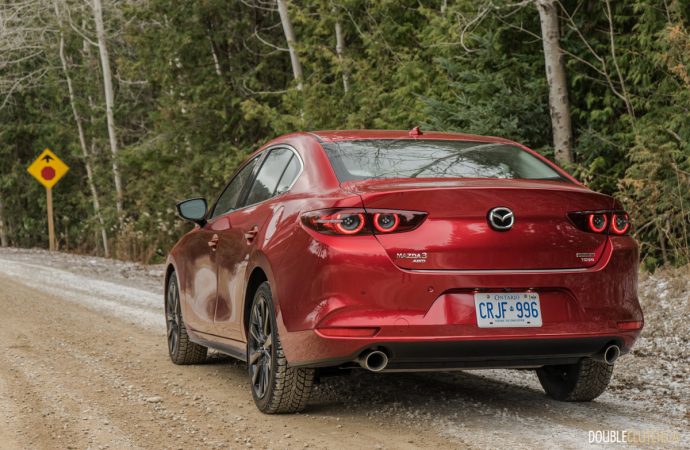 A six-speed automatic transmission is the only available gearbox, and it's perfectly adequate. We could certainly do with more gears, but it's worth noting that rivals like the Hyundai Elantra and Honda Civic both use CVT applications, rather than a conventional torque converter automatic. The Mazda3 is smooth and comfortable to drive, with plenty of power throughout the rev range. It feels quick when wound out, with plenty of torque up top, and minimal turbo lag.
The current generation Mazda3 is also the first application of Mazda's G-Vectoring Control Plus. This system monitors steering inputs and braking, and adjusts torque accordingly, shifting weight on the suspension for the best possible response and cornering ability. A change to the 2021 Turbo model is that this system now has a different, more dynamic tune in the selectable Sport mode. Other than the MX-5, every current vehicle in the Mazda portfolio offers G-Vectoring Control Plus as standard equipment.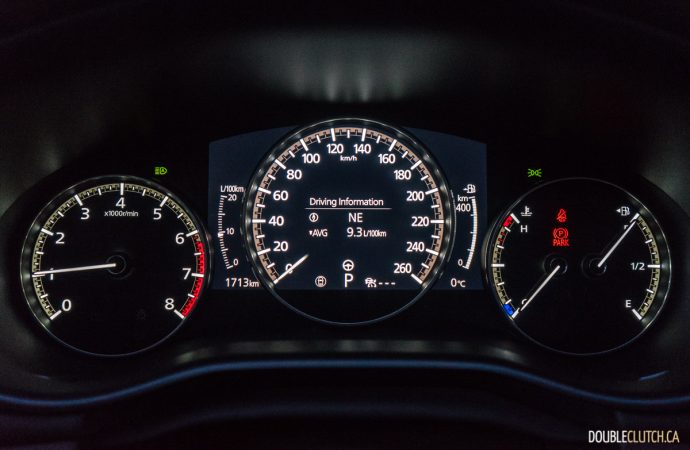 Mazda continues to offer the sharpest handling in the segment, with actual focus put into making their cars fun to drive. The Mazda3 Turbo's steering is well weighted and has a decent amount of feel. For an electrically assisted rack, it feels remarkably taut and old-fashioned. This is not a bad thing, because in the years that Mazda has sat on a pedestal, the competition has caught up. The current Toyota Corolla has an incredibly nimble chassis that's fun to toss about and induce lift-off oversteer. This improved Mazda3 has once again reclaimed its throne at the top.
Another area in which the Mazda3 has been a class leader is interior design. The cabin is beautifully designed, with a clear focus on the driver. A semi-digital instrument cluster is nice to look at and resists glare with ease. Materials are top-notch and better than every single competitor. The seats are supportive, and the dashboard is stunning to look at. In the case of our sedan tester, rear seat occupants will be comfortable, though the swooped styling does have a definitive impact on headroom.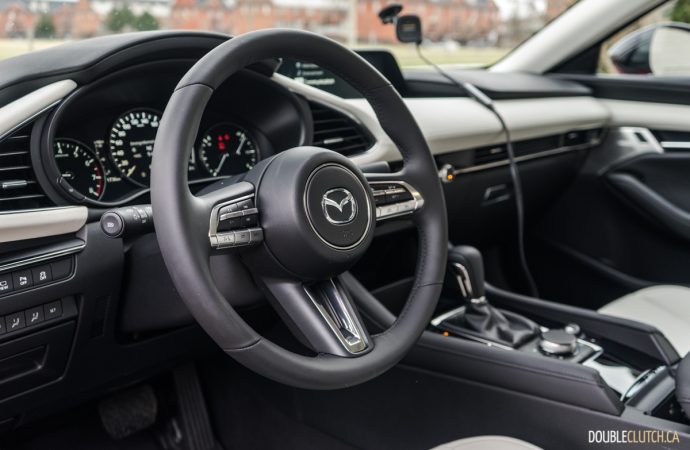 While the infotainment system isn't the best by a long shot, Mazda has implemented tech like a 360-degree camera, stunning heads-up display with plenty of pertinent information, and a brilliant 8.8-inch screen that houses Apple CarPlay and Android Auto. It's not a touchscreen and requires use of a controller knob, but the infotainment's real challenge is the lack of convenience. Simple commands require more steps than necessary for execution, and it's not nearly as quick in processing as it should be. The 12-speaker Bose premium sound system is a pleasant surprise, however.
The i-ACTIVSENSE safety suite is standard on this model, and includes radar-guided cruise control with stop and go, rear cross-traffic alert, lane keep assist, blind spot monitoring, lane departure warning and more. New features here include Traffic Jam Assist, Smart Brake Support in reverse, and rear cross-traffic braking. This suite is on par with Honda and Toyota's respective systems, and ensures that the Mazda3 is just as safe as it is comfortable and pretty.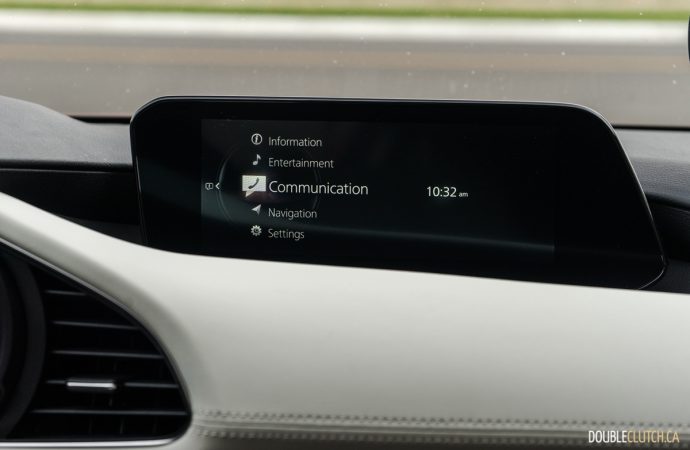 Fuel efficiency for both sedan and Sport body styles is identical, rated at 10.1L/100km city and 7.5L/100km highway. Our observation of 9.4/100km is right in line with the manufacturer's estimate. We must reiterate the need for 93-octane fuel in order to make the full power and torque numbers. As in typical Mazda3 form, the fuel tank is a bit smaller than we'd like, with a capacity of just 48-liters.
Mazda Canada prices the Mazda3 Turbo at $32,900 to start for the sedan, and tops out at $35,600 for the hatch with the Premium Package. The 100th Anniversary Package in either body style is $1,500 more than the GT Premium Package models. The turbocharged engine is only available on GT trims, and with all-wheel-drive. The manual transmission is also not available with this powertrain, and we'd wager that this won't change in the future.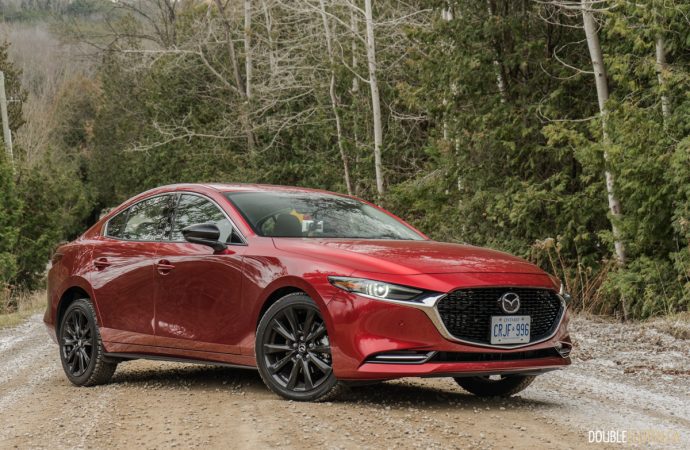 Competition for the turbocharged Mazda3 is interesting, and we're going to go out on a limb and say that this car punches a bit above its weight class. Cars like the Acura ILX come to mind, along with the Mercedes-Benz A 220 and BMW 228i Gran Coupe. You may notice that these alternatives are all significantly more money, with the two German entries touching $50,000 without batting an eye. It just goes to show that while the 2021 Mazda3 Turbo isn't without its flaws, it's a serious value proposition with plenty to offer.
See Also:
2019 Mercedes-Benz A 220 4MATIC