It appears fairly easy to create a good flagship luxury car if you're an established brand. The formula seems simple – add a bunch of the latest technology, mix it with some supple interior materials, and add a turbocharged powertrain. It's no surprise then, that cars like the Mercedes-Benz S-Class (reviewed here) and BMW 7-series are no-brainer choices for those hunting in the six-figure price point. As easy as this looks, this is actually a difficult task to pull off, but even harder is a luxury automaker's struggle to pull off a good value-focused entry-level vehicle for the North American market.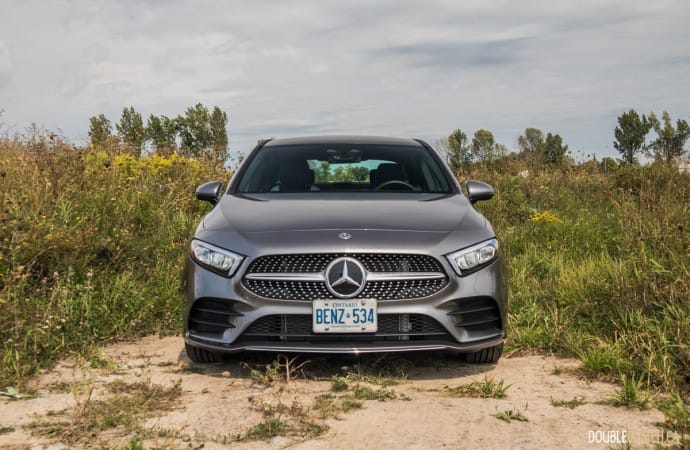 The aging B-Class has been criticized many times over, but this year we sampled the new A 250 Hatchback (reviewed here), a legitimate rival to German hot hatchbacks like the established Volkswagen GTI. Its sporty demeanour and higher price tag isn't for everyone though, and the folks at Mercedes-Benz see this. A later arrival this year is the 2019 Mercedes-Benz A 220 4MATIC Sedan, which sheds the A 250's hatchback design for a more conventional sedan body. It also sees a de-tuned version of the same engine while maintaining a lot of the five-door's personality.
On the inside, the A 220 Sedan is virtually identical to the hatchback, with top-notch materials found in most frequently touched places. A brushed aluminum finish surrounds the cabin, and unlike prior entry-level Mercedes-Benz models, the controls for the power seats are located on the door panels rather than the side of the seats themselves. Some plastics are visible, and while they are appropriate for the mid-$30,000 base price, they do bring the baby Benz a little bit down-market from its more expensive siblings.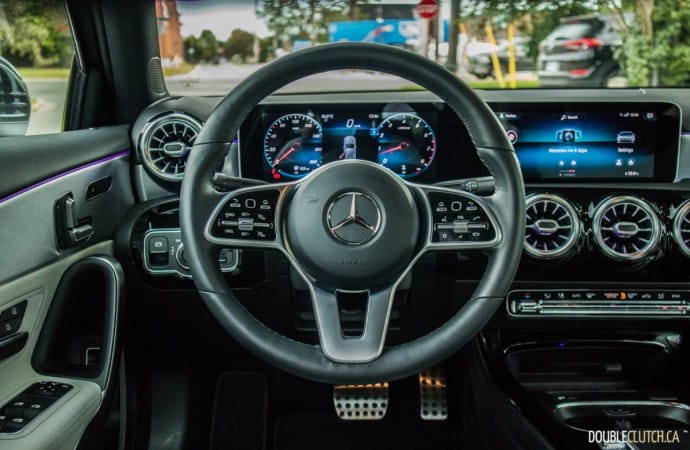 Mercedes-Benz's new pride and joy, their MBUX infotainment user interface, is in play here. It's a vast improvement over the outgoing COMAND system that remains in the majority of today's lineup, incorporating a more humanized experience similar to systems like Siri and Alexa. In application, it's not quite as seamless, often misunderstanding commands. It could also use a bit of a speed boost, though the graphics on the side-by-side 10.25-inch digital displays are simply stunning and put competing systems from Audi and Genesis to shame, especially at the price point.
The A 220 hustles along courtesy of a 2.0-liter turbocharged four-cylinder engine, good for 188 horsepower at 5,800RPM  and 221 lb-ft. of torque at a low 1,600RPM. This is down from the 221 and 258, respectively, that the five-door offers. The power numbers are adequate enough to get the A 220 around in both city and highway applications, but the real challenge here is the dual-clutch transmission. The seven-speed box is tuned differently than the A 250's, and we noticed some lag as well as lurching at gridlock-speeds. We can't help but observe that a regular torque converter automatic would likely have been both cheaper to manufacture and smoother in application.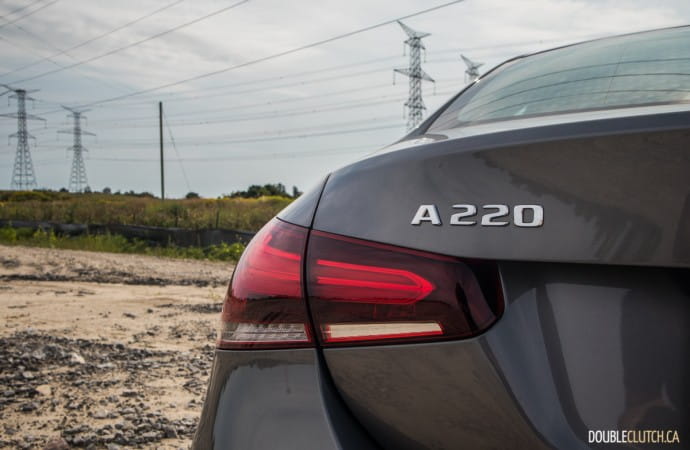 Fuel efficiency is rated at 9.7L/100km city and 6.8L/100km on the highway when operating on 91-octane fuel. Our observation was not far off from the 8.4L/100km combined figure, at 7.9L/100km over roughly 350km traveled. This was almost a full liter per 100 kilometers better than we averaged with the A 250, a surprise to us considering the similar weight and variables of both road tests.
Mercedes-Benz has priced the A 220 Sedan from $36,990 for the 4MATIC model that most Canadians will opt for. Our tester was packed with the essential Premium Package ($3,000), a Navigation Package ($1,000), Sport Package ($1,500), and a few standalone options. Recommended by us are gizmos such as the power passenger seat ($450) and heated steering wheel ($250). While our tester came in at $44,980, this cost can be brought down a bit by skipping navigation (CarPlay is standard) and the self-park feature.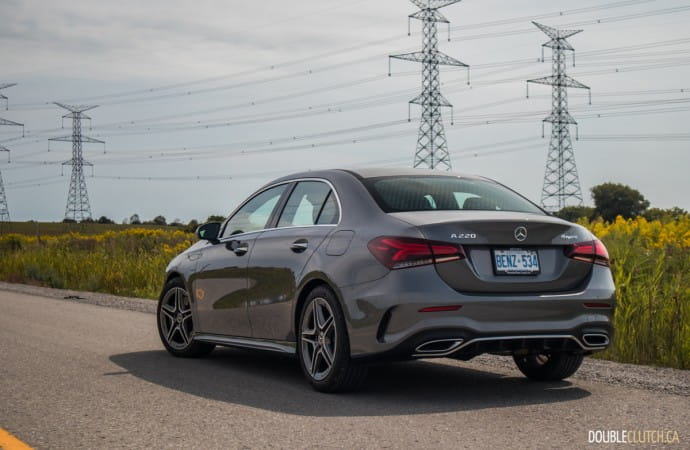 We can envision an average transaction price around the $41,000 mark, which is right about where a loaded Honda Accord (reviewed here) or Toyota Camry would come in, although for that price you're getting the larger engine options on both cars along with a considerable upgrade in size. Even still, the A 220 is a better option than Audi's aging A3, and BMW's 230i is two doors away from being practical for those loading kids into the back on a regular basis.
Not only does the new A-Class Sedan face rivalry from top dog mainstream Japanese offerings, but also within its own lineup. Looking at this lineup two decades ago, the C-Class would have been the least expensive Mercedes, but just a few years ago, the CLA was launched and met with popularity among younger buyers. The C-Class is priced significantly higher, but the CLA is in an awkward in-between niche between this A 220 and the C 300 (reviewed here). Not only that, but there's a brand new CLA coming later this year with much of the same kit as tested here, but more curvy styling.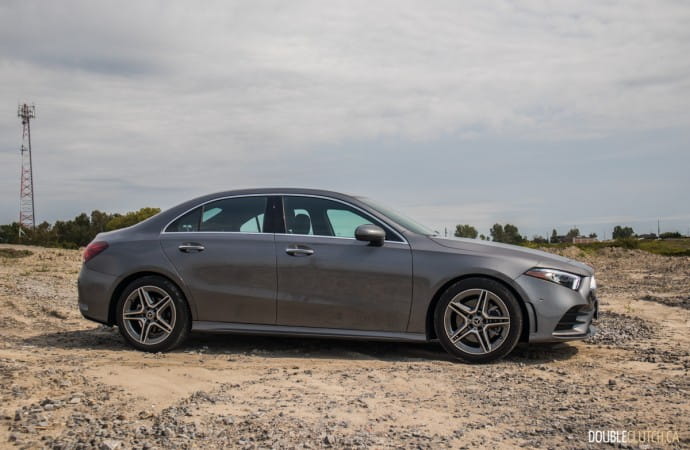 There's no doubt that the CLA 250 will be geared towards a marginally sportier market, only offering the higher-spec 2.0-liter as seen in the A 250, and more standard features, but it does lead us to ask whether or not there will be some overlap. For buyers not fazed or allured by more potency and power, the 2019 Mercedes-Benz A 220 4MATIC Sedan remains an exceptional value for the money. Just remember to choose your options carefully and only select what you need, or the price tag will put it handily into CLA territory.

See Also:
2019 Mercedes-Benz A 250 Hatchback
2019 Lexus UX 250h AWD
2018 Mercedes-Benz GLA 250 4MATIC