The full-sized Range Rover is easily one of the best riding sport-utility-vehicles on the market today.
Rolls-Royce has recently unveiled their entry, the Cullinan, but before it launched, this largest entry from Jaguar Land Rover was the closest thing to a Phantom (reviewed here) in sport-ute form. Its most suited powertrain is a supercharged 5.0L V8, but in recent years, Land Rover has begun to offer an alternative propulsion method. We decided to get behind the wheel of a 2019 Range Rover HSE Td6 equipped with the turbodiesel engine to see just how it fares in a growing ultra-luxury utility segment.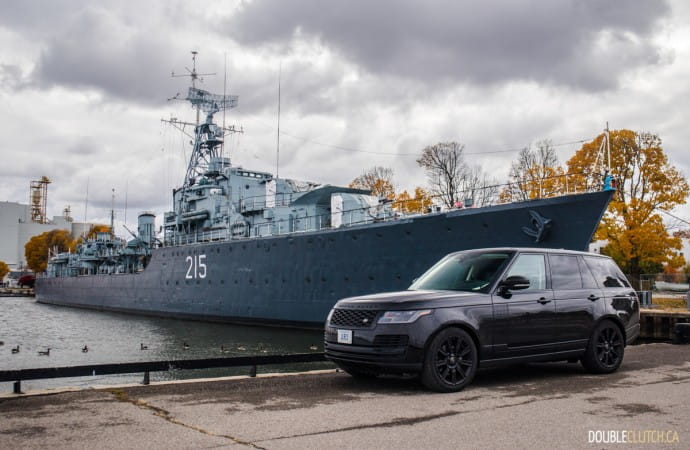 Unmistakably a Range Rover, the styling of this ute has remained unchanged since its introduction as a 2013 model. This generation is codenamed L405, and offers contemporary styling with the conservative elegance that the Range Rover marque is known for. Alongside its smaller siblings, the Range Rover Sport (reviewed here) and the Velar, the full-size Range Rover is distinctive not only for its sheer size, but for small touches and lighting that is unique to the flagship model.
The Td6 is a particularly special powertrain, one we have tested extensively and that has impressed every single time. This is a 3.0L turbodiesel V6 engine, produced by Ford for Jaguar Land Rover. It is also offered in the Discovery (reviewed here) and the Range Rover Sport. Albeit with some serious modifications, this is also the same essential block as the Power Stroke engine in the diesel Ford F-150. By no means does the Range Rover feel like a Ford truck though; torque is in abundance and power delivery is effortless.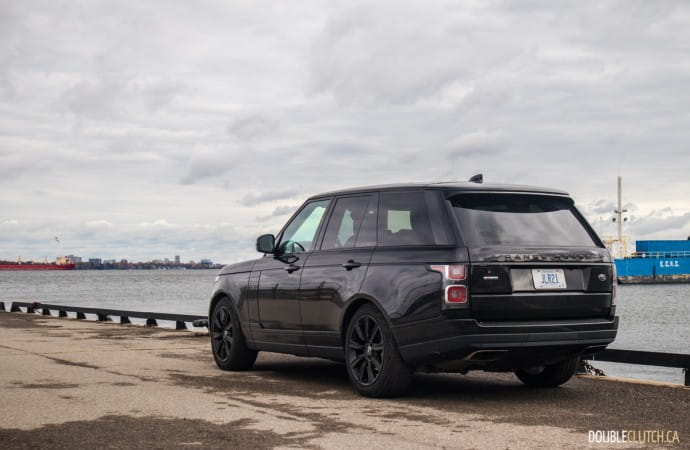 Outputting 254 horsepower and 443 lb-ft. of torque from a low 1,750RPM, the Td6 really does haul like a freight train. Passing power is more than ample, and very smooth with nary a complaint from under the hood. Very little diesel clatter is audible from outside the vehicle, and the cabin is insulated so well that unless you notice the low redline on the digital tachometer, passengers really won't be able to differentiate this Range Rover from its gasoline-powered counterpart. Other available powertrains are the 3.0L supercharged V6, two variations of the 5.0L supercharged V8, and a plug-in hybrid.
Torque is one of the biggest benefits of a diesel engine, but let's be realistic – the primary reason many buyers will gravitate to this Td6 is fuel savings. Land Rover rates this engine at 10.5L/100km city and 8.0L/100km highway. We put about 500 highway kilometers on this big kahuna with no real effort to stay frugal, and it returned 8.2L/100km. The overall average for the test week was 9.6L/100km in near-freezing temperatures. The famous ZF eight-speed automatic is at play here, and while paddle shifters are available, letting this gearbox do its thing will result in near-perfect transmission logic and response.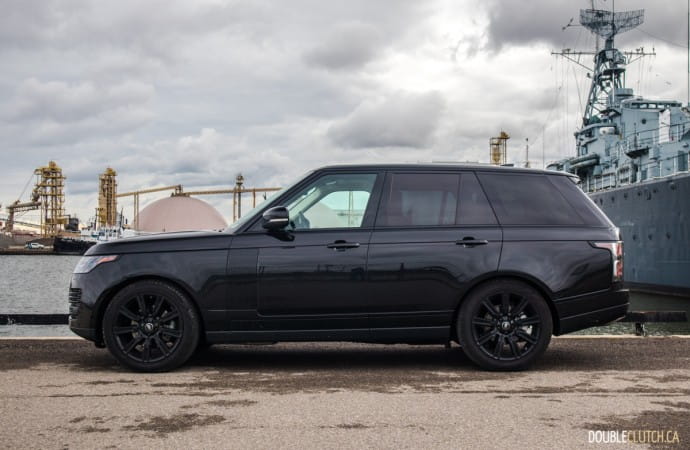 Handling is typical for a large sport-utility-vehicle, but the slow steering is still relatively responsive, and the turning radius is tighter than one would expect form a vehicle of this size. One of the two best features of the Range Rover, however, is the way it rides both on the highway and on pothole-riddled surface streets. The four-corner air suspension that is standard equipment does a sublime job at isolating the passenger cabin from bumps of any shape or size. The Range Rover silently and comfortably wafts down the highway with the quietness and smoothness of a Rolls-Royce, and the level of body control it exhibits is unmatched by any other SUV available.
On to the other "best feature" the Range Rover offers; the interior is simply stunning, both in build quality as well as visual appeal. Our test vehicle was equipped with a two-tone Ebony and Ivory interior, which looks and feels worthy of the six-figure purchase price. The wood and brushed aluminum trim throughout the cabin feels excellent, and every surface feels nice to the touch. The Windsor leather seats are supremely comfortable, and the driving position is not only comfortable, but also commanding and authoritative.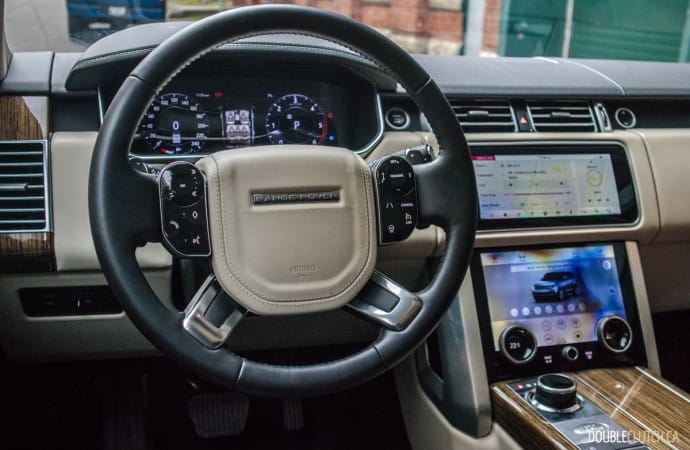 An ongoing challenge with Range Rover models in the last year or so has been the InControl Touch Pro Duo infotainment system. This is the latest iteration and while brilliant in terms of graphics and display resolution, is very challenging to use. This system lags unnecessarily, and certain commands that should be straightforward or clearly marked require exploration into the depths of various menus and screens. A D-pad on the steering wheel for volume and track selection is less than responsive and seems to have a mind of its own. On the plus side, the digital instrument cluster looks gorgeous and is easy to navigate.
Pricing for the diesel Range Rover starts at $114,000, and this powertrain is only available in short wheelbase form. At this price, the HSE model comes with 20" wheels, 20-way front seats with heating front and rear, Meridian surround sound, LED headlights, and Windsor premium leather. Packages include a Drive Pro Package that adds active driver assist technology, a Park Pro Package for park assist, a Vision Assist Package for more configurable lighting, rear entertainment, and a few other small things. The total sticker just crests the $130,000 mark before fees and taxes.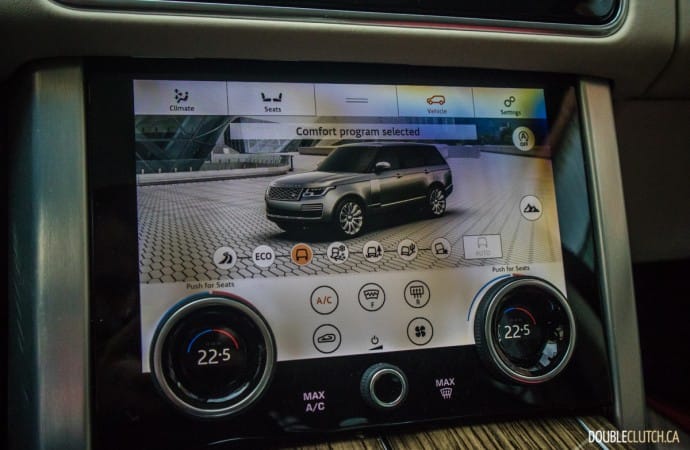 The only real competition to the Range Rover plays in a much higher price bracket. The Bentley Bentayga and Rolls-Royce Cullinan are significantly more expensive, leaving only the upcoming BMW X7 as serious competition. The body-on-frame Lexus LX 570 (reviewed here) is in a similar price point, but is a more focused off-roader rather than doubling as a serene luxury cruiser like this Brit. What the 2019 Range Rover HSE Td6 offers is an unparalleled level of luxury combined with off-road prowess that, as a combination, truly can't be touched by anything else out there.
See Also:
2017 Range Rover Autobiography L