The Sport still makes a compelling case for itself simply on driving dynamics and overall comfort
Typically, the vehicles that arrive at our office for evaluation, especially those from luxury automakers, are equipped with a plethora of options. This is in order to give us a sample of the best the manufacturer has to offer. However, we must put every vehicle into context and determine which of these options are unnecessary and where between the base price and the top-trim lies the sweet spot for the buyer. In the case of this 2018 Range Rover Sport SE, our work has been cut out for us – this is the absolute base model one can buy on this vehicle – a fresh look at a popular seller in the luxury SUV game.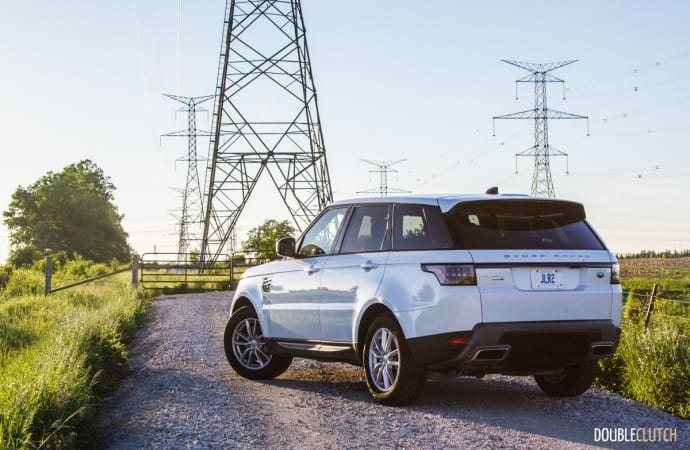 The Range Rover Sport has always been a handsome rig, but considering not many people want to take their near-$100,000 SUV off-road, often relegated to the local Whole Foods parking lot or waiting in the pick-up lane at the most prestigious private schools in the city. An exceptionally handsome vehicle, the Sport slots above the Velar (reviewed here) in the Range Rover sub-brand and directly below the full-size model. For 2018 it gets a mild facelift that freshens up the look; most notable on the exterior are full LED headlights and taillights, which make the Sport look very similar to its Velar sibling.
There are four different powertrains available on the Range Rover Sport, with outputs ranging from 240 to over 550 horsepower. The supercharged 3.0L V6 under the hood of our test vehicle is a wonderful unit, and it's unfortunate that this engine is next on JLR's chopping block. It has a smooth powerband with plenty of pep, and makes a great noise. It pushes 340 horsepower at 6,500RPM and 332 lb-ft. of torque between 3,500 and 5,000RPM. Low-end is perfectly adequate, mid-range pull is plentiful, and at highway speeds, the Sport still pulls off passes with ease. This isn't a particularly fast truck, with a rated 0-100km/h time of 7.1 seconds, but it's quick enough and never feels sluggish.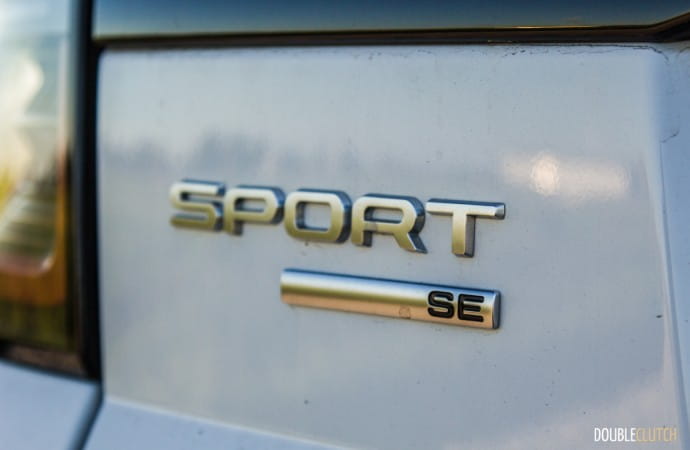 Out on the road, the Sport is an absolute blast thanks to a responsive eight-speed automatic. Power delivery is immediate, and the steering, while on the slower side, is direct and the SUV goes exactly where it's pointed. The wheel can do 2.7 turns lock-to-lock, which is reasonable for the size and response. It will only take a short drive to get used to the dimensions and corners of the vehicle, after which parking it becomes second nature. Ride quality is also spectacular thanks to the suspension, and the Sport rides like anything bearing a Range Rover badge should.
It may be a modern-day crossover and a far cry from the Range Rover models of yore, but the nameplate still promises off-road capability. The electronic air suspension system is standard and can adjust the ride height between multiple settings. As such, the Sport can wade through up to 850mm of water, and boasts a maximum approach angle of 24.2 degrees. A 24.9-degree departure angle evens things out, and the Terrain Response system can be tweaked for a multitude of different scenarios. Things like hill descent control and stability control are all standard fare.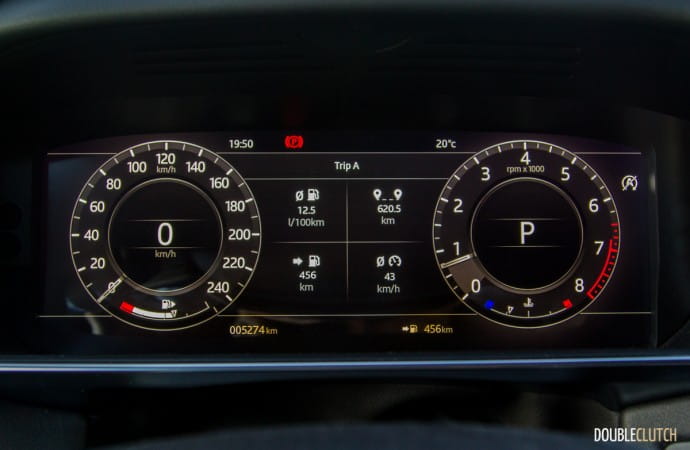 Land Rover rates the Range Rover Sport with the supercharged V6 at 14.1L/100km city, 10.3L/100km highway, and 12.4L/100km in combined driving. Our test took place over 600km of commuting and testing, and returned 12.5L/100km – right in line with the claim. Premium fuel is recommended for optimal performance and that's what our test took place on – we would not recommend putting regular into this vehicle under any circumstances. The massive 104L tank means plenty of real-world range before having to pull over to refuel.
The Range Rover Sport comes standard in a five-passenger, two-row configuration. A third row is optional, but we have experienced models with this setup in the past and it's meant for kids only and even then, for a short duration. For a family of four, the Sport will do just fine as it is, and provides plenty of head, shoulder, and legroom. The driving position is absolutely spot-on, with excellent sightlines and visibility around the car. A massive panoramic glass sunroof is standard on this SE tester, but it must be mentioned that this is a fixed unit and does not open in any way.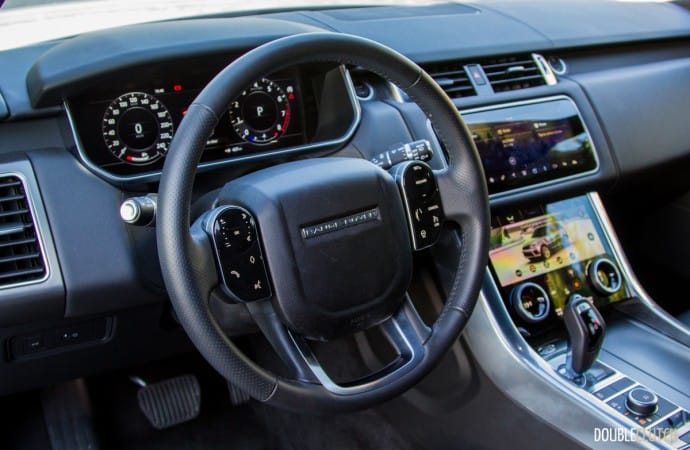 Interior materials all feel very premium even on this base model, with comfortable Ebony leather seats. The fronts are only heated (not ventilated), but the driver's seat is 14-way powered with memory. There is a four-way lumbar support setting that came in handy. The steering column is still powered for tilt and telescope, and the meaty leather-wrapped wheel is heated and feels very nice to the touch. The only option equipped on our Sport SE tester was an Ebony Premium Headliner ($410), which surprisingly makes all the difference in ensuring that the interior feels luxurious to the price point.
Here's the main problem with the Range Rover Sport; the new InControl Touch Pro Duo system isn't quite as good as it's made out to be. This large and beautiful dual-screen layout is stunning to look at, but requires digging through sub-menus to find major controls. For instance, setting the climate control to "Auto" doesn't have a dedicated physical button or even a touch button that's always available. The screen must be on a "Climate" page in order for it to surface. There are two physical knobs that can be used for temperature or fan speed, but this is unlike other vehicles where pushing one of them would force the "Auto" setting.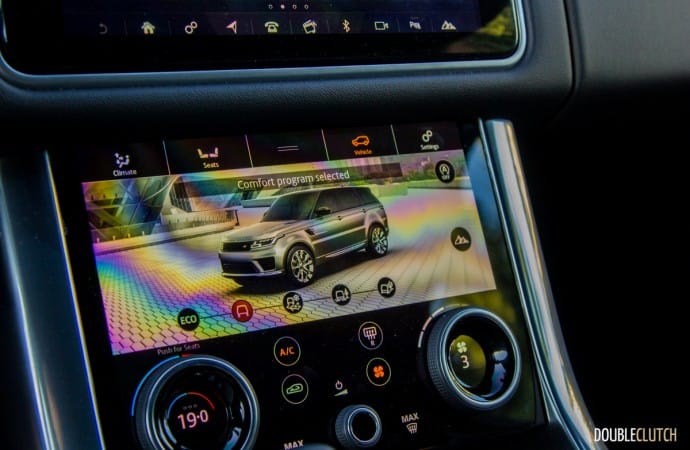 The Touch Pro Duo's brain is a little bit slow to respond on occasion too, and this can be distracting if you're trying to zoom on the map or skip a song while driving. On one occasion, we experienced a full system shutdown, where the screens went blank and mysteriously blasted the air conditioning at maximum power. It came back on its own the next morning, but that was one cold drive home. We know Land Rover will stick to this system and make improvements over time, but the single easiest and biggest change would be to add Apple CarPlay/Android Auto capability, making connectivity and multimedia easier.
At $78,800 to start and an as-tested sticker of $79,210 before taxes and fees, the Range Rover Sport isn't cheap. It comes very well equipped even at the entry-level price point, and can be loaded up to easily sticker over $100,000. The Sport's biggest rival right now is within its own brand, and that's the Velar. The sexy new kid on the block is a little bit smaller than the Sport, but for those who don't need a third row, offers just as much space and a lot more in terms of features and amenities. The Velar is the newest and freshest crossover in the JLR lineup, and its styling has slightly dated everything else  around it (with the exception of the full-size Range Rover, which itself is royalty).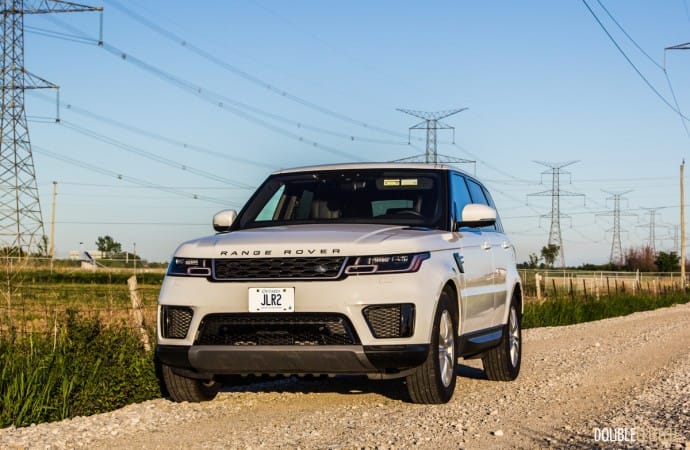 The 2018 Range Rover Sport SE is mildly updated for this year and now in its fifth model year for this body style, having been introduced for 2014. Since then, rivals such as the Audi Q7 and Volvo XC90 (reviewed here) have all been completely overhauled, and there is a new BMW X5 coming later this year. Aside from rapidly advancing competition, some electronic glitches and finicky behaviour typical for British vehicles remain the only downfalls to this solidly good luxury SUV. The Sport still makes a compelling case for itself simply on driving dynamics and overall comfort; both areas where it still reigns supreme.
See Also:
2017 Range Rover Sport HSE Td6