In an ever-growing sea of crossovers and SUVs, the majority of vehicles, no matter how new they may be, tend to just blend right in.
The unmistakable silhouette of a Range Rover still remains popular due to strong overall appeal, but Land Rover found it necessary to kick things up a notch to stand out even more. Enter the 2018 Range Rover Sport SVR; the hottest take on the Sport available, and a seriously mean SUV. We borrowed one for a week and put it through our evaluations to determine its relevance against competition like the BMW X5 M (reviewed here).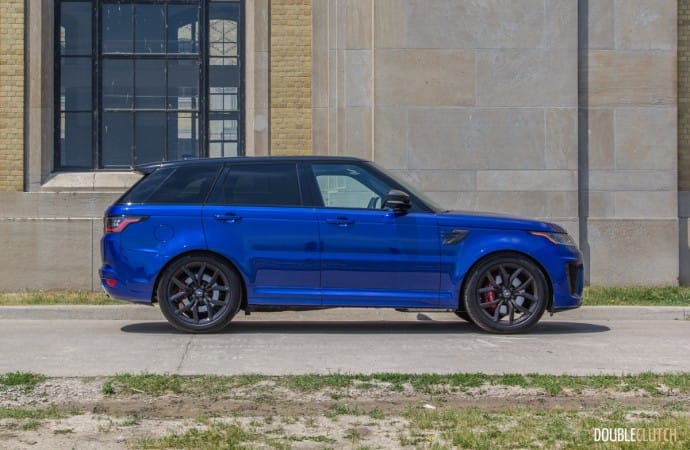 This is absolutely subjective, but I consider the Range Rover Sport to be one of the best-looking SUVs available for sale today. The SVR, with its base price of $132,000, cranks things up to level 10, and one of the updates for the 2018 model year is a carbon-fiber hood with an un-painted center. Our test vehicle was painted in Estoril Blue, a $1,840 option that also happens to be the signature launch colour of the SVR model. It looks evil and when contrasted with the blue roof, will mean your Range Rover Sport won't be confused with the one that spends all of its time parked outside Whole Foods.
Under the hood of the SVR lives an engine that we will be genuinely sad to see discontinued when its run is over. This is Jaguar Land Rover's storied 5.0L supercharged V8, tuned specially for SVR models. Output is 575 horsepower at 6,500RPM and 516 lb-ft. of torque at 3,500RPM. The only available gearbox is a ZF eight-speed automatic, which can pull off sharp and noise-filled shifts in the same manner that it can pull off imperceptible ones – it all depends on the drive mode you've selected.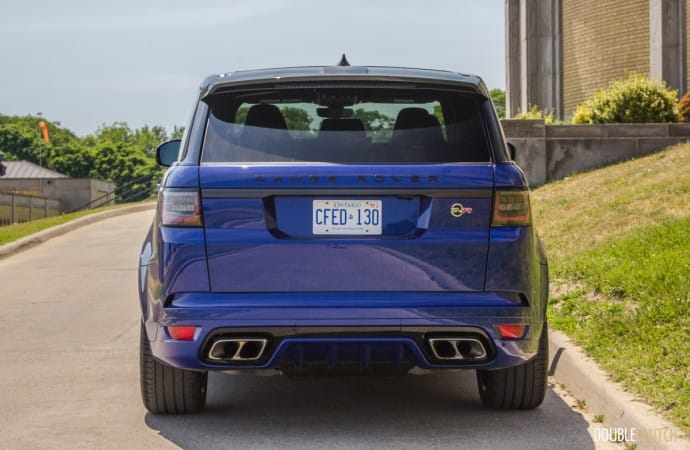 Yes, it's fast, but that's not where things end. While rivals like the X5 M pipe additional engine sound through the speakers, the Range Rover Sport SVR tries to keep things as natural as possible. As in the Jaguar F-Type (reviewed here), the exhaust makes brilliant noises on backfire as well as acceleration, but it doesn't sound artificial. This is easily one of the best-sounding SUVs out there, in any category. Throttle response is good, and the supercharger means there is no turbo lag as in the X5.
This engine is capable of pulling the big SVR to 100 km/h in the mid-4 second range, which is impressive for a 5,450-pound SUV. Set the drive mode selector to "Dynamic" and everything from the throttle response to the exhaust and transmission calibration gets mapped into its sharpest setting. The SVR almost has a Jekyll-and-Hyde personality, in that it has the capability to immediately transform from a legitimate performance vehicle into a very compliant luxury cruiser at the touch of a button.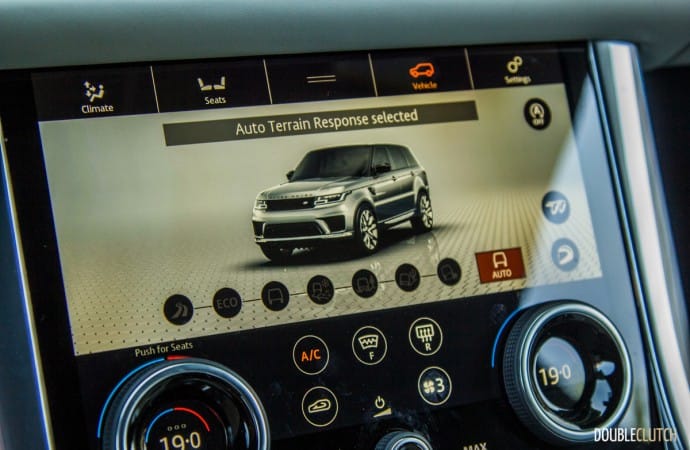 The SVR's steering is sharper than the standard Sport, but still has that signature Range Rover slow steering. On-center feel is improved, so this is a fantastic highway missile to just quietly (or loudly, depending on your mood) let the miles disappear in. Ride quality is exactly what we expect from a Range Rover – effortlessly smooth and accommodating, and in the case of the SVR, the adaptive dampers firm things up on command. There is some body roll in corners, which remains one of the only dynamic challenges with this model.
Land Rover Canada rates the SVR at 16.2L/100km in the city and 12.0L/100km highway, for a combined rating of 14.3L/100km. Despite a few longer highway runs and some genuine effort to keep consumption to a minimum, we observed 16.0L/100km over the course of our test. Of course, the performance exhaust makes it difficult to stay efficient. The huge 104L tank should only be filled with 91-octane or higher, and we suspect optimum performance on 93 or 94-octane fuel. Again, if efficiency is what you're looking for, the Range Rover Sport Td6 (reviewed here) may be a better option.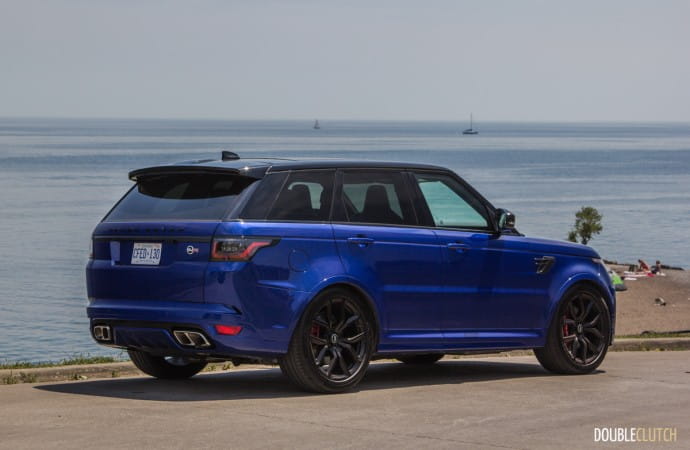 Interior comfort is also top notch, and I will go on record to say that the full-size Range Rover (reviewed here) and Range Rover Sport models are some of the most comfortable SUVs available, bar none. This one ditches the luxurious seats for new performance buckets that are 66 pounds lighter. The Ebony/Cirrus extended leather interior is great to look at, but our test vehicle had less than 1,000km when we received it and there were already some subtle stains that would be inevitable over years of use.
Land Rover's latest InControl Touch Pro Duo system was first seen on the Velar (reviewed here) earlier this year, and has rapidly spread throughout the lineup. Its dual-screen layout is spectacular to look at and has beautiful high-resolution graphics. The problem is that it's very difficult to use and commands that shouldn't require digging through menus do in fact need three or four steps to get to. On the plus side, the Meridian sound system sounds incredible, and is right up there with the Volvo application of Bowers & Wilkins – my favourite current factory stereo setup.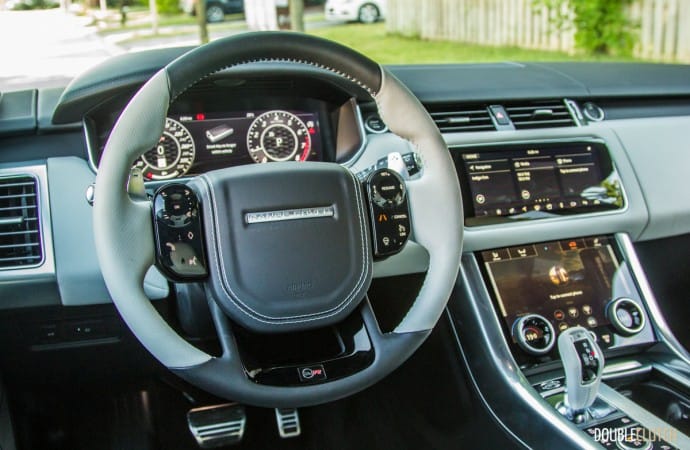 Features that are standard on the SVR model at $132,000 include the four-corner Sports air suspension, red calipers, 21" Style 5091 wheels, Terrain Response 2 with Dynamic Program, and the 575-horsepower engine. The optional wheels on our tester are an additional $3,670, a Climate Comfort Package is $920, a Drive Pro Package is $1,730, and a few other touches bring the price just over $150,000. One excellent touch we noted was a refrigerator built into the center console – this is large enough for two or three small water bottles and will keep them cool on scorching summer days.
There is absolutely no financial justification for vehicles like the 2018 Range Rover Sport SVR. It's purely an emotional purchase when a "regular" Range Rover Sport just won't do, and you're one of those people that will require 575 horsepower in your SUV. From a driving dynamics standpoint, it is absolutely the better choice over the BMW X5 M and the Mercedes-AMG GLE 63. As a performance SUV, the Sport SVR is not only an enthralling choice, but it really is a truly engaging one that is sure to put a smile on your face.
See Also:
2018 BMW X5 M Black Fire Edition