When it comes to carrying people, most families opt for a minivan or crossover SUV to handle daily driving duty. For those who need a bigger rig for towing trailers in addition to passenger capacity, General Motors answers the call with this 2016 Chevrolet Tahoe LT. With V8 power and a cavernous interior, seven passengers can ride along while the family boat follows in tow. Built on GM's K2XX platform, the Tahoe represents the latest in truck technology. Shared with the likes of the GMC Yukon (reviewed here) and longer Chevrolet Suburban, as well as the Silverado and GMC Sierra pickup, there's a lot riding on the historical success of the Chevrolet and GMC truck lineup.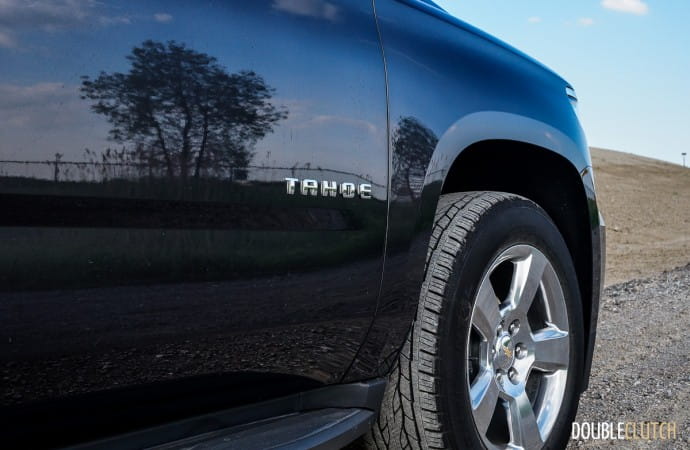 The Tahoe is available in three trims – base LS, mid-level LT, and loaded LTZ. The LT test truck started at a base price of $63,460, with standard features including leather seating surfaces, Bose audio, automatic climate control, and a rear view camera. In terms of options, for $3,455, the Sun, Entertainment, and Destinations package adds a power sunroof, rear seat Blu-Ray entertainment, as well as navigation. An additional $3,055 equips the Tahoe with a power rear liftgate, keyless access with pushbutton start, heated steering wheel, power release second row seats, power folding third row seats, as well as blind spot monitoring and cross-traffic alert. Among other options, a Max Trailering Package 20-inch polished aluminum wheels brought the as-tested price to $73,685.
Across all trim levels, the Tahoe is powered by a 5.3-litre V8 making 355 horsepower at 5,600 rpm, and 383 lb-ft of torque at 4,100 rpm. Based on the new "LT" series of V8 seen in the current Chevrolet Corvette and Camaro (reviewed here), the truck variant sees a series of tweaks that make it more suited to low-rpm torque for towing and hauling. Compared to the last generation Tahoe, the V8 still displaces the same 5.3-litres, but now sees direct injection, which allows for a finer control of the air/fuel combustion mixture. This makes the Chevy a fairly good performer, and while it won't win any races, it'll never feel laboured or slow to respond. Active Fuel Management, which shuts off four cylinders under light load, isn't anything new for the General Motors V8, but the latest iteration utilizes it much more aggressively and spends much more time in V4 mode. The transition between the two modes is seamless, thankfully, and the power is always on tap when the driver demands it.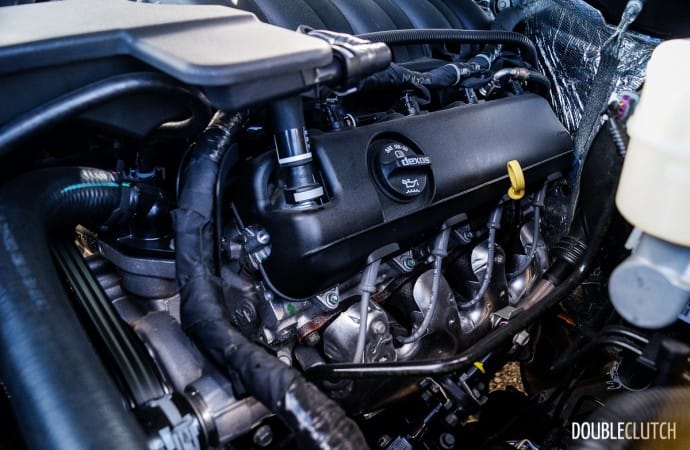 Paired with the 5.3-litre V8 is GM's 6L80 six-speed automatic transmission. Shifts are deliberate but smooth, and the gearbox doesn't spend any time hunting for gears. The 3.42 rear axle ratio offered by the Max Trailering Package also helps to keep things a little more lively. Curiously, the six-speed is the only transmission offered in the Tahoe lineup. The new 8L90 eight-speed automatic is currently only available on the 6.2-litre V8 seen in platform mates such as the GMC Yukon Denali and Cadillac Escalade (reviewed here).
With the extra two ratios, power delivery and fuel economy improves even further, and it would behoove General Motors to include the eight-speed on 5.3-litre trucks within the next model year or two. In the city, the four-wheel drive Tahoe is rated for 15.2 L/100km in the city, and 10.8 L/100km on the highway. Observed test fuel economy was split right down the middle at 13.1 L/100km in mixed driving. On the highway, maintaining smooth throttle inputs will encourage the engine to remain in V4 mode, and, it may even be possible to exceed the nominal highway fuel economy rating.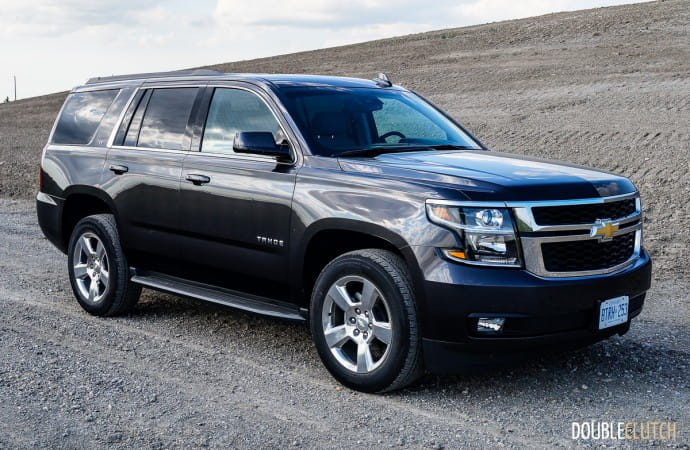 For towing, the Max Trailering package can significantly affect towing capacity on the Tahoe. Four-wheel drive models without the package are capable of pulling 2,994 kg (6,600 lb), and the number jumps to 3,810 kg (8,400 lb) when equipped with the package. The trailer brake controller, heavy-duty Z85 (or Z71 off-road) suspension, and 3.42 rear axle ratio all combine to the fairly significant bump. This allows for the towing of bigger and better toys, such as another vehicle on a flatbed trailer, or a large boat.
Driving dynamics on the 2016 Tahoe are also a generally strong suit. While there's still some body shake over bumps thanks to the Chevy's rugged body-on-frame construction, overall ride quality is excellent by truck standards. This is especially impressive due to the LT trim test vehicle not being equipped with magnetic ride suspension, which uses special fluid in the shock absorbers (controlled by an electric current) to improve both ride and handling. Its 5,182 millimetre (204.0 inches) length is only slightly longer than that of a Chevrolet Impala, which when combined with lightweight steering, kept the Tahoe quite maneuverable in tight spots. This is an SUV that certainly drives smaller than it looks!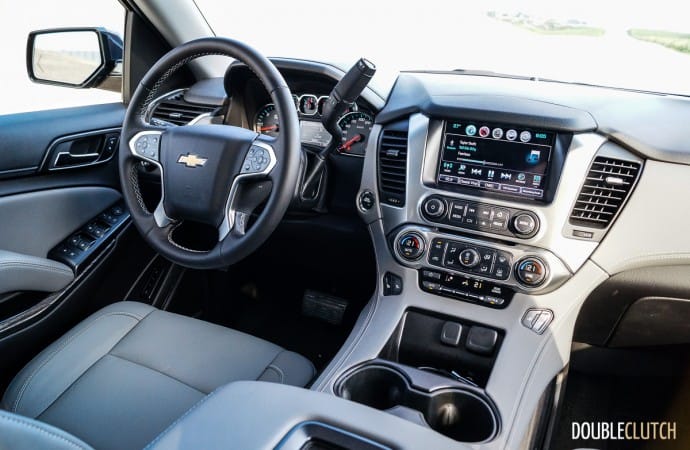 Inside, the Chevrolet Tahoe is well equipped and comfortable, but remains a bit spartan compared to its Yukon Denali or Escalade brethren. While the leather seats and touch points are fairly well designed in terms of ergonomics, it doesn't quite have a premium feel for a vehicle that retails for north of $70,000. The faux wood trim does help to break up the monotone gray of the centre stack, but still feels plasticky. The gauge cluster is nice and clear to read, with configurable information displays that include transmission fluid temperature and navigation. The dual-zone automatic climate control is simple and easy to use, with the temperature readouts placed directly in the middle of the dials themselves.
For infotainment, Chevrolet MyLink has proved to be an intuitive, easy-to-use system, and in the Tahoe, it doesn't depart significantly from other Chevrolet products tested. There's a 4GLTE WiFi hotspot that performs admirably well, with mobile data connectivity available for smartphones and tablets. There's also Apple CarPlay capability, which mirrors the iOS interface, including Siri, into MyLink. Sound quality out of the Bose audio system was clear and powerful.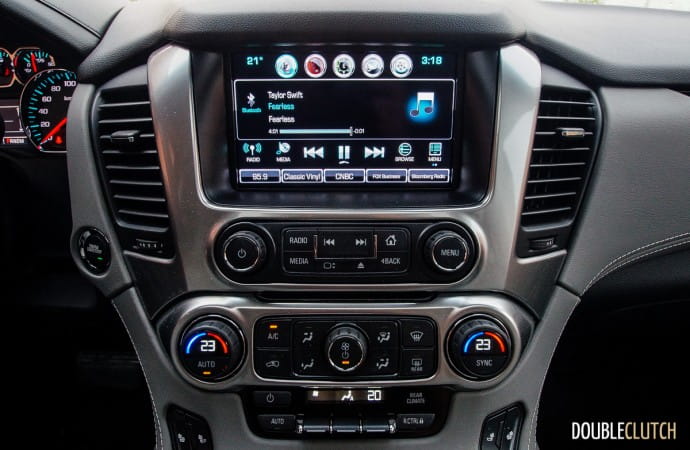 As an overall package, the 2016 Chevrolet Tahoe LT is a reasonably good value for its price point, and shines above other large SUVs when it comes to utility. Competitors such as the Toyota Sequoia and Ford Expedition are built on more outdated platforms, and others such as the Jeep Grand Cherokee (reviewed here) lack a third row of seating. The Tahoe's power folding third row is useful when moving people or cargo, and the relatively good fuel economy will help to make things easier on the pocketbook. Amongst the GM K2XX platform, those looking for a luxury SUV will likely opt for a Yukon Denali or Cadillac Escalade. Those who need no-nonsense passenger, cargo, and towing capability should take a good look at the Chevrolet Tahoe, which will do everything they need while still remaining quiet, economical, and comfortable.
2016 Chevrolet Tahoe LT Gallery
See Also: