The Honda Accord has received critical acclaim in nearly every generation it has been around, since its introduction, way back in 1976. It has been the bread-and-butter of the Japanese brand, and paired up with the Civic, the two make up the vast majority of Hondas sold in North America every year. Within the DoubleClutch.ca family, we've all come to love the current Accord. We spent a whole week in Los Angeles with an American-spec Accord Sport (see review here) and came to love its perfect blend of handsome looks, versatile sensibility, and overall goodness. The Accord has grown significantly in recent years, and a mid-model refresh for 2016 is aimed to keep it at the top of shopping lists everywhere. I was sent a 2016 Honda Accord Touring, with the four-cylinder engine for review.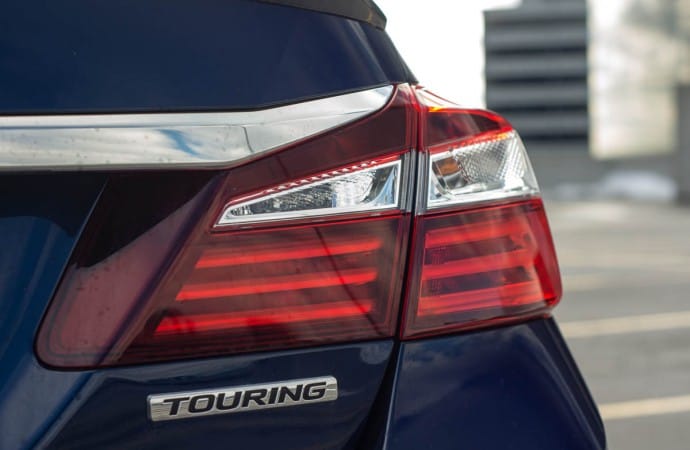 The ninth-generation Accord remains a handsome car, with a conservative, but clean design that doesn't alienate. The 2016 model year brings forth a new lighting suite – the LED headlights on the Touring model are now a full LED array, including the high-beams, which still used a halogen bulb in prior years. Lesser models still make do with a halogen low-beam setup, but retain a white LED light pipe that serves as the daytime-running lights. Out back, the taillights on the Touring model now feature attractive LED light pipes. The overall shape and size of the Accord doesn't change, and the clean lines do a good job masking what is otherwise a fairly large car.
The roofline speaks to Honda's resistance to the trend of creating midsize family sedans with aggressive coupe-like rooflines. Right off the bat, one can tell that sitting on the available second-row heated seats, headroom will be excellent – there's no risk of hitting your head on the roof here. One thing I'm not a huge fan of is the liberal use of chrome, just about everywhere. The front grille now features a lot of chrome brightwork, making entire front-end a little showy, in contrast to rest of the car. The Accord Touring rides on 235-section tires on an attractive set of 19" wheels. Overall, I find the Accord to be "quietly" attractive, in a good way. It's not a stunning show-stopper, in terms of design, but its looks should remain elegant and graceful well into the future. In my books, the Accord sits at the top, in terms of design, along with the also-refreshed Mazda6 (our drive here).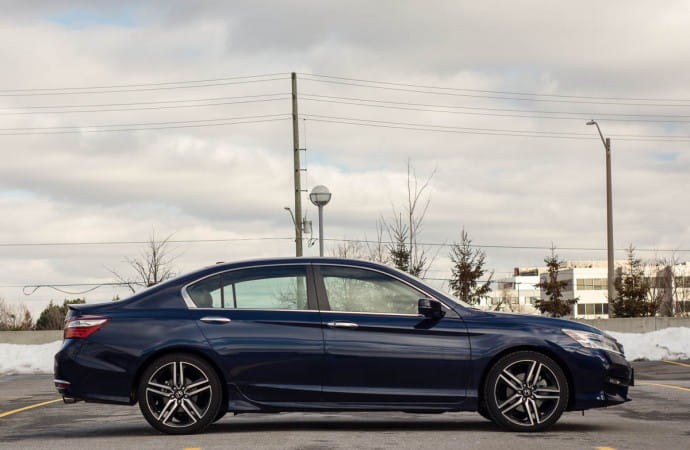 Inside, the Honda Accord continues Honda's long-time tradition of creating clean, conservative, and utilitarian layouts. There aren't really any polarizing elements, and everything just feels logically laid out. There's some glossy wood-look trim, but it's not the type that looks offensively fake. The low sills and large window glass are lend to an airy and bright interior, with the added perk of great visibility from the driver's seat in every direction. Up front and centre resides Honda's i-MID infotainment interface that not only allows you to control music and navigation, but also is the centrepiece that is Apple CarPlay and Android Auto.
Upon connecting your Android or iOS phone to the marked USB port behind a storage cubby door (complete with cable management pass-through), the main screen will send you on your way. In my case, the Android Auto homepage interface came up, with items showing previous destinations, recent searches, and even group chats. The best part has to be the Google Maps integration, with live traffic info available. The Accord Touring already comes equipped with a Garmin-powered satellite navigation system, but when you've got the Google solution literally at your fingertips, it's an easy option to overlook. At the bottom of the centre console stack, Touring models also receive a wireless charging pad, which conforms to the Qi standard. Your phone needs to support it in order to make use of this handy feature – sorry once again, iPhone owners.
Once you get settled into the comfortable heated leather seats and press the bright red engine start button, the Earth Dreams gasoline four-cylinder engine fires up and settles down into a smooth idle. This specific tester is interesting in it shows the differences between Canadian and American Honda – the Touring can be had with a four-cylinder engine up here, whereas the V6 is your only choice south of the border. Displacing 2.4L and featuring direct-injection and high-compression, it is good for 185 horsepower at 6400rpm, and 181 lb-ft of torque at 3900rpm. The big development for 2016 means that the Touring trim, with this engine, is now available with a six-speed manual. Last year, a CVT would have been the only choice. We've come to love all of Honda's manual transmissions, but Honda's CVTs have proven to be pretty good as far as those types go.
My particular tester was equipped with the CVT, and I like its programming, in that it makes use of the good low-end torque available. Accelerating with traffic, away from a traffic light, the engine rarely sees 3000rpm. When the need arises, the CVT will quickly shift to a low ratio – feeling almost like a conventional automatic would – and give you the desired acceleration, without producing too much in the way of drone. To sum up, this CVT does what it needs to do, and it stays out of your way, and it makes the most of the available power. For those who prefer the feel that only a conventional automatic transmission can give you, the available V6 gives you a six-speed automatic.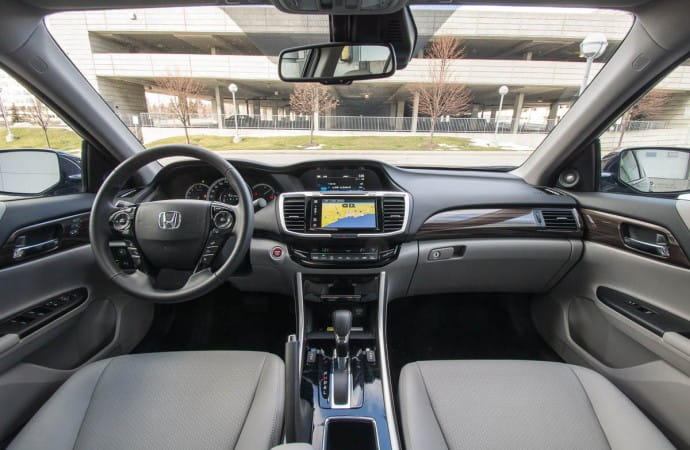 Honda has decided to dive-in with driver assist technologies. Also seen on the all-new 2016 Civic (my review here), the Honda Sensing package encompasses a suite of electronic aids, such as Collision Mitigation Braking System (CMBS), Adaptive Radar Cruise Control (ACC), Lane Keeping Assist System (LKAS), Road Departure Mitigation System (RDM), Lane Departure Warning System (LDW), and Forward Collision Warning (FCW). All these acronyms stand for technologies that come together to ultimately make the driving experience safer. Honda is in a strong position to actually make a difference in driving safety for drivers, passengers, and pedestrians alike. I expect the vast majority of Accords sold to come equipped with Honda Sensing. Even if you don't make use of the adaptive radar cruise control all the time, things like the forward collision warning and collision mitigation braking system exist to keep your precious cargo safe – $1,000 really isn't too much to ask here.
Fuel efficiency is usually a high-priority for prospective consumers in this segment. The four-cylinder Touring model is rated at 8.6L/100km in the city, 6.4L/100km on the highway, and 7.6L/100km in a combined cycle. I managed an average of 8.5L/100km during my week of mixed winter driving with the Accord. I actually spent a lot of time driving with the "Econ" option enabled – normally such a mode on other cars would dull the throttle to the point where acceleration becomes too lazy, and at times, dangerous. The Accord's Econ mode only slightly reduces throttle sensitivity (smoother throttle inputs is better for fuel efficiency), and reduces air conditioning usage. The tank will accept 65L of regular 87-octane fuel.
Honda Canada has always seemed to have a lot of latitude and influence in the pricing of their cars, when compared to American Honda, south of the border. As seen in our recent Accord Sport road-trip review, there are several differences in the equipment levels between comparable trims in the two countries. To sum it up, Honda Canada goes after a high-value quotient, with things like heated seats and Android Auto/Apple CarPlay integration as standard equipment. American Honda goes after a bottom-dollar strategy, with the above two features not available on lower-end trims, just as an example.
The base-model LX with the manual transmission in Canada starts at $24,150, and comes with many essentials, like 17-inch aluminum wheels, the aforementioned smartphone integration, and heated seats. Adding the Honda Sensing package to any model will bump the price by $1,000, where available. My particular Touring model is priced at $32,990, which includes Honda Sensing (standard equipment on the Touring) and the CVT automatic. In terms of the competition, only a few still offer a manual transmission option: the Mazda6, Volkswagen Passat, and Subaru Legacy. The Mazda6 makes the automatic transmission a "no-cost" option, which really means opting for the manual doesn't actually save you money, up front. The Volkswagen Passat only offers a five-speed manual, but only on the base Trendline model. The Subaru Legacy offers a decent six-speed manual, but only up to the mid-level Touring model, and only in Canada.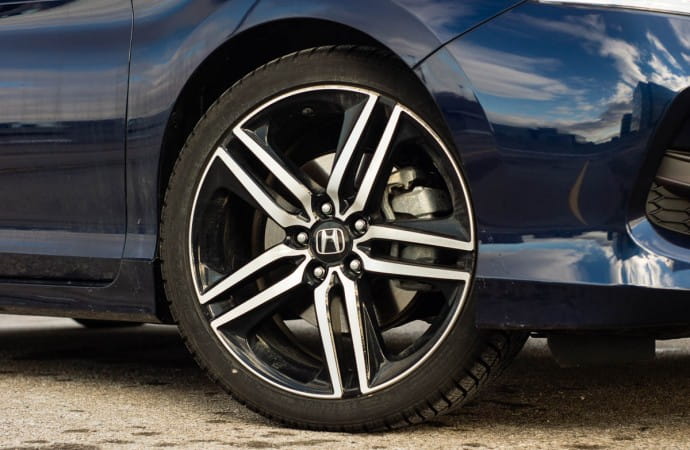 Mid-model refreshes have become just about as important as new model launches – automakers are putting a lot of resources and effort into these updates, because it's such a cut-throat industry nowadays. For about a year and a half, the refreshed 2015 Mazda6 was my midsize sedan of choice, with its attractive looks inside and out, and its excellent driver's interface – specifically the manual transmission available on the GT model. The Accord, before the 2016 refresh, didn't really make it to the top of my list, because the top-end Touring package was never made available with three pedals. Now, you can get a manual transmission pretty much across the board.
The 2016 Honda Accord Touring now becomes my top choice in this midsize sedan segment. It was a good car before, but all the updates bring it to the forefront, in terms of technology and even driver involvement. The manual transmission availability combined with features like Honda Sensing, and the Android Auto integration all add up to something I would be happy to own and drive every single day. Subjectively, while I still like the look of the Mazda6, I prefer the slightly "cleaner" (if not more conservative) interior seen on the newest Accord. Honda has recently done a tremendous job with the new Civic, but the refreshed 2016 Accord shows they haven't been resting on their laurels whatsoever. While Honda isn't really in the business of affordable driver's cars anymore (see the golden-era that was Honda in the 1990s), they show that they still know what they're doing, when it comes to building better cars for everybody.
2016 Honda Accord Touring Gallery
See Also: