When the need for versatile family transportation arises, it's hard to beat the minivan. With contenders from several automakers vying for your hard-earned dollar, intense competition has led to the differences between them being blurred together. At the end of the day, most who purchase a minivan are looking for safety, reliability, and ultimate utility, with a price point that's as low as possible.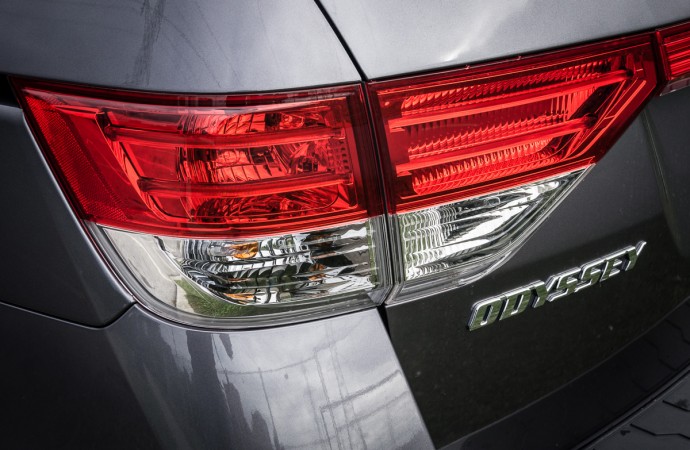 DoubleClutch.ca was sent a 2015 Honda Odyssey Touring for a week to evaluate exactly how well it fits into useful family life. Finished in Modern Steel Metallic, the Touring trim represents the top of the line of the Odyssey range. With a gamut of luxury options and gadgets – including a vacuum cleaner – would the Honda be able to keep pace with life in a modern age?
The exterior of the Odyssey is an inoffensive, but modern design that will work well for most families. The Touring trim sets itself apart with 18-inch aluminum alloy wheels, acoustically insulated windshield glass, fog lights, power folding side mirrors with signals, and high-intensity discharge (HID) headlights. Also included are power sliding doors and a power tailgate to help with the ingress and egress of people and cargo.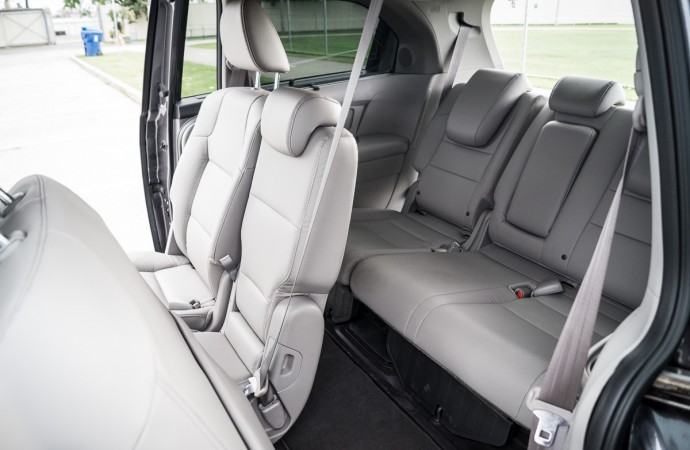 With four doors and seating for eight, there is no shortage of utility in the Odyssey. With a 2+3+3 configuration, the middle row sports easily-foldable and removable quasi-captain's chairs with a centre console that flips up to form another seating position. The third row, dubbed by Honda as the "Magic Seat", can be configured in countless configurations. With a 60/40 split, each section can be neatly folded into the rear cargo floor with by swiftly pulling a set of straps. Additionally, the rear bench can be folded ninety degrees backwards when fully upright to create what could only be described as the "tailgate party" position. In Touring and EX-L trims, the front and second-row outboard seats are covered in leather, and the driver gets 10-way power adjustability, plus memory for Touring models.
The Odyssey Touring comes with a healthy selection of technology and extras. Those looking for the extra gravy will appreciate a 650-Watt, 12-speaker sound system, complete with a subwoofer, 15 gigabytes of audio storage on a hard disk drive, and an ultra-wide 16.2-inch DVD rear entertainment system. As expected, the HondaLink suite includes full Bluetooth capability (phone, text messaging, email, USB, audio streaming). Unfortunately, the voice command for the navigation system was downright stressful. The system gives drivers only a brief moment to spell out street names before cutting them off, and even then, the partial input is not understood correctly.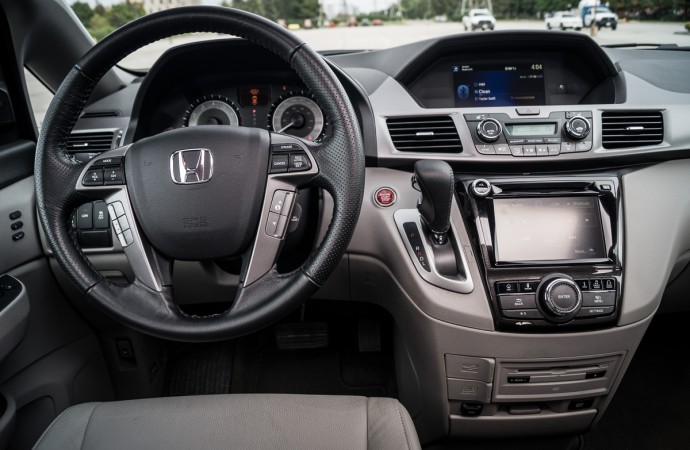 Because the navigation's buttons and touch screen cannot be operated while the vehicle is in motion, it became absolutely necessary to stop and input directions. Aside from this, the remaining HondaLink system worked fairly well, with upper and lower screens of information displaying everything that drivers and passengers need to know. The lower screen will receive touch input. Triple-zone climate controls include one zone for each front seat passenger, and a third zone for rear seat passengers with auxiliary controls.
If the full technology suite wasn't cool enough, the Odyssey has the Cool Box. Located at the bottom of the centre stack, this storage cubby is cooled by the Odyssey's air conditioning system, and will keep drinks cold and refreshing. To make things even more interesting, a vacuum cleaner, known as the HondaVAC in-car vacuum system, resides just inside the rear tailgate. Although it doesn't suck up liquids, the bagged vacuum comes complete with a host of attachments that allow for quick and easy clean-up of the second and third rows. A somewhat scientific test of spilt cereal in the Odyssey gave the HondaVAC a chance to flex its muscle, and it did so flawlessly.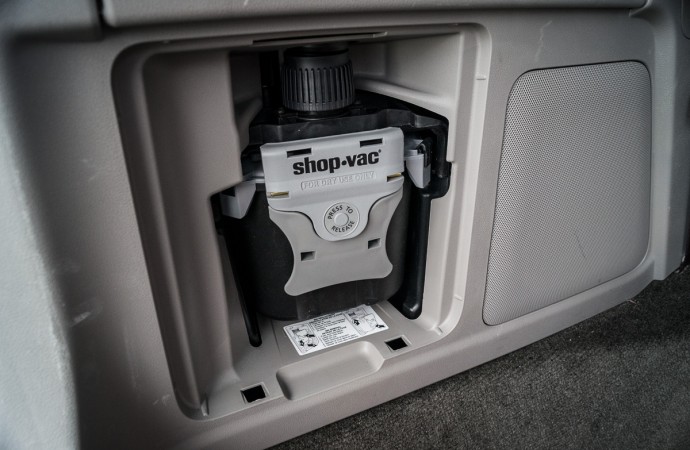 One of the biggest aspects of the minivan market is the emphasis on safety features and superb crash test ratings. Seat belts are of the three-point type in all seating positions; six airbags (front, side, and curtain) are standard, and the Lower Anchors and Tethers for Children (LATCH) system allows for up to five child seats. In addition to the energy-absorbing crumple zones and a stout passenger cabin structure, the Odyssey Touring also boasts active safety features such as stability control, forward collision warning, blind spot monitoring, and lane departure warning.
The stability control helps to keep the vehicle on the road in the event of a loss of control, and each of the three warning systems offers a visual and/or audio alert that notifies the driver of impending hazards ahead or beside the car. A rear-view camera is standard on all trim levels, with navigation-equipped models having a camera providing multiple angles.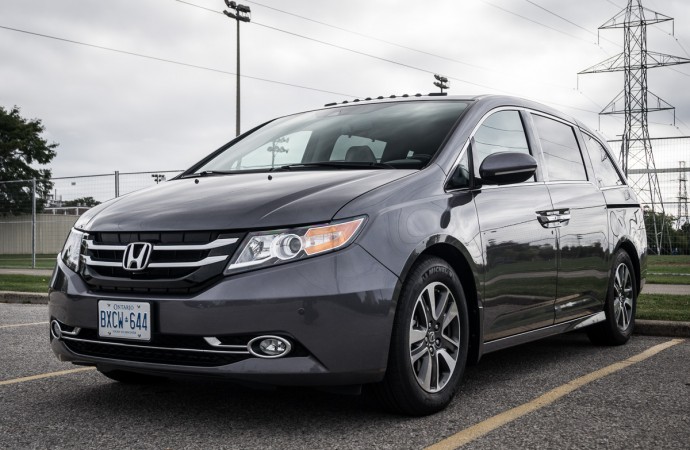 Over the road, the Odyssey is typical Honda, with a slightly firm ride that isn't too harsh. Wind noise is kept to a minimum with the acoustically insulated glass. Also typical to Honda is a higher amount of road noise, and the Odyssey is no exception. Tire choice could play a role, and owners will have to consider quieter tires when needing to replace the original equipment. Steering effort is light but accurate, and the brakes allowed for confident stops every time. Tackling highway on-ramps reminds drivers that the Odyssey handles and pitches like a larger and heavier vehicle, but it is by no means a handful.
Under the hood of the Odyssey Touring is a 3.5-litre V6 engine that requires little to no introduction. Used for many years in prior generations of Odyssey and other Honda cars and trucks, this V6 is a tried and true unit. With several years' worth of refinement and improvements, the power plant hums along smoothly, and with a masculine growl as it sweeps to the upper rev range. While the latest iterations of the engine feature direct injection, the Odyssey keeps it simple with port-injection. Power output is rated at 248 horsepower, and torque is rated at 250 lb-ft.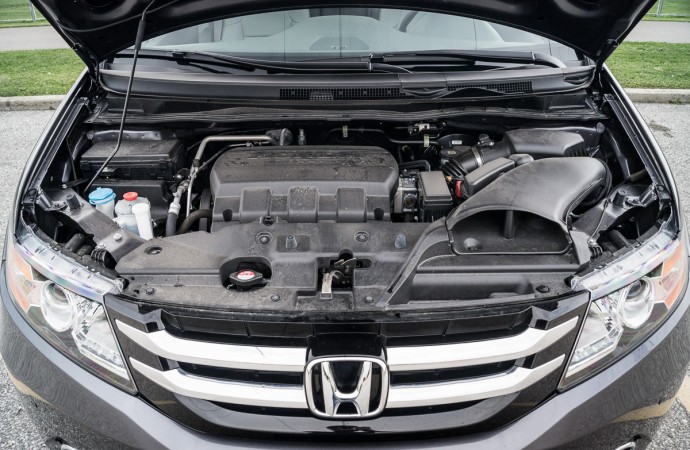 Throttle response at low speeds is excellent, and the Honda never manages to feel out of breath or underpowered. Paired to the V6 is an also-familiar six-speed automatic, which shifted smoothly and always selected the right ratio for the task at hand. The older six-speed is a smoother performing unit than the ZF nine-speed automatic that is beginning to appear on other 3.5L V6-equipped Hondas such as the Pilot Touring, but doesn't quite return the same fuel economy gains that nine ratios can provide.
As an ever-important consideration for family transportation, fuel economy is rated at 12.3 L/100km in the city and 8.5 L/100km on the highway. With a good amount of dense urban city traffic and low average speed, observed test fuel economy was 12.3 L/100km over five hundred kilometres of driving. With a curb weight of 2,090 kg (4,600 lb), the Odyssey Touring certainly suffers a bit in stop and go traffic. On the open road, achieving the rated 8.5 L/100km is no problem, thanks to Honda's Variable Cylinder Management on the 3.5L V6. Under light load and cruise conditions, VCM shuts off three cylinders to further improve fuel economy.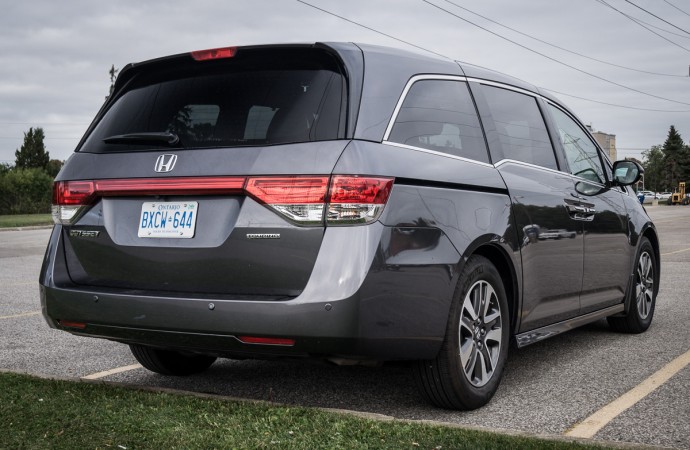 With an as-tested manufacturer's suggested retail price of $48,410 before freight and fees, the Honda Odyssey Touring is very competitive against the likes of the Toyota Sienna Limited and Chrysler Town and Country. While the Toyota can be had in all-wheel drive, it isn't available in both AWD and the top-level trim. The Chrysler can be had for several thousand cheaper in the Limited trim level, and while it includes many of the same luxury features as the Honda, the expected lower future resale value will mean that buyers may take a hit further down the road. At the end of the day, the Odyssey Touring is a fantastic family cruiser that's very well equipped and will easily satisfy today's appetite for technology.
2015 Honda Odyssey Touring Gallery
See Also: