These days, it seems instead of putting their pickup trucks to work, most people are using them for their commutes, Costco runs, and the occasional cottage road trip. As such, we've seen more demand for smaller, more fuel-efficient, and more affordable options. The 2023 Hyundai Santa Cruz answers that call as South Korea's attempt to crack the market with a crossover doubling as a compact pickup.
Based on the same platform as the Tucson, the Santa Cruz is less of a Toyota Tacoma or Ford Ranger competitor, and more of a Honda Ridgeline alternative. By using a unibody chassis, the Santa Cruz has more of a car-like ride compared to body-on-frame trucks, and by sharing a platform with the Tucson, you'll encounter similar styling and tech inside and out.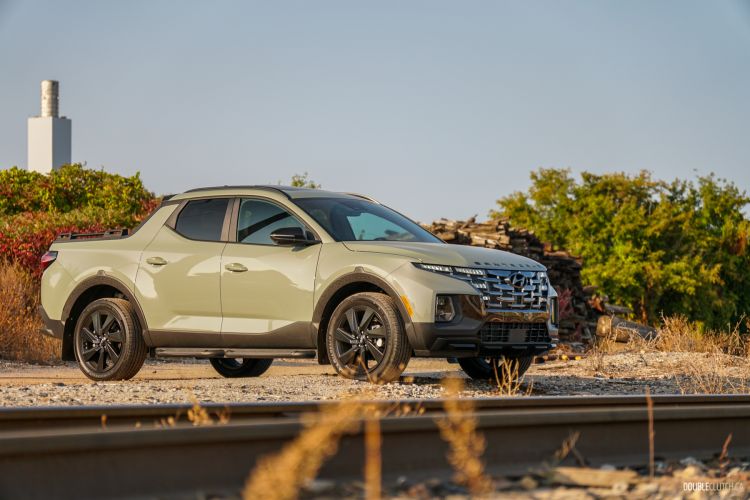 Beauty is in the eye of the beholder. In this case, you'll either love or hate the Santa Cruz. It shares its lighting and front grille with the Tucson, but the front bumper itself is slightly different, and it does away with the odd creases you'd find alongside the Tucson. Unlike the taller proportions you'd find with most other pickups, the Santa Cruz looks wide and low.
Inside, the Santa Cruz is virtually identical to the Tucson, at least up front. Material quality is at the top of its class, and the overall design looks modern. Infotainment is easy to use, and wireless Apple CarPlay and Android Auto are standard, but the haptic feedback controls on the dash sometimes required a few extra taps to register inputs. Give me physical buttons and knobs any day of the week.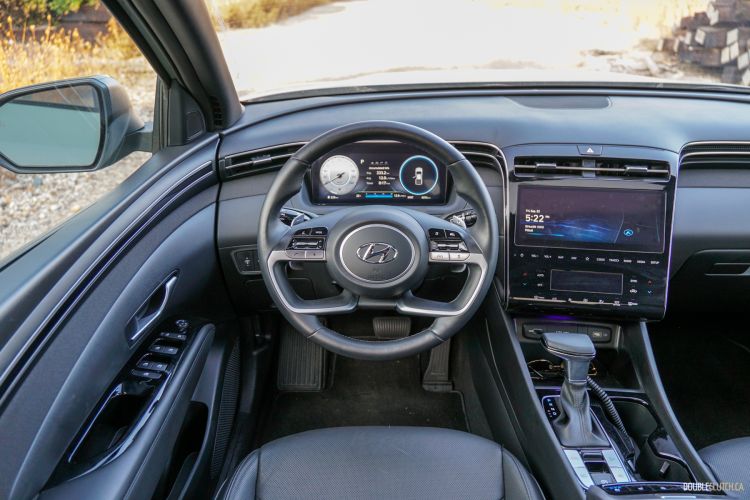 Out back is where the Santa Cruz differs the most, swapping out the cargo hold behind the second row with an open bed and tailgate. With a standard, retractable tonneau cover that can withstand up to 220 pounds, it accommodates larger and taller items much better than the Tucson. The bed is a little on the small size, measuring in at just over four feet long, but payload is rated at around 1,500 pounds and towing capacity on our top-trim Ultimate tester is 5,000 pounds.
Measuring in at just over four feet long, the rear bed is shorter than most pickups, but it's plenty for most use cases. The retractable and lockable tonneau cover is standard, and the bed also includes an under-floor storage. Inside, the second-row rear seats fold up to protect bulkier items from the elements.
Behind the wheel, the Santa Cruz is decidedly not pickup-like. The ride feels composed and comfortable, and there's very little wind and road noise at speed. The Santa Cruz even takes a corner pretty well — just don't think you can keep up with an Elantra N on a twisty backroad.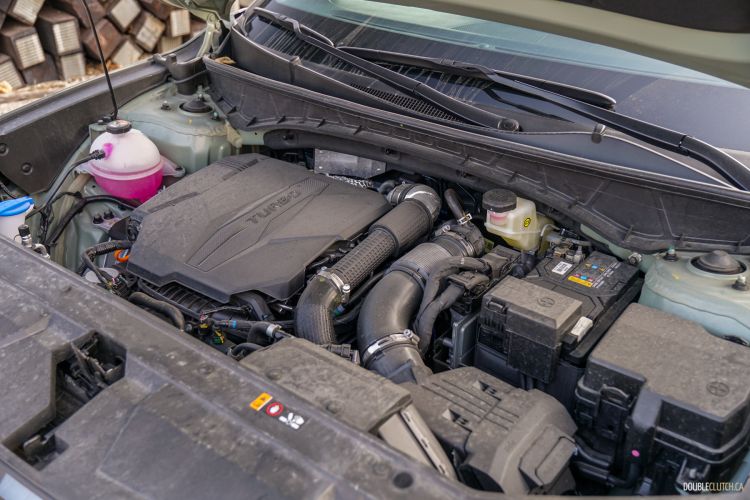 Hyundai only offers the Santa Cruz with the Tucson's top-spec gas engine, a 2.5L turbocharged four-cylinder good for 281 horsepower at 5,800 rpm, and 311 pound-feet of torque between 1,700 and 4,000 rpm. An eight-speed dual-clutch automatic transmission and all-wheel-drive are standard, helping the Santa Cruz scoot from zero to 100 km/h in about six seconds. Stomp on the gas, wait a brief moment for the turbo to spool up, and the Santa Cruz shoots ahead better than most of its competitors.
Fuel efficiency is good, but not great. It's rated at 12.1 L/100 km in the city, 8.7 on the highway, and 10.6 combined. I averaged a respectable 11.1 L/100 km in mixed city and highway commuting. Fortunately, the turbo-four happily takes 87-octane gas, but some more powertrain options would've been nice. Hyundai offers the Santa Cruz in the U.S. with a normally aspirated 2.5L four-cylinder engine on lesser trims, and let's not forget, you can get its key competitor, the Ford Maverick, as a hybrid.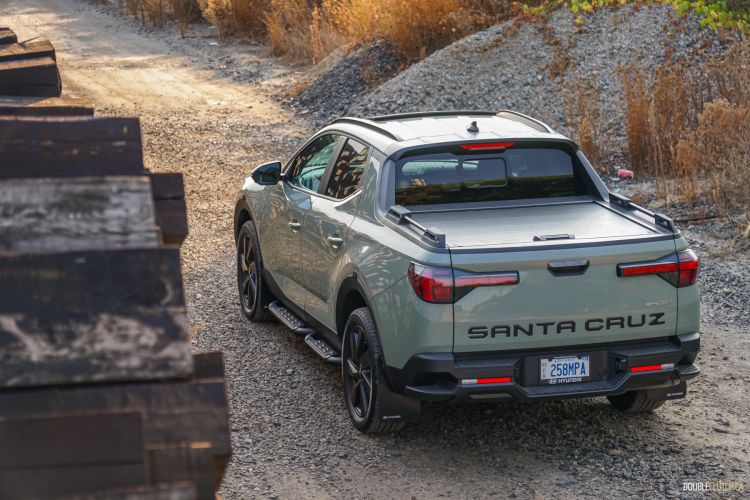 The Santa Cruz starts at $40,999 for the base Preferred trim; our Ultimate tester topped out at $47,349 as-tested, including $250 for a colour that wasn't white. You do get features such like LED headlights, 20-inch wheels, ventillated seats, an all-digital instrument cluster, and Hyundai's full suite of driving assists as standard, including a 360-degree camera and Hyundai's clever Blind View Monitor. That being said, it's not exactly inexpensive; the Maverick is definitely the more budget-friendly pick.
The 2023 Hyundai Santa Cruz is a good option for those looking for a pickup that's practical, easy to drive, and can still be had for under $50,000. However, as good as it is, the Santa Cruz is pricey compared to the Maverick. If you need a basic, no-frills compact pickup, the Maverick is a smart choice. But if you're looking for power, style, and utility — and have a bit more money to spend — the Santa Cruz is an eye-catching choice.
See Also