I feel like I've been in a bit of a funk lately. It's an occupational hazard in this line of work that you might become a little jaded; a natural consequence of being exposed to so many cars. I haven't really been impressed with or enjoyed anything lately; the 485-horsepower Challenger was too slow, the incredible 911 GTS too sterile, and the CT4-V Blackwing with its magnificent chassis failed to hold my attention. Who'd have thought it'd be the 2023 Lexus NX450h+ PHEV, essentially a RAV4 Prime with a mouthful of a name, would be the car to break the cycle and make me say, "damn this is pretty good!"
I never would've guessed. I wasn't looking forward to driving this at all. The NX is little more than a RAV4, which is the epitome of "whatever" transportation, in a nice suit and hefty price tag. This wasn't supposed to be good. But here's the thing: I had a relatively base RAV4 Woodland earlier this year and I liked it, and this particular NX is based on the RAV4 Prime, which was surprisingly excellent last time we had one. Our only real knock against it was its relatively plebeian styling and cabin for its Prime-cut price tag. This Lexus makeover very neatly solves that problem.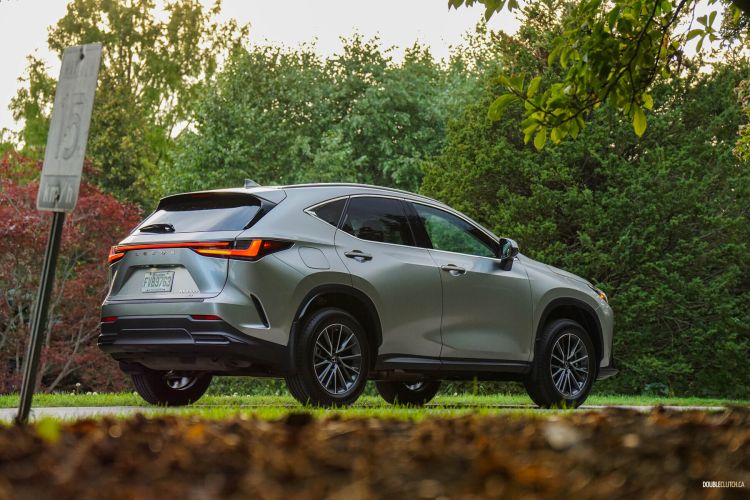 Lexus has been on a bit of roll with their styling lately, and the brand's corporate design ethos of sharp lighting, deeply sculpted surfaces, and curvaceous lines works well here. Our misleadingly named "Ultra Premium" model is actually the base trim for the NX 450h+, and rides on relatively small 18-inch machined-face wheels, and is only available in white, black, or our tester's Atomic Silver. More colour choice would be welcome, but the not-quite-grey paint with its high metallic content looks really good here and serves to accentuate the dramatic styling.
Just because "Ultra Premium" is the base trim of the top-skew NX, doesn't mean the interior feels basic in the slightest. It's an artfully arranged space, with an abundance of soft leatherette, soft-touch plastics, a tolerable smattering of piano black, and matte metallic trim to tie it all together, with some very tastefully geometric patterned trim on the door panels for flavor. The dashboard is totally different from the RAV4, abandoning its utilitarian and symmetrical design in favor of more sinuous shapes, like an unbroken line snaking around the center console and wrapping around a crystal-clear 14-inch touchscreen.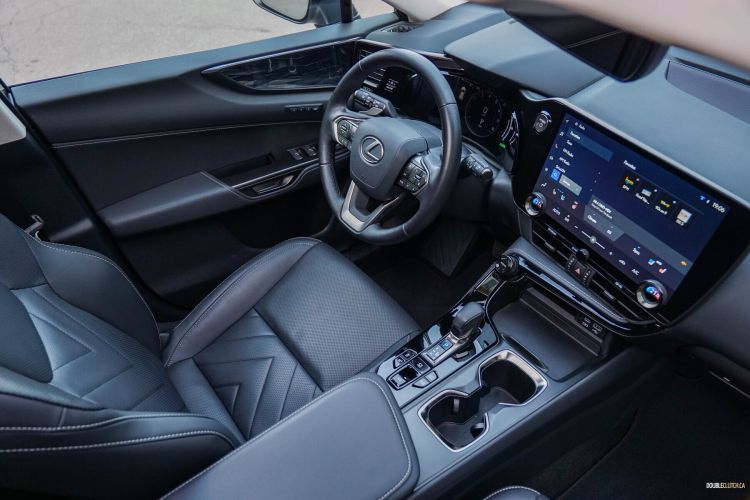 Said touchscreen is powered by Lexus' newest infotainment, which benefits hugely from having a huge screen and works very well. It's flanked by a mostly digital gauge cluster, attractively broken up with a physical outline for the digital tachometer; it's a nice design touch we like on every Lexus. There's a full suite of driver assists and safety features on board too, including but not limited to a very robust adaptive cruise control and lane centering system, slotting this fancy RAV4 into the "pretty much drives itself" class that I'm so fond of in commuter vehicles.
Whether you're driving it or not, the NX is exceptionally quiet — well above and beyond its Toyota sibling — and the pillowy tire sidewalls and genteel suspension damping makes ride quality fantastic. It's immediately impressive in how comfortable it is, augmented by terrific powered, heated, and ventilated seats. Driver inputs feel fairly natural and linear, if not necessarily exciting, which I'm totally okay with. It excels at what it does, and trying to inject sportiness into it would take away from that.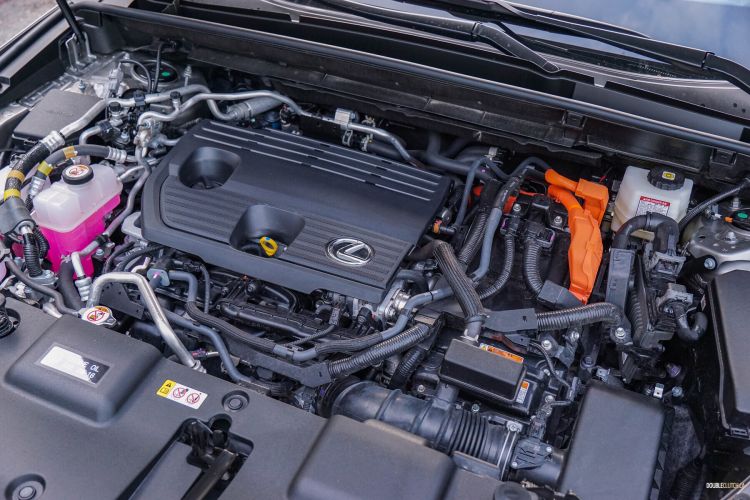 This isn't to say the NX is a total bore to drive. The RAV4 Prime, with its gas powerplant and no less than three electric motors, was at one point the quickest Toyota on the market, and the NX is surprisingly frisky off the line. Don't get me wrong, it's no sports car, but the combined 302 horsepower and more than 400 pound-feet of twist will get this comfy commuter moving with authority when in sport mode. However, its priority is slick, smooth operation, with added sound deadening to quell the notoriously coarse 2.5-litre gas engine.
In typical Toyota fashion, the calibration of the gas/hybrid/electric hand-off routine is impeccable, with the gas engine typically being nearly undetectable in its operation under most conditions. Like the RAV4 Prime, the NX 450h+ is a plug-in hybrid vehicle, and is one of the very few PHEVs on the market with enough range in the battery and enough power in the motors to feel perfectly usable as a dedicated EV.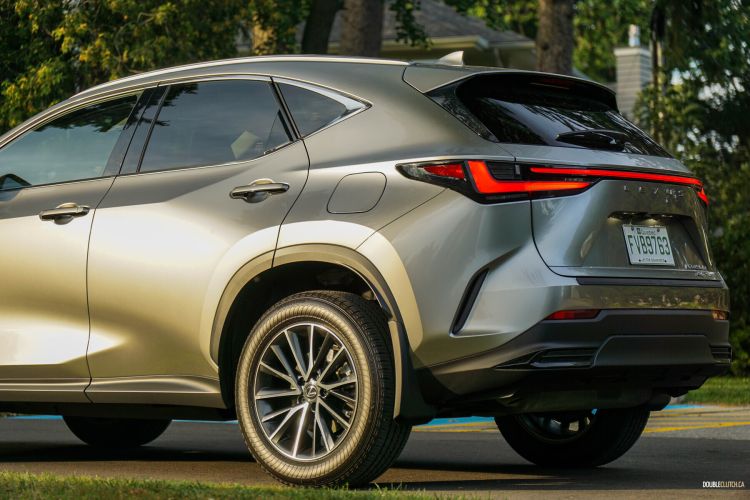 I picked it up with a full battery, and covered almost 100 kilometres on the highway at a brisk pace without the gas engine starting once; very impressive. It was only on the return trip that it quietly fired up to charge the battery, and even then, was astonishingly frugal. I returned the NX having covered 425 kilometers and only using 14 liters of fuel, working out to an average fuel use of 3.3 L/100 km. It's cases like this where it becomes very obvious why Toyota is hesitant about EVs and all-in on hybrids. This makes so much sense.
The last very sensical delight of this Lexus is its sticker: $63,185 as tested. It's not exactly cheap, sure, but then again, neither is the RAV4 Prime. The NX 450h+ is only about five grand more than a comparably equipped RAV4, and while they may be similarly spec'd on paper, the RAV4 looks and feels like a common commuter car, whereas the Lexus is, well, a Lexus. It looks, feels, and drives like a nice car, and the fact that it happens to be practical, beautifully finished, incredibly efficient and a good value is just icing on the cake. Rather than trying and failing to impress on an emotional level like say, a Porsche, the 2023 Lexus NX450h+ PHEV sets an honest target and crushes it, and maybe that's all I needed to get out of my funk.
See Also
2023 Lexus NX 350h Ultra Luxury