Throughout the history of language, words evolve and many of them take on new meanings over time. This concept, known as semantic change, can happen when words means something completely different when used in a different context. For example, 'green' would not mean colour around a golf course, and 'sick' or 'flex' represent a totally different meaning when used informally in today's social media-led society. Like these examples, our test car this week — the 2023 Mercedes-AMG G 63 — underwent a semantic change of its own over time. Its split personality has us wondering who wants one, and more importantly, why.
The G-Class — also known as the Gelandewagen, or G-Wagen — was developed in the late 1970s as a military vehicle. Much like the Land Rover Defender launched a few years later, the G-Class was rugged and capable, but bare-bones and unrefined. These were purposefully built to be used as a utility vehicle, and even when the civilian version was released, public reception was rather lukewarm as most simply shrugged it off as a basic people-mover.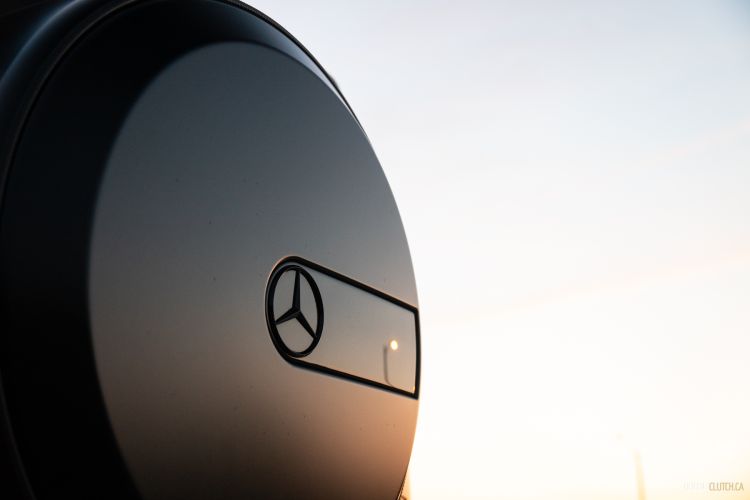 Today, the G-Wagen is a full-fledged status symbol. The styling is unmistakable, blending modern and classic design cues. It does not take a car enthusiast to identify this automotive icon; given the attention our tester received throughout the week, one would easily think this truck is bedazzled with jewels.
In reality, this particular G 63 was finished in matte black, and further loaded with the AMG Night Package and AMG Stealth Package that pretty much blacks out everything on the exterior other than the lights and red brake calipers. This unique dress-up gave the G 63 an additional layer of mystique that attracted even more attention than if it was painted in any bright colour.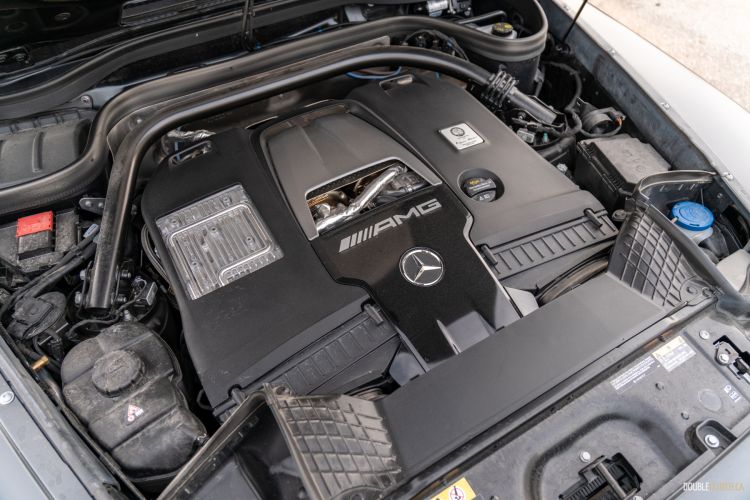 Powered by Mercedes-AMG's 4.0-litre bi-turbo V8 engine, the G 63 puts out a whopping 577 horsepower and 627 pound-feet of torque. Zero-to-100 km/h is done in a little as 4.5 seconds, which is a crazy achievement for what is essentially a giant metal box on wheels. The G 63 responds instantly as soon as you step on the throttle, but don't expect neck-breaking acceleration here. Power comes on relatively smooth with a rewarding engine and exhaust roar that simply does not get old, and the nine-speed automatic transmission is quite adept in delivering power to any of the wheels that demands traction.
Quite frankly, the G 63 has very little business being this powerful. Its size and height means it is naturally clunky to turn, but the team at Mercedes-AMG has done a good job keeping the G 63 grounded. The go-fast truck features an independent, double-wishbone suspension setup up front and a rigid axle with a five-link setup in the rear, for a balance of comfort and responsiveness. There are also stabilizers fitted to help reduce body roll, and standard adaptive adjustable damping that automatically adjusts based on driving style, road surface, and selected driving mode.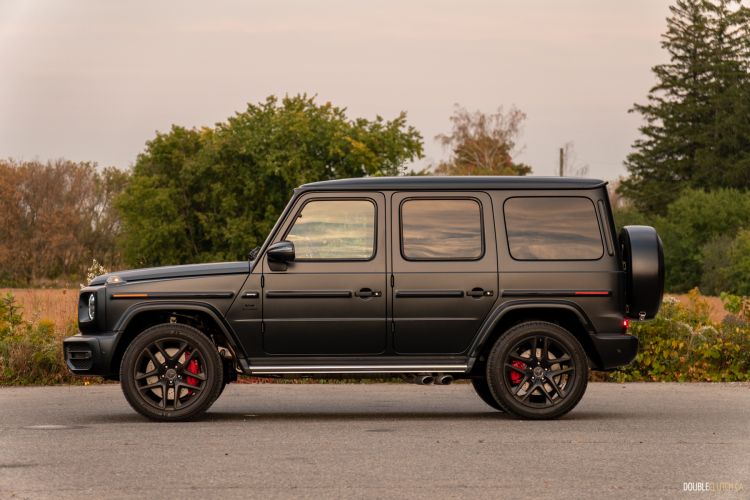 When evaluating the G 63's handling abilities, it is important to remember this is an off-road truck that happens to be able to go really fast on the street. You should always be mindful of the high centre-of-gravity before tackling any corners. The good news is that steering is surprisingly communicative, so you have a good feel of the truck's balance before potentially losing control. There is plenty of stopping power through the high-performance brakes if and when the situation calls for it, but the mushy pedal feel makes it hard to modulate especially in stop-and-go traffic.
A big part of the G 63's appeal is its ability to conquer anything the environment throws at it, and to do so extraordinarily well. The differentials are programmed to automatically lock up on their own based on what the computer senses up ahead, and drivers have the ultimate control over which differentials they want to operate through the button switches on the centre console. We like how quickly the differential locks respond to our input and can all be operated without needing to make a complete stop.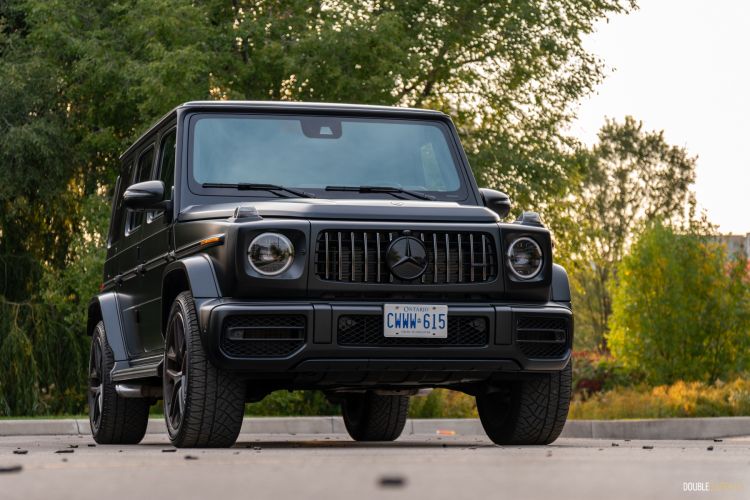 Fuel consumption is likely tertiary for buyers in the market for a $250,000-plus SUV, which bodes well for this AMG super-truck. Natural Resource Canada says the G 63 consumes premium fuel at a rate of 17.7 L/ 100 km. That is no exaggeration — we observed 17.1 L/100 km in our week with it.
The G 63's interior blends ruggedness, sportiness, and modern luxury. While the layout leans towards simplicity, we respect that it is not overly minimalistic like the EQS 580 SUV. While there are hallmark styling cues, like the grab handle and chrome-highlighted differential locking switches, the most iconic detail is actually not something you can see or touch, but rather hear. It comes from when the door locks operate and when you close the heavy doors — it is a distinctively industrial sound that is almost ASMR-worthy, and was the ultimate party piece for everyone who climbed in all week.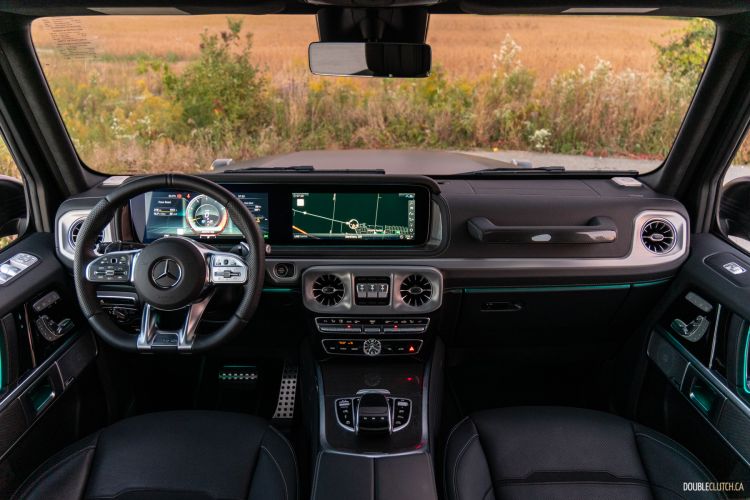 Layered over this ruggedness are sporty details to denote the work done by Mercedes-AMG. The flat-bottom steering wheel is uniquely contoured to promote grip, and the galvanized shift paddles are cool to the touch. Most of the trim pieces — either leather, metal, or carbon fibre — complemented the truck's status quite well, but is also stark contrast to the G-Wagen's original purpose.
When it comes to usability, the G 63 is a step behind other Mercedes-Benzes in the portfolio. While the screen resolution is quite vivid, the actual infotainment is rather cumbersome to use, as it is controlled by either a rotary dial on the centre console, or a touch-sensitive pad on the steering wheel. Many of its basic functions, such as radio selections or track seeking, are not easily found without scrolling. We hope to see the G 63 upgraded with MBUX as part of the next refresh.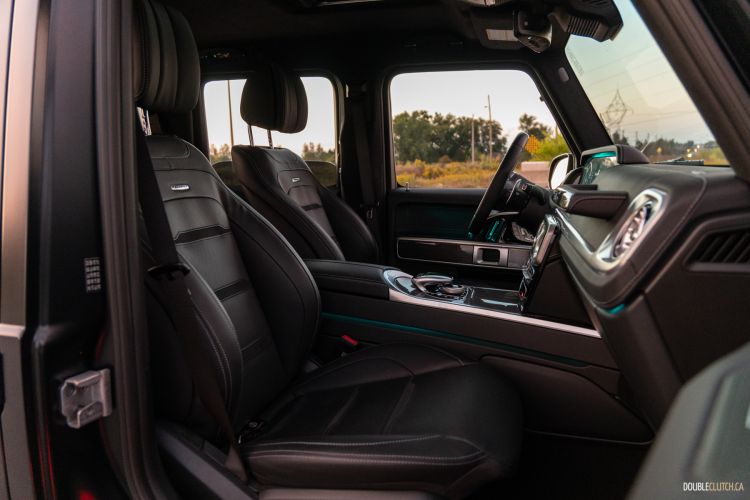 The G 63 is also a bit enigmatic when it comes to its ride quality. It needs a rigid chassis and stiff suspension to aid its balance, but they translate to more noticeable bumps than you would expect out of a top-of-the-line SUV. You also sit upright and can hear wind noise against that near-vertical windscreen — something you don't typically expect out of an ultra-luxurious vehicle.
Then again, the G 63 is far from a typical choice, and it's far from uncomfortable, too. The front seats are well-cushioned and our loaded tester was equipped with massaging seats with above-average strength and intensity. The sound quality from the Burmester premium audio system sounds great when you are bored of listening to the V8's burly soundtrack, and the G-Wagen never feels difficult to manoeuvre thanks to the host of readily available driver assists.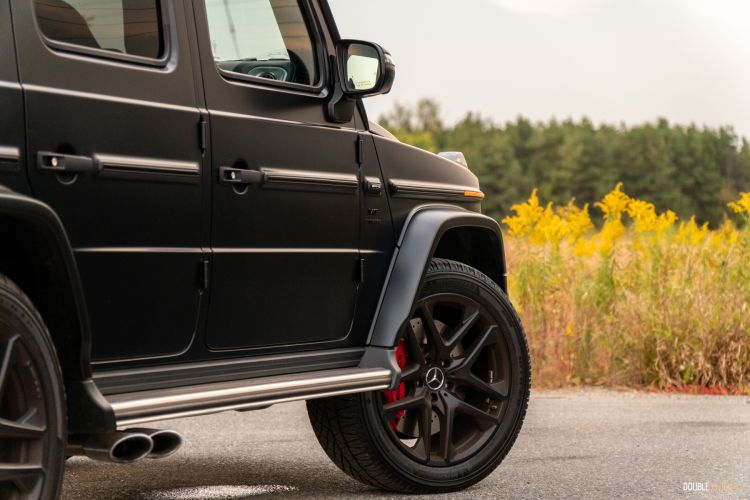 Most importantly, the G 63 offers drivers a sense of accomplishment and dependability that makes its $261,900 as-tested sticker almost feel worth it. The combination of on-road performance, off-road and all-weather capability, and the feeling you get when riding inside the G 63 and looking over almost everyone else on the road, is a level of confidence very few vehicles out there offer.
And it is the confidence that made the most sense about the 2023 Mercedes-AMG G 63. While there are so many characteristics that seem to contradict one another, its appeal is undeniable and the G-Wagen symbolizes that you simply have it all. It is an ultimate display of wealth and achievement — and that is the new meaning of this battle-tested automotive icon.
Photos by Nathan Leipsig
See Also
2022 Mercedes-Benz EQS 580 4MATIC