LOS ANGELES, CALIFORNIA – The performance SUV, in concept, is not a new thing by any means. Over the past decade, just about every luxury and exotic brand has either introduced, or revealed plans for a high-horsepower crossover. The success of models like the Lamborghini Urus, Rolls-Royce Cullinan and the Porsche Cayenne Turbo has only reinforced that these fast behemoths are here to stay. We were invited to Los Angeles to spend a few days driving the 2023 Aston Martin DBX707, the fastest variant of Aston's crossover, and see what it brings to the table.
As a lifelong fan of the Gaydon-era Aston Martin models and their timeless styling, the current design language of the brand is a bit lost on me. I find the latest Vantage to resemble the Mazda MX-5, and the DB11 hasn't aged all that well, but for some reason, the DBX is the bee's knees. It has the right proportions, a pretty face, and looks exactly like what I expect an Aston Martin crossover to look like. Wide hips, 23-inch wheels, and iconic lighting rounds out the DBX707, though it's not immediately obvious that this is the wildest one.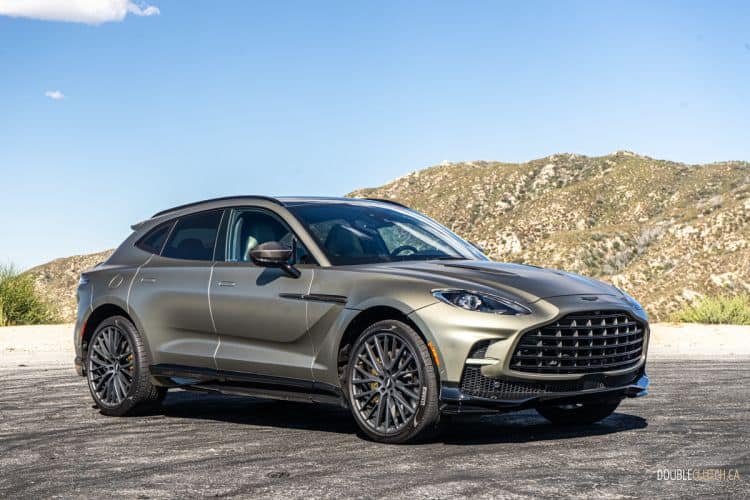 All current V8-powered models from Aston Martin utilize a 4.0-liter twin-turbocharged V8 sourced from the Mercedes-AMG brand. It's fundamentally the same motor in any 63-series car, but gets bigger turbochargers, improved internals, and has been tuned specifically for the Aston application. It's responsive, very responsive, but doesn't quite have a scream to it. Output is 697 horsepower at 6,000RPM, and 663 lb-ft. of torque at 4,500RPM. The gearbox sending this power to all four wheels is a nine-speed automatic with a multi-plate wet clutch.
The DBX is seriously fast, boasting a 0-100km/h sprint time of just 3.3 seconds – absurd for a 5,000-pound sport-utility vehicle – and a claimed top speed of 311 km/h. Acceleration is immediate with virtually no turbo lag, and the most impressive character trait is how confidently the DBX707 carries speed. We took a 200-mile round trip jaunt from Los Angeles to San Diego, and on the freeway it returned impressive levels of compliance. Ride quality is superb thanks to the four-corner air springs, though the 23-inch wheels do contribute to some chop over road imperfections.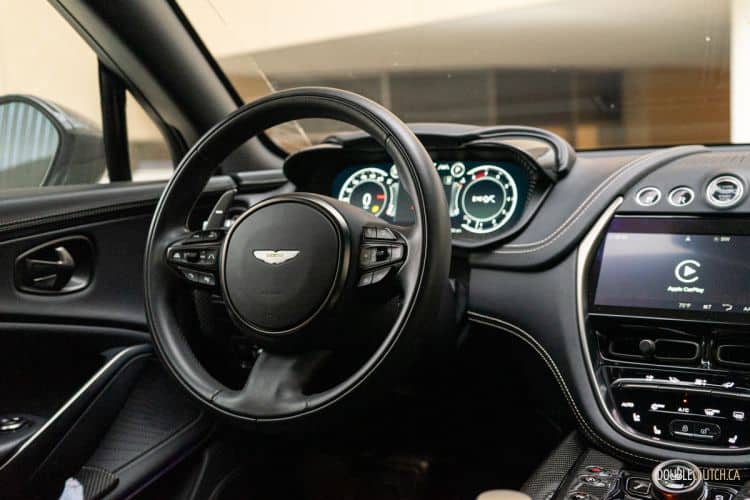 Pull out to pass slower traffic, and the DBX707 roars forward with authority, but it's not all about straight line power, either. There is an active anti-roll system in place that helps with cornering stability, and we observed this party trick in the canyons of the Angeles National Forest. Bombing up the hills, the DBX707 had no problems keeping up with focused sports cars, and maintained a good pace without having to slow down substantially for corners like we would expect from a crossover. The rear diff has been beefed up on the 707 model to help come out of corners with more confidence, and a F/R weight distribution of 53/47 percent bests most rivals.
The DBX707 is a true Jekyll and Hyde with a split personality. Use it in everyday settings and the powertrain is compliant and comfortable, yet doesn't do anything to hide the power it packs under the hood. But stick it onto a challenging canyon road and it'll bring out the soul of Aston Martin, which is what got buyers into the dealership to begin with. Leave the drive mode selector in its most comfortable setting and it delivers a serene on-road experience, and almost feels "normal" – as much as can be for a quarter-million dollar Aston Martin crossover.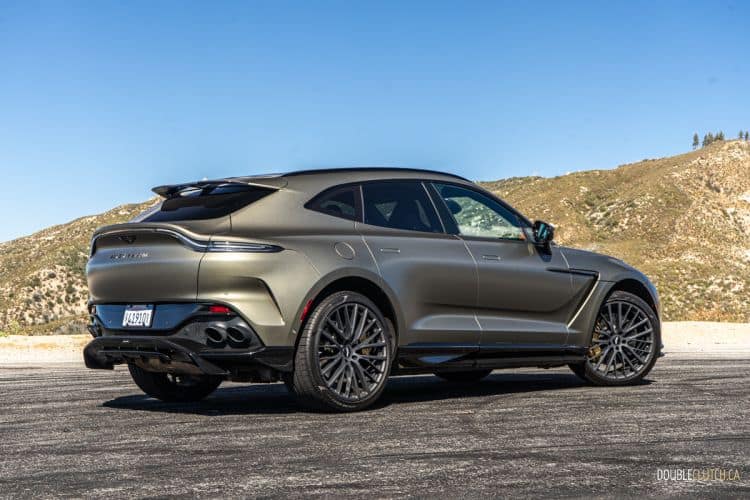 Fuel ratings sit at 15.7L/100km in the city and 12.0L/100km on the highway, for a combined 13.9L/100km. Our week consisted of a lot of highway driving, where we regularly surpassed the manufacturer's suggested ratings, seeing 11.4L/100km. Combined mileage for our 400-mile test came in at 13.6L/100km, and naturally the DBX requires 91-octane premium fuel at an absolute minimum to function.
Inside, the DBX707 makes use of high-quality materials, certainly fitting for a $300,000 SUV. However, the infotainment system definitely left a sour taste in our mouths. Aston Martin uses the previous-generation of Mercedes-Benz infotainment, which is very outdated at this point. The 10-inch screen is not a touchscreen, and must be controlled using either voice, or a dated touchpad-rotary dial combination. It's a pain to use Apple CarPlay, which requires a wired connection using an equally obsolete USB-A port – USB-C is not available. Aside from this, the graphics are adequate and the native system is responsive and didn't feel as glitchy as some of the competition – we're looking at you, Land Rover.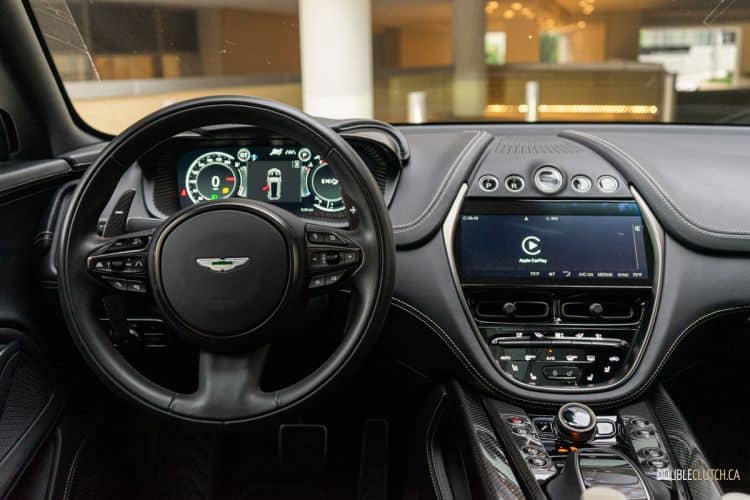 Aside from the infotainment, the DBX707's interior is slightly modified over its regular DBX counterpart. It still uses the large buttons to select gears right across the top of the center console, which is a neat touch to look at. They can be a bit far to reach for drivers with shorter arms, but again, what's a supercar without some odd quirks.  There are hard buttons to toggle the note from the performance exhaust, drive mode, and also the damper firmness.
We appreciate Aston Martin's inclusion of these controls up front and center in a dedicated performance model, but we'd rather see more frequently used "everyday" controls in such premium real estate. Our last gripe here is a minor one, but may be more significant for some users – the tone and rhythm of the turn signals hit an odd frequency in our ears, almost inducing nausea. We found ourselves having to turn the signals off at longer traffic lights to prevent this effect. Again, your mileage may vary here.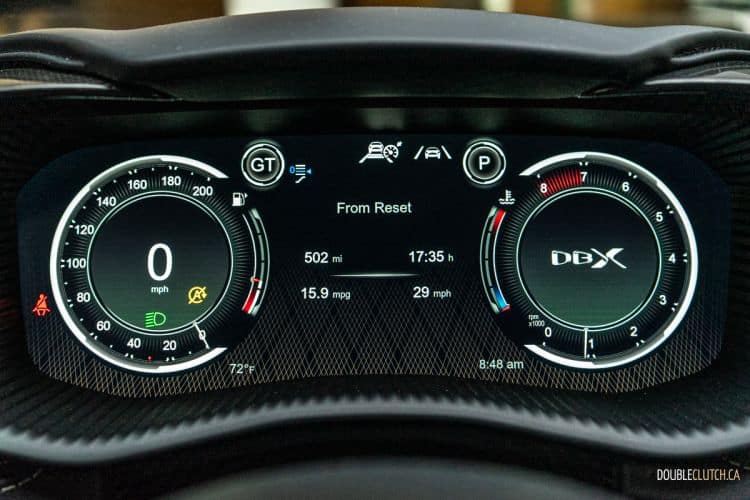 Standard features on all DBX707 models include the 10-inch infotainment system with CarPlay, soft-closing doors, Carbon Ceramic brakes, LED lighting all around, heated front and rear seats, Alcantara roof blind for the panoramic roof, and a full suite of adaptive driver assist gizmos. All-wheel-drive, a triple-chamber air suspension system, and the active transfer case are also included.
DBX707 pricing starts at $236,000 USD or about $271,000 Canadian. Our tester was optioned to the tune of $292,186 USD, and included some pretty heavy-hitting options. The Q Satin Titanium Grey paint alone is $8,900, the 23-inch black wheels are $5,700, the Inspire Sport Duotone interior at $7,600. Somehow, that interior doesn't include the Arden Green Metallic Leather at $2,800, or the Gloss Twill Carbon Fiber trim at $4,500. Lastly, the Obsidian Black Carpets at $1,900 are, well, just black carpets.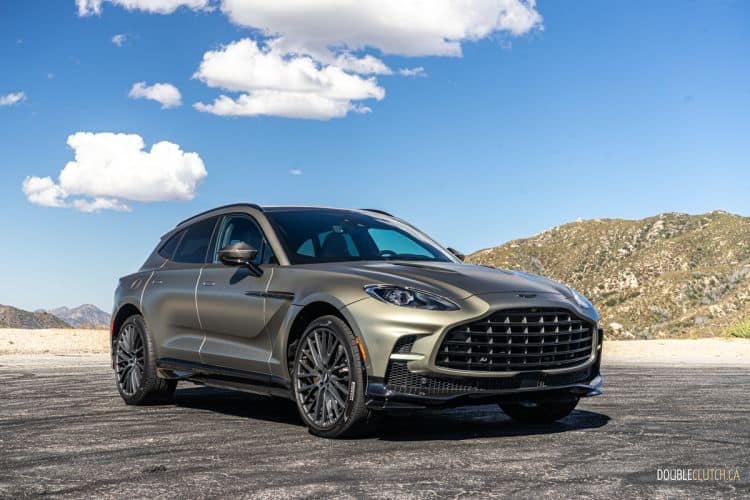 However you look at it, the 2023 Aston Martin DBX707 is at dream car status for most, and for those who can afford it, a purchase made with the heart and not necessarily the brain. It's not without its few peculiarities, but wins the pack in beauty. The svelte lines are unlike any other crossover on the road, and the sheer elegance of the DBX makes it our pick of the current super-SUV litter.
See Also: