I'm not a morning person, but two things have begun to effect change in my life: our puppy, Mia, and the 2024 Lexus LC 500 Convertible.
Mia is our five-month-old Red Heeler. She's intelligent, clumsy, sassy, and she melts even the coldest hearts. I'm still not used to those butt-crack-of-dawn potty trips to the backyard — we're lucky if she lets us snooze for another hour, maybe two on weekends — but dare I say, I'm coming around. One morning, as the sky began to light up gold, and as I gave Mia belly rubs in the dew-soaked grass after a successful potty, a fleeting thought crossed my mind:
What a nice morning.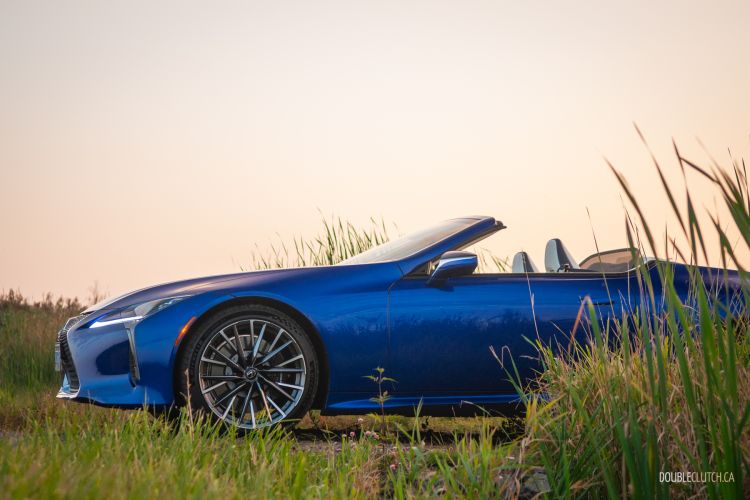 A few days later, that same thought popped into my mind again. Except this time, Mia went back to bed, and I just tapped the LC 500's start button.
There's a process to putting yourself in this state of mind. First, you need to keep your foot off the brake. Put the LC into accessory mode, then flip up the cover for the switch panel on the centre console — that's how you get to the roof controls. Hold the little switch back to lower the roof and windows, wait 15 seconds, then tap the start button again to start the car up. Believe me, this is much more effective than coffee.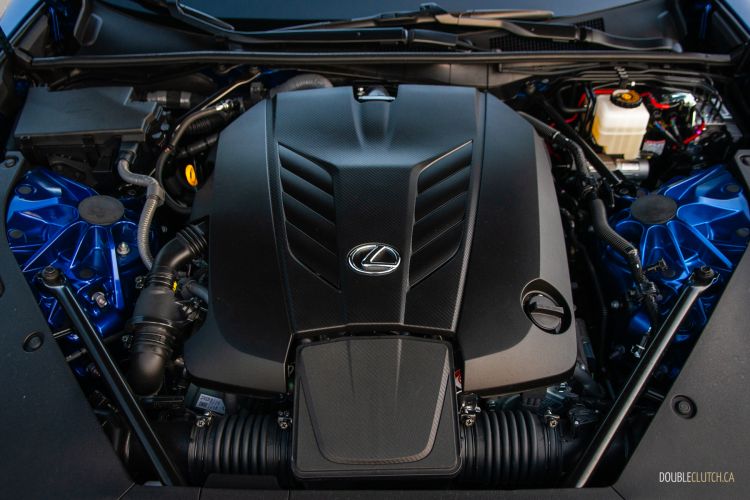 Although you can spec the LC coupe with a hybrid V6 powertrain, Lexus pairs the convertible exclusively with the normally aspirated 5.0-litre V8 engine. You've got 471 horsepower and 398 pound-feet of torque to play with, routed to the rear wheels via a 10-speed automatic transmission, and more importantly, a limited-slip differential. The zero-to-100 km/h sprint happens in about four and a half seconds, and if you keep your foot into it, the LC will top out at 270 km/h.
Those might've been solid numbers a decade ago, but today, most of the LC's competitors use forced-induction to generate heady numbers. Take the BMW M850i droptop, for instance: its 4.4L twin-turbo V8 puts out a meaty 523 hp and 516 lb-ft of torque, and it'll hit 100 km/h from a standstill about a second faster than the LC. Power delivery is simply effortless, but there's little drama; turbos are ostensibly mufflers, and it's almost too easy to access the 8's fury off the line.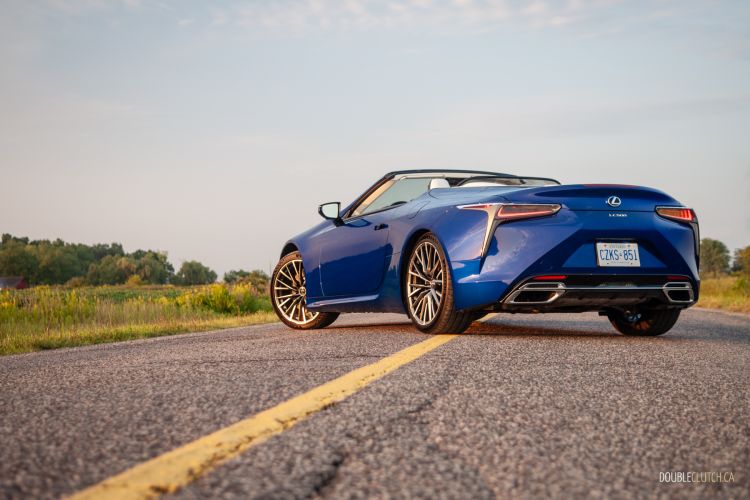 Not so with the LC. The Five-Oh makes you work — peak power comes on at a sky-high 7,100 rpm, and peak torque at a slightly more down-to-earth 4,800 rpm — and it rewards you with pin-sharp throttle response and perhaps the best soundtrack in any new car you can buy today. There, I said it. The LC ingrains itself into your mind not so much with the de rigeur snap-crackle-pop popularized by cars like the Jaguar F-Type, but more so a buttery warble that transforms into a thunderous snarl as you flirt with its redline, augmented by a metallic blat with each shift. Lexus' insistence on a free-breathing V8 is a delightful anacrhronism to the norm.
See, that's the thing about the LC. Judging it by the specs alone does the car a major disservice. For similar money to this particular LC's roughly $130,000 price tag, the M850i, F-Type, and the Porsche 911 droptops are all objectively better cars on paper. They're sharper, lighter, more communicative, more powerful, and in the case of the Bimmer, even offer more usable interior space. For God's sake, even a Miata has more trunk space than an LC.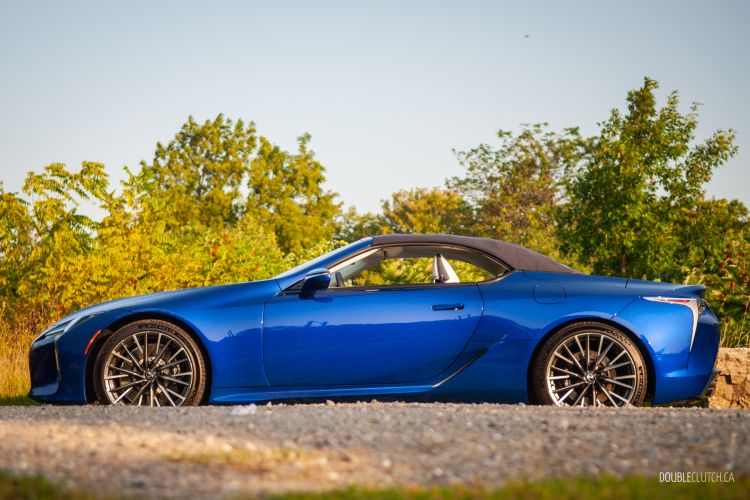 On top of all that, when you're given the choice of a coupe or a convertible, the prevailing logic is that a fixed roof is better than a folding one. Nine times out of 10, it's a sound theory. Coupes are better-balanced and lighter on account of the extra bracing you'd need after lopping off a large metal panel, and not to mention, convertibles look kind of awkward with the top up.
But it's OK to think with your heart, because the LC convertible emphasizes the experience above everything else, even more so than the coupe. Drop the top on one of those early mornings where the sun drapes everything in gold as it peeks above the horizon; where birds and crickets sing together and mosquitoes are still out for blood; where there's barely another soul on the road because everyone else is still asleep, and the LC ingrains itself into your mind with the sort of magic and theatre few other cars can match. Making its thunderous engine sing as you drop the hammer and watch rivers of dewdrops fly off its windshield will give you goosebumps, even long after you've parked. The LC coupe guarantees a good time, but the convertible is simply better.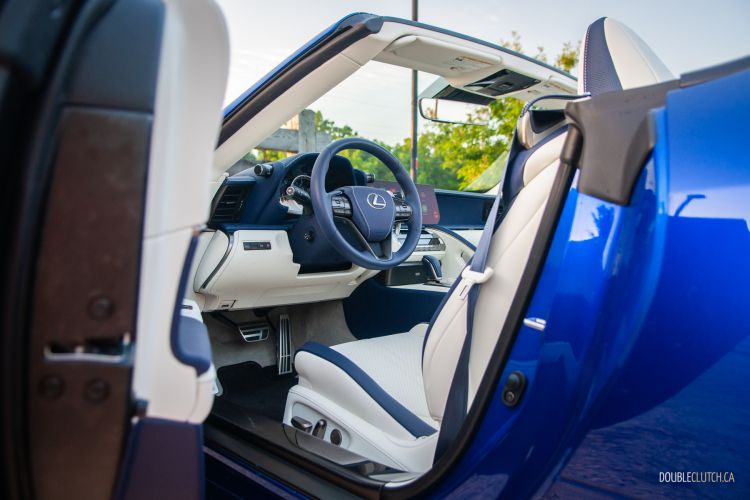 Inside, the sumptuous cockpit only adds to the LC's sense of occasion. The first-rate fit-and-finish and top-shelf materials — from the buttery smooth leather coating nearly every surface to the magnesium paddle shifters — are truly befitting of the LC's status. The driving position is spot-on with everything falling easily to hand, and the two-tone white-on-blue upholstery is simply exquisite. For 2024, Lexus addressed the LC's Achilles' heel, swapping out the old touchpad-based infotainment with a vastly more intuitive touchscreen. I'll miss the intricate trim integrating the display into the dash, but the enhanced usability and more modern interface are worthwhile trade-offs.
It'll be a very, very long time before I'll consider myself a morning person, but the key to self-improvement is breaking things down into manageable, baby steps. Mia is nothing if not consistent for making me get out of bed at the butt-crack of dawn, even on weekends. I'm not sure she'll ever understand the concept of sleeping in, but I do know one thing for sure — whether a Red Heeler lives in your home rent-free, or you have a 2024 Lexus LC 500 Convertible at your beck and call, sleep is for the weak.
See Also
2023 Lexus IS 500 F-Sport Performance