Lately, it seems like BMW's M division has been putting out more misses than hits, at least on the styling front. But once in a while, we get a car that absolutely nails its mission and reminds us that BMW does, in fact, still know what it's doing. The 2024 BMW M8 Competition is that car, except for one tiny problem: we can't figure out who it's for.
Look, we get it. Styling is so very subjective, and not everything wearing an M badge needs to be a home run from the get-go, but not looking ugly-as-sin is a great start. We're still not used to the M3 and M4's faces, and we're not sold on the M2's bulbous-yet-edgy look just yet. But the M8 Comp?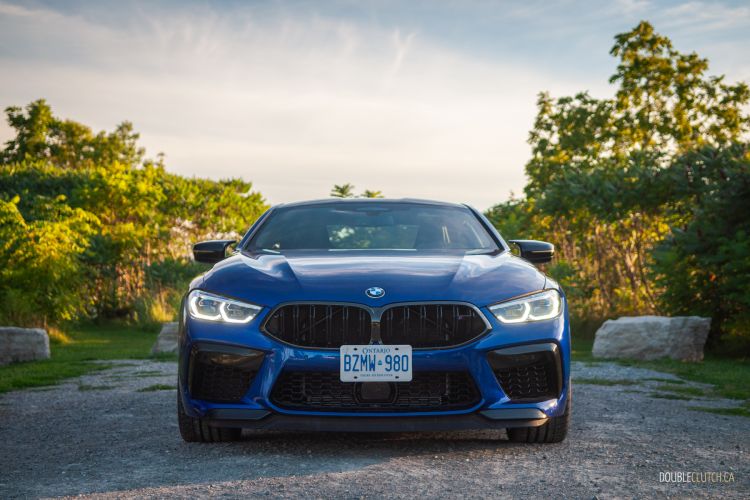 It helps that it had a head start. The M850i on which it's based is already a pretty car, and it must've taken BMW every ounce of effort not to smack the M8 with the ugly stick. But we're grateful for that; between the classic sports-car proportions, the fastback-ish silhouette, and the sheer width — it's about as wide as a widebody Challenger Hellcat — there's an undeniable presence to the M8. An M4 looks kind of goofy in your rear-view mirror, but an M8 looks like it can break your jaw in a bar fight.
BMW's 4.4-litre twin-turbocharged V8 lives under the M8's very long hood, known as the S63 in BMW-speak. It's largely similar to the N63 you'd find in the M850i, albeit with revised turbos, reworked cooling and lubrication passages, more peak boost, and many other enhancements that are, quite frankly, too pedantic to list here. Bottom line? You've got 617 horsepower and 553 pound-feet of torque to play with, sent to all four wheels via a smart, smooth, and quick-shifting ZF-manufactured eight-speed automatic transmission.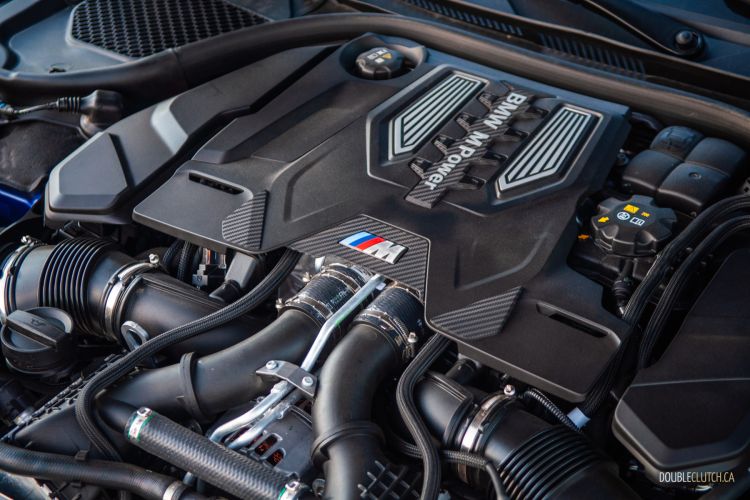 In a word, the M8 is effortless. Treated like a regular car, it responds with a firm but compliant ride, and numb — and maybe a touch too light — but accurate steering. You get a bit more road noise on account of the aggressive Pirelli summer rubber, but wind noise is minimal. Even the V8's soundtrack is fairly subdued, and the ZF autobox shifts smoothly and unobtrusively. And despite the M8's buxom dimensions, the light steering and super-crisp 360-degree camera system makes parallel parking a cinch.
Turn everything up to 11, and the M8 is effortless…ly insane. The steering still isn't chatty, but it gets heavier and weighs up nicely when you take a corner at speed. Throttle response sharpens to the point where if you so much as breathe on the skinny pedal, the back end kicks out and your ticket's already in the mail. The ZF autobox fires off faster shifts and holds gears for longer, letting you keep your foot in it for longer. And the soundtrack — the V8 transforms from a distant thrum to a ferocious snarl at the touch of a button. The M8 Comp is basically a German Hellcat.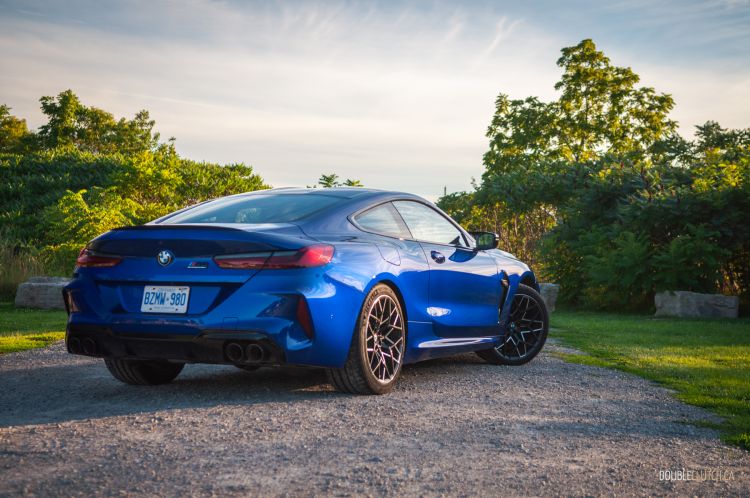 And there's the rub. This Bimmer is a high-speed missile, and like the Hellcat, it doesn't really like to turn. Granted, there's ample grip when you go hunting for apexes in a set of twisties, a tight on-ramp, or the track — as BMW intends with the Competition package — but you really feel the M8's sheer mass in particularly tight corners. Is everyone who buys an M8 Comp really taking it to the track? Why bother?
That's particularly puzzling when you consider the M850i delivers nine-tenths of the driving experience for almost $50,000 less. The M850i has about 100 less hp and does zero-to-100 km/h seven-tenths of a second slower — 3.2 seconds for the M8 Comp, versus 3.9 for the M850i. But everything else is there: the M850i looks just as stunning and has just as much presence as the M8, and the interior is still incredibly delicious.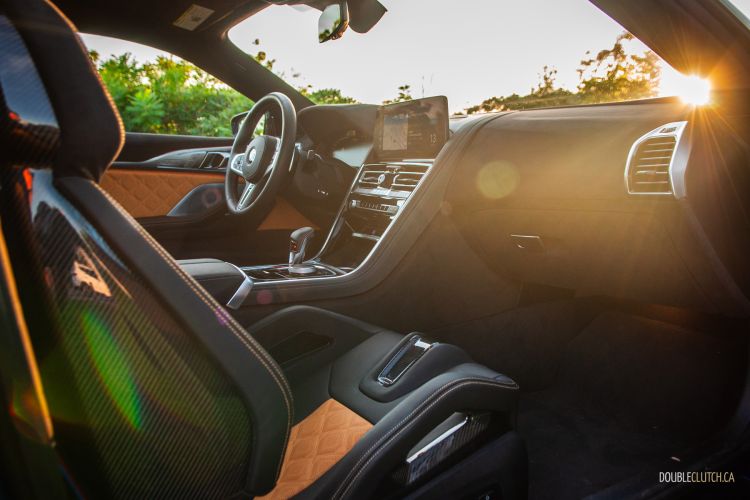 Ah, the interior. The M8 Competition is positively sumptuous and truly befitting of its status as a gran-tourer. Fit-and-finish is impeccable, BMW uses nothing but top-shelf materials throughout — almost everything you'd caress is either buttery smooth leather, fuzzy Alcantara, or cool metal — and the cockpit is a vibe and a half at night, owing to the ambient lighting.
The M8 Comp is a generation behind tech-wise, but that's not a knock against the car. See, where most new BMWs have adopted a one-piece, ultrawide display spanning across most of the dashboard, the M8 retains separate screens for the digital instrument cluster and iDrive infotainment. By keeping the gauges in its own binnacle, the M8 looks far more special and not necessarily a victim of cost-cutting — one screen is, after all, cheaper than gauges, needles, buttons, knobs, and trim pieces. Another benefit to the M8 being one generation behind: it retains physical switchgear for its audio and climate controls. Hallelujah!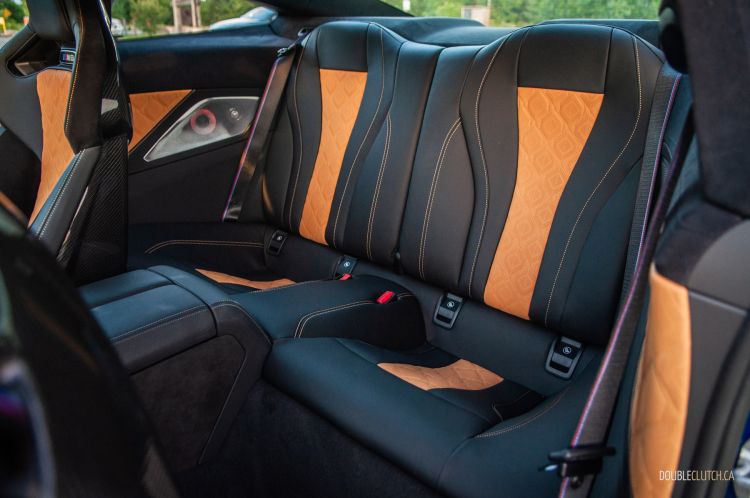 The M8's sumptuous interior is a lovely place to spend time, but we have exactly two nits to pick. First, the rear seats: no doubt owing to the M8's sleek silhouette, it impacts visibility out the rear-view mirror and the chunky C-pillars create some not-insignificant blind spots. Not to mention, said sleek roofline also makes rear-seat headroom virtually non-existent. Your messenger bag would be pretty comfortable back there, though.
Second, the front seats themselves: like the hardcore M3 CS and M4 CSL, this particular M8 Competition was equipped with BMW's so-called M Carbon Bucket seats. They look fantastic with exposed carbon fibre seat backs, but between the ultra-stiff bolsters and the M8's massive doors, ingress and egress is challenging and requires a fair bit of contorting. But once you're in, they're incredibly supportive and will ruin all other seats for you in BMW's lineup. Whether the seats are really worth the extra $6,500 BMW asks for them is up to you; as grippy (and pretty) as they are, it does seem more than a little silly to find such punishing seats in a car all about comfort.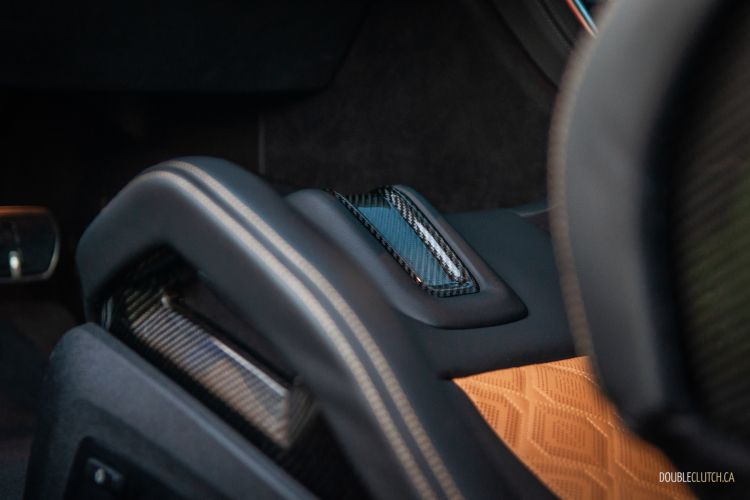 The M8 Competition starts at $160,500, but if you're good with self-control, you can keep the bottom line manageable. Our particular tester was loaded up with a base Toyota Corolla's worth of options — the aforementioned carbon bucket seats, plus $9,250 for the Premium package and a whopping $10,900 for carbon ceramic brakes — bringing the grand total to $187,150 as-tested before fees and taxes. It's not cheap, but you can save yourself a decent chunk of change by forgoing the ceramic brakes and still get a lot of car for the money.
In a vacuum, the 2024 BMW M8 Competition is nothing short of delicious. Its duality — the unrelenting acceleration and ferocious exhaust note, intertwined with composed road manners and a truly sumptuous interior — helps the car ace its mission statement as a fast, effortless, and head-turning grand-tourer. But you know what else aces that mission statement BMW's lineup, and arguably more comfortably? The M850i.
See Also
2023 BMW M850i xDrive Cabriolet