Since its debut in 2015, the BMW M2 has become the high-performance sports car for driving enthusiasts. Many, including yours truly, loved every version of the first-generation M2. It had the right balance of driving engagement and comfort, and kept its size and weight in check. So, when we heard the all-new, second-gen 2023 BMW M2 is longer, wider, and heavier, we had doubts about it delivering the same kind of excitement.
Compared to the outgoing model, the new M2 swelled up significantly — it's four inches longer, 1.3 inches wider, and weighs over 3,800 pounds, which is firmly inside BMW M4 territory. Fortunately, by retaining the classic long hood and stubby tail proportions, at least the M2 still looks like a pocket rocket rather than a bigger luxury tourer.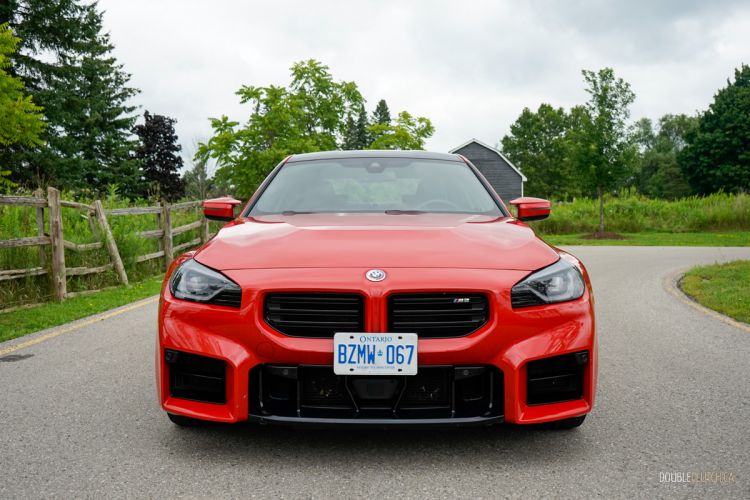 The new M2 carries a presence we did not feel in the previous generation. Yes, the front end is a lot to digest with all the squarish design elements and the taillights look a size too small, but the rest of its exterior design is quite aggressive and eye-catching. The massively flared-out fenders let onlookers know this is not an ordinary 2 Series, and perfectly complement its athletic stance. If attention is what you are after, the M2 will definitely get you that and then some.
Behind the controversial front fascia lies a 3.0-litre turbocharged six-cylinder engine derived from its M3 and M4 siblings. While output is slightly down from its bigger siblings, it still generates 453 horsepower and 406 pound-feet of torque, which is plentiful for the smallest BMW M car. It can reach 100 km/h from rest in as little as 4.1 seconds, and does it with such ferocity that it makes you feel like you had reached that speed at least half a second sooner.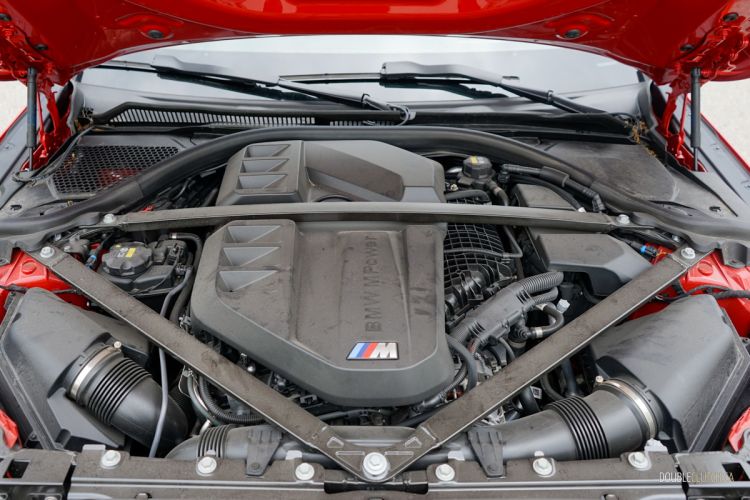 Enthusiasts around the world talk all about "saving the manuals" — there is even a very popular hashtag for it — but reality is, most buyers on this continent are picking the automatic. Good news here is that the M2's eight-speed automatic transmission is a good one for spirited driving. Shifts are lightning fast, and rewards you with a satisfying snap when you bang out the gears. This gearbox can feel jerky at lower speeds, but gets better as you drive more aggressively. The exhaust also rewards you with a ferocious bark on both up- and downshifts, and volume is proportionate to how hard you push it.
The M2 feels sharper and more responsive than before. Steering is lightning-quick and superbly accurate, and the chassis feels more rigid to counter everything physics throws at it. There are two main programmable drive modes — M1 and M2, selected via a couple of switches on the steering wheel — that allows drivers to set up their favourite profiles, and you can instantly tell the M2 responds differently between each setting. The six-piston brakes are highly responsive with a solid, confidence-inspiring feel, and can quickly stop the M2 when things do get a bit too fast.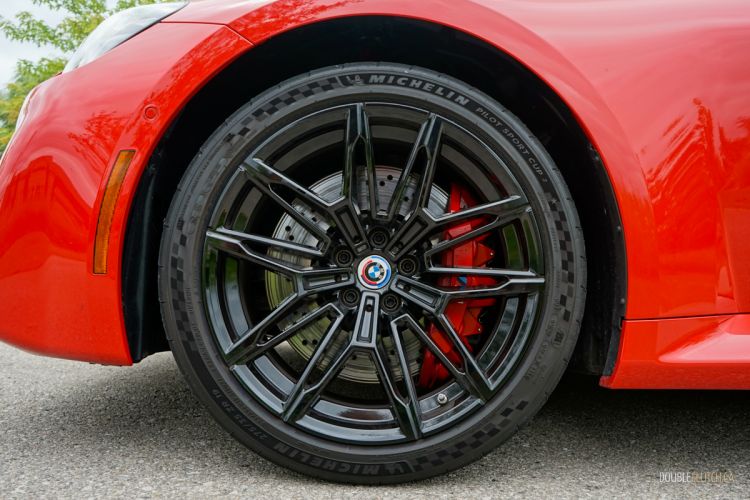 Though the M2 loves to be tossed around, it unfortunately also loses much of the road feel through its evolution. This is not a total surprise, as we have seen this trend play out in the rest of the BMW's M car portfolio, and it's also worth noting the M2 is still the most engaging member of the family. Part of the reasons is the additional refinement filtering much of the rawness that made the previous M2 so charming, but also because of just how quick the M2 is in general. BMW engineers have loaded it up with so much software and trick engineering that makes the M2 feel a little unnatural behind the wheel.
Official fuel consumption ratings for the 2023 M2 checks checks in at 12.7 L/100 km combined. We observed 11.7 L/100 km, and given our testing was performed without fuel economy top of mind — for science, of course — that's rather impressive. BMW recommends 93-octane gas for the M2.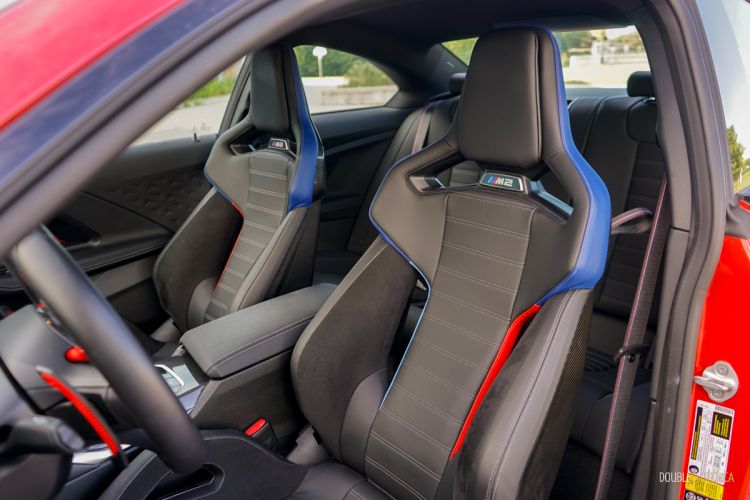 Moving inside, the first thing you will notice are the very sporty, and very pricey carbon fibre sport seats up front. These are probably the best-looking and most supportive seats you can find in a non-supercar in today's market, but they are also one of the least comfortable choices for the daily grind. While they do a great job in holding you snug in your seats and allow you to install a five-point harness for track duty, the thin padding and high side bolsters mean minimal cushioning and a workout when getting into or climbing out of the car. We would only recommend opting of these seats if you are not using the M2 for your regular commutes.
The rest of the interior is a typical BMW affair, with a clean and clutter-free layout, a widescreen display atop the dashboard, and an iDrive controller below the shifter, with every button and switch ergonomically placed and easy to find. The latest-generation iDrive infotainment remains one of the most user-friendly systems in the industry, and the onboard Harmon Kardon audio system is quite good. The M2 also has a number of special widgets available to display the current vehicle setup, tire temperature, as well as a drift analyzer that evaluate how well you dance with your car.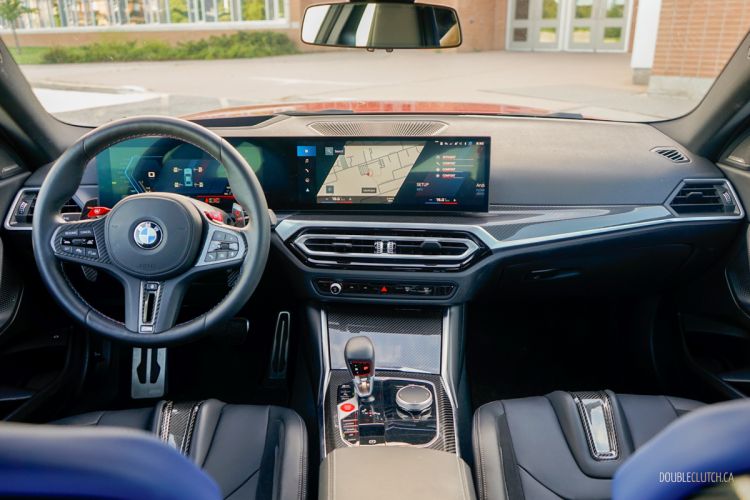 The new M2 starts at $76,500, which is very reasonable given how much performance you get right out of the box. Our tester also included a $13,000 package that adds the aforementioned seats, a carbon roof and matching trim, and top-speed increase to 285 km/h, and a one-day high performance driving class. This pricey package, along with other optional goodies such as the Premium Package and Active Cruise Control system, brings the as-tested total to $96,795.
Quite frankly, the M2's sweet spot is around the $80,000 mark. You can get most of the performance without crossing this threshold, and there are simply not many cars in its price range that can match how quickly it goes around a race track. Yes, the 2023 BMW M2 lost much of the rawness we loved, and yes, it has put on weight. But that is the process of evolution for automobiles in general, and the M2 is still one of the most fun and exciting sports cars on the market today.
See Also