The 2024 BMW X6 M60i has me wondering what else I've been wrong about all along. It's shaken me, and has undermined one of my core beliefs. A core belief is a deeply held assumption that forms our understanding of how the world works, and who we are. We all have core beliefs that shape our perception of reality and ourselves, whether it be a faith in a deity, a political stance on how society should function, or something more broad, like the general idea that being nice and working hard will better your life.
It is a core belief of mine that SUVs masquerading as sports cars are dumb. Irrational, nonsensical, tacky, tasteless, and not in any of the fun ways like say, a real sports car might be. They are a perversion of what a car should be, to be enjoyed only by perverts. I feel particularly vitriolic about the BMW X6, the stupid SUV-coupe-thing that started this whole trend that every other car maker has glommed onto, eagerly looking to take their cut of dirty money from clueless heathens.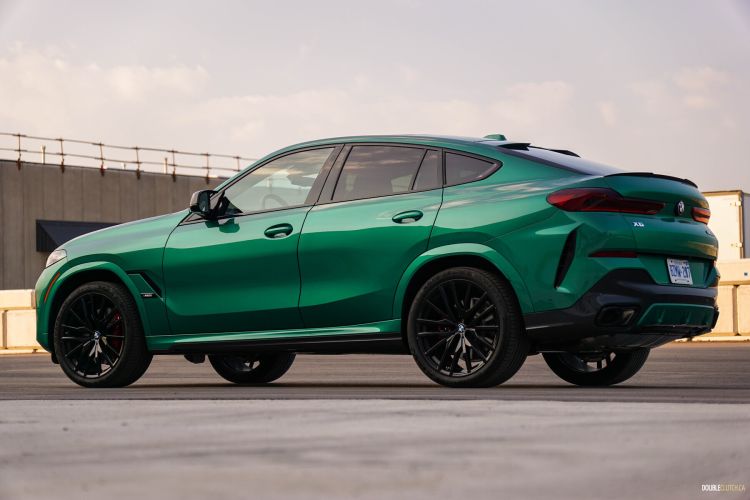 And now here I am, shamefully confessing to all of you that perhaps, maybe, there is a possibility that I may have been a tiny bit very incorrect. I've had to come to grips with the fact that maybe BMW's vast, well-funded, and fantastically successful product planning department might know what people want better than I do. Maybe the people who buy these abominations aren't inherently awful like I thought, because these abominations are actually kinda dope.
The wise folks at BMW's product planning department have sent down from the heavens that the X6 is due for it's customary mid-cycle refresh — come to think of it, those same product planners coined the term "Life Cycle Impulse," which I thought sounded really dumb, but they've got everyone saying LCI now — and they demonstrated impressive restraint. The subtly updated fascia gets neither the monstrous nostrils from BMW's smaller cars, nor the divisive split front end of the bigger ones.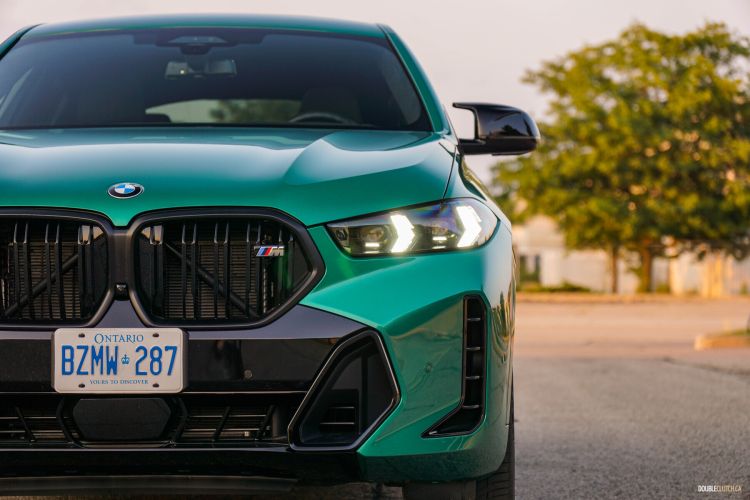 The new X6 gets slightly smaller, more ornate headlights, incorporating the more contemporary angular halos we've seen on other Bavarians. Also borrowed from its corporate siblings is an octagonal-ish lower fascia, which compliments the sharp stare from the new lighting. The grille is revised too, and almost looks, dare I say smaller? The product planners may know better, but perhaps they are listening to the complaints from the pews. Either way, it's a successful facelift.
The changes are a little more obvious inside, as the X6 now gets iDrive 8, with the single, massive ultrawide curved display that comes with it. I've expressed previously that I'm not in love with it. I don't like the climate controls being integrated into the screen now, and I'm not crazy about every BMW looking exactly the same inside, but it is a good look, and I'm coming around to liking the newest system. It's still head-and-shoulders over what everyone else is doing.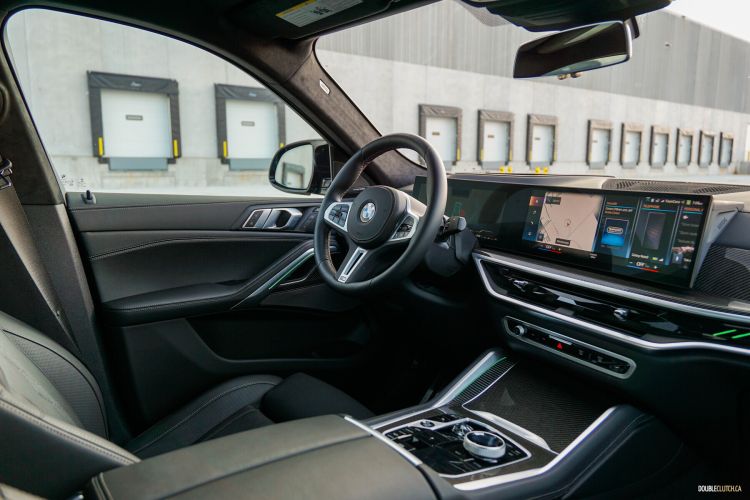 There's another tech addition too: BMW Drive Assist Pro, trickling down from the 7 Series flagship. It builds on BMW's already top-notch adaptive cruise control and lane centering systems, and adds hands-free driving to the mix. It works incredibly well and unlike a lot of other hands-free systems, it's ready to use almost all of the time. Don't think this means you get to play with your phone on your commute — it does monitor driver attention and has pretty close to zero tolerance for you being distracted … which can be frustrating if it can't see your eyes through your sunglasses.
It means you have to sit there, look straight ahead, and not play with the ambient light settings, not look up at the trick illuminated skylight, not explore the integrated Spotify app, and not admire the intricacies of the real carbon fiber trim in our tester. But, you can enjoy the heated, ventilated, and massaging full Merino leather seats, the Harmon Kardon Pro audio system, and surprisingly good ride quality from the M Adaptive Sport suspension, dutifully dialing out secondary vibrations from the massive 22-inch wheels.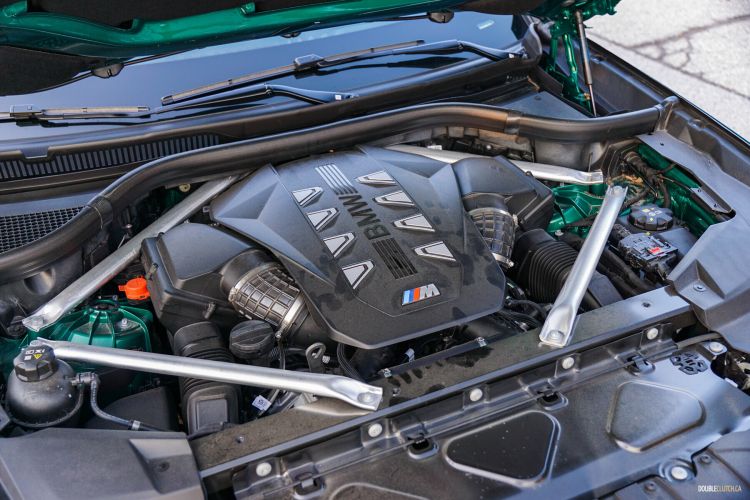 For all its ability to coddle you while it drives itself, you don't buy an SUV-shaped like a chonky sports car without having some intention of enjoying the sports car component, right? For 2024, what used to be called the X6 M50i is now the X6 M60i, to denote some new additions under the skin. A revised 4.4L twin-turbocharged V8 lies under the hood, producing the same advertised 523 horsepower and 553 pound-feet of torque, but for 2024 it gains the 48-volt mild hybrid system introduced on other BMWs, which adds about a dozen ponies and an extra 147 foot-pounds of twist.
This V8 and the ZF eight-speed automatic transmission have been around for a while, and they're better than ever, with the mild hybrid system offering slicker start/stop functionality, improved fuel economy, and a little extra level of overall refinement — not that the impeccably smooth V8 needed it. It bears mentioning that this V8 is code-named S68, with the S designation traditionally being reserved for dedicated M models; the M60i replaces the X6 M, with only the X6 M Competition above it. It's alarmingly quick off the line, it's always ready to deliver a deluge of muscle, and at an average observed fuel use of 12.2 L/100 km, it's impressively efficient, too.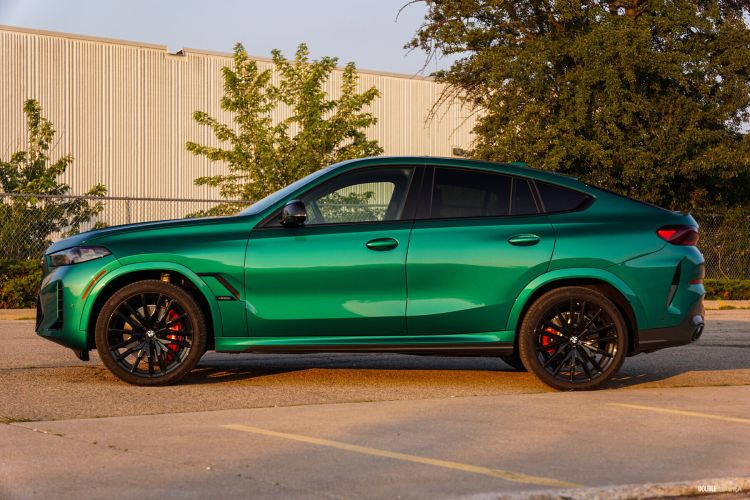 The X6 M60i also gains four-wheel steering, which is aided and abetted by typically brilliant BMW M chassis calibration to help hide the fact that this "sports activity vehicle" is actually a 5,000-pound behemoth. For as much as I've derided these fastback SUVs for being overweight and compromised, I have to concede this thing drives really well. It's engaging, communicative, fairly agile, relatively well balanced, and stupidly fast. And in our tester's gorgeous new Isle of Man metallic green paint, it looks pretty damn good doing it.
That last bit — that it looks good — was probably the most surprising of all. When I was first given the keys to this, I knew it was probably going to drive pretty well for what it is, but I probably wouldn't like it almost on principle, very much like the XM. But I found that after a few days with it, an irritating little thought snuck into my head while I was taking photos of it: "That looks great."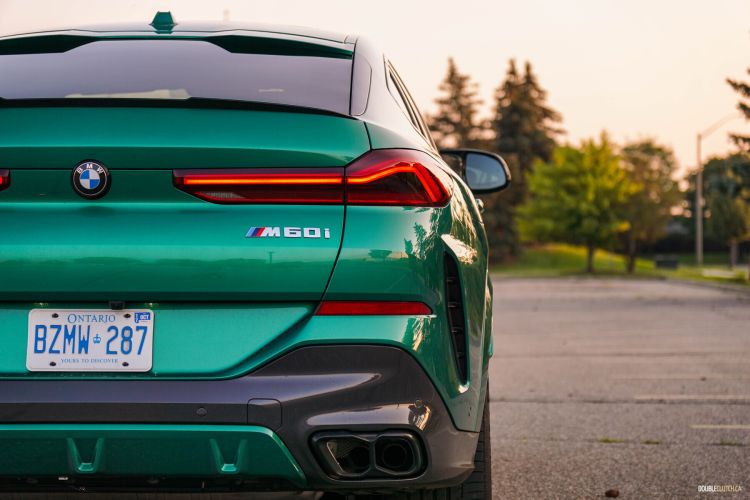 I knew it was over. A core belief had been challenged, and undermined. Here I was with this ridiculous $127,500 SUV that was trying to impersonate a sports car, and it worked. The X6 is a large, heavy, automatic, boosted, hybridized bastardization of everything a sports car should be, and I liked it. I've always held that the fastback roofline would make it a bad utility vehicle on top of being a bad sports car too, but it's got more than enough room in the backseat and cargo area for everything you could reasonably want to do.
The 2024 BMW X6 M60i has shaken me to shambles. What else have I been wrong about?
See Also
2021 Porsche Cayenne GTS Coupe