Subaru's WRX has been a perennial favourite for those looking for true driving engagement. With its rally pedigree and a plethora of aftermarket support, the WRX continues to represent enthusiasts globally. Redesigned for 2022, the latest WRX offers more features and versatility, but most importantly, a new transmission Subaru calls "SPT". We spent a week with a 2023 Subaru WRX Sport-tech SPT to see for ourselves whether or not it really is a game changer.
The short answer is, yes. While a six-speed manual is still the optimal choice for the driving enthusiast, the reality is that fewer and fewer buyers are putting their money where their mouths are, and as such the three-pedal option is inevitably going the direction of the dodo bird. This eight-speed SPT, or "Subaru Performance Transmission", is a continuously variable transmission that feels like no other – it genuinely is the best and most engaging application of a CVT that has been offered to this day.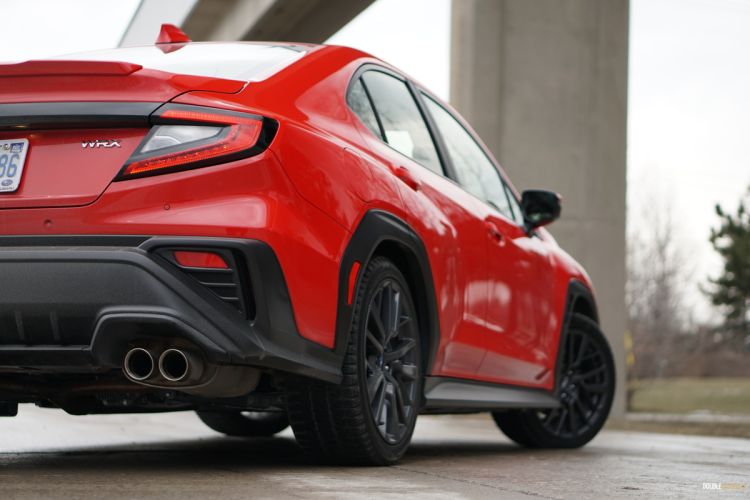 While most CVTs groan and moan when pushed, the WRX's SPT uses an electronically controlled transfer clutch, which allows for active torque vectoring. Eight gear ratios are simulated, and the WRX's 2.4-liter horizontally-opposed turbocharged four-cylinder is always eagerly in the power band. The SPT tuning makes turbocharger lag feel forgotten, and along with this newfound urgency also makes for much more responsive street manners. Using Subaru's "Sport #" mode makes for even more willingness and the WRX is a happy camper when pushed.
Output from the 2.4-liter engine is 271 horsepower at 5,600RPM and 258 lb-ft. of torque at 2,000RPM. 100km/h arrives in just over six seconds, so while quick, the WRX isn't "fast" by any means. Those who are shopping Subarus aren't here about the straight line speed though; the signature Symmetrical All-Wheel-Drive system unique to the Subaru brand is a conversation piece that gives the WRX a leg up over most of its competition. While we were unfortunately not graced with any snowfall during our winter test, we have driven WRXs through the white stuff before and can confirm that it inspires confidence like nothing else out there.
Official fuel ratings for the 2023 WRX are 12.7L/100km in the city and 9.4L/100km on the highway, for a combined average of 11.2L/100km. As with any turbocharged engine, the more you stay in boost, the more fuel is consumed. We observed 13.9L/100km in bitter cold temperatures, considering the fact that it's pretty hard to drive too conservatively in a car that just begs to be pushed harder. The 62.8-liter tank requires 91-octane premium fuel to conduct business.
One area where the WRX is an absolute letdown is the interior. While Subaru will argue that their customers generally don't care about a spartan cockpit, we noted some glaring omissions – namely a heated steering wheel. On a top-trim $43,000 sedan that boasts best-in-class winter performance, I wish my hands weren't so cold. Material quality overall feels cheap and full of low-rent plastics, and the lack of remote start can also be aggravating. On the plus side, the WRX is decently roomy for both front and rear occupants, and as always with Subaru, visibility is excellent.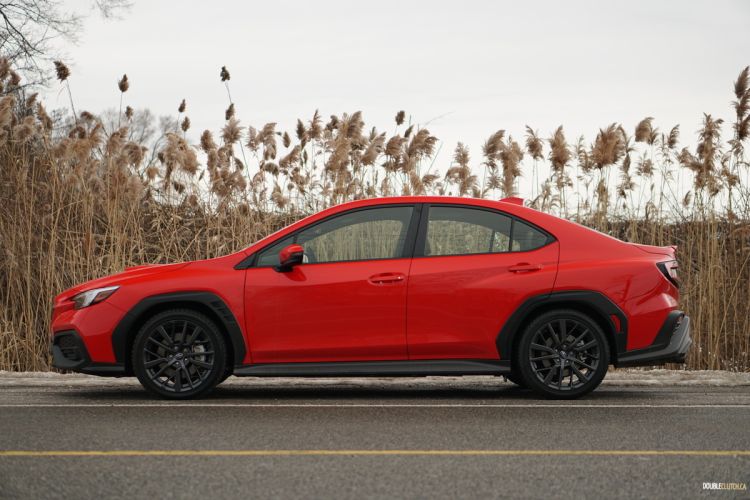 The 11.6-inch portrait-oriented touchscreen houses Subaru's native infotainment system, which is another gripe we have with the WRX. While this is an upgrade from the base model's very sad-looking dual-screen setup, it still has dated graphics, embarrassingly awkward fonts, and we experienced lots of lag. Apple CarPlay and Android Auto are on board, but require a wired connection to get the job done.
Subaru Canada prices the 2023 WRX from $32,495 for the base model with the six-speed manual. Unfortunately, the EyeSight driver assistance suite is not available with the manual transmission, so the cheapest way into that is the Sport SPT at $39,595. Our top-trim Sport-tech tester with the SPT and EyeSight comes in at an eye-watering $43,395 before freight, and also represents the top trim of the WRX.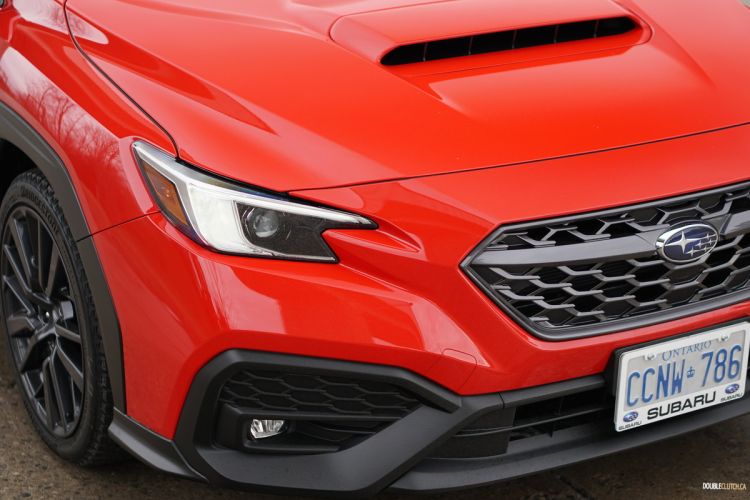 In higher trims, the WRX is definitely more expensive than its major competitors, though it's the only sedan in its class that offers all-wheel-drive. Honda's Civic Si comes in at $35,130 and is only offered one way, with a manual transmission. The Volkswagen Jetta GLI with the DSG transmission is $34,495, and the Hyundai Elantra N DCT is $39,299. Opt for a "lesser" trim on the WRX like the Sport SPT and there starts to be a value proposition, but the Sport-tech is definitely on the higher end of the segment.
It's notable that at the time of our writing, we spoke to a couple of local dealers and the general feedback is that Subaru corporate is discouraging lower trim models from being ordered, so the majority of Canadian buyers are being forced into the Sport-tech trim. Flat-four purists won't be disappointed with the 2023 Subaru WRX Sport-tech SPT, and if the Subaru enthusiasts I spoke to during my test week are any indication, they're willing to overlook its shortcomings too.
See Also: