There are a number of sins that automakers have gotten into a sad habit of committing over and over again. These are things that journalists have been kvetching about for years, preaching to a congregation of the deaf. Our sermons are laden with lamentations of the ubiquity of characterless turbo-four engines, that sacrifice performance and refinement for false efficiency. We call upon the powers that be to smite the heretics that keep cladding every surface of every car with piano black plastics, which tempts the weak with pretty photography, before cursing them with fingerprints and filth. The 2023 Hyundai Palisade Urban shows us that someone was listening, and commits none of these crimes.
The beneficiary of a mild facelift for 2023, the Hyundai Palisade's new, more square fascia tones down some of the overstyling that dogged the earlier models, bringing it slightly more in line with the almost-retro Kia Telluride. Our tester's Urban package further sharpens the look, with black 20-inch wheels and dark satin trim, which serves to make the "just a little much" grille a little closer to "just right." This is starkly contrasted against our tester's Hyper White paint, which gives the Palisade a sharp Stormtrooper style, befitting of a soldier for sensibility.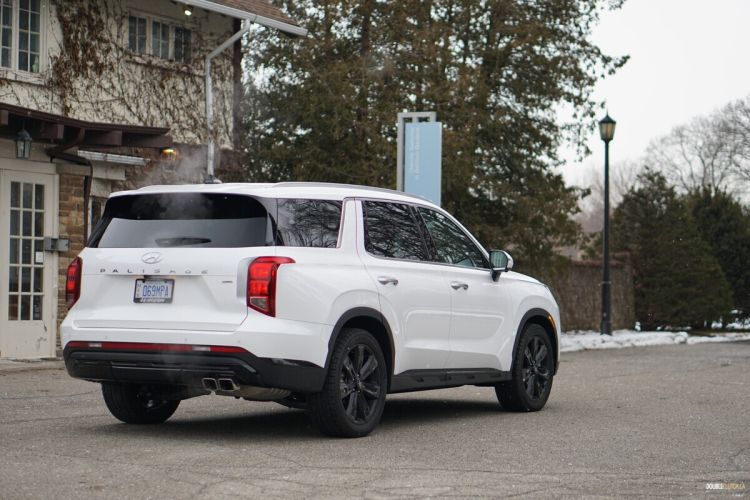 Inside is where the Palisade really proves itself as a paragon of practicality, eschewing industry gimmicks for common sense. As alluded to above, the godawful gloss black touch points that have cursed cars for too long are gloriously absent here, and you won't find any capricious capacitive touch trash here either. All essential controls are handled by large, matte, honest-to-God buttons that are easy to see, and hard to miss when you're on the move. It was so refreshing to return a test car that wasn't a mess of dust, dandruff, and gluttonous fingerprints, as is so often the case.
The rest of the interior is a tasteful blend of charcoal leatherette and textured metallic surfaces, highlighting another unique virtue that's long been lost: uniformity of materials. In the overwhelming majority of modern cars, a needless array of surfaces, with some cars employing more than a dozen different finishes of plastic on one door. The Palisade takes a page from Mercedes's old bible, and keeps it cohesive with just a handful of different materials, which contributes to an aesthetic that's incredibly clean and easy to keep looking that way.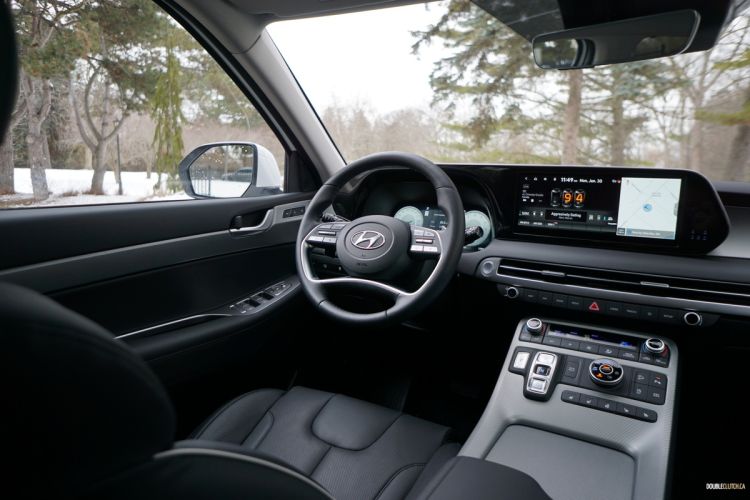 Information and entertainment are handled by a 12.3-inch digital gauge cluster and a 12-inch ultrawide touchscreen, neatly unified by a pseudo-hexagonal glossy frame (the use of gloss here is permissible; it's not a touch point so it won't show fingerprints, it's vertical so it won't gather dust, and it does make for a pretty picture). The touchscreen is slightly larger and sharper for 2023, and it's powered by the same UI we've seen in just about every other Hyundai and Kia, with Android Auto and Apple CarPlay as standard – it's attractive, responsive, and thoughtfully laid out. 
There's lots of other thoughtful touches throughout the cabin too, with a plethora of USB charging ports, and smartly placed controls for the powered second and third row seats, for ease of ingress, egress, and cargo loading. There is an abundance of passenger room, which can be easily converted into a cavernous cargo space, with the third row folded down via powered controls near the rear hatch. There's plenty of storage in the door pockets and center console, and whoever thought of the multi-use cubby in the center with its trick revolving hideaway cup holders was clearly blessed by the Gods.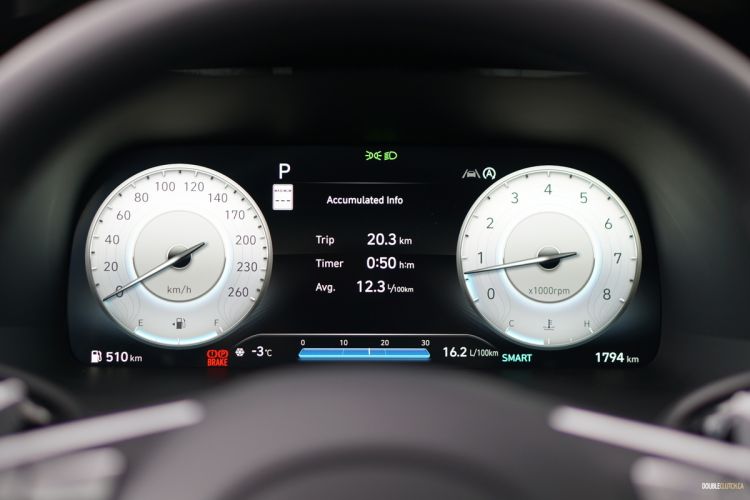 Under the hood of the Palisade, you'll find it's blessed with an organically aspirated 3.8 Liter V6 engine, opting for a more traditional means of motivation. No turbochargers, or the lag, complexity, and inconsistency that comes with them, and no four cylinder mechanical coarseness, either. It generates a healthy 291 horsepower, routed through all four wheels via a seamless 8 speed automatic. Despite forgoing trendy engine tricks, it remains fairly efficient, returning an average of 11.2L/100km in our mixed testing, which is pretty impressive for a comfortable six seater that can drag 5,000 pounds behind it. It's responsive, linear, quiet, smooth, and capable – which is the Palisade's whole mantra on the road. 
It steers clear of another recurrent sin committed by too many: sportiness. Don't get me wrong, sports cars are great, but far too many manufacturers try to imbue their mundane whatever-wagons with "sportiness," which only serves to make the marketing department happy, at the expense of ride quality. The Palisade treads around this treachery, focussing on being quiet, easy to drive, and not much else. The steering is light and fairly void of feeling, but direct enough to confidently maneuver. The genteel chassis is set up to be soft, with a serene, cushy ride, and the cabin is very well insulated from wind and road noise. It's not exciting, but it's nice enough to pilot, and it's easy. If you do find yourself feeling frisky, there is a sport mode that tightens the steering and sharpens the throttle response, which should be enough to get the wickedness out of your system.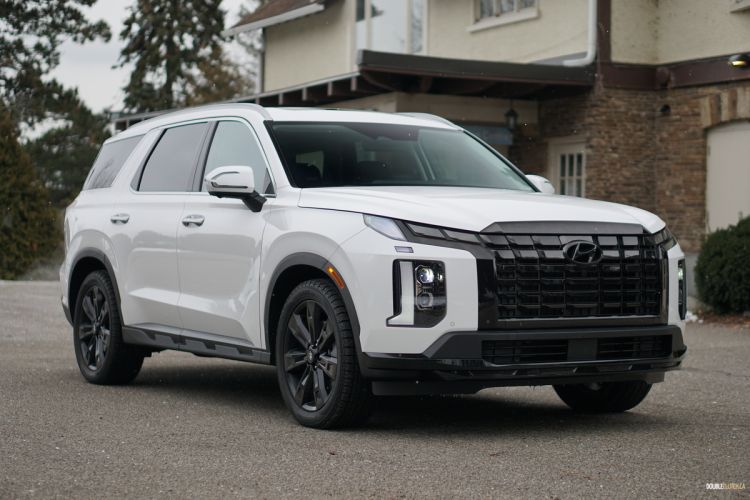 In summation of our sermon, the 2023 Hyundai Palisade Urban is wonderfully free of frivolity and void of vexatious habits. By staying true to itself and embracing the divinity that is common sense, they've created a vehicle that is, as far as I can tell, without flaw as a family hauler. It looks good, it drives well, and the interior is perfect. For all the car makers that blame focus groups and consumer demand for their sins, I point to the pragmatic beauty that is the Palisade. Here is a car that bucks modern trends with classic functionality and thoughtful design, and they have been impossible to keep on showroom floors since day one, often changing hands for more than our tester's $56,404 sticker price. If you want to see how to succeed without sacrilege, look no further.
See Also:
2023 Hyundai Palisade Ultimate Calligraphy