We all have a different hierarchy of needs when it comes to cars; different things we like and/or need a car to be. Whether it's the feel of the chassis as it pitches through a corner, or a seductive exterior design, or an immaculately appointed cabin space, or breathtaking performance, there's a wide variety of flavors under the all encompassing envelope of the car. A frequent source of debate centers around the question of which of those flavors is most important, and I've long argued that the engine is the make or break centerpiece of any car. As evidence, I'd like to submit the 2023 Toyota GR Supra 2.0. 
We really like the Supra around here – so much so that it snatched our Car of the Year award on launch. In an era where the market is dominated by crossovers that epitomize the jack of all trades/master of none mantra, it's such a rare treat to have something so focussed. It's first and foremost a sports car, and little else. We adore when a car has a specific, concise mission statement, and absolutely nails it; everything else be damned. The Supra does that, and it's a gem.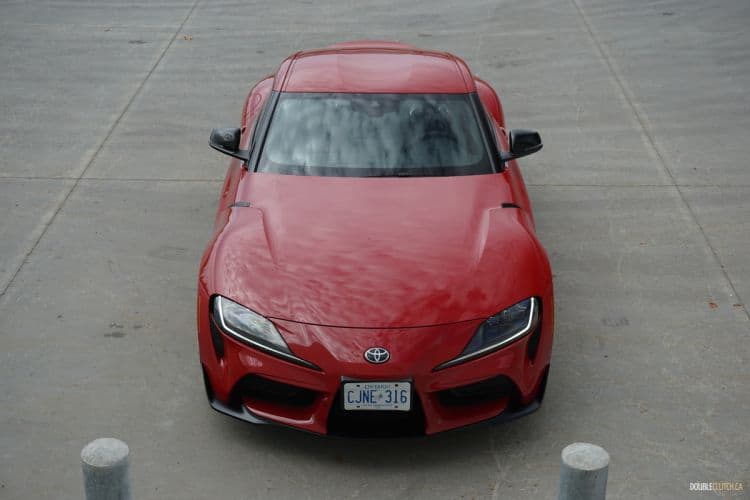 So naturally, when the Supra 2.0 appeared on our schedule, we were excited. We've had a few of the 3.0 Supras, motivated by BMW's delightful and distinguished B58 straight six engine, but we've never had one of the newer four cylinder cars. It's the same delicious silhouette, so it should be great. It's the same brilliant chassis, so it should be great. It's mated to the same ZF 8 speed automatic we love in everything, so it should be great. It's a little down on power, but 255 horsepower and 295 foot pounds of torque means it's still a fast car, and it's some 200 pounds lighter, so it should be even more agile and lively.
All these things the Supra should be, but sadly, isn't. It's like one of those drawn out will they/won't they romances on TV, except when the main characters finally get together, they realize that something just isn't there. The chemistry doesn't work. It's not bad, they get along fine, it's just kind of a let down when it's not the fireworks we wanted to see. You see a little red sports car with dramatic curves and an intimate cabin and you expect to be thrilled, but it fails to materialize when it comes time to launch.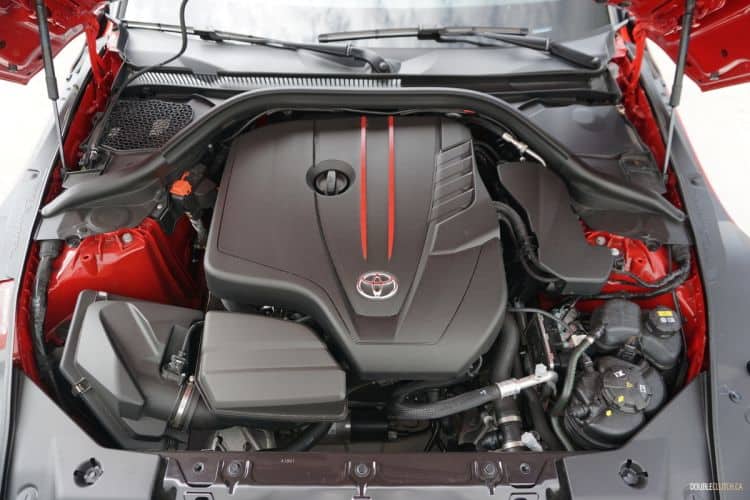 The Supra 2.0 is not a bad car, it just fails to excite. The Supra 3.0 has the effortless, smooth power of one of the best straight six engines ever made, accompanied by a glorious mechanical song that you can only get with a good straight six. It's got character in spades. It certainly doesn't hurt that it's ferociously fast, too. The Supra 2.0, with its BMW B48 four cylinder engine, forgoes that wonderful character, and suffers immensely for it. 
In typical BMW fashion the engine is fairly responsive, and has a broad, linear torque curve, but is also lacking in any drama to keep things interesting. We were also disappointed with the ZF eight-speed, which again, we usually love. We're not sure how it came to pass, but in this car it felt a little dim-witted at times, and we noted it could be pretty jerky at low speeds – especially combined with the abrasive stop/start function, which we made sure to turn it off every time. Despite this our Supra returned an average fuel economy of 7.3L/100km, which we have to concede is impressive.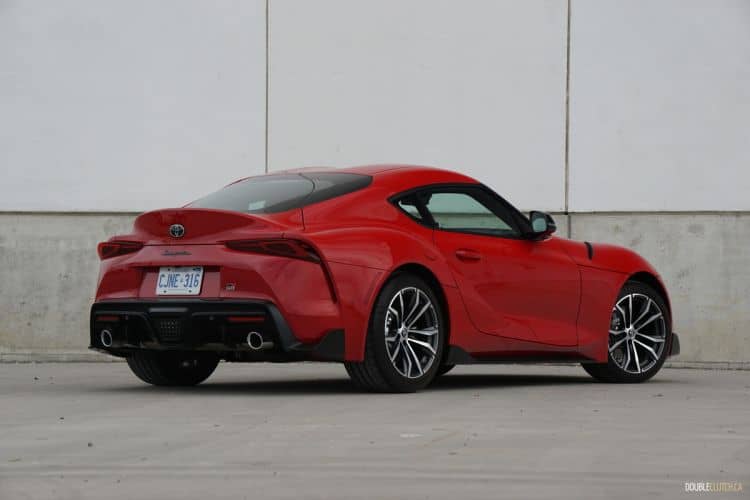 Without the straight six engine that Supras/BMWs are so famous for, the recipe falls flat. It sounds just like every other turbo four out there. It feels just like every other turbo four out there. Its ace-in-the-hole, its reason for justifying all of its sports car compromises is gone. Without the more brawny engine, it's just an impractical, tiny little car that's hard to get in and out of, that happens to look great and handle really, really well. 
Again, it's not a bad driver's car, it just fails to inspire more driving. The chassis is still terrific, displaying incredible balance and agility with a seemingly limitless amount of grip available. The steering is great, able to be super sharp and eager without being at all nervous, and offering healthy feedback, significantly more so than its BMW Z4 cousin. The chassis unfortunately forgoes some niceties that are included on the 3.0 car, including but not limited to adaptive dampers,a front strut tower brace and the active rear differential, so if you do feel inspired to really dig into it, it won't be as rewarding.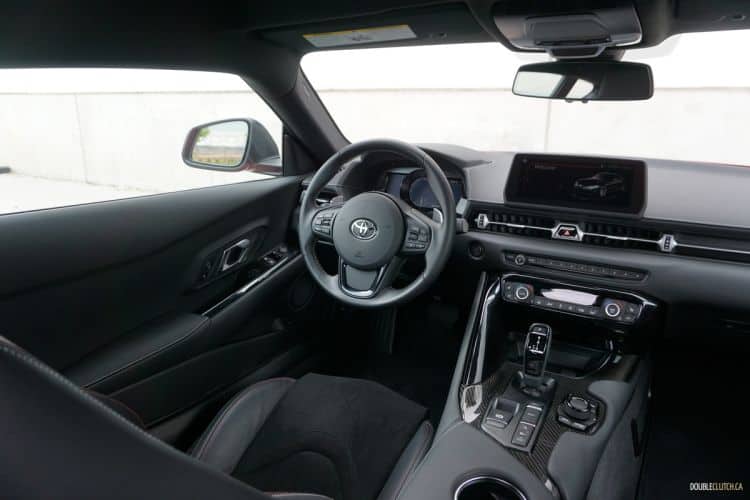 The absence of those adaptive dampers is really felt around town; the Supra rides hard. It stays just barely on the friendly side of tolerable by means of a stiff structure, a reasonably quiet cabin, and excellent seats, though it bears mentioning that those seats are manually adjusted on the 2.0. You're giving up a wireless charging pad, wireless CarPlay, navigation, and 12 speaker audio, too – just 4 speakers on this one. BMW's iDrive infotainment remains unchanged and generally works well, although it's beginning to feel a little dated, and the car isn't quite interesting enough to distract from that.
It's not quite interesting enough to distract from its other big problem: the sticker. At $57,170, our Supra 2.0 is a big ask, and as much as we wanted to like it, the fact remains it's not a good value. For ten more, the 3.0 makes a lot of sense, it's downright exotic. The biggest problem with the 2.0 is that Toyota already makes a compact four cylinder sports car in the GR86, and not only is that more engaging to drive and easier to live with, it's twenty-five thousand fewer dollars. The Supra 2.0 isn't interesting enough to make up for that.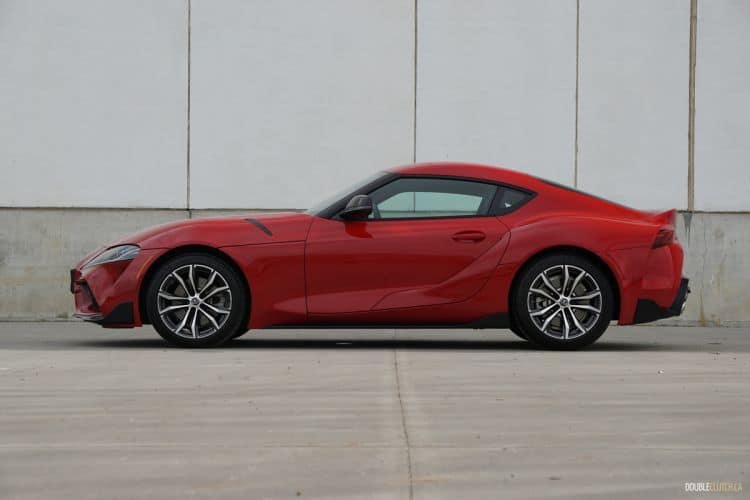 That sums up the whole 2023 Toyota GR Supra 2.0 experience. Being a purpose built sports car, it carries with it some pretty significant compromises, and is at best only barely practical. These are things you expect when you buy something like this; you're paying for the style, and the performance, and the feel of having a sports car. You expect those issues in a sports car, and it's okay because the driving experience can instantly make up for those misgivings. The Supra 2.0 unfortunately doesn't do that – there's not enough engine on hand to run away from its foibles.
See Also:
2022 Toyota GR Supra 3.0 Premium