VANCOUVER, BRITISH COLUMBIA – Ask any auto enthusiasts what they think of the Toyota GR Supra, or more precisely why they have not bought one, and you'll hear something along the lines of how it would be great if only it came with a manual transmission. Toyota decided they heard enough of the bluff and offered up the 2023 Toyota GR Supra MT. We were invited to the Vancouver Island Motorsport Circuit to put it through its paces.
The styling of the GR Supra remains relatively unchanged since its debut in 2019 and it continues to catch our attention every single time. The design is timeless, and the muscular body sculpture and low-slung stance gives a good indication of the performance under the hood. For 2023, there is a highly limited A91-MT model that adds forged wheels and an exclusive cognac leather colour to the two cheekily named paint colours called Cu Later and Burnout. Only 50 of them are available in Canada and each will come with its own unique plaque.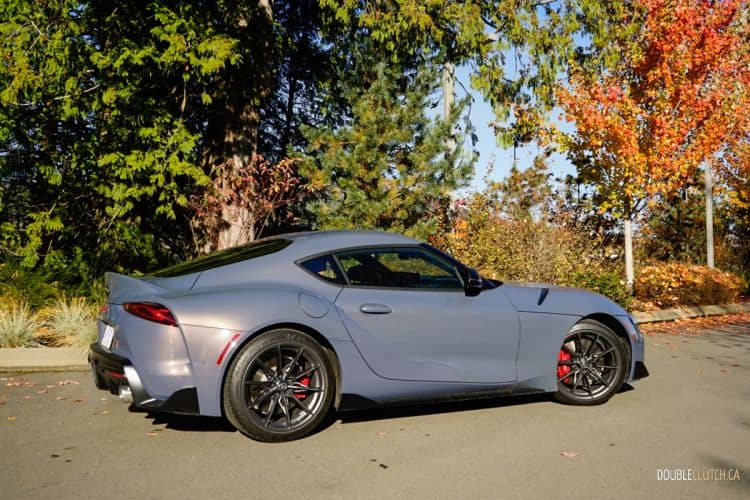 Under the bonnet lies the same BMW-sourced 3.0-litre turbocharged straight-six as the automatic version. It puts out a healthy 382-horsepower and 367 lb-ft. of torque to the rear wheels, and manages to propel the GR Supra with a strong force that does not seem to let up until you are well past legal speed limits. The GR Supra does an excellent job in disguising speed, probably as well as any cars on the market today, but luckily the GR Supra 3.0 comes with standard heads-up display to help drivers monitors how fast one is going.
The ZF-sourced six-speed manual transmission has been retuned by Toyota, and is effortless in operation thanks to its easy-to-use clutch and notchy but short throwing gear shifter. It features rev-matching technology on both up and downshifts to help drivers manage even faster responses, and this feature can be disabled in Sport driving mode for drivers who want the full row-your-own experience.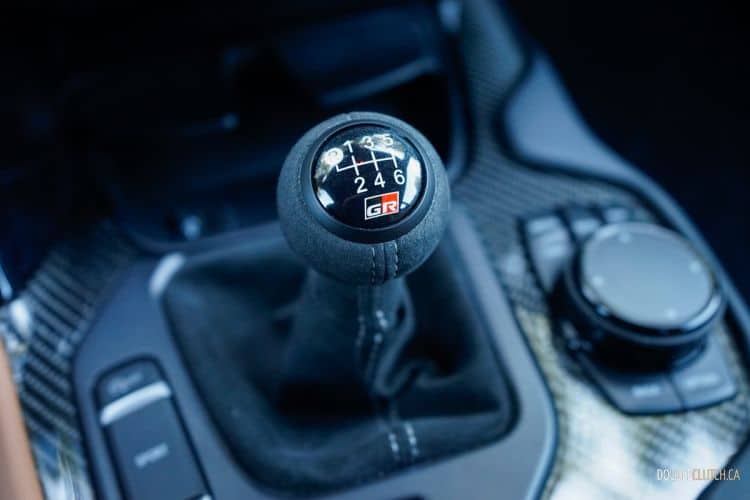 Steering feel is a bit lacking on the GR Supra, but the retuned electric power steering rack is incredibly accurate and the car is eager to turn at a moment's notice. The chassis is well tuned for balanced handling and there are new features for 2023 such as a reworked traction control system, upgraded braking, enhanced stability control with anti-roll program, and an all-new Hairpin+ function that allows for more freewheel spin during tight corners if you ever want to channel your own inner Initial-D spirit. The GR Supra 3.0's suspension has also been retuned to provide better roll balance and ride comfort and active rear sport differential is now standard.
Other standard features on the Toyota GR Supra 3.0 include wireless Apple CarPlay and Android Auto connectivity, 12-speaker JBL premium sound system, wireless phone charger, 14-way power adjustable seats, and a comprehensive safety package that includes pre-collision system, land departure warning with steering assist, and automatic high beam systems.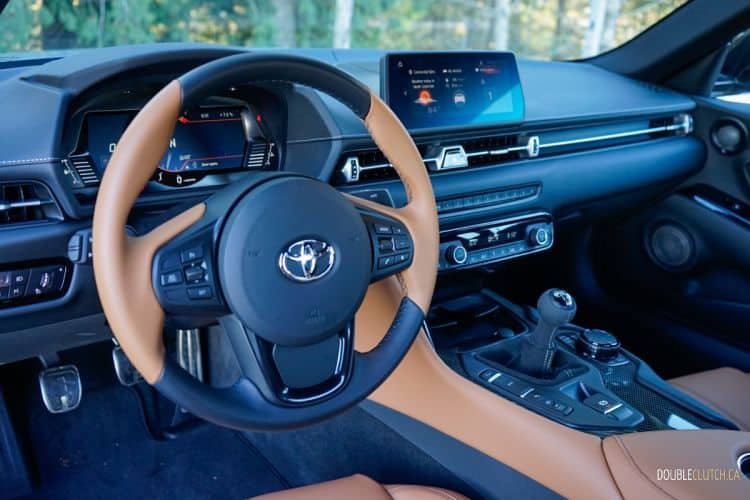 The GR Supra starts at $57,170 for the base 2.0-litre model, but if a manual transmission is what you desire, you will need to prepare a minimum of $68,640 for the 3.0 Premium. We love that the manual transmission is a no-charge option to the well packaged sports coupe and the added clutch pedal puts it over the top when compared to other premium sports cars. So here it is, the 2023 Toyota GR Supra MT is exactly what the Internet and driving enthusiasts asked for – a powerful engine, engaging driving dynamics, and a manual gearbox. Toyota has called your bluff, you're up.
See Also:
2022 Toyota GR Supra 3.0 Premium