As automakers inch closer and closer to electrification, there's something seriously appealing about a traditional hot hatchback with genuine focus to driving engagement. Up there with icons like the VW Beetle, Porsche 911 and Fiat 500, the MINI is a true staple in the automotive landscape. This is the 2023 MINI John Cooper Works, in three-door hatchback form and packing all of the performance goodies. We spent a week behind the wheel to gauge if it's still as good as it used to be.
MINI was reborn in North America for the 2002 model year, with the snappy little two-door Cooper and supercharged Cooper S. Acquired under the BMW umbrella, the cars were given a steroid shot of performance and were instant hits with the global market. Since then, the brand has expanded to include a series of models including an all-wheel-drive crossover, five-door hatchback, convertible, and even a full-electric version. This John Cooper Works is peak MINI for us; the smallest version with the six-speed manual transmission and performance goodies.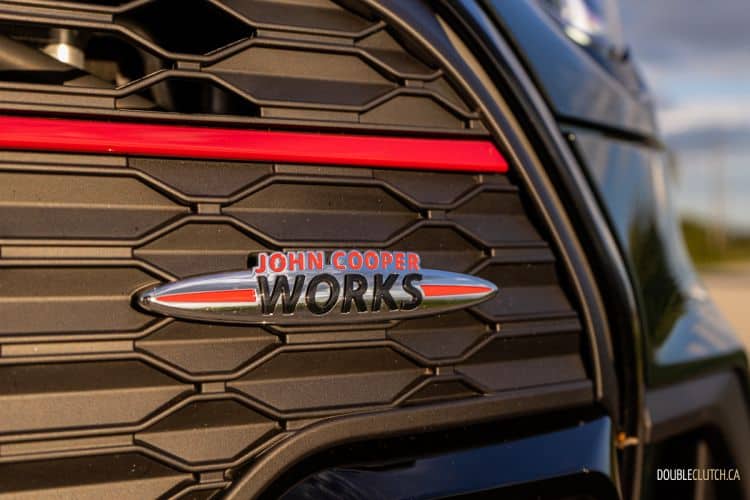 The boosted 2.0-liter turbocharged inline four-cylinder here is good for 228 horsepower at 6,200RPM, and 236 lb-ft. at 1,450RPM. It's front-drive only, though larger MINIs are available with all-wheel-drive. An eight-speed automatic is the gearbox most will sadly opt for, but we were genuinely pleased to see a six-speed manual transmission under the hood of our test unit. This powertrain is eager, sounds good, and takes me back to the roots of the MINI. I've been fortunate to own a classic MINI Cooper myself, and it's extremely obvious where the new model's DNA comes from.
Enhancing the John Cooper Works experience is an electronic locking front differential, sport-tuned suspension, and Brembo brakes. It rides fairly compliantly in most environments, however the JCW suspension does crash over bumps harsher than we'd like in pothole-riddled Toronto. It's all part of the charm though, and despite armchair critics saying that the new MINI is massive compared to what it used to be (read: they're right), it's still tiny compared to everything else on the road today.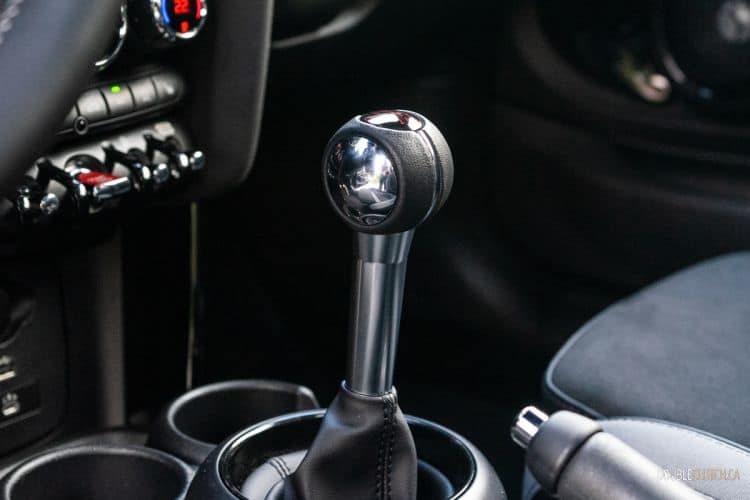 A true rarity in today's automotive world, the six-speed manual transmission, is a welcomed inclusion here. The shifter is rather tall and awkward, but it's easy to get used to and will eagerly pop in and out of gear without issue. The clutch is very light and also equally simplistic to become second nature. There is an automatic rev-match feature on downshifts, which enables itself in Sport mode. We would like to see the ability to turn this off in Sport mode and use it in "Normal" or "Eco", because when in the car's most engaging mode we prefer to do the rev-matching ourselves.
It corners like a dream too – I also owned a 2005 Cooper many years ago, and while the hydraulic steering was razor-sharp, this new electrically assisted power steering setup has some feel to it and is immediately responsive. The 2023 MINI John Cooper Works has a personality to it, and that in itself is a rarity today. The 98.2-inch wheelbase is the perfect size to allow the MINI to zip in and out of traffic, slice through parking lots and make maneuvers effortlessly. It's superbly efficient too, with an observed 9.3L/100km over a week's worth of testing. Premium fuel is required for the 44-liter tank.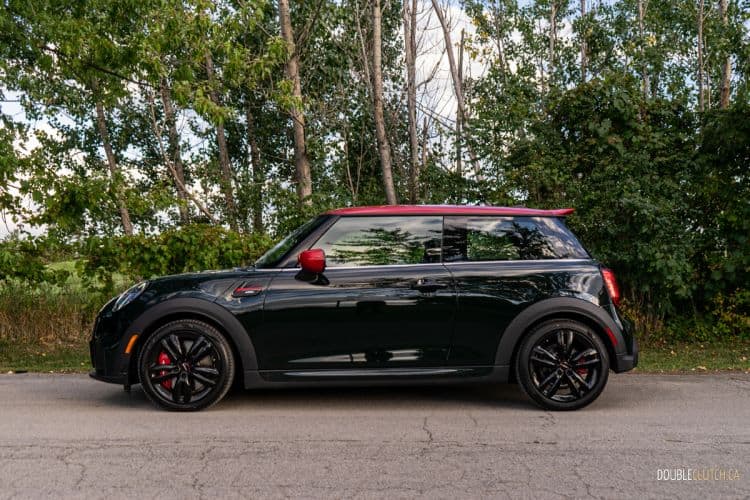 Inside, BMW has done their level best to preserve that MINI charm while keeping things modern. With just 254-liters of cargo room behind the somewhat-usable rear seats, the John Cooper Works is a fairly tight vehicle, though front occupants will have no issues. Materials are about what we expect from a compact hatch at this price point, though it feels more upscale than the Subaru WRX, Honda Civic Si and Hyundai Veloster N. Neat touches like the toggles, MINI-adapted iDrive infotainment system, and the performance seats enhance the experience.
The 8.8-inch touchscreen display that houses iDrive is crystal clear, and the matte finish is easy to read even in direct sunlight. It can be controlled using a rotary dial on the console, and those familiar with BMW's interface will not find themselves lost at all. Apple CarPlay can be accessed over a wireless connection, though the lack of wireless charging is an issue here as this setup will obliterate your smartphone's battery.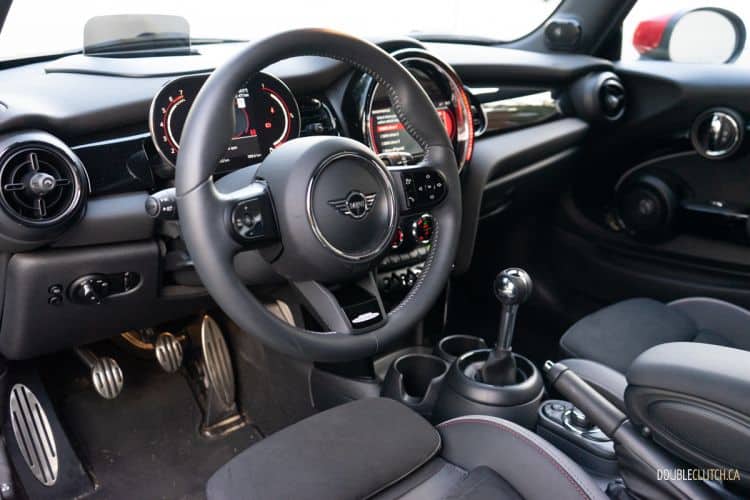 The 3-door MINI starts at $31,090 for the base three-cylinder Cooper, while the John Cooper Works model tested here starts at $47,190. It includes a "Premier+ 2.0" package that adds a panoramic sunroof, heads-up display, navigation system, comfort access, and basically everything buyers would want. The Rebel Green paint is an extra $1,000, and the six-speed manual gearbox is no extra cost. All in all, our tester came in right at the $50,000 mark.
This price point puts the MINI John Cooper Works substantially higher than most comparable hot hatches/sedans, and more in line with the Volkswagen Golf R, Honda Civic Type R, and the defunct Ford Focus RS. In this bracket the MINI falls short, so we really do think the sweet spot is the significantly cheaper Cooper S, with whatever accessories off the John Cooper Works catalogue owners may want. MINIs are all about personalization, and the price difference allows some cash to spare in favour of this.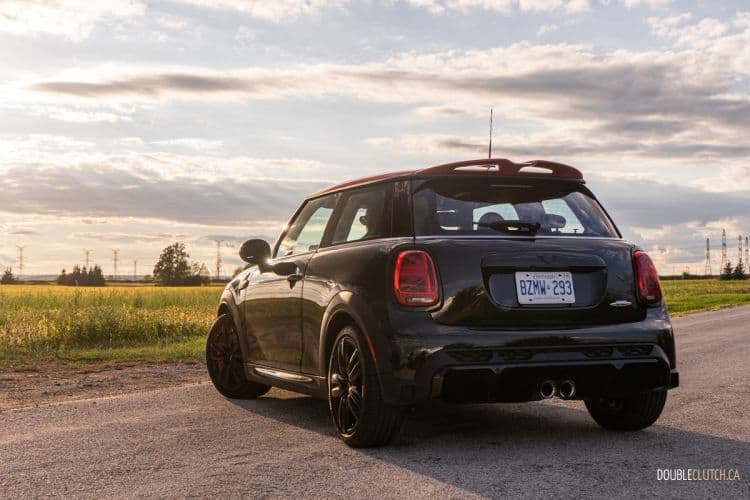 The numbers just don't make sense to make the 2023 MINI John Cooper Works a sound bargain. But that's not what this car is about – the MINI culture is not unlike the air-cooled Porsche cult, or the Jeep Wrangler community. This is a car targeted to a very specific demographic, one that just can't get enough. Most people who have had a MINI haven't had just one, and they're lifetime buyers. This is an exceptional little car that has retained plenty of character and hasn't lost any charm with age.
See Also: