Auto manufacturers consistently face the pressure of an ever changing industry and trying to find their next successful product. Find the right mix and you are rewarded with happy customers and profits that make the shareholders happy. Make a mistake, then you have lost billions of dollars and end up shutting down manufacturing facilities. Detroit has struck gold with the 2022 Ford Mustang Mach-E GT Performance Edition; this car has been so successful that they had to stop taking pre-orders..
There are naysayers that have taken issue with Ford using the Mustang name on an electric crossover and I can understand why to a certain degree but at the end of the day, it was a smart move. By using the Mustang name, it brought their EV a level of attention that throwing money into advertising couldn't do. Ford has successfully brought the design of the Mustang into this distinctive new shape. Edges are replaced with rounded and smooth surfaces front to back.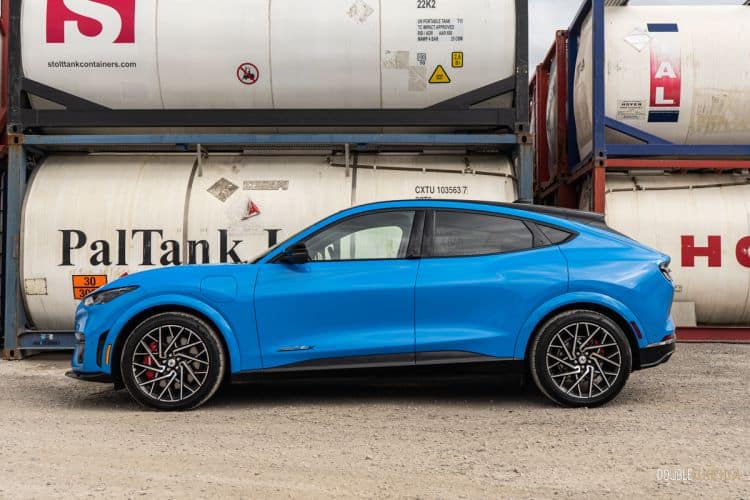 Flat out, the 2022 Mustang Mach-E is a winner in the looks department. While the Hyundai IONIQ 5 has gone with a retro vibe, Ford has made a futuristic direction that should age extremely well. From an aggressive fascia with the prancing pony, wide stance towards the rear and sequential LED tail lights, these are Mustang traits through and through. The missing door handles will take some getting used to and expect all first time passengers to request for assistance.
Unlike the Mustangs of the past, the Mach-E's interior is spacious and loaded with technology. The driver and passengers are provided with ample leg and shoulder room, and 840-liters of cargo space is available in addition to the frunk where an engine is normally found. A 15.5-inch infotainment screen stands out from the dash, and offers wireless Apple CarPlay and Android Auto. From this screen, you also have access to your climate controls, radio, efficiency tracking and performance settings.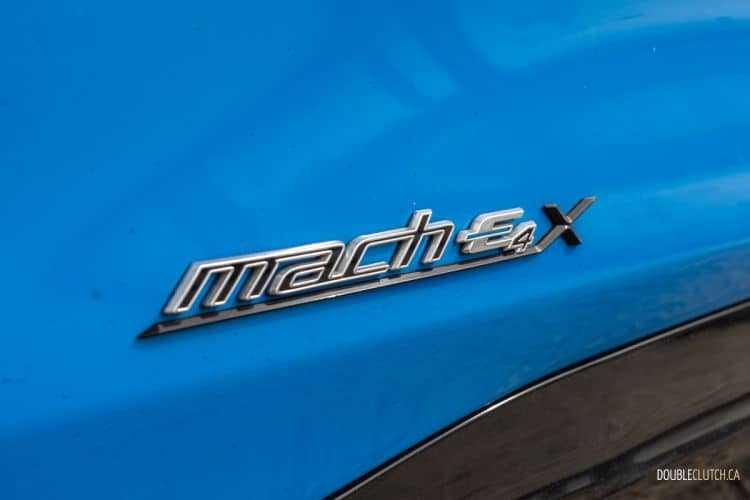 Material quality is excellent when compared to other Ford products such as the Explorer. Faux leather, suede and plastics are used throughout our tester. A tiny instrument gauge cluster is located in the usual place, though is a bit on the smaller side for our liking and we would appreciate some more real estate dedicated to this.
As with any EV, the silence inside does take some getting used to if you have never experienced it firsthand. It's no different here as Ford has literally created a drive mode called "Whisper" for the Mustang Mach-E. Very little noise from the outside world creeps in and with all the sound deadening materials used, look for a tomb-like environment. Select "Unbridled" mode for a more engaging experience that brings a stiffer ride and faux acceleration noises.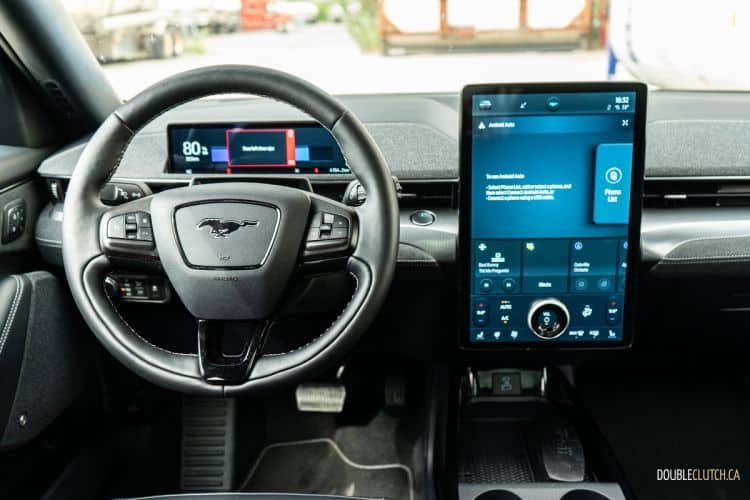 With our 2022 Mustang Mach-E GT Performance Edition being the performer of the lineup, you can expect some big numbers lurking beneath. It packs 480 horsepwoer and 634 lb-ft of torque, for an acceleration run to 100km/h in 3.7 seconds. For comparison, a Lamborghini Urus does the same run in 3.6 seconds. Ford has done their homework and carried over its Mustang knowhow over to their EV; with a solid chassis, sticky Pirelli P Zero tires and a low centre of gravity due to the batteries underneath. Steering feel is surprisingly good, body roll is minimal and brake feel is excellent.
Since this is the performance model of the 2022 Mach-E, some sacrifices had to be made with its range capabilities. The 91-kWh sounds impressive but Ford estimates 418 kilometres of range on a full charge with the GT Performance Edition. Based on my daily commute and usage, the number is closer to 400 kilometers. Those looking for maximum range and willing to sacrifice some of its performance should consider the Mustang Mach-E California Route 1 Edition, which can get up to 500 kilometers.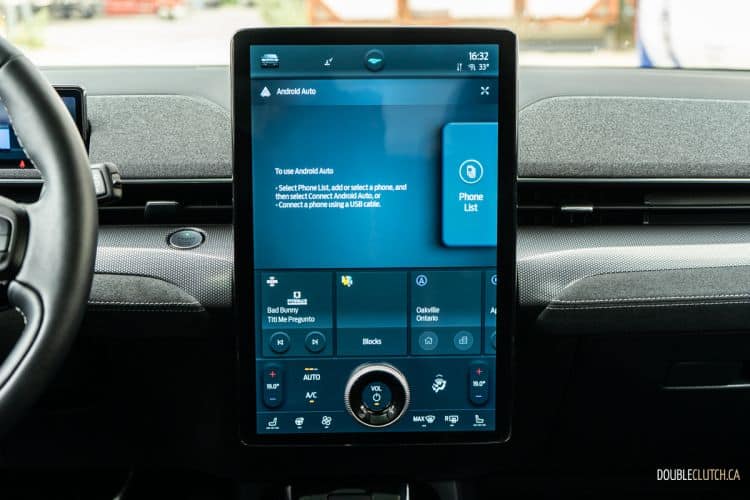 Charging times on the Mustang Mach-E's 150-kw DC battery is a big weakness for such a hit otherwise. With the perfect conditions, a 10 to 80 percent charge would take 45 minutes as per Ford. As a comparison, a Kia EV6 does this task in 18 minutes. During my week of testing, I achieved 19.6 kWh/100 km, a number that the non-Performance Mach-E could surpass with no issues at all.
Those looking at a Mustang Mach E do have options based on their priorities and budget. Our tester started at an eye popping $88,000 and came as tested to $92,980. A base model starts at $51,495 before fees, taxes, or any green vehicle rebates available in your area.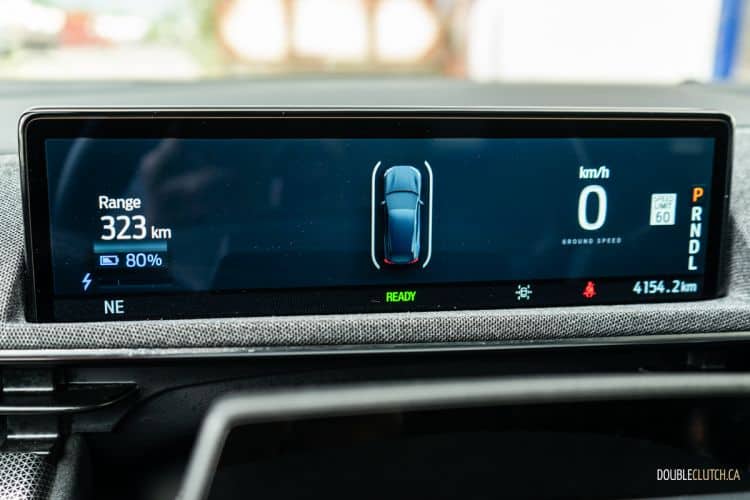 We absolutely love the 2022 Ford Mustang Mach-E GT Performance Edition. The enthusiast in me loved everything about it and it was hard to return the keys. However, most buyers would be perfectly happy with the Premium or California Route 1 models that sacrifice some performance in favour of more range and overall efficiency. The "regular" models are still very fast, and provide most of the same creature comforts as the GT. Hats off to Ford for making one of the best EVs on sale today.
See Also:
2022 Genesis GV60 Performance AWD