TORONTO, ONTARIO – The EV market is rapidly growing, with new entrants accompanying every sunrise. The latest pair hogging the spotlight are marketed as very distant cousins despite sharing a platform and many, many similarities. We've already driven the Hyundai IONIQ 5, so it was about time we got behind the wheel of its fraternal twin. Kia invited us to spend a week behind the wheel of a 2022 Kia EV6 GT-Line and get to know it.
The EV6 marks a new design language for Kia that's extremely modern, fresh and stylish. It's a complete polar shift from the IONIQ 5's retro 1980s look, and this appeals to a broader market. With its rounded edges, crisp concept-like lines and stunning LED lighting, our EV6 test unit garnered a serious amount of third-party attention over our test week. A floating roofline effect is given with blacked out pillars, and the door handles are powered and flush with the body. The jury's out on how it will age over the next decade, but for now, it looks exceptional.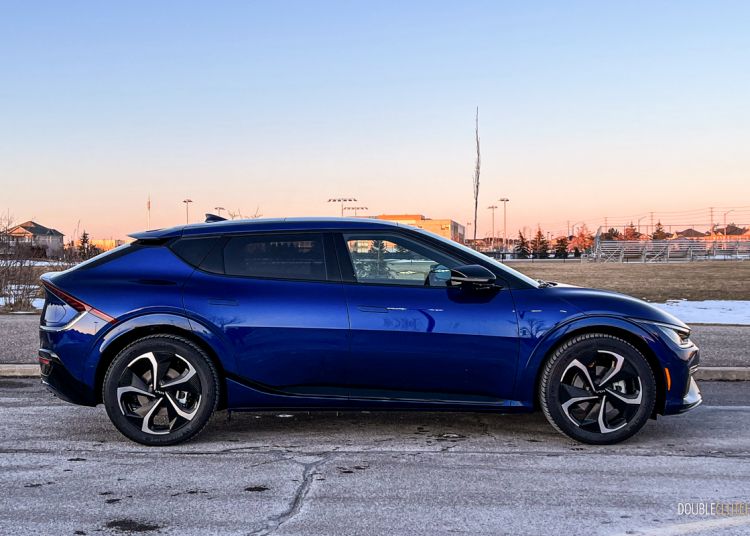 Inside, the EV6 is right out of the future as well. The two-spoke steering wheel is large and squared off at the bottom., and the seats provide plenty of room for four actual adults to travel in comfort. The windows are smaller than we'd like, but the sunroof provides a decent amount of light into the cabin, and it doesn't feel nearly as dark or drab as it looks in images. There is plenty of space for miscellaneous things, and the cabin has what I like to call an "open concept" layout. The console is also floating, with a huge storage cubby underneath for large objects.
Two adjacent 12-inch displays house the tech within the EV6, and Kia has implemented a curved layout for this. The infotainment is pretty good, though the Apple CarPlay and Android Auto still require a wired connection. It's also worth mentioning that while there are technically physical knobs for volume and tuning, they're dual-purpose between audio and climate modes. When the menu touch-panel is switched to climate mode, the knobs become temperature control knobs. It's confusing and a very easy way to overheat your passengers when "Get Low" by Lil Jon and the Eastside Boyz comes on.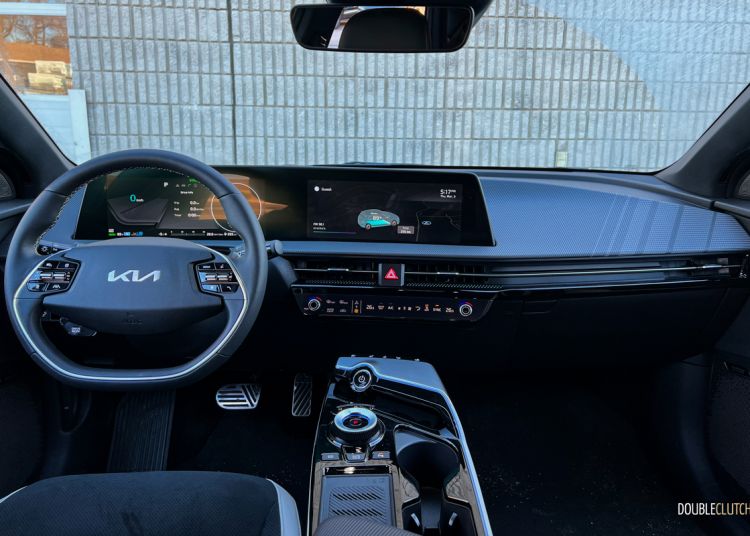 The EV6 is underpinned by Kia's E-GMP platform, which is their new setup for dedicated electrified vehicles. Power comes from a 77.4-kWh battery providing 320 horsepower and 446 lb-ft. of torque, with full-time all-wheel-drive here. Lower trim models with the rear-drive setup have less power but more driving range. It feels quick on its feet in "Normal" and "Eco" modes, but the EV6 really does wake up in "Sport". It's not absurdly fast, but it's more than adequate for any regular, legal street operation.
Five distinct levels of regenerative braking are available, and can be selected using the paddles on the steering wheel. The i-Pedal one-pedal-mode is the most aggressive of them all. Suspension tuning is quite good in an urban setting, and we found the EV6's ability to absorb potholes and road imperfections impressive. One thing we did observe is that at highway speeds, the rear end tends to get unsettled, resulting in some suspension travel and body motion that's not confidence inspiring. My colleague that spent a week with the IONIQ 5 noticed this to a lesser extent, but it was still present.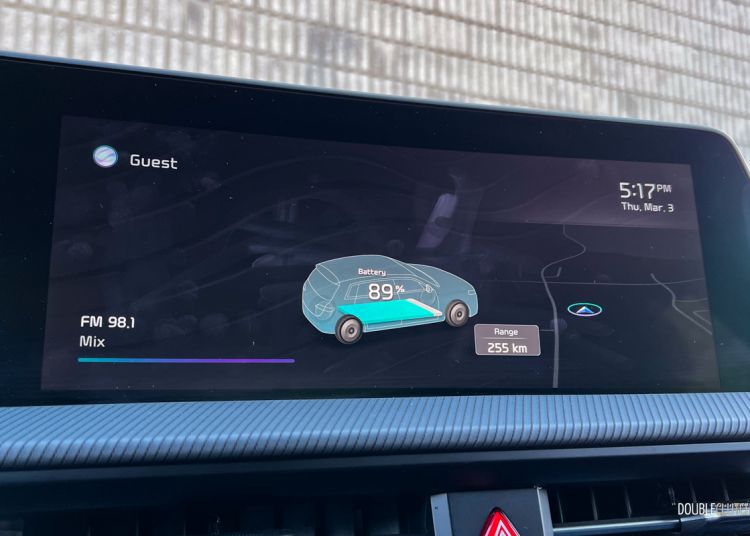 Aside from the ride at higher speeds, the latest electrified Kia is extremely friendly and easy to use. It's a wonderful appliance that's superbly comfortable to drive, easy to get into and out, and use every single day. All-wheel-drive is pretty much essential for those in our climate, and after experiencing some snowfall during our test, the car performs amicably. Turn down the assists, and the EV6 is willing to oversteer in snowy conditions.
Our tester with its 77.4-kWh battery pack is rated for 441 kilometers in optimal conditions. We observed an indicated 373-kilometer driving range with a full charge, which is expected given sub-zero winter temperatures. Kia claims that using a 350-kW charging station, this EV6 can charge to 80-percent in less than 18 minutes. We used a Level 2 home charger throughout our test, and observed six to seven hours consistently for a full charge. Our test also consisted of a good amount of highway driving, and we didn't see nearly as much rapid range depletion as we have in other EVs.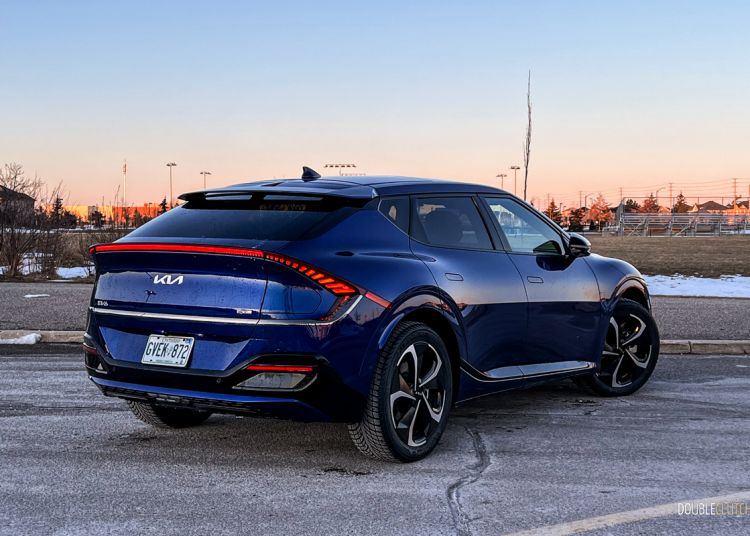 Kia's advanced driver assist technology suite includes everything we have come to expect, including collision avoidance front and rear, an excellent 360-degree camera, adaptive cruise control, and blind spot avoidance. Kia claims this is a machine-learning system that can actually learn the driver's habits and driving patterns, adapting the vehicle to behave more organically over time. There's an augmented-reality heads-up display that is impressive, but we found it to be a bit nausea-inducing in certain driving settings. Your mileage may vary here.
Pricing starts at $44,995 for the rear-drive short range model. Going to all-wheel-drive will set buyers back $54,995, with two GT-Line upgrade packages available. Our GT-Line Package 2 model is fully loaded, with highlights like ventilated front seats, Meridian sound system, augmented reality heads-up display, 20-inch wheels, and more, for $61,995. It's not cheap, but competitive with the likes of the Ford Mustang Mach-E. It's worth noting that the rear-drive model can get a range of up to 499-kilometers.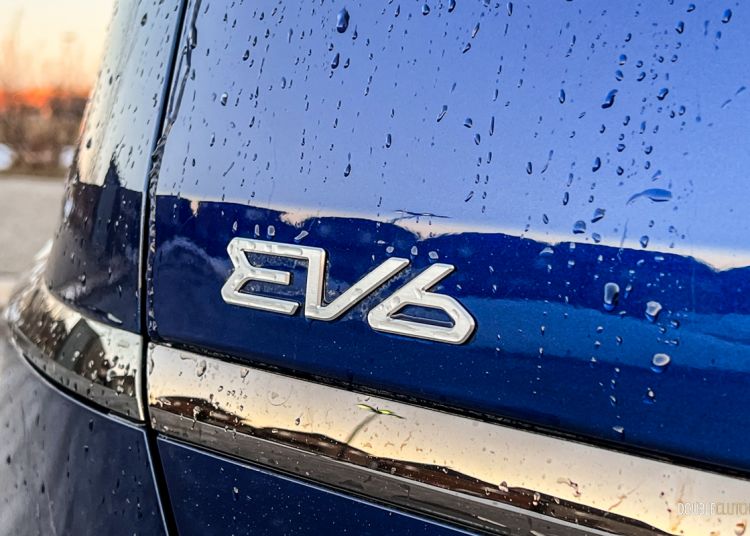 After a few days behind the wheel, we came to the conclusion that the 2022 Kia EV6 GT-Line is one of the best new cars tested in a very long time. It's not about the technology necessarily, or the futuristic design inside and out. It's how the entire package comes together to make for one of the easiest-to-use vehicles available to today's consumer. Between the EV6 and the IONIQ 5, it really boils down to preference for styling and availability – both are absolutely delightful.
See Also:
2021 Ford Mustang Mach-E Premium
First Drive: 2022 Hyundai IONIQ 5