By now, you have heard of Hyundai's performance N division and their excellent enthusiast cars. While the N brand started in 2016 and we didn't get our first taste of its growly offerings until 2019 with the Veloster N, it made an immediate impact with its raw personality and unapologetic attitude – traits that we have quite frankly not seen for a long time. Building on that success, Hyundai had recently unveiled the promising new performance duo of the Elantra and Kona N, and invited us to put them to the test at a Hyundai N Track Day.
We love that while the Elantra N and Kona N are essentially two peas in a pod, their level of aggressiveness varies to suit buyers of different tastes. The Elantra looks angry with its blackened race-inspired fascia and the Kona N features a subtler design, opting to let the N badges, red accents, and obviously its performance do the talking.
As a result of the controversial front-end design, the Elantra N is the bigger head-turner, instantly grabbing everyone's attention the moment it shows up. On the trackside paddock, the Elantra N looks race ready with its low-slung silhouette and athletic stance, while the Kona carries a bit of the sleeper appeal that might pass as the lesser Kona N-Line to the unsuspected. If you need further convincing that this isn't that, just look for the 19-inch wheels, rear spoiler and diffuser, and dual oversized exhaust tips and you would instantly know this is not your average compact grocery getter.
The Elantra N and Kona N both packs a 2.0-litre turbocharged inline-four that outputs 279-horsepower and 289 lb-ft. of torque. With the help of launch control, the sedan can get from a standstill to 100 km/h in 5.3 seconds, while the crossover manages to stay not far behind with a 5.5-second result. Both are front-wheel drive with an electronic limited slip differential (e-LSD) that helps to improve cornering.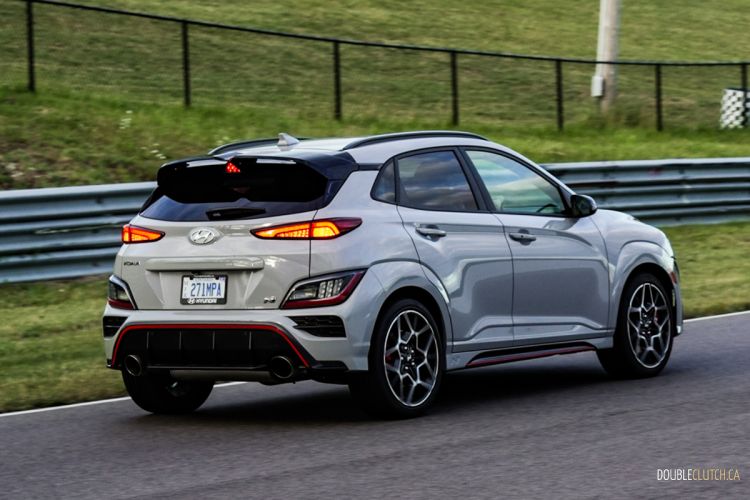 The biggest difference between the two powertrains lies in transmission choices; driving enthusiasts will enjoy getting to pick between the standard six-speed manual transmission with automatic downshift rev-matching and the eight-speed dual clutch transmission (DCT) on the Elantra N, whereas the Kona N can only be equipped with the DCT.
To maximize our time on the track means we have to take less time adjusting, so we appreciated being able to get going in seconds thanks to the easy to adjust bucket seats that quickly put us in our ideal driving position, and how we can get the full-on track ready setup simply by pressing the N-mode button on the steering wheel. Visibility is also quite good in both vehicles, and they both offer an abundance of headroom which meant helmet use was not an uncomfortable endeavor at all.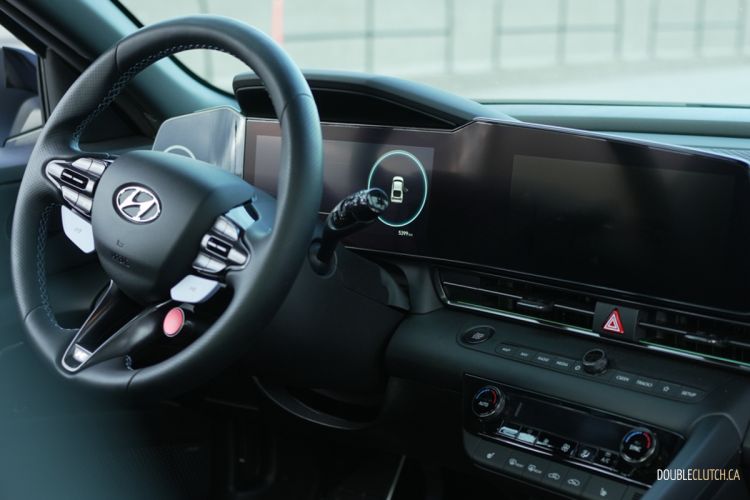 Setting off to the race track, we were surprised by how quickly both cars accelerate off the line. The turbocharger spools up at a moment's notice and rewards us with a violent surge that felt much faster 0than their power figures suggest. Our first session was in the six-speed Elantra N where we enjoyed the easy to use clutch, and perfect automatic downshift rev-matching, but the overall experience felt a bit marred by the manual gearbox as we often found ourselves hitting the rev limiter too soon at corner exits as a result of how quickly the engine picks up revs.
Over to the DCT models where we simply let the transmission's accurate logic and lightning fast response handle the shifting duties, and we got to focus on everything else. The idea of increased engagement with an automatic gearbox is counter-intuitive to some but that was the exact experience we had. We felt that the DCT is perfectly suited to this engine and one of the few instances where we would recommend it over the manual counterpart.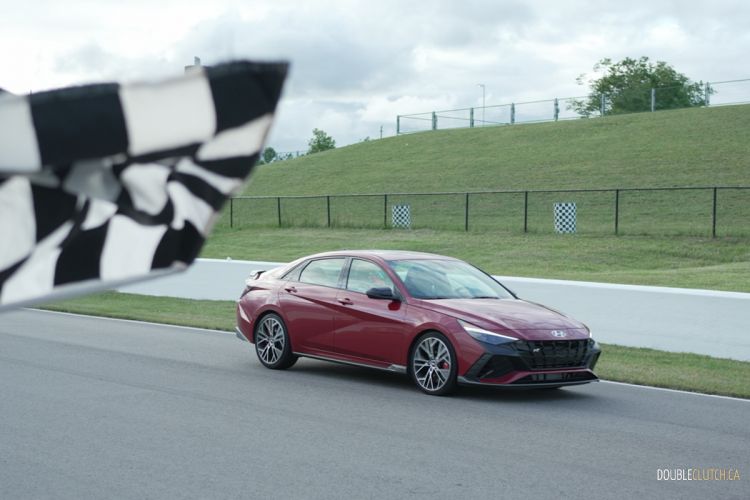 In the corners, the Elantra N was a real delight, surprising us with how well it handled throughout. The rigid chassis and sticky Michelin Pilot Sport 4 S rubber allowed us to push faster and faster confidently, and we thoroughly enjoyed the communicative steering response.
The Kona N had also performed admirably, particularly when you consider its bulk over the Elantra. It is a heavier car and you can feel the higher centre of gravity right away, but once you get used to that and employ a bit earlier braking, this little crossover actually manages to stay composed. Thanks to the Pirelli P-Zero high performance tires, we hardly ever felt out of control in the Kona N, and the N-exclusive high-performance braking system is there to quickly halt with little brake fade even after several high-speed laps.
Despite being front-wheel drive, there was very little torque steer in either N model. Understeer is there, but it is clearly communicated through the steering and we were even able to use it to our advantage. The Canadian Tire Motorsport Park Grand Prix Circuit is a demanding track with many high-speed corner-exits, and both N models were able to stay flat and planted, with the Elantra getting special mention for just how well it danced with us all day.
With the Kona N and Elantra N, the stimulation goes beyond on-track performance. The N exhaust is loud, barks ferociously at every gearshift, and there is a N Sound Equalizer that amplifies engine notes through the speakers for extra aural pleasure. In N mode, the digital cluster clearly displays key vehicle data such as oil and engine temperatures, and a standard track app gives even more driving data such as brake pressure and throttle input, power figures, g-force, and lap times to hone in on your session and make improvements.
At the end of the Hyundai N Track Day, we can confidently conclude that the Elantra and Kona N are more than just hotter family cars. They bridge the gap between the thrill of track driving and daily comfort perfectly, and even though they are still somewhat underrated, it won't be long before they shine brightly everywhere at local autocross events and track days.
*Photos Courtesy of Hyundai Canada*