SONOMA RACEWAY, CALIFORNIA – Hyundai have been on an electrification tear lately. Nearly every model they sell in Canada is available with an electrified powertrain and their third EV, the Ioniq 5, is about to go on sale. However, they haven't let the gasoline engine fall by the wayside. Quite the opposite, in fact. It's going out with a bang courtesy of the 2022 Hyundai Elantra N and Kona N.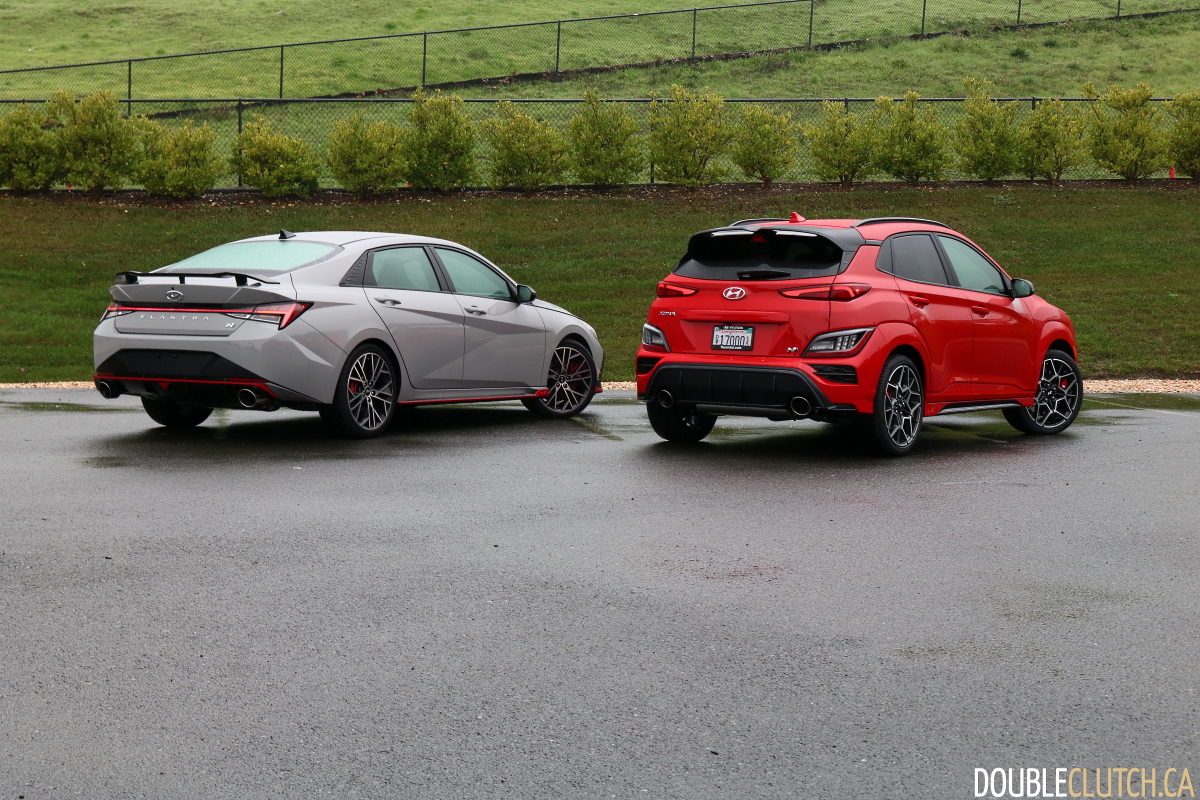 Sport compact styling is often loud and abrasive, and the Elantra N's design is no exception. The front end has garnered everything from admiration to disgust to frightening comparisons with racist caricatures. Personally, I like the way the front end hides the rather fussy grillework and provides an interesting visual link with a relatively unknown and completely unrelated sport compact legend, the Seat 1200 Sport. Elsewhere, it's the standard N affair of skirts, red stripes and a relatively modest pedestal wing.
Rolling stock is 245/35ZR19 Michelin Pilot Sport 4S tires wrapped around diamond cut snowflake-style alloy wheels, a handsome and purposeful decision that cuts through the noise of the blacked-out wheel trend. Overall, the Elantra N looks angrier than a middle school metalhead without being a caricature like the outgoing Civic Type R is.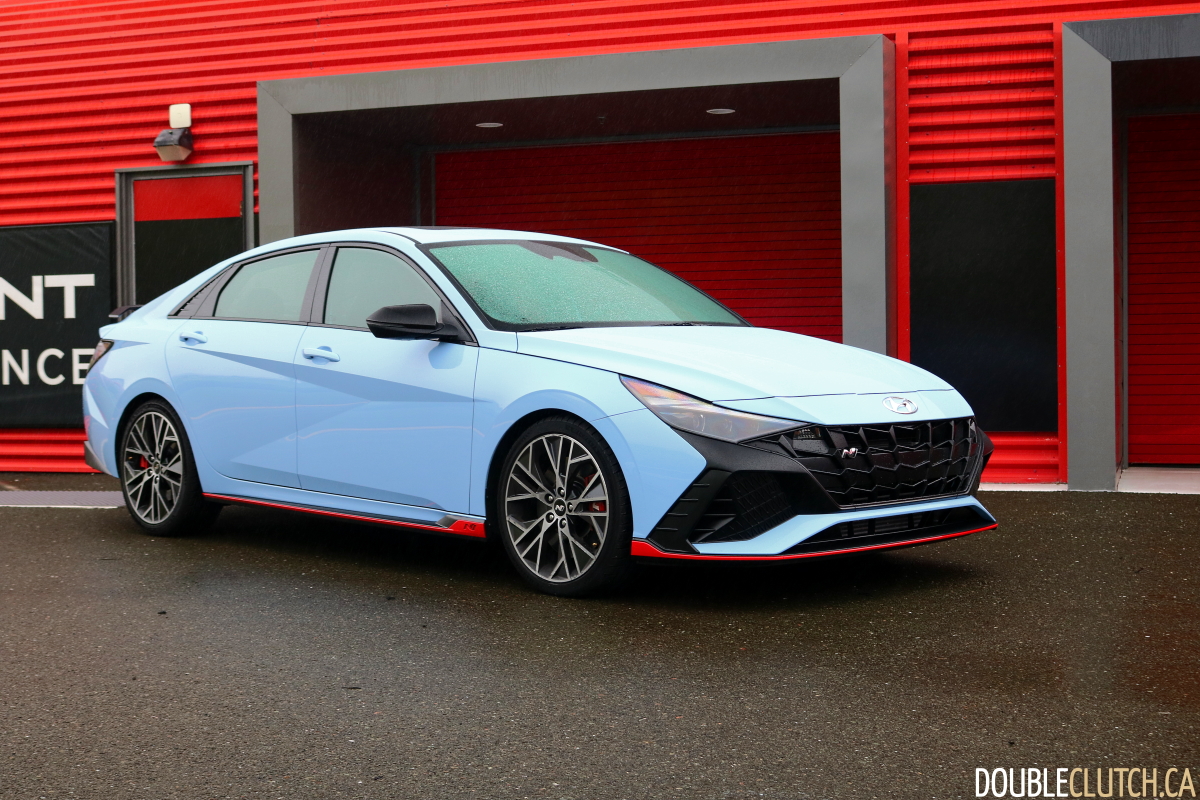 As far as I can tell, the Elantra N makes next to zero compromises on livability. You get heated seats, a sunroof, automatic air conditioning, big digital screens for the infotainment and gauge cluster and a Bose stereo. Tire roar is a bit prominent but the Elantra N is generally as docile and refined as a Volkswagen GTI. The only reduction in practicality comes courtesy of a red v-brace behind the rear seat that's said to increase torsional rigidity by 29 per cent.
Drop the adaptive dampers into "I'd like to keep my fillings" mode, crank up The 1975 and you could almost be convinced you're in a regular Elantra. Then you look around the interior at seats that hug your posterior and sueded panels that feel superior to the standard Elantra's items and you remember that you're driving something special. Of course refinement doesn't equal sterility.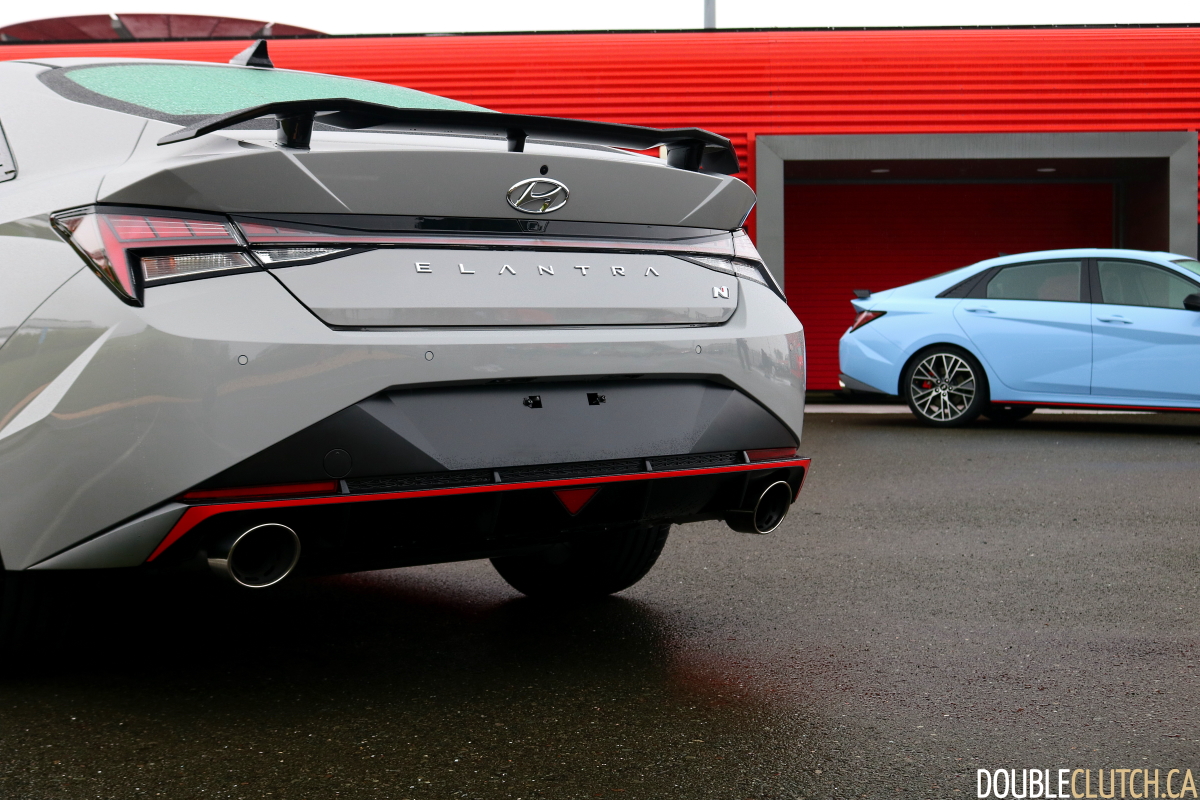 Press one of the buttons marked N on the Elantra N's steering wheel and everything changes. The dampers firm up, the stability control relaxes, a valve opens in the exhaust and the digital cluster adopts a centre tach layout. Time to put on some Limp Bizkit and let the monster out.
While we're familiar with Hyundai's 2.0-litre 276-horsepower turbocharged four-cylinder engine, it's been subtly retuned to generated 289 lb-ft of torque. Fire up the N Grin Shift overboost function and you'll have an extra ten horsepower for 20 seconds and a shortened cool-down time of just 40 seconds. When mated to the fast wet-clutch eight-speed DCT, it's all good for 0-60 MPH in five seconds flat.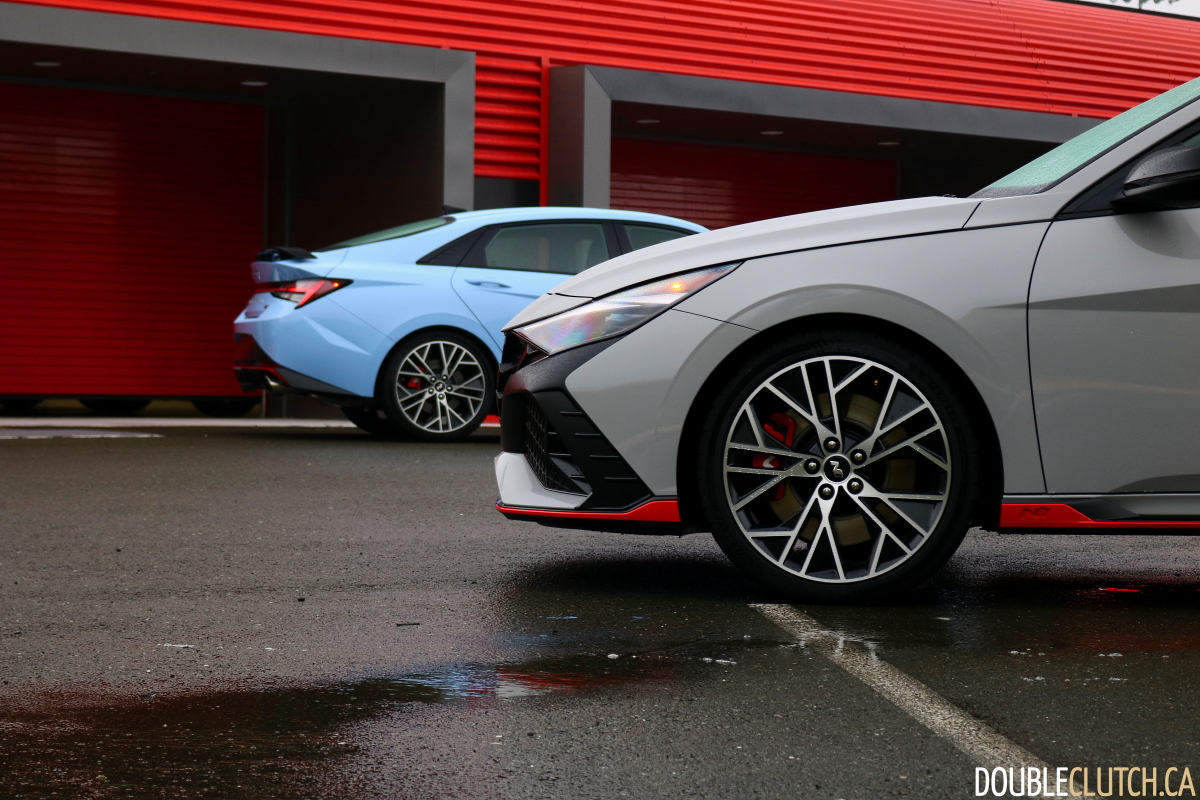 That's up there with some of the hottest hot hatches including the Civic Type R and the outgoing Golf R. Putting all that thrust to the ground is an electronically-controlled limited-slip differential, multi-stage stability control and the aforementioned 245-section Michelins.
So how does it all come together? Quite well, actually. Let's start with autocross performance. Hyundai have intentionally set the Elantra N up with a loose chassis because understeer is safe and boring and oversteer is a useful party drug for skilled drivers. On a tight cone course, a loose chassis can make all the difference in the world. Trail-brake to rotate, power out and the e-LSD will slingshot the Elantra N out of tight autocross corners.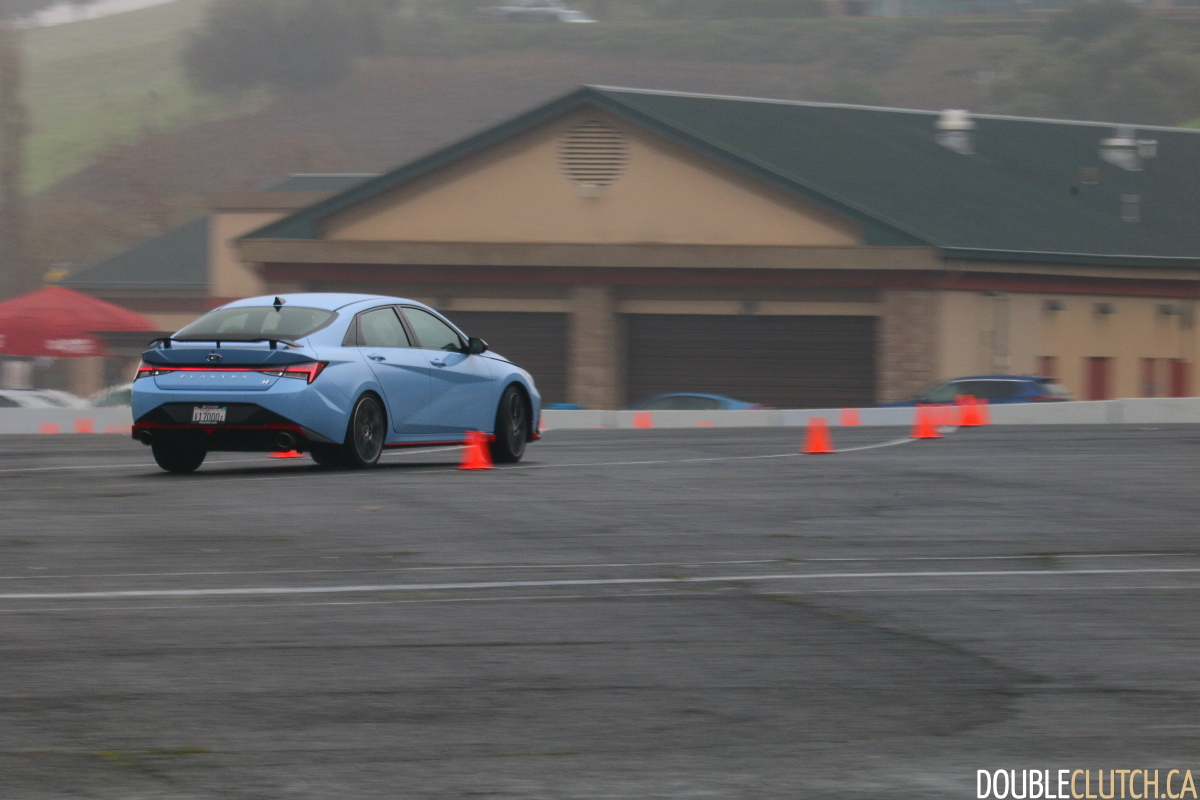 For anyone running autocross who's looking to pick one of these bad boys up, start with 42 psi front and 45 psi rear for a slightly looser setup that avoids any sidewall roll. Launching in the damp is a bit of a mixed bag. DCT cars will get off the line just fine, 6MT cars require slipping the clutch from 2,750 RPM to avoid bogging or paint shaker levels of wheel hop. I did notice some slight hyperactivity from the ABS but I'll chock that up to the damp conditions.
What about on the big track? Yes, my date with the Elantra N included hot lapping Sonoma Raceway, one of the most iconic tracks in America. It's fast, technical and properly greasy when damp. The perfect place to test a serious sport compact car. Let's go over what a lap looks like. Stability through T1 is great, letting you carry a ludicrous amount of speed while setting the car up for T2. Then brake, downshift, briefly marvel at the pad compound's friction and aim for a late apex so you can squeeze on the power for the brief jaunt to the next corner. Turn 3 is an interesting one in the damp.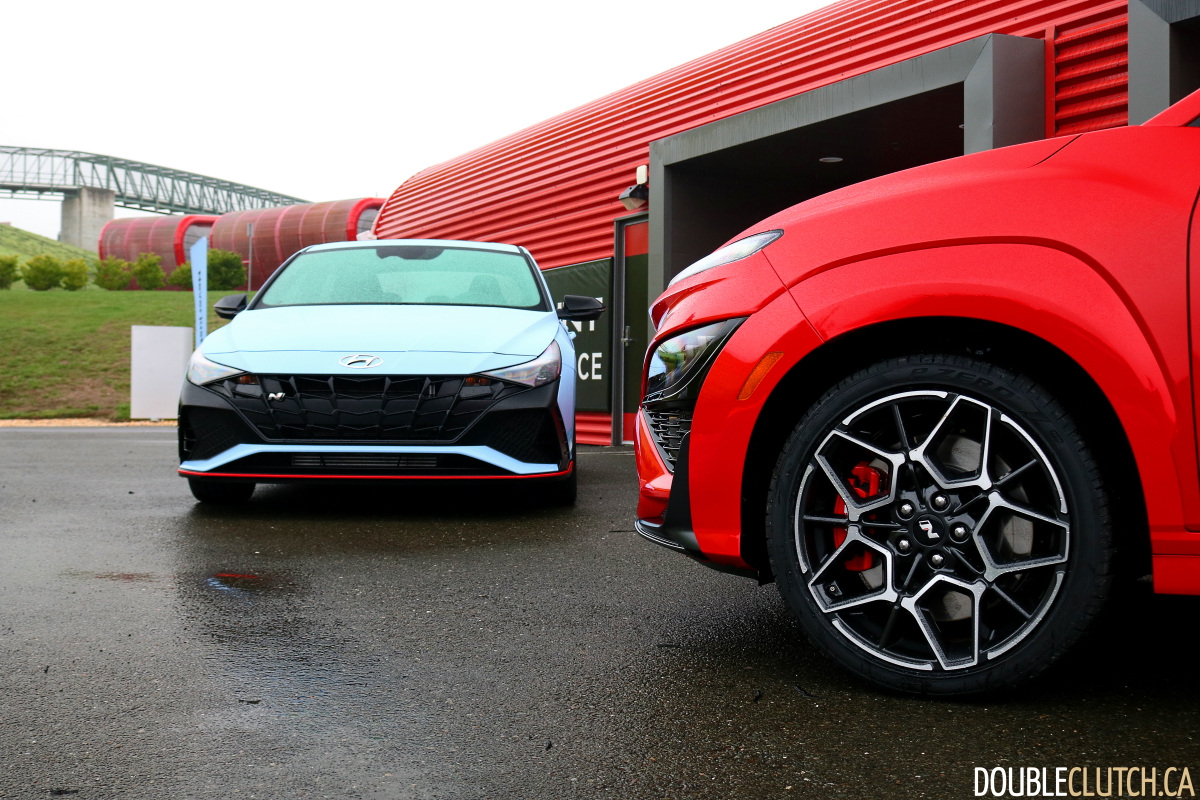 The Elantra N will want to rotate, but a well-judged conservative application of trail braking will help point the car towards the apex without any extra steering input. Don't worry about over-doing it, the steering is nicely communicative which helps you judge rotation, allowing for a fast exit from the right-hand T3A if you aim for the blind outer curbing. Turn 4 is where the Elantra N's tail-happy demeanour may prove to be a bit of a handful.
Brake exclusively in a straight line, else you'll be applying a quick jab of opposite lock while fighting the ESC. Get it right, however, and you'll have a fast line through T5 that'll lead into T6, the carousel. If you've ever wondered what mid-corner adjustability means, taking the Elantra N through Sonoma's carousel amounts to a masterclass.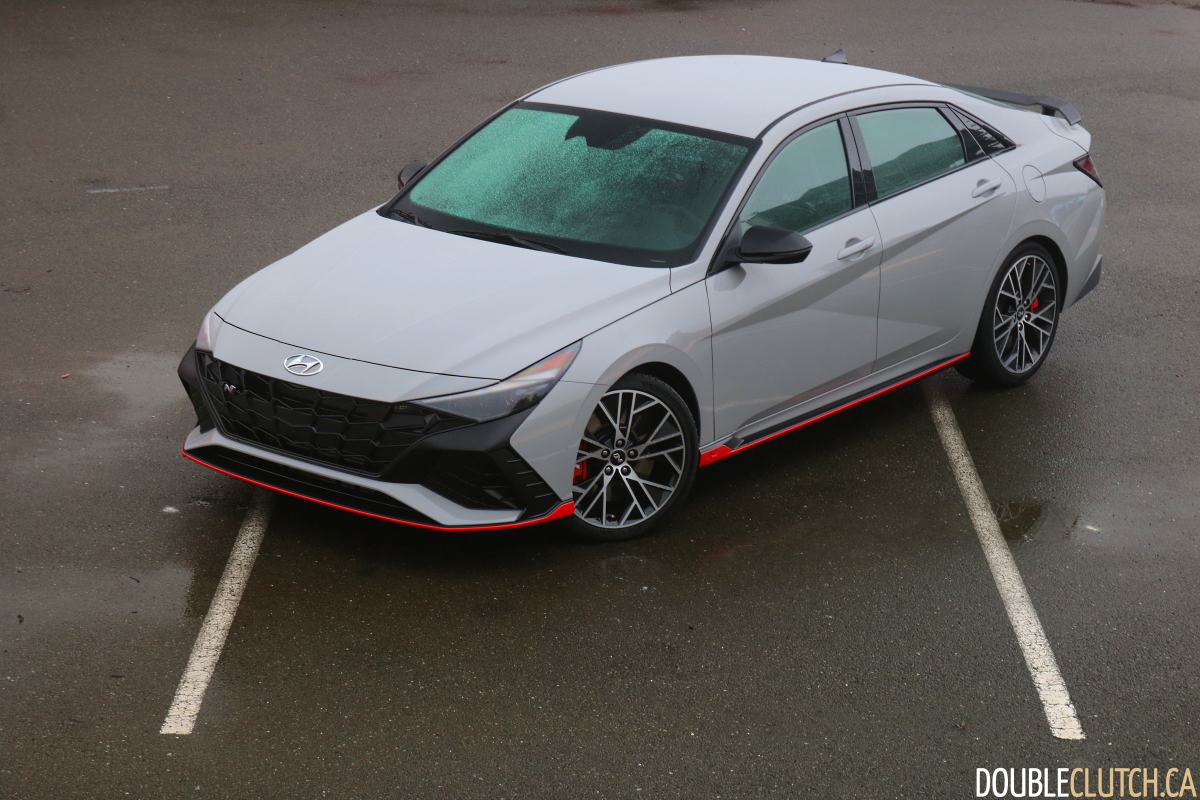 By balancing throttle and steering, I was able to bring it down to the inside for the apex, then drift right to set the car up perfectly for hitting 100 MPH on your way to Turn 7, the horseshoe. That's a lot of speed on a fairly short straight, so it really hammers home the Elantra N's communication and confidence through the carousel.
Plant your foot on the loud pedal out of T7 and the e-LSD does an admirable job of putting power down cleanly and letting you set things up for straightening out the first set of esses. Turn in from the right and you can take them straight so long as you're willing to attack the curbing. That's absolutely nothing to fear in the Elantra N because its chassis has plenty of curbing compliance even in full granite damper mode. The second set of esses, dubbed T8 and T8a, require at maximum a mere brush of the brake pedal on entry, a true testament to how playful the chassis is.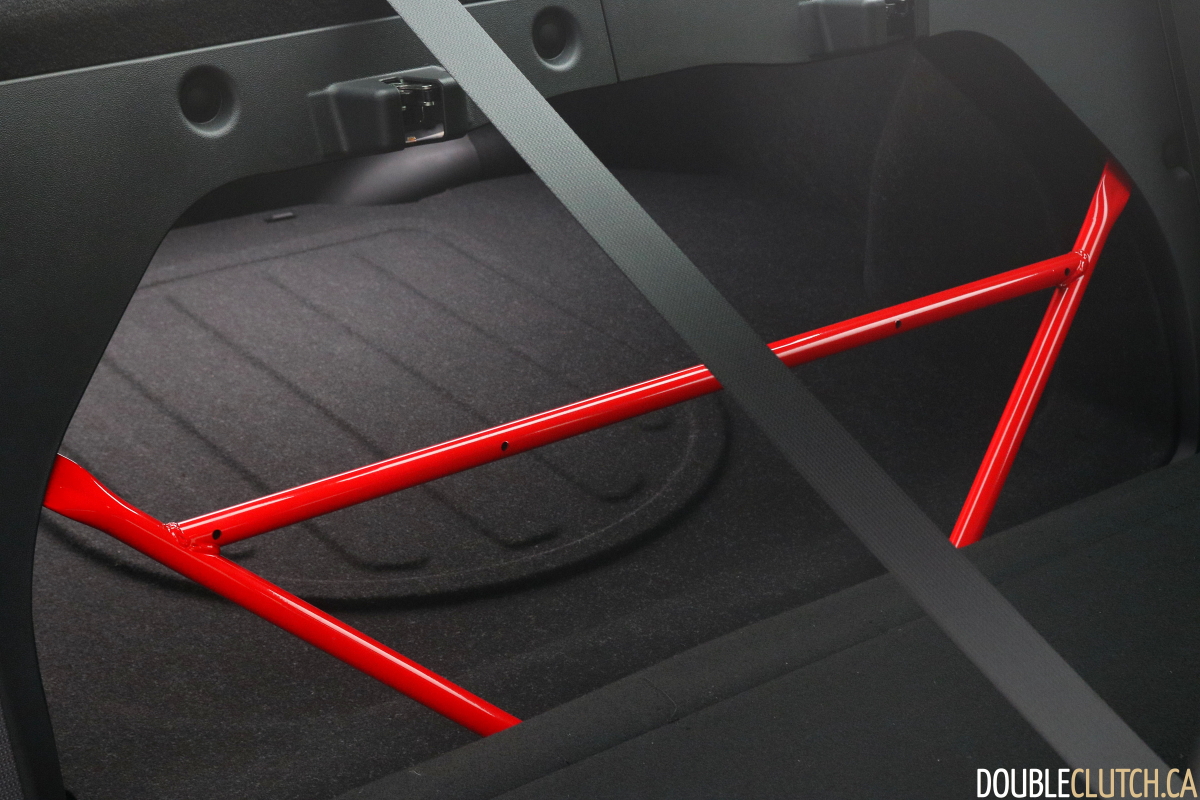 Many front-wheel-drive cars require more front-end loading through that sector to counter their weight balance and baked-in understeer, something that's never really a problem in the Elantra N. In contrast with T8 and T8a, T9 is fast and all about the exit. Point the Elantra hard at the curbing on the left, scrub speed for the right-hand kink that is T10 and both the anti-dive geometry and the ABS calibration shine.
There's a traction disparity between the left wheels that are on the curbing and the right wheels that are on the tarmac, yet the Elantra stays dead straight and about as flat as Kansas. Seriously impressive stuff. From there, it's simply letting the car run smoothly through T10, opening up the taps on the short straight and braking quite hard for the slow-speed right-hander that is T11.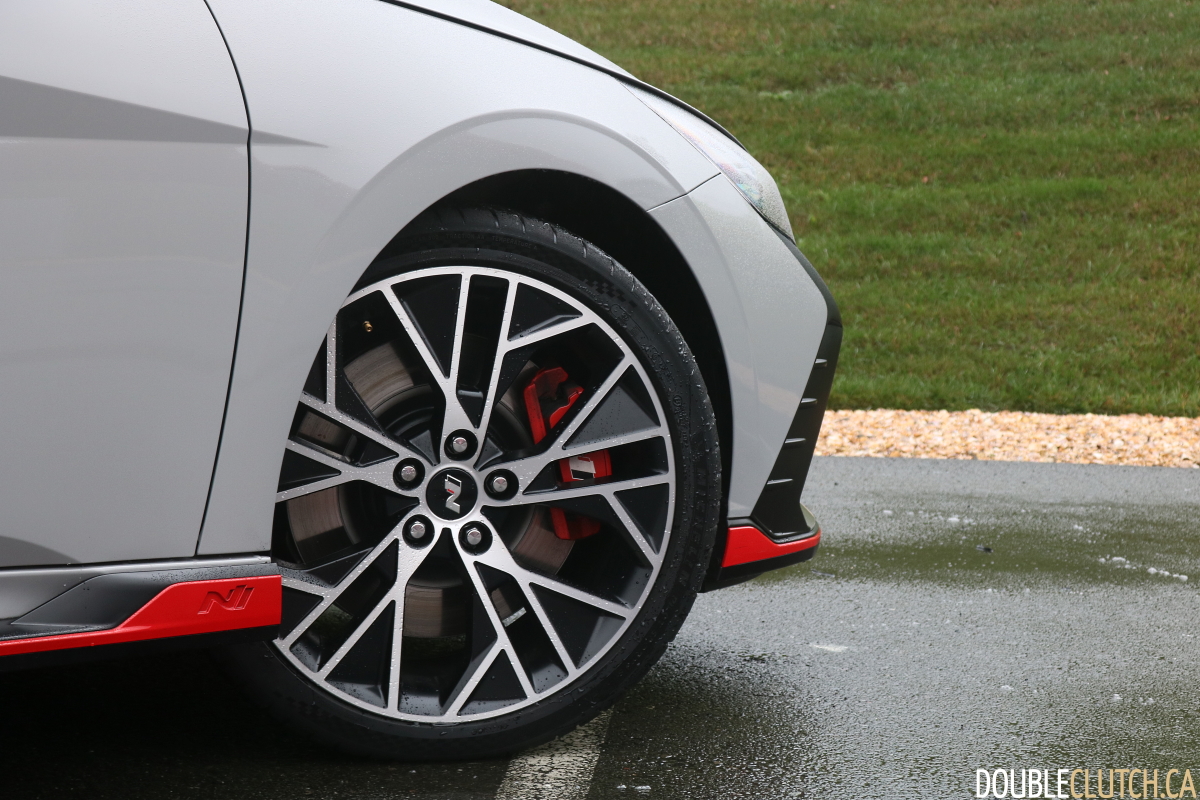 Once again, I have to hand it to the Elantra N's brakes. Although they aren't fixed-caliper units sourced from an exotic supplier, they absorb a massive amount of heat while offering confident pedal feel. Even after back-to-back sessions, they barely had a hint of fall-off, something that can't be said for many performance cars straight off the showroom floor.  Move back to the right and you'll be able to take T12 flat-out to the line, even with a bit of standing water on the apex. Stability under power? You betcha.
Perhaps even more impressive than the Elantra N's sheer capability are the car's overall breakaway characteristics. During my first session when it was really wet, I spent a lot of time un-gluing the car just to see what it would do. The findings of all this ham-fisted science? A chassis that's as progressive as it is playful. Understeer is easily reigned-in, oversteer requires just a dab of throttle and opposite lock.
It never wants to snap and there's actually a great amount of self-steer present to help you keep the tail in line, uncommon for a front-wheel-drive car. Incorporating this friendliness into a playful setup means the Elantra N is a car novices won't be intimidated by, yet will still find massively enjoyable as they progress through driver development. That's a rare thing in the car world, something few entry-level performance cars are able to capture.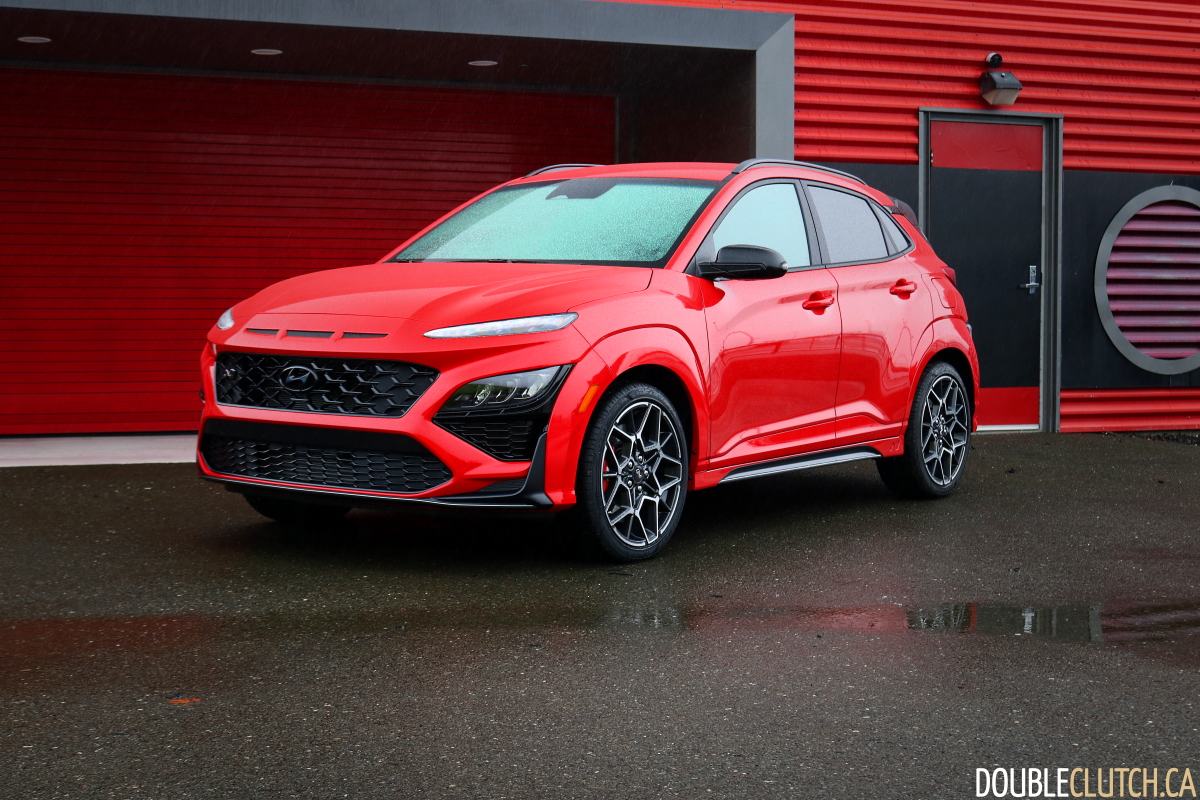 As you can probably tell by now, the Elantra N kicks ass. But what if you want more practicality? Packing the same powertrain as the Elantra N, the Kona is a more refined, more mature pocket rocket. I suppose crossover buyers are more likely to do yoga and have money in their RRSPs, but I'm not just talking about on-road refinement. Hot-lapping a particularly damp Sonoma raceway, the Kona N exhibited stand-out wet weather neutrality.
While not as quick as the Elantra N, it's easier to go fast in the Kona N and showed remarkable on-track consistency. There's not as much feel or oversteer on tap as there is in the Elantra N, but as a poor-weather road car it's a solid bet. Damping refinement is on-par with a GTI, NVH is slightly better than in the Elantra and it's no slouch, clocking 0-60 in the mid-5s.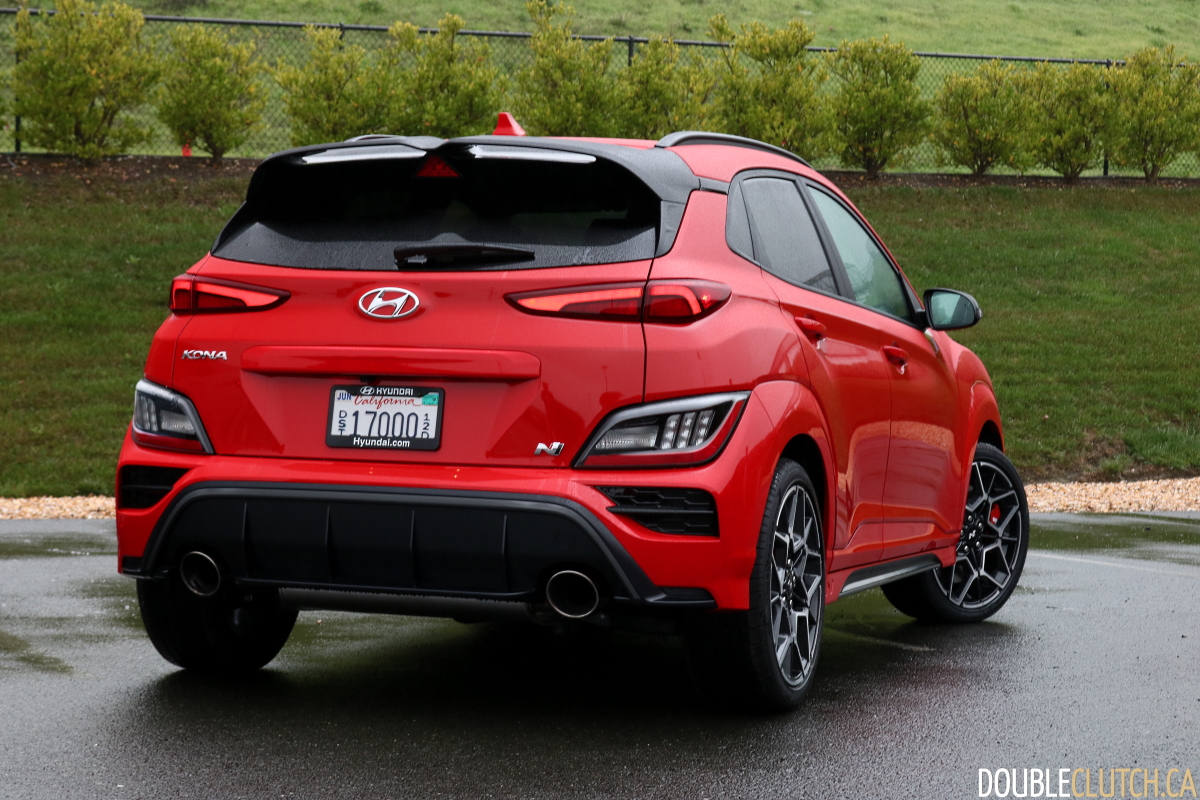 There are just one or two minor problems. The first is the turning circle. It's embarrassingly enormous for such a small vehicle, a casualty of fitting wider tires. The second is that the height-to-track ratio puts it in iffy territory for SCCA/CASC autocross legality. Until an official ruling is made, it might be best to hold off on the Kona N if you want a practical daily driver you can autocross.
So then, the 2022 Hyundai Elantra N and Kona N are wicked fun sport compacts. Plenty of power, great grip, fun chassis and plenty of amenities. Pricing hasn't been released at the time of writing but if they're price-competitive with the Volkswagen GTI, Hyundai should have two absolute hits on their hands. It'll be interesting to see how Honda rises to the occasion with the next Civic Type R but until then, the new Ns are the new benchmarks for sport compact performance.
See Also: