BOWMANVILLE, ON – Have you ever wanted to experience the world of professional organized Motorsport? Nissan Canada has made it more accessible than ever with the Nissan Sentra Cup with six major events in Quebec and Ontario from May to September. They invited us out to Canadian Tire Motorsports Park for the unique opportunity for a stint behind the wheel of a Sentra Cup Car to see what it's all about.
After successfully running the Nissan Micra Cup for six years, the brand has expanded the one-make race series with the new Sentra Cup Car. Grids will now consist of Sentra Cup Cars in qualifying order, followed by Micra Cup Cars gridding up one car length behind making for even more exciting on track action. Race Weekends include a 30 minute trial, 30 minute qualifying session, and two 40 minute races including a weekend at Circuit Gilles Villeneuve alongside Formula 1!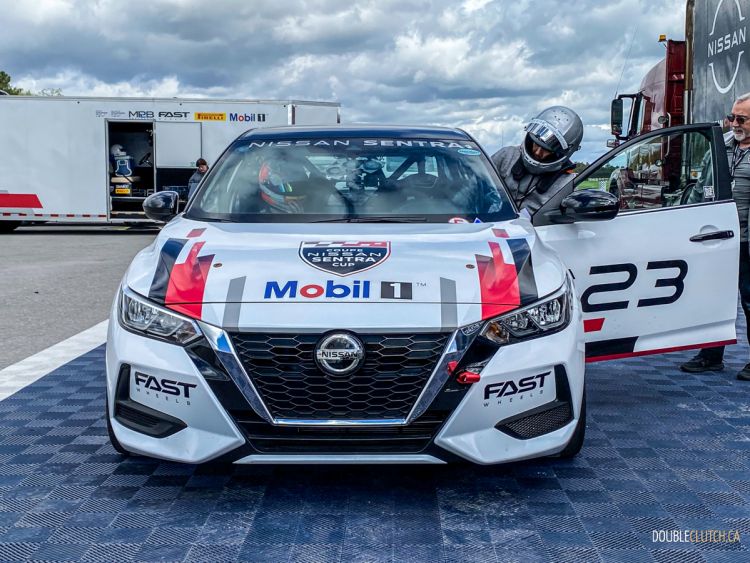 Sentra Cup Cars are prepared by "Motorsports in Action" based in St-Eustache in Quebec. Starting with a factory fresh 2022 Nissan Sentra S, cars are stripped of their interiors making way for an FIA Spec six-point roll cage both for driver safety and chassis rigidity. Racing bucket seats, steering wheel and pedals are installed to give the drivers maximum control. The drivetrain remains mostly unchanged, with the exception of a cold air intake, a custom stainless steel exhaust, and a Motec M1 Series ECU allowing for custom tuning of the standard 149-hp 2.0-liter four-cylinder.
Nissan Performance four-piston front brake calipers with 355 mm rotors and the rear brake setup from the Sentra SV/SR are installed with a set of stainless steel braided brake lines. Bespoke adjustable coilovers, a front adjustable anti-roll bar and a set of alloy 18×9 wheels wrapped in Pirelli R-Compound tires complete the handling package. We took the very first Sentra Cup Car build out for some laps on the Driver Development Track alongside accomplished Sentra Cup racer Valérie Limoges to help coach us around the circuit.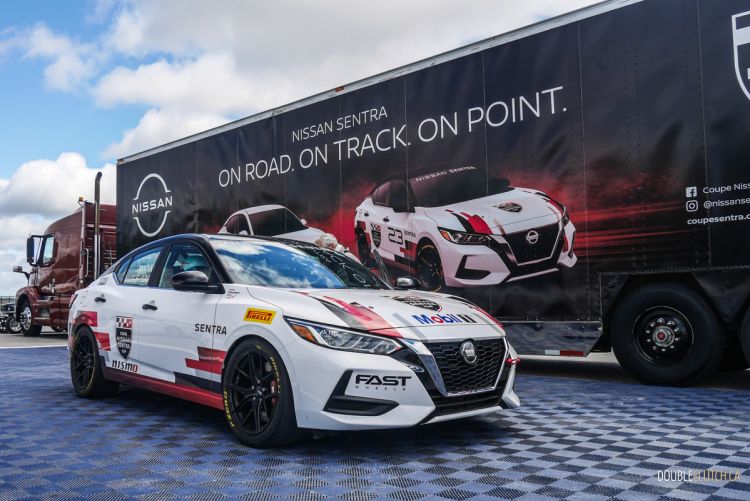 Climbing over the roll bars and dropping down into the deep bucket seat we are strapped in with a six-point harness. Visibility takes some getting used to as the seating position is so low to the floor, along with wearing a head and neck restraint. Once we get comfortable with the controls we press the engine Start button. Starting up a race car is always exciting with all the various systems coming to life, a sequence of pumps priming, lights flashing, relays clicking before finally hearing the initial roar of the engine coming to life.
We pull out of the pit, Alcantara wrapped wheel in hand. The steering feels sharper compared to the regular Sentra, owing to the expert setup of the suspension along with the smaller diameter wheel. Valérie cautions us to take a couple of laps to warm up the tires and to use the opportunity to become acclimated to the car and track. Right away the Cup Car feels alive allowing us to hear and feel everything that is going on beneath us.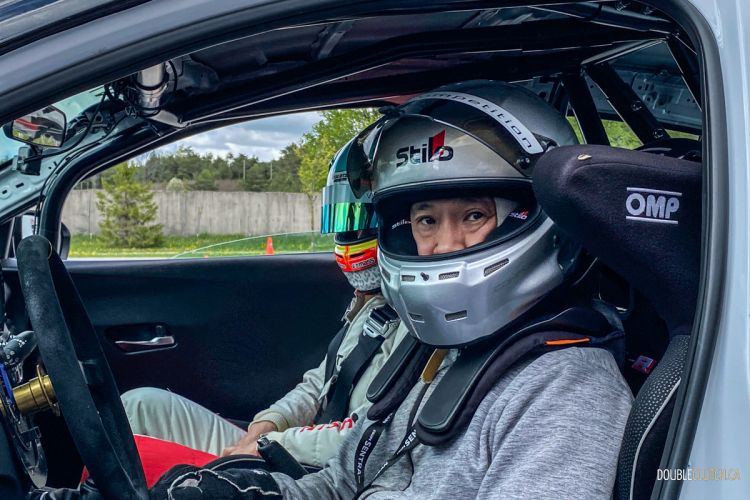 We got to really play with the car and take note of the incredible braking performance and amount of grip on hand from those Pirelli R-Compounds. The acceleration is nothing immense but the amount of speed we are able to carry through the corners makes it a moot point. The car feels so precise and light, and very quickly I had the confidence in the car to push it harder. Everything around us begins to disappear only focusing on the next braking point, apex, and exit. Who knew that hiding under the guise of a well-built entry level front-drive sedan were the bones to such a great race car?
Cars are sold ready to race for $41,000, which includes the $19,598 for the Sentra S. Compared to the over half a million dollars it costs to order a Nissan GT-R Nismo GT3, it puts getting out on track in a professional race series within reach of just about anyone wanting to take the plunge. Race weekends start at $1,350, or you can enter the entire 12 race series for $10,500. Nissan has already sold 25 cars, 13 making the trip out for this weekend along with seven Micra Cup cars.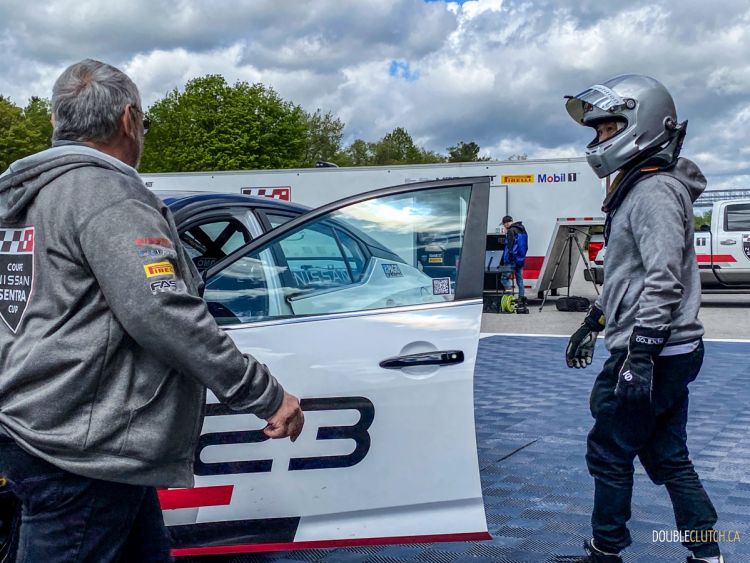 The action kicks off as part of the Castrol Victoria Day Speedfest at Canadian Tire Motorsports Park. Nissan Canada are thrilled that the race venues are back to full capacity and have invited Canadian Sentra owners and Z Club members to the event providing event tickets along with food and beverage to enjoy a weekend of Nissan fueled fun. The pace car this year is the all-new Nissan Z giving enthusiasts the opportunity to see it up close and in action. If you can't attend events in person, races will be live streamed on the Nissan Sentra Cup social pages, followed by a replay posted on their YouTube page.