Is it lonely at the top? There are a few ways to find out. You could try climbing a mountain, and if that's too tall, maybe a tree. Not big on nature? Try the corporate ladder — or you can hop into the 2022 Volkswagen GTI 6MT.
The GTI has sat on the throne as the king of hot hatches for more than 40 years. Well, 46 to be exact, but who's counting? There have been some misses over the years, but it doesn't take a rocket surgeon to figure out why VW's venerable hot hatch is an automotive icon. Often imitated but never really duplicated, this latest GTI — based on the eighth-generation Golf, which we don't get in North America anymore — takes a very good thing and makes it even better. Well, mostly.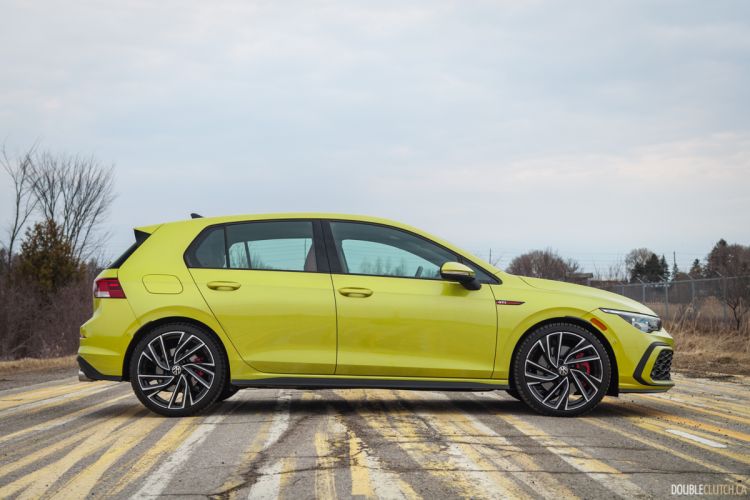 Instead of a total overhaul, the 2022 GTI is evolutionary. VW's cookie-cutter 2.0-litre turbocharged four-cylinder engine still lives under the hood, but it's a bit more powerful than before. You have 241 horsepower and 273 pound-feet of torque to play with, a modest bump of 13 horsepower and 15 more pound-feet over the outgoing GTI. The turbo-four can still be paired to either a six-speed manual or a seven-speed dual-clutch automatic, and a proper, electronically controlled limited-slip differential is standard across all trim levels, even on the base car.
Evidently, at least when it comes to the new GTI's powertrain, VW embraced the "if it ain't broke, don't fix it" mantra. Good call, really, because there was already plenty to like about the old one. Turbo-fours are a dime a dozen these days, but the GTI is punchy and responsive, especially in the midrange. Our only real nitpick is with the transmission: the GTI is unwaveringly quick with the dual-clutch autobox, but this particular tester came with the six-speed stick. The light clutch and crisp shifter are easy to work with, but the Honda Civic Si and Type R arguably offer the best shift feel in the segment.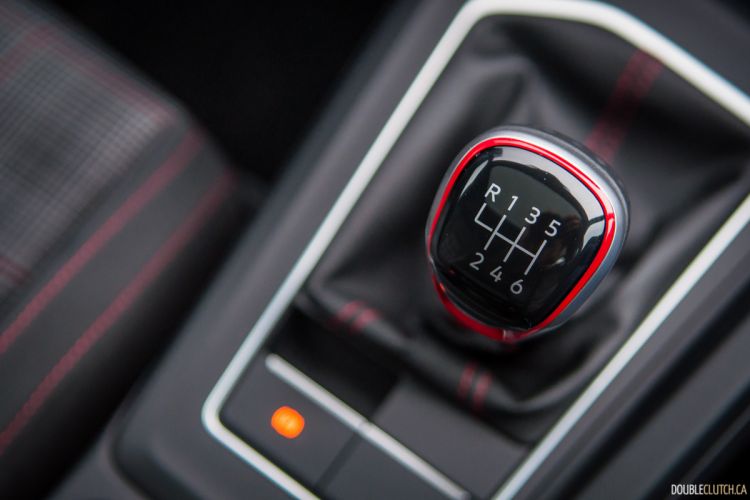 That "if it ain't broke, don't fix it" mantra also carries into the chassis. The GTI is still underpinned by VW's so-called MQB platform but with piecemeal improvements throughout, including tweaked suspension bits, a front subframe made from aluminum, and optional adaptive dampers that have been reworked to offer a dizzying 15 levels of varying stiffness.
All these tweaks might not seem like a big deal when you look at them individually, but when you mix everything together, the GTI's penchant for balance becomes crystal clear. It's responsive, playful, quick on its feet, and while the limited-slip diff doesn't totally eliminate understeer, it does an excellent job at minimizing torque steer and keeping the front end in check when you test the limits on a tight on-ramp. The GTI pulls off a rare feat: it's one of the few front-wheel-drive cars that doesn't suck to drive. Dare we say the GTI is even more fun than the Golf R?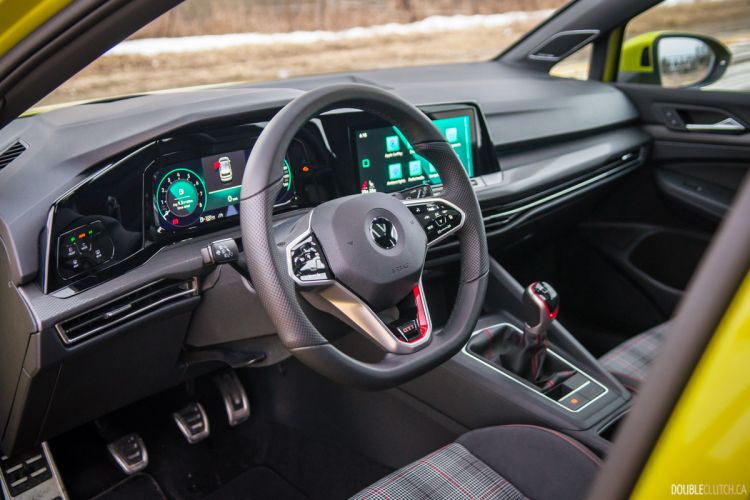 Of course, the real beauty behind the GTI's balance is how punishing it isn't when you treat it like a normal car. Wind and road noise are well-managed, the adaptive suspension is compliant over most imperfections as long as you keep it in its most comfort-oriented setting, and even fuel economy is reasonable. Officially, the stick 2022 GTI is rated at 9.8 L/100 kilometres in the city, 6.9 on the highway, and 8.5 combined. We averaged 9.1 — and that's with generous use of the go-fast pedal.
So far, VW's execution of the latest GTI has been on-point, but the interior is perhaps the most polarizing aspect of the rework. The basics are all there: the grippy plaid seats feel great, the meaty steering wheel and golf-ball-textured shifter fall easily into your hands, visibility all around is excellent, and passenger and cargo space is generous.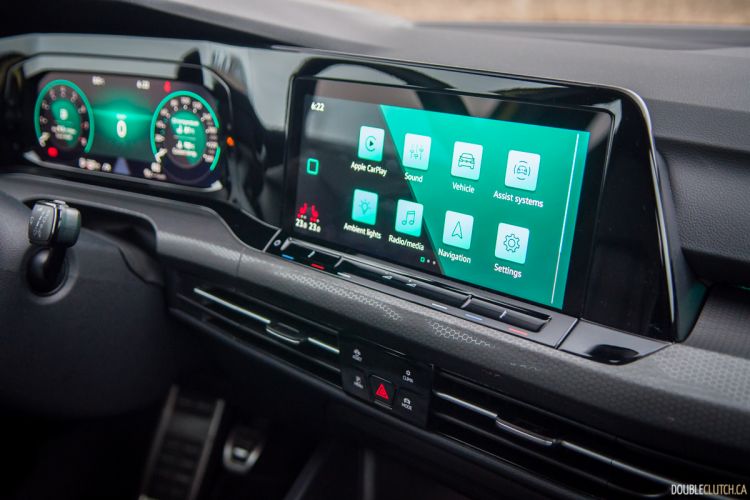 VW has beefed up the creature comforts, too — a heated steering wheel is now available, along with heated and cooled seats with memory settings, a heads-up display, wireless phone charging, and wireless Apple CarPlay and Android Auto connectivity. The little things really do count, like simply hitting the button to re-adjust your seat after your better half drives the car. Fair warning, though: opting for plaid seats in the full-jam GTI deletes the cooling and memory settings.
But this isn't the first time we've grumbled about the GTI's tech and ergonomics, and it certainly won't be the last. We'll wholeheartedly admit the highly configurable all-digital instrument cluster looks great, but navigating through the reworked infotainment can be frustrating at first. The lack of physical switchgear is a major bummer, too. Gone are the buttons and knobs handling basic functions like climate control, replaced by a touch-sensitive panel — that doesn't light up at night, mind you — placed below the 10-inch touchscreen, as well as capacitive buttons on the steering wheel. Hey, VW, what happened to "if it ain't broke, don't fix it"?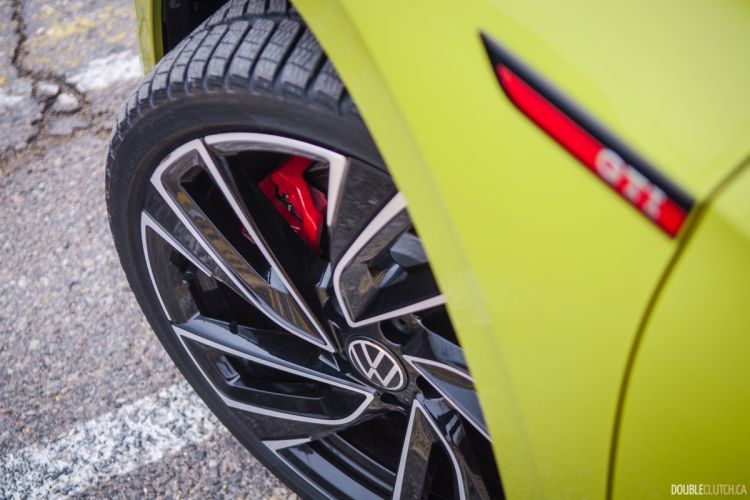 There's definitely a learning curve to the new GTI's infotainment, but the more time you spend with it, the more you get used to it. The whole setup is pretty configurable, and VW has baked in some clever shortcuts, too, like tapping on the temperature bars simultaneously to adjust the toastiness (or freshness) of your seat. Bottom line: take the time to pair your phone, set up your radio station presets, and most importantly, your preferred drive mode settings — smartly, the GTI defaults to your previous drive mode every time you start it up — and you won't have to do much digging. We still want a proper volume knob, though, and not just on the base car.
Price-wise, the 2022 GTI is competitive among today's crop of hot hatches and sporty compacts. Base GTIs start at $31,495, while the mid-range Autobahn will set you back $34,995 before any packages or options. Our particular tester, the full-jam Performance, starts at $38,995. Plaid seats are a no-cost option; add another $1,250 for a panoramic sunroof and $495 for the in-your-face paint job VW calls Pomelo Yellow, and you're looking at a grand total of $42,140. The seven-speed dual-clutch automatic is a $1,400 option across the lineup. That's a lot of coin; the GTI is best enjoyed in its purest, most basic form, especially now that the limited-slip diff is standard and it's the only way to get a volume knob.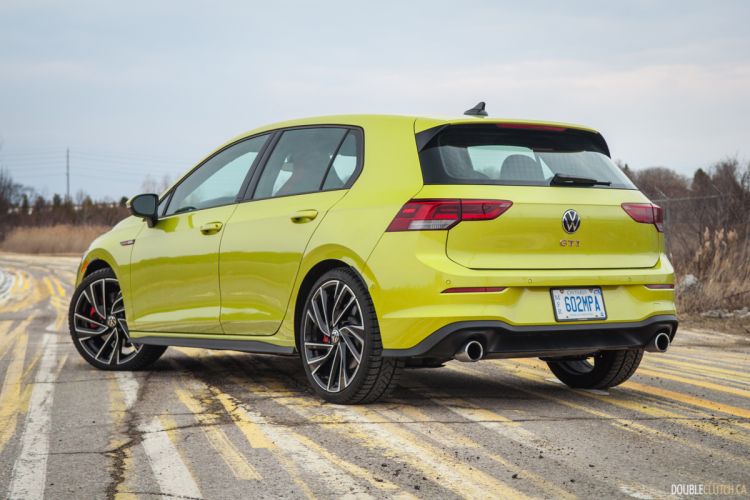 These days, you're spoiled for choice if you want something more fun than a GTI. The Hyundai Veloster N is the easy, albeit obvious choice. Don't care for the practicality of a hatchback? The Honda Civic Si, Hyundai Elantra N, and Subaru WRX are all legit contenders. If you have Bollinger tastes on a Budweiser budget, the turbocharged Mazda3 hatch delivers what you're looking for.
But very few deliver that Goldilocks-like balance between performance, comfort, and practicality as effectively as the 2022 Volkswagen GTI 6MT, all while being extremely fun to drive. Long live the king, indeed.
See Also: