Volkswagen's all new eighth-generation Golf R kicks things off after a two-year hiatus. With snow in the forecast we had the perfect opportunity to see if the 2022 Volkswagen Golf R Manual has a legitimate claim to being the perfect Canadian sports car.
Performance Golfs have been known for having a subtle appearance, but the 2022 Golf R breaks from convention. The front end features a futuristic Tron-esque led light extending across the grill and above the narrow LED headlights. 19-inch wheels wrapped in low profile 235-series tires, chrome mirror caps and aggressive side skirts make a strong visual impression.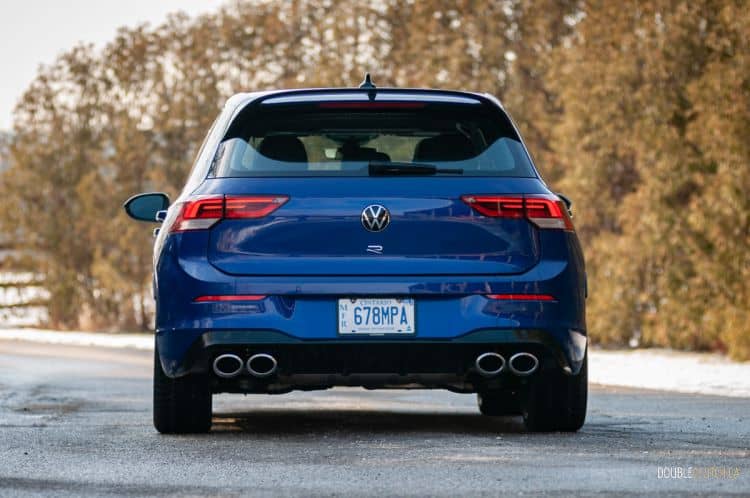 A large two-piece rear spoiler, LED tail lights, rear diffuser, and rolled quad exhaust tips complete the look. "R" logos adorn the front fenders, rear hatch, front grill, front calipers, seats, shift knob and even projects onto the ground via puddle lights leaving no doubt that this is an R model.
The all new ultra-modern interior is overwhelming at first glance with its decided lack of conventional knobs and buttons. The interior is a mix of glossy black surfaces with hues of blue, silver and brushed aluminum peppered throughout. Multicolored LED ambient lighting adds drama to the cabin. The dash is divided by a silver accent sporting a unique swirly carbon like pattern above aluminum air vents that close with a satisfying detent. Blue and carbon fiber-like textiles accent the leather seats while the shift knob carries on the color scheme with a coat of glossy clear plastic.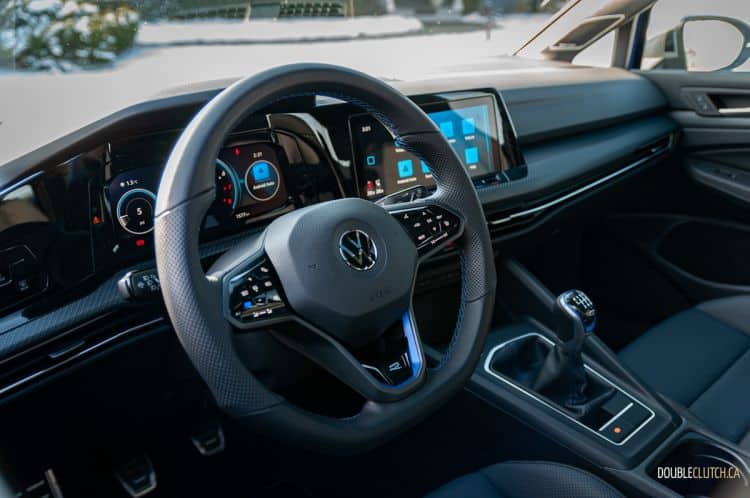 It all looks synthetic and a bit gaudy if we are being honest. The cockpit area fares better with a perforated leather wrapped steering wheel sporting blue stitching and aluminum pedals flanking a large matching dead pedal. The wheel feels wonderful in hand with a beveled edge and three levels of heating. The front seats each have three levels of heat and ventilation while the rears provide room for three passengers, and fold down with a 60/40 split for additional cargo space.
Volkswagen's new control and infotainment interface is a complete paradigm shift with the use of capacitive-touch buttons, touch and voice controls. Akin to the first time ever using a smartphone it takes time to acclimate and relearn how to execute the simplest of tasks. In theory all these glossy black touch surfaces sound like an absolute nightmare for a car's user interface but in practice it works. It feels like something new for the automotive landscape – just be sure to keep a microfiber close by to wipe off all the fingerprints.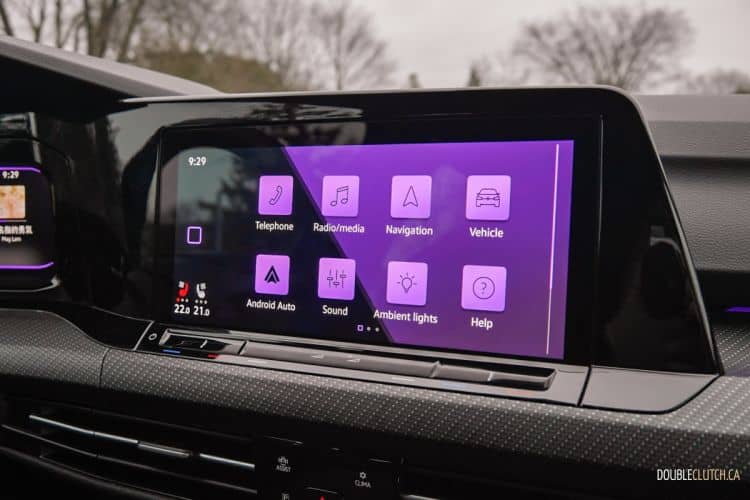 The focal point is a high resolution 10-inch touchscreen. With so much screen space VW engineers have gone to town with menu screens. It can be a bit of a chore to find what you are looking for, but there are a few physical buttons kicking around acting as shortcuts to open the climate, parking, and driving mode menus. Voice commands work surprisingly well to help streamline with simple commands like "Hello Volkswagen, my feet are warm" or "Hello Volkswagen, my butt is cold" to activate appropriate climate intervention. The system is smart enough to know which side of the cabin the command was issued from and reacts appropriately.
The Instrument cluster is another large screen with a multitude of layouts featuring a wide array of gauges and displays to choose from. The Golf R comes equipped with wireless Apple CarPlay and Android Auto, along with a giant wireless charging cubby. Entertainment is delivered through an impressive sounding Harman-Kardon audio system with eight speakers, a subwoofer, a center speaker, and a 12-channel amplifier.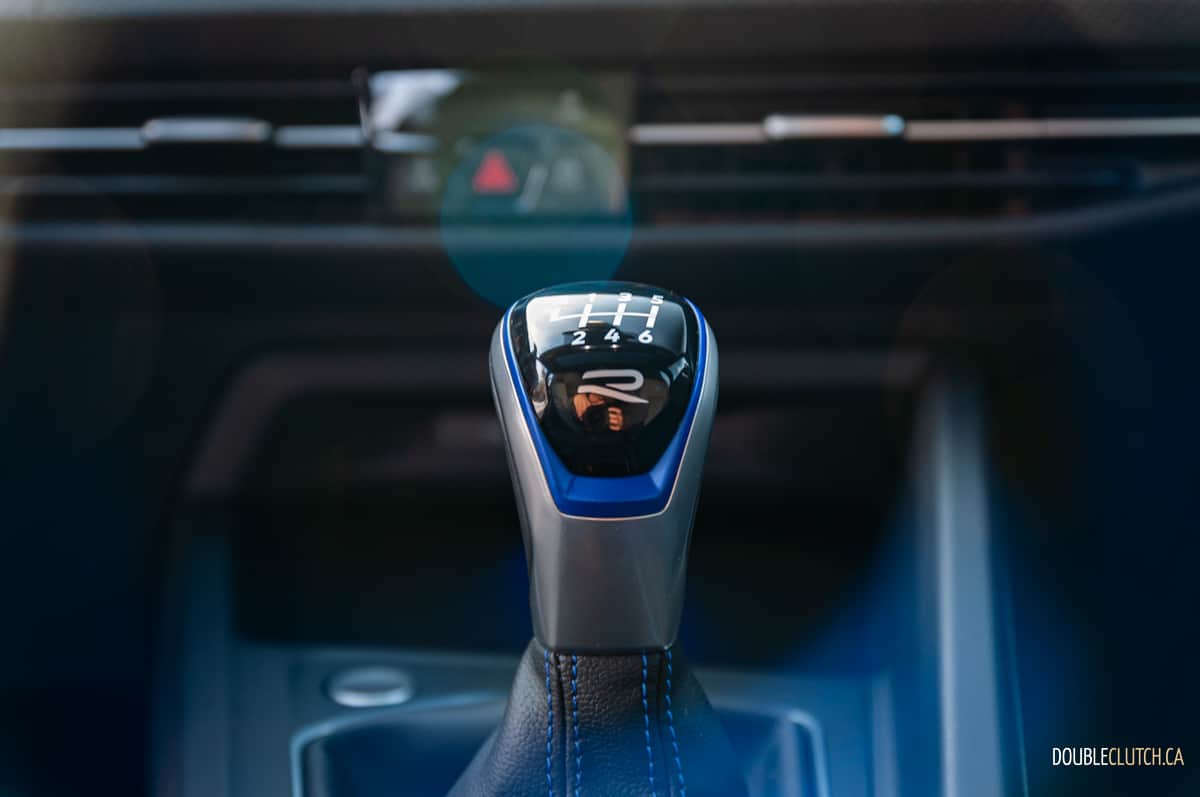 The technological showcase continues in the driving experience with a vast array of driver assist and safety features. Lane Assist goes beyond the basic vibration of other systems and gently redirects the car back into the center of the lane. Travel Assist combines Lane Assist and Adaptive Cruise Control, and when active the system feels like the groundwork for an autonomous car.
While covering the wheel, gas and brake pedals (being on extra high alert in case we needed to intervene) we were impressed with how well the Golf R follows bends in the road while maintaining a safe distance from traffic ahead. A stellar head-up display with road sign recognition, speed, navigation and radar information is also included.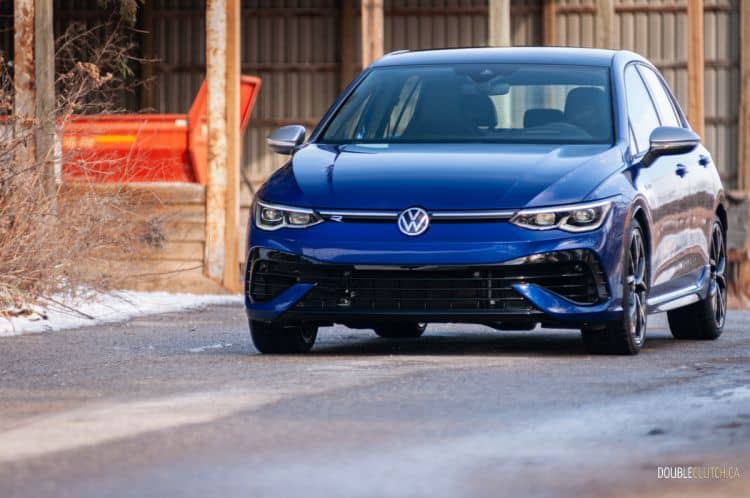 Driving can be tailored through various modes – Comfort, Sport (default), and Race. Race also has three sub modes – Drift, Special and Custom if you prefer to create your own. Race modes fully unleash the burble tune and really liven up the exhaust note. Special mode (represented by an icon of the famed Nürburgring Nordschleife) dials everything up to the sharpest settings apart from the adaptive dampers which are left at their softest. We found this to be the ideal mode for spirited driving in real world conditions where the road surface is seldom smooth.
The 2.0-liter turbocharged four-cylinder engine produces a stout 315 horsepower and 280 lb-ft. of torque in the six-speed manual Golf R. While there is no denying this is a very quick car, the seat of the pants feeling does not seem to match the incredible rate at which the speedo is climbing. With all the technology, the digital tach and how quickly the car pulls to the 6,500RPM redline, it feels like the paddle shifters found in the seven-speed DSG would be better suited to what the Golf R has on offer.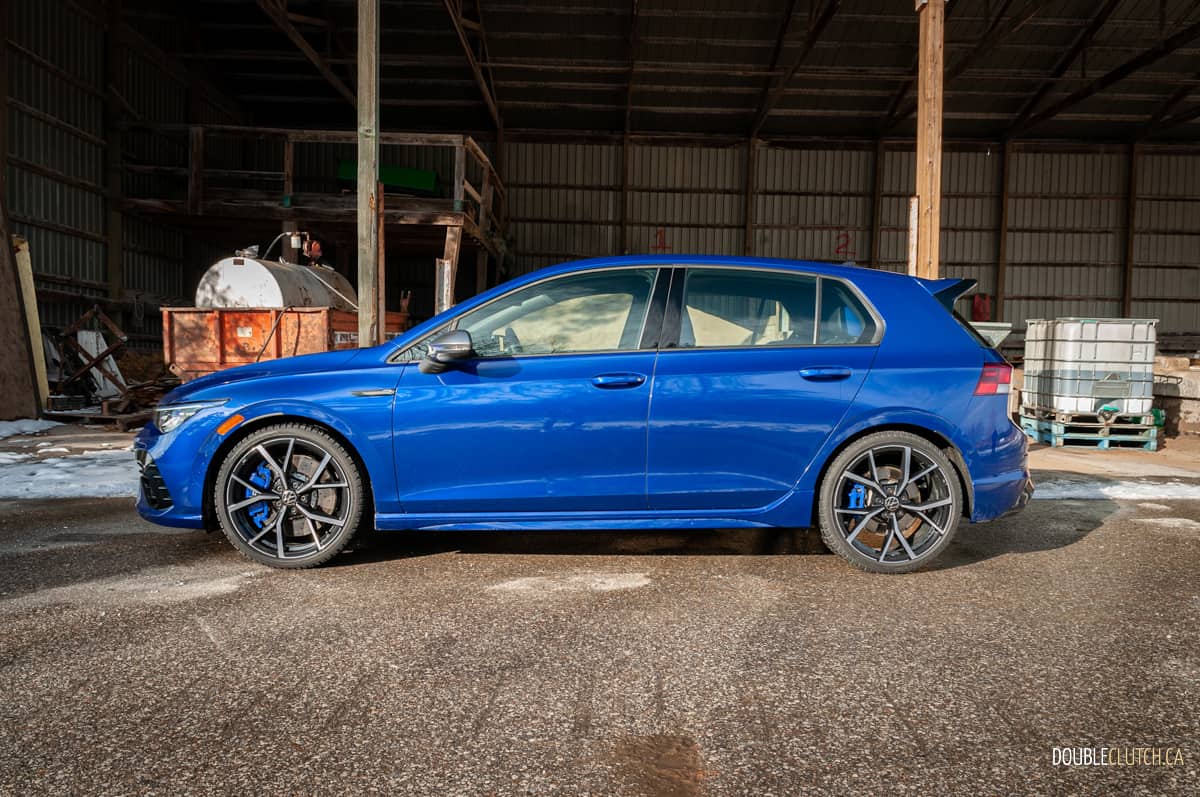 It pains us to say, but the manual transmission feels out of place, a bottleneck to the performance. Adding insult to injury, the DSG equipped model has an extra 15 ft-lb of torque over the manual. Shift throws are long and the clutch pedal feels light but it grabs abruptly – great when putting the hammer down but it can be tiresome in typical daily driving. On inclines the Golf R has an auto hold feature that takes a strong jab of throttle to break away from, causing the car to leap forward. No matter how hard you try to drive smoothly your passengers are likely to complain about being made into unwilling bobbleheads.
The Golf R's 4Motion all-wheel-drive system now has a torque vectoring rear differential capable of sending 100% of available rear axle power to one wheel. This has a dramatic effect on the handling, reducing understeer and providing traction that seems to defy the laws of physics. In snowy conditions the Golf R has no issues getting power down and provides unreal traction through the corners. VW doesn't give us a manual handbrake to pull and shuts down the party if you try left foot braking, but Drift Mode and heavy throttle inputs can get the car sideways.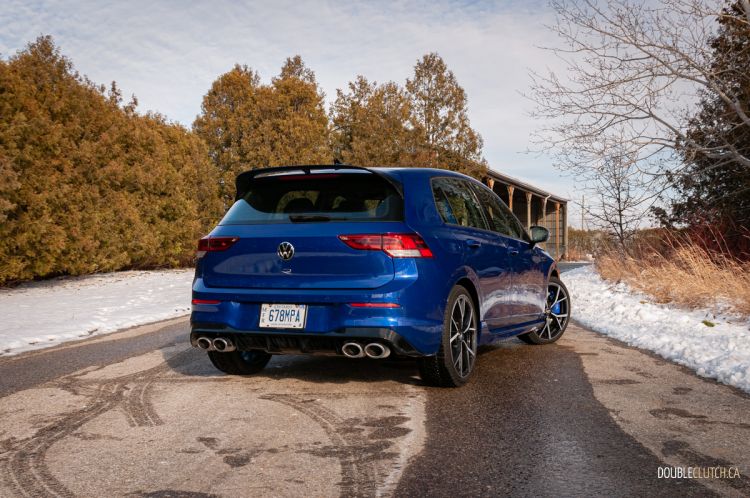 Through mixed driving in harsh winter conditions our Golf R tester achieved 11.0L/100km, right where we expect with the official ratings of 8.3L/100km highway and 11.8L/100 km city. The DSG is rated slightly better at 7.7L/100 km on the highway and 10.3L/100 km in the city, which is yet another reason to opt out of the manual.
Priced at $45,995, the 2022 Golf R is an attractive technological powerhouse, capable of catapulting around the nearest back road at serious speed while also having all the practicality of a hatchback usable year round. Early adopters to tech will enjoy playing with the new interface and discovering new features, though the added complexity along with the firm ride quality and grabby clutch could be deal breakers for some. The 2022 Volkswagen Golf R Manual is not quite the "perfect Canadian Sports Car", but it's not far off.
See Also: