If you read any European automotive publication in the 2000s, you'd be familiar with the concept of the warm hatch. While not out-and-out tire scorchers like the Seat Leon Cupra, Vauxhall Astra VXR or Mark V Golf GTI, hatchbacks like the Golf GT, the Vauxhall Astra SRi and the Peugeot 207 GT blended a touch of extra power with reasonable running costs, comfortable ride quality and unassuming looks. Although the concept of the warm hatch hasn't really caught on in Canada, the 2021 Kia Forte5 GT makes a good case for why it should.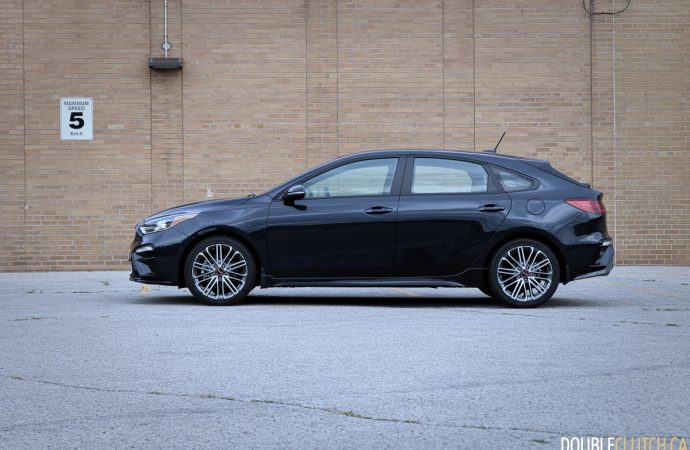 While the Hyundai Elantra looks like The Incredible Hulk tried to smash his way out of the clay model, the Forte5 GT adopts a sleek, handsome, almost European appearance. It has handsome, long proportions with strong valences that anchor it to the pavement. Aside from the mildly infuriating quirk of the rear indicators being in the bumper, it's difficult to fault the way it looks. Sure, the red-accented grille may not be to everyone's tastes, but this is an aspiring hot hatch and red trim is steeped in hot hatch tradition. The red trim continues on the centre caps of the 18-inch alloy wheels while macho dual exhaust tips vocalize performance aspirations.
The sport appearance treatment continues on the inside with comfortable, reasonably-bolstered sports seats and red stitching on just about every textile surface. Bucking the trend of steering wheel rims as thick as telephone poles, the d-shaped wheel here is thin-rimmed and upholstered in tactile, smooth high-quality leather. It's pleasantly easy to hold, assists in entry and egress and adds a bit of race car styling to an otherwise fairly standard interior.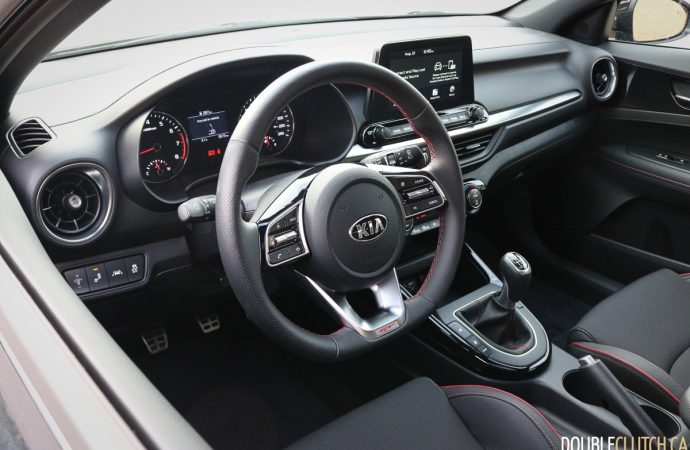 All materials within the driver's line of sight are quite high-quality with hard plastics largely being relegated to areas like the lower door panels. There's a pleasing minimalism to the cockpit in its sensible design and straightforward controls. Three knobs for the climate control, separate volume and tune knobs and straightforward steering wheel controls for cruise and audio. The occasional flourish of metal-look trim along with the aforementioned red stitching prevent the interior from appearing too dour and there's enough window glass to let a pleasant amount of natural light in.
On a more practical note, there's absolutely heaps of space inside the Forte5 GT. Rear seat passengers can practically cross their legs and the sheer amount of usable cargo space behind the rear seat puts many crossover SUVs to shame. You get the impression that this really could be a family car, that you wouldn't have to step up to something $10,000 more expensive with the centre of gravity of a giraffe just to accommodate the child seats and pram for a day out.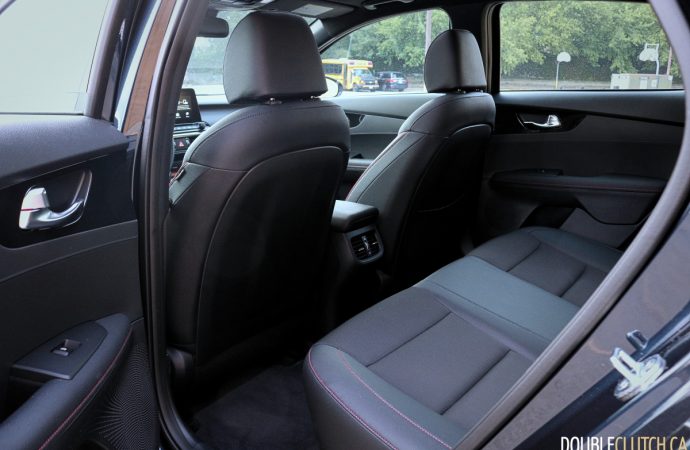 In terms of interior technology, the Forte5 GT has just enough of it to inform but not enough to substantially distract. There's a lot of practical kit here, from keyless entry with push-button start to a heated steering wheel to dual-zone climate control to wireless charging. Infotainment comes in the form of a reasonably crisp eight-inch touchscreen that loads Apple CarPlay and Android Auto up quickly. While the 3.5-inch LCD display in the gauge cluster pales in comparison to the Star Trek digital dashboards of some competitors, it's informative and allows for the use of pleasingly old-school analogue gauges for speed and revs.
Powering the Forte5 GT is Kia's omnipresent 1.6-litre turbocharged four-cylinder engine. While its output of 201 horsepower at 6,000 RPM and 195 lb.-ft. of torque between 1,500 and 4,500 RPM sounds impressive, it doesn't exactly turn the Forte 5-Door into a scorcher. Keep in mind that a base-model Volkswagen Jetta only makes 11 fewer lb.-ft. of torque. Instead, it's a fizzy little unit that pulls well to redline and provides a dose of added motivation.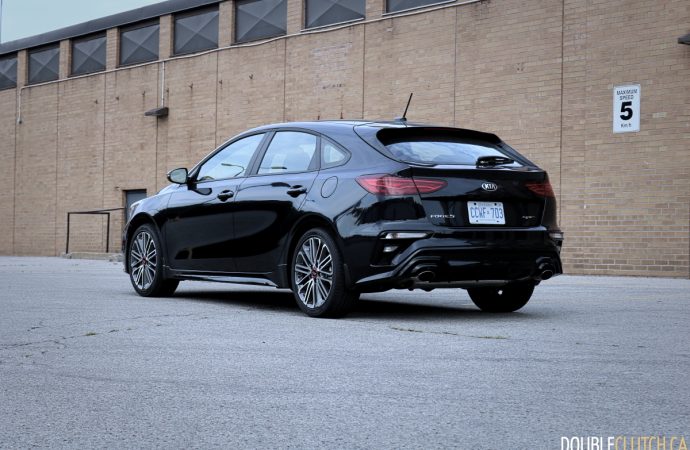 My test car came equipped with the standard six-speed manual gearbox, although there is a seven-speed dry-clutch DCT available. While rowing gears of the six-speed feels like shaking hands with a fresh corpse, this unfortunately vague, limp shifter is still a massive improvement over the DCT which rides its clutches more than a 17-year-old Civic owner. Downshift rev-matching is easily done with a quick blip of the aluminum-clad throttle pedal and gearing is enthusiastically short. As a result, I never found myself out of the power band. Fuel economy is also excellent. I averaged 7.4 L/100km over a week of mixed driving, blowing the government's ratings of 9.9L/100km city, 7.6L/100km highway and 8.8L/100km combined clean out of the water.
Where the Forte5 GT really shines though is in its ride and handling. The multi-link rear suspension allows for additional suppleness over the standard car and more precise wheel control. While there isn't a ton of steering feel on hand, it's still above-average for the segment and steering weight is fantastic. It's light enough around town to make drive-thru maneuvers a breeze yet builds up beautifully at speed to help carve up on-ramps with precision. While understeer will rear its head at the absolute limit, moderately spirited driving is a confident joy.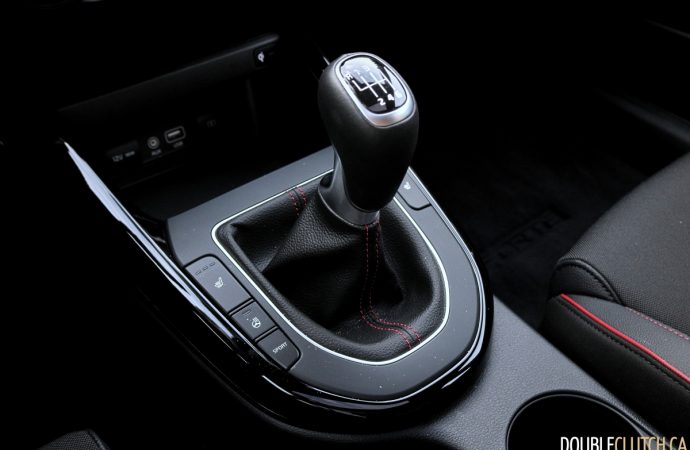 In many ways then, the 2021 Kia Forte5 GT is like Tumblr in 2014. A slightly-edgy socially-mobile vessel of pleasing aesthetics, quiet talent and the possibility that you can do anything with it. It doesn't have the aggressive performance of a hot hatch, but it's more interesting than a standard compact car and it's great value. My 6MT test car stickered for $26,145 including a $250 charge for premium paint. That's only a few hundred dollars more than a less practical, less comprehensively-equipped Toyota Corolla SE Upgrade hatchback and $4,000 less expensive than a Honda Civic Sport Hatchback. If you're looking for a stylish, well-equipped small hatchback with a little bit of flavour, the Forte 5 GT should absolutely be on your shortlist.
See Also:
First Drive: 2022 Honda Civic Touring
2021 Toyota Corolla Apex Edition