You have to give credit where it's due and in this case, hats off to Hyundai for adding performance models to several of their cars. Hyundai has expanded their range of crossovers at a blistering pace but they have not done so at the expense of their car lineup. Where the three big American manufacturers have basically decided sedans are no longer a viable option, Hyundai continues to invest and expand its car portfolio. This 2021 Hyundai Elantra N-Line is a step in the right direction to making cars, and well, hot sedans great again.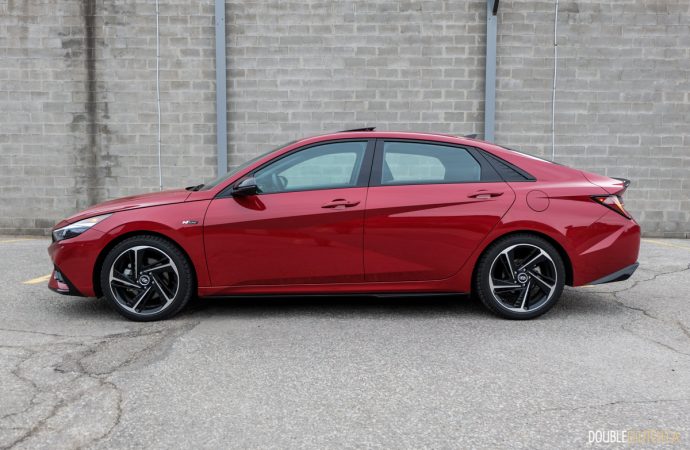 As truly adequate as the base Hyundai Elantra is, it does lack any excitement whatsoever. Its strengths lie in the fact that it's a viable option for consumers that need a reliable daily driver loaded with all the safety and technology that is expected in any modern vehicle. Luckily those looking for a bit more spice, know that Hyundai has not forgotten about the enthusiast.
With a thoroughly improved chassis introduced with the 2021 Elantra, the N-Line brings things up a notch with an improved suspension, a small-displacement turbocharged engine, a dual-clutch gearbox and subtle upgrades to both the interior and exterior.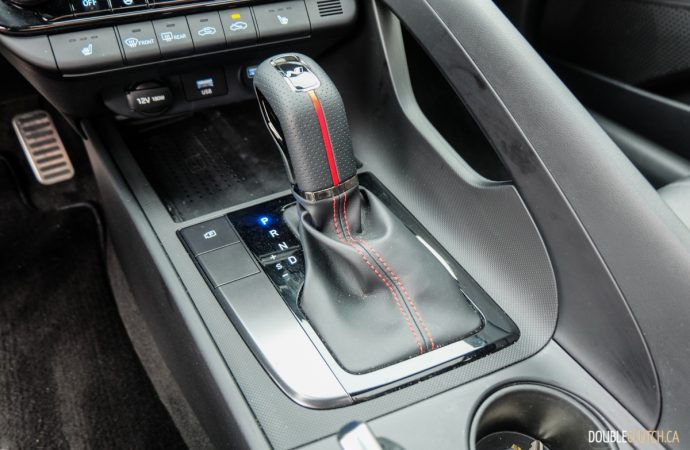 The tried and true 1.6L Turbocharged GDI that is shared in various Hyundai and Kia models has been tucked under the hood. With 201 horsepower at 6,000RPM and 195 lb-ft, of torque between 1,500 and 4,500RPM it is a significant jump over the standard Elantra. Apply some throttle and expect some lag before any real power decides to kick in. Take a more gradual approach and you'll get up to speed with zero fuss. There is some oomph to the engine but don't expect power like that found in the full-energy Veloster N.
Unfortunately, Hyundai Canada has decided that buyers up here should only have one transmission choice, and thusly have given consumers the seven-speed DCT that has done duty on numerous models. Gone is the six-speed manual that was previously available in the peppy Elantra Sport, though this transmission is still available in the United States. This decision is truly a shame as the 1.6-liter turbo-four is matched so perfectly with the manual.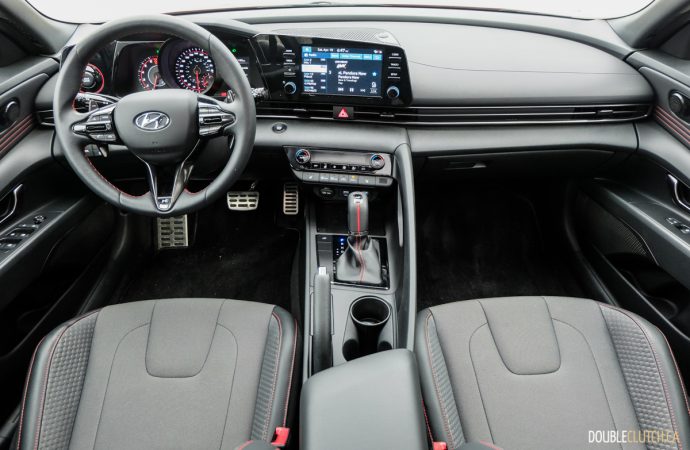 To the DCT's credit, it is well sorted and the subtle improvements and software updates over the years have been magical. Stop and go traffic isn't as jerky and the shifts are much smoother. Handling and suspension is well sorted in the third-generation K platform, but the Elantra N-Line dials it up with the rear beam axle replaced with an independent rear suspension, stiffer anti roll bars and improved spring rates.
With winter tires still mounted on our test car and temperatures in the mid to high teens, I wasn't able to fully experience the 2021 Hyundai Elantra N-Line's true potential. With a proper set of rubber mounted, on-ramps and twisty roads could be fairly enjoyable as the chassis is more than up to the task.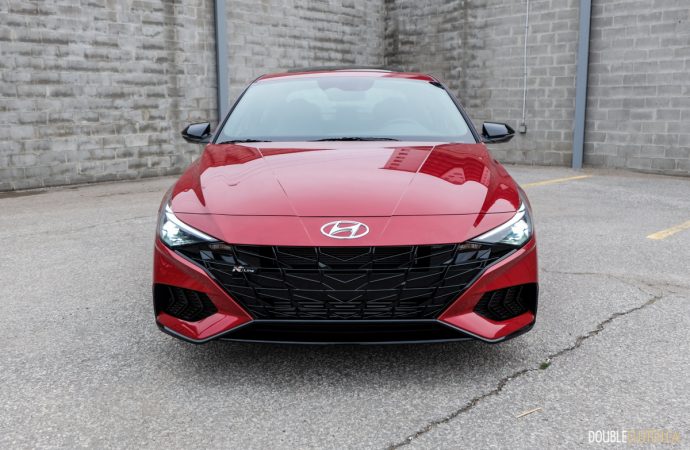 The interior of the new Elantra in all trims is a mixed bag. Buyers will be greeted with hard plastic used throughout the door panels, dash and center console.  Luckily everything is tightly put together, well within reach and packed with technology. The N-Line's sport seats are a mix of leather and cloth materials; they do manage to hug those up front. Those looking for a digital gauge cluster will need to look elsewhere.
One item that does stand out is the drive mode button. Normally, this would be found on the center console but not here. An empty section left of the gauge cluster on the regular Elantra now houses a rather large drive mode button that's fairly reminiscent of a doorbell. It looks rather oddly situated, but does fill up this dead space that has been subject to plenty of criticism in the latest Elantra.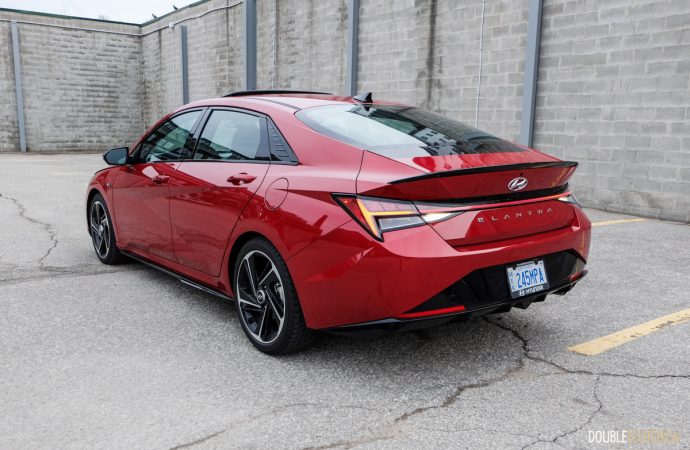 Wireless Apple CarPlay and Android Auto is standard, but at the cost of a larger infotainment screen. This model gets an eight-inch version of Hyundai's infotainment system, though it would have been nicer to see the ten-inch unit seen in other models. A wireless phone charger is included as well as an eight-speaker Bose surround sound system which sounds pretty good – this system is a substantial upgrade over the example found in the Honda Civic Si.
From a safety perspective, the N-Line has an extensive line of standard features. A few that tend to stand out are Safe Exit Warning, Forward Collision Avoidance Assist with Pedestrian Detection, Blind Spot Collision Avoidance Assist, Rear CrossTraffic Collision Avoidance Assist and Lane Departure Warning with Lane Keeping Assist.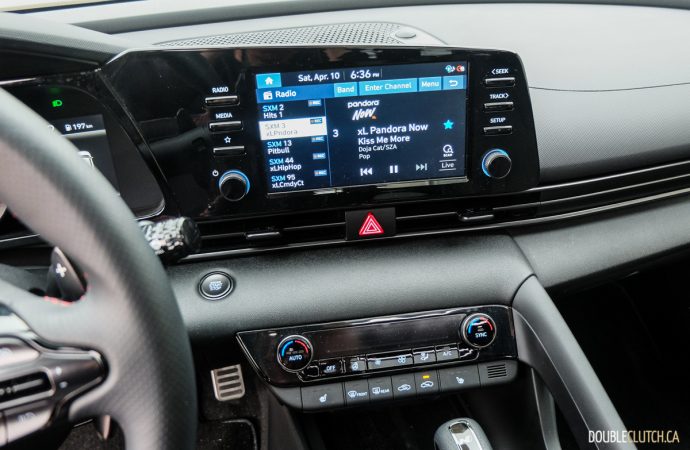 The exterior of the 2021 Hyundai Elantra N-Line retains the all new look and will be a love it or hate it affair. I personally like it as it really does look like nothing else in its segment. The angles found on the side profile make the Elantra look much larger than it is, and it's almost hard to tell that it's smaller than a Sonata unless the two are side by side. The grille design is also unique to the N-Line, and black gloss trim around the windows replaces the matte look on the base models.
Fuel economy for the 2021 Elantra N-Line is rated at 8.4L/100km in the city and 6.6L/100km on the highway. Over the course of our weeklong test we achieved 8.3L/100km with a majority of city driving and liberal use of Sport mode, so the ratings are spot on. This small turbo only requires 87-octane regular fuel so expect a pocket-friendly fillup at the pumps.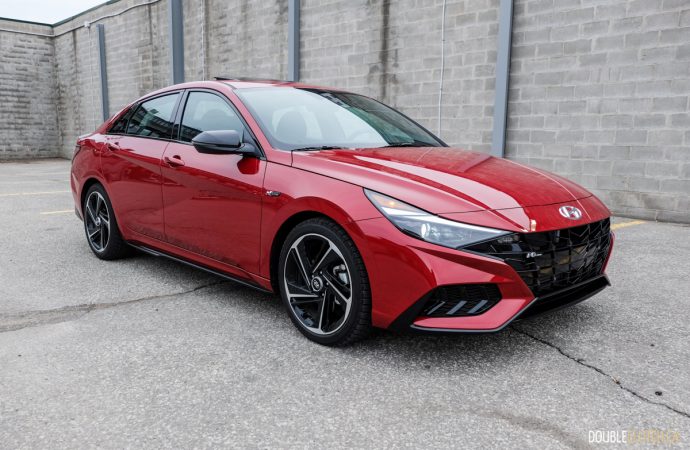 The price of the Elantra N-Line is $27,599, with no additional options or packages available. This is a significant jump over a base Elantra Essential which starts at $17,899, however it's a steal when compared to a similarly equipped Toyota Corolla Apex which rings in at $28,440. Toyota gives you a CVT, no change in engine and a suspension that is half baked at best.
The 2021 Hyundai Elantra N-Line competes against hot compacts such as the Volkswagen Jetta GLI and the Honda Civic Si. Each have their strengths and the N-Line can match the big boys when it comes down to bringing performance to consumers in an affordable package. If Hyundai could improve interior materials, allow buyers to choose a manual transmission and add a limited-slip differential, there would be a closer match. Luckily, a full-blown Elantra N is expected, and enthusiasts have reason to rejoice.
See Also: