Mitsubishi needs a hit, like this 2022 Mitsubishi Outlander GT S-AWC. Looking around at its current lineup, it's easy to understand why. Cast your mind back to 2007 and Mitsubishi was interesting. The Evo X was just released, a turbocharged four-wheel-drive rally-bred psychopath for the road. The then-new Lancer looked sharp, as did the Outlander, and both were very competitive cars. Add in a focus on driving dynamics and banging Rockford Fosgate subwoofers being available in everything, and Mitsubishi was right on the pulse of the moment.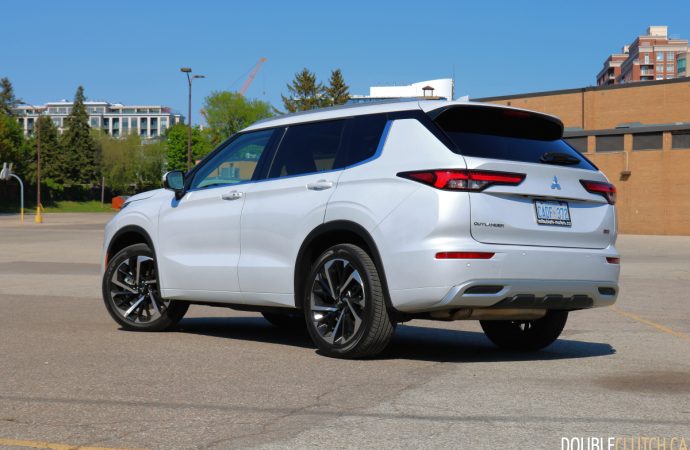 Contrast that with today, and things seem to have gone horribly awry in the past fourteen years or so. The RVR is hopelessly outdated, the Eclipse Cross looks like the result of a genetic experiment involving a Pontiac Aztek and a Gillette Fusion razor, and both of them handle like a drunk college student teetering on a wonky barstool. The Outlander PHEV has been a reasonable hit, but only because nothing else existed in that segment until now.
The Mirage is actually a good car, but critics don't seem to like it because their pampered asses are too used to experiencing fully-automated laser-guided 4G-connected ventilated and massaging left armrests to realize that Mitsubishi's entry-level car is almost cheaper than the TTC. Well then, it's going to take some serious effort to convince critics and naysayers that Mitsubishi is a brand worth keeping around.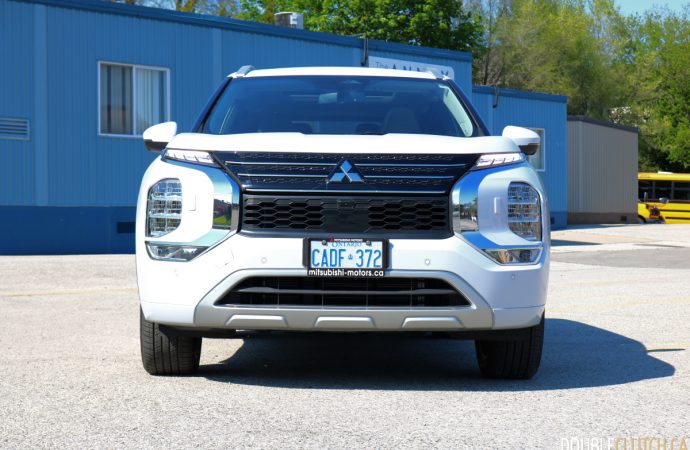 Or maybe it just takes the Nissan Rogue. Wait, what? Yes, due to some emissions scandal where Mitsubishi just made up how much carbon dioxide their Japanese-market cars were emitting, Mitsubishi is now joined at the hip with the Renault-Nissan Alliance. This ménages à trois allows Mitsubishi to dip their hand into the corporate parts bin, gaining access to fully-modern platforms and powertrains. The first Mitsubishi-badged fruit of this automotive throuple is the all-new 2022 Outlander, and it is for all intents and purposes a Nissan Rogue.
On the outside, the new Outlander is really quite handsome, cutting a square and rugged silhouette. Interesting details abound from the converging character lines that visually break up the amount of metal on the doors to the floating roof treatment to the relative lack of unpainted plastic cladding. Up front, Mitsubishi's dramatic grille and split-headlamp treatment is out in full force, and it really seems to work on the Outlander. Out back, the tail lamps are pleasantly thin with brilliant LED running lamps, a decidedly upscale touch. It's all surprisingly premium, and a cut above what many competitors have to offer for style.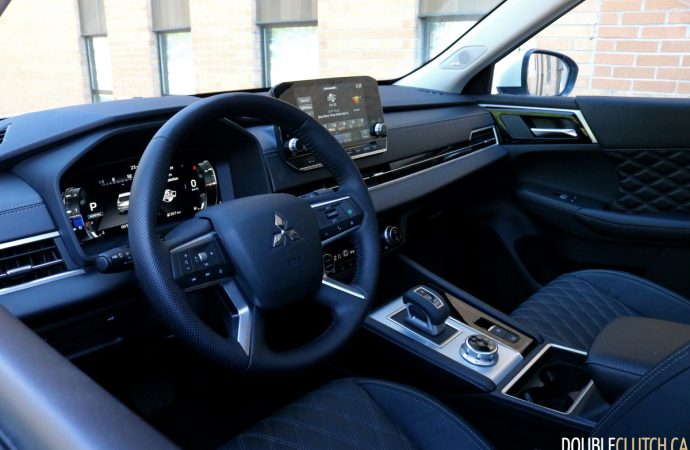 While Mitsubishi has drastically fiddled with the styling, it really hasn't bothered much with the interior tech and switchgear, which is actually a good thing. The digital cluster and infotainment have been very thinly re-skinned, the button for the highway driving assist system is green instead of blue, the knobs have some new knurling, and that's about the extent of the changes. Everything else from the electronic shifter to the climate control is exactly the same as it is in a Nissan Rogue, which means it's all very good.
The gauge cluster and infotainment are wonderfully slick and each button has a reassuring positivity that oozes quality. The only hint of cheapness comes from the electronic shifter which feels a bit brittle and insubstantial in its action. Premium audio on our GT trim tester is a Bose unit, which is fairly alright. It doesn't have the most punch or the greatest staging in the segment, but amplification is good and sound reproduction is quite fair.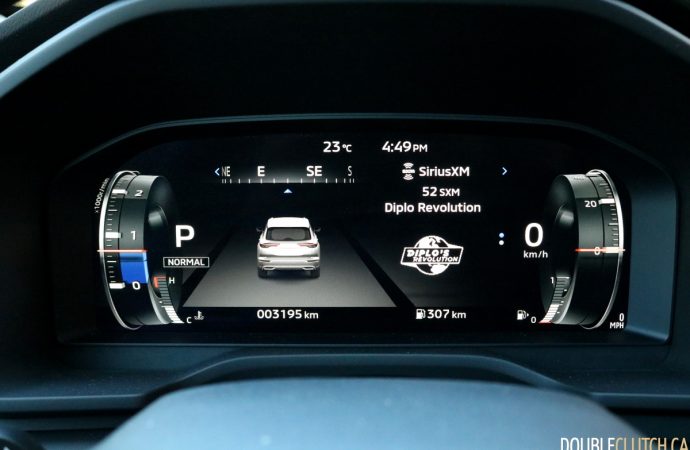 As for overall interior design and space, the Outlander sports a refreshingly modern dashboard with a good mix of soft-touch and stitched materials. The overall dash design is horizontal and minimalist, right on the pulse of current design trends. Higher trim levels feature extensive diamond stitching on the seats and door cards, a very en-vogue touch and a subtle nod to Mitsubishi's triple-diamond logo.
Passenger space in the first and second rows is very good, but the third row is extremely tight. It's only really suitable for children or intensely hated members of your extended family, but it's nice that the extra seats exist in case they need to be used. One curiosity of the third row is an absolutely enormous pair of headrests that stick up like skyscrapers and really impede on rearward visibility when in place. Thankfully, both headrests can be stored under the cargo floor, allowing for a certain level of flexibility.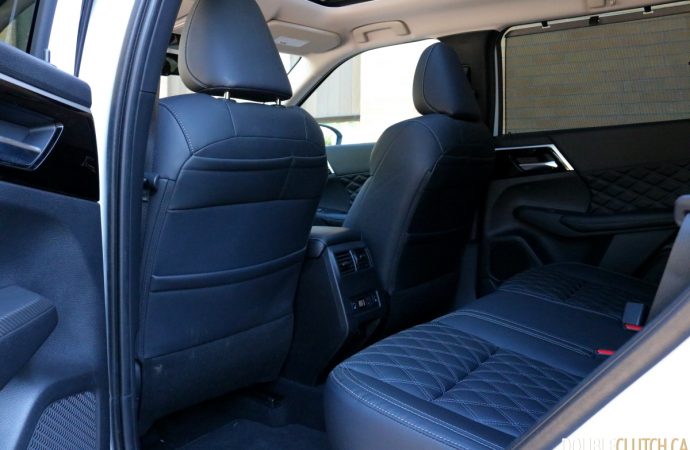 Speaking of cargo space, with the third row up there's still enough room back there for a light grocery run or several children's backpacks. Fold the seats down, and the cargo area becomes positively cavernous and sports a flat floor. The second-row seat is also a 40/20/40 split-folding design to allow for through-loading of larger items and features remote releases inside the cargo area which are quite handy. It feels like Mitsubishi's really taken to heart the U in SUV.
Powering the Outlander is a 2.5-litre twin-cam four-cylinder engine making 181 horsepower and a matching 181 lb-ft of torque. If that sounds familiar, that's because it's the exact same engine used in the Nissan Rogue. As a result, efficiency is actually rather good. We averaged 8.7 L/100km over a week of mixed driving, a tick better than the estimated combined figure of 8.9 L/100km. The only gearbox available is a CVT and it's tuned well, riding the torque curve to give smooth acceleration without too much in the way of noise.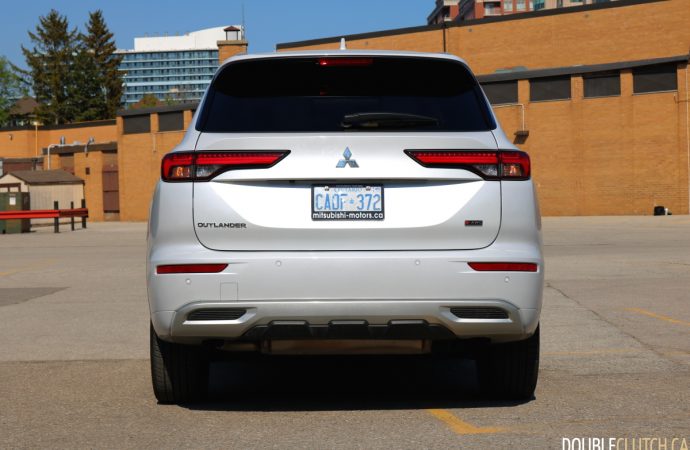 Take the Outlander for a drive, and the ride and handling is a bit of a mixed bag. While the steering is wonderfully quick and responsive around town, it seems to wander a bit on the highway, requiring the use of micro-corrections to keep the Outlander centred within its lane. The ride is also a bit busy at times, letting the sound of bumps into the cabin, but soaks up big stuff surprisingly well. It's also just firm enough that third-row passengers are unlikely to experience motion sickness, a big plus for families who actually use the third row.
On the surface, it looks as if the Outlander costs a lot more than its Rogue sibling. However, there is a critical difference that buoys the Outlander's base price – each and every Canadian-market Outlander is all-wheel-drive. Tick the box for all-wheel-drive on a base-trim Rogue, and the Outlander's base price premium shrinks to just $104. You can't even buy an amoeba for $104, so an extra row of seats and a ten-year powertrain warranty is well worth the slight premium over a Rogue.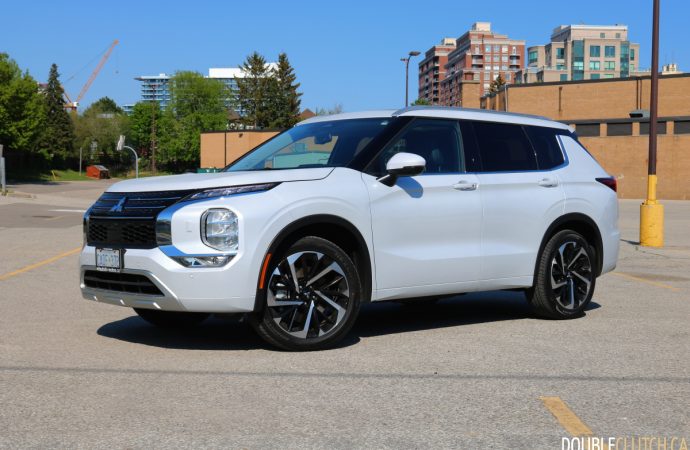 However, the value does start to wane as you go up the range. Our GT test car stickered for $880 more than a Rogue Platinum, and doesn't come with a loaded Rogue's semi-aniline leather interior. To get that on an Outlander, you have to pay an extra $500 for a total of $1,380 more than an equivalent Rogue. Then again, to get an equivalent warranty at a Nissan dealer you'll have to bend over for the finance and insurance office, and you can't even get a third row on a Rogue.
In short, the 2022 Mitsubishi Outlander GT S-AWC is a strong contender for your next compact crossover. It looks good, the interior is well-appointed, it's surprisingly efficient and packs some solid tech. What it loses in the ride and handling department over the Nissan Rogue, it makes up for with an extra row of seats and an absolutely killer warranty. For most Canadians, that should be more than enough to make the new Outlander the hit that Mitsubishi needs.
See Also:
First Drive: 2021 Nissan Rogue
2021 Kia Sportage EX Premium S