Over the last year, Kia has been on the receiving end of high praise from both consumers and critics due to recent crossover entries. It started with the fantastic Telluride, continued with the Seltos and the recent Sorento.  All three are extremely competitive and Kia can be argued as having one of the most complete lineups in the industry. However, there is one that has been left behind as it relates to adopting their new design and technology.  This is the 2021 Kia Sportage EX Premium S, and we're here to find out how it competes with some of the newer entries.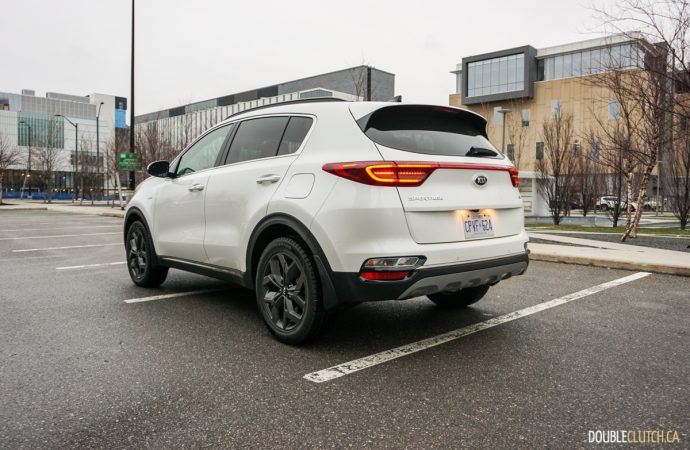 The Sportage has always been an above average entry but its sales success has never touched that of the Toyota RAV4, Honda CR-V or Nissan Rogue. What normally sets the Sportage apart from its competitors is the top line powerplant found in the SX, a 2.0-liter turbo-four that brings a nice bump in horsepower that the others struggle to compete with. However, the SX does not sell in high numbers and consumers generally choose the larger yet less powerful engine.
With 181 horsepower at 6,000RPM and 175 lb-ft. of torque from the 2.4-liter naturally aspirated four-cylinder, these figures match well with rivals. The power will not necessarily impress anyone but luckily, Kia has done a great job making sure that it works well with a conventional six-speed automatic gearbox. Shifts are smooth and unlike some competitors that have gone with a CVT, there is no rubber band effect or drone that gets tiring on acceleration. The Sportage has enough power to keep up with traffic in the city and pass larger vehicles on the highway.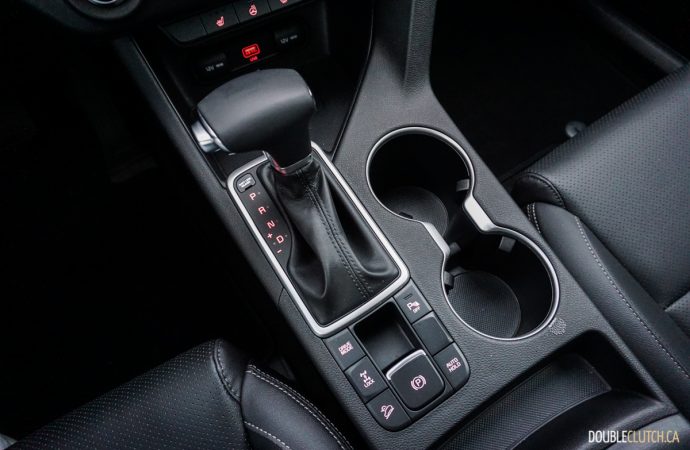 Kia separates itself from others with a more sporty demeanor to their vehicles. As such, despite being a crossover, the Sportage handles surprisingly well, with an agile chassis. Steering feel could be better and with a stiffer than normal suspension, it definitely differs from a Toyota RAV4. The extra level of confidence that the chassis provides is a nice touch, just about on par with the sportiness champ of the class, the Mazda CX-5.
Another area that Kia has always done a fantastic job with is interior design, with a healthy mix of quality materials, technology and ergonomics. The current Sportage is one of the oldest players in its class, having been around since 2016, it can still hold its own with a clean and easy-to-use layout. This EX Premium S' cabin is covered in a sea of black and mix of soft and hard materials. It's not going to give Mazda sleepless nights but the user interface is where it sets itself apart.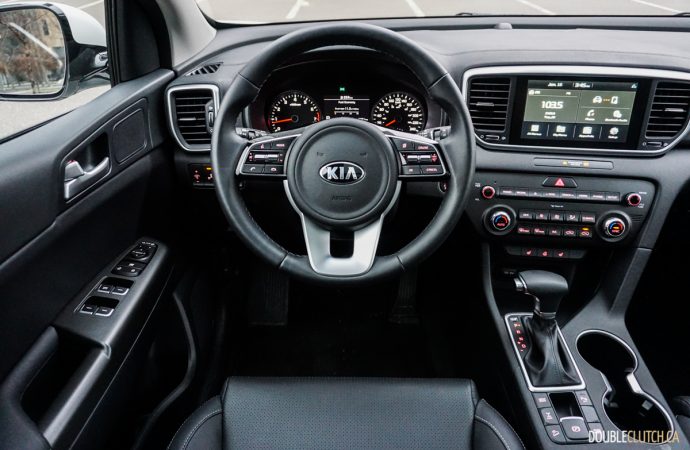 All Sportage models have Android Auto and Apple CarPlay as standard, which is a nice change as some rivals have decided that Android Auto isn't quite as necessary. There is an eight-inch touchscreen housing Kia's native infotainment system, and it's still large enough for the class, though does appear small compared to the bigger examples offered within Kia's own lineup.
This trim level has faux-leather seating; those wanting the real deal will have to move up to the top-trim SX model. The Sportage has ample space, lacks proper side bolsters for spirited driving or to get truly comfortable. The seat bottoms are extremely short and thigh support is almost non-existent. Drivers with long legs will find this troublesome, especially on long road trips.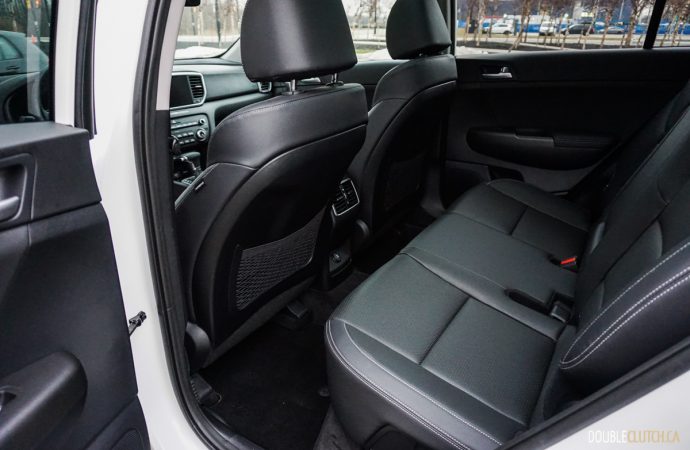 An area where the Sportage falls short of the competition is cargo capacity and passenger space. The recently tested 2021 Nissan Rogue leaves the Sportage in the dust in this area. The Sportage's rear cargo capacity with the second row seats up come in at 798 litres vs 1,028 litres for the Nissan. The amount of leg and shoulder room also leave much to be desired when up compared to the Rogue and the RAV4.
Fuel mileage for the Sportage came in at a surprisingly disappointing number. During our mix of mostly city driving, we achieved 11.3L/100km. Kia has the 2021 Sportage rated for 10.7L/100km in the city and 9.0L/100km highway. We saw highway numbers go as far down as 10.4L/100km, but no better. It's worth noting that our test took place in the heart of winter, with winter tires and some idling as well as the vehicle was warmed up.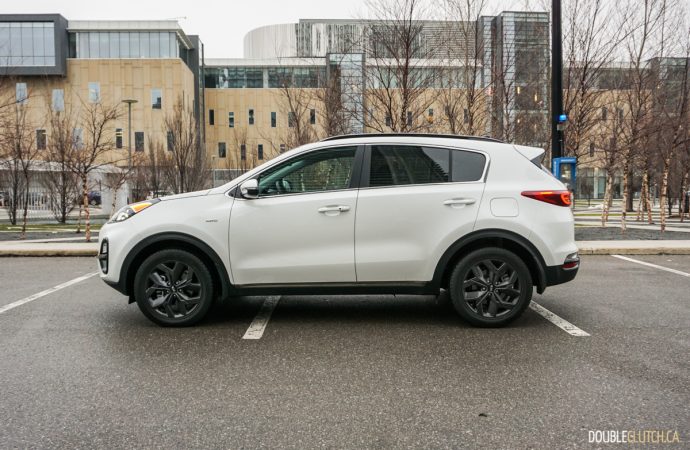 The base Sportage starts at $25,795 in base front-drive trim. Moving up anywhere from the base model forces buyers into all-wheel-drive, which makes sense for Canada. The EX Premium S at $35,595 gets buyers features such as dual-zone climate control, parking assist sensors, LED headlights and taillights, and a power liftgate. It also includes a panoramic sunroof, heated seats, steering wheel, and all active safety features including lane keeping assist and blind spot alert.
The competition has been banging out some great products and it will only get tougher as the all new Hyundai Tucson is launching with an all new design inside and out. Buyers in this segment value two things when selecting their next compact SUV, cargo space and fuel economy, both areas the 2021 Kia Sportage EX Premium S is lagging behind in. This current model is competitive, but is in dire need of a redesign. We're looking forward to seeing what Kia brings to the table for the next-gen model.
See Also:
First Drive: 2021 Nissan Rogue