Rolls-Royce has been around for over a century, striving to maintain the reputation of building some of the finest, most luxurious cars in the world. With a comprehensive bespoke program that allows buyers to bring out as much or as little creativity as they want, no two are built the same. This is the second generation of their entry-level model, the 2021 Rolls-Royce Ghost. It's completely redesigned this year and we spent a few days with it to determine whether it upholds the brand's reputation, or if it's a missed opportunity.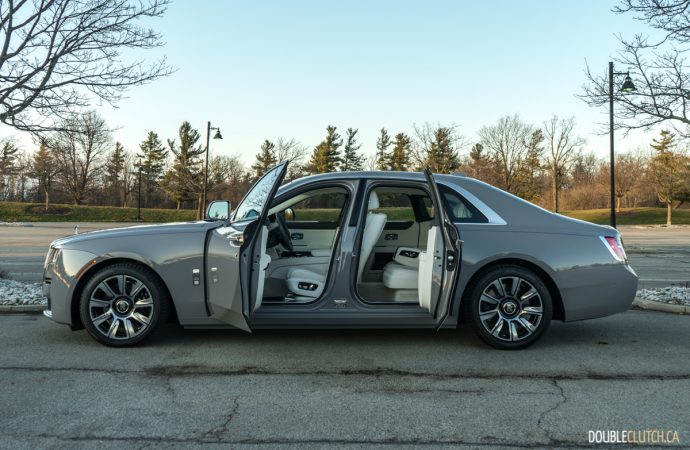 The first generation of the Ghost, which has been around since 2010, was built on an enhanced version of the BMW 7-series platform. While it was still an exquisite machine, it took plenty of criticism for being, well, a hopped-up BMW. The underpinnings of the new Ghost are on the "Architecture of Luxury" platform, which is shared with Rolls-Royce's flagship Phantom limousine and the Cullinan sport-utility vehicle. This Ghost does not feel entry-level in the slightest, and worth every penny of it's half-million dollar price tag.
From a design perspective, the Ghost is new from the ground up, and while it initially may look like a revised version of the model it replaces, the subtle nuances set it apart and the overall stance is very different and contemporary. The Spirit of Ecstasy hood ornament hides away when the vehicle is locked, or on demand, and the large corporate grille is backlit in a subtle manner. It's not nearly as tacky as this application in other vehicles, and almost adds to the allure of the Ghost at night. The rear coach doors are rear-hinged, and all four doors are power operated.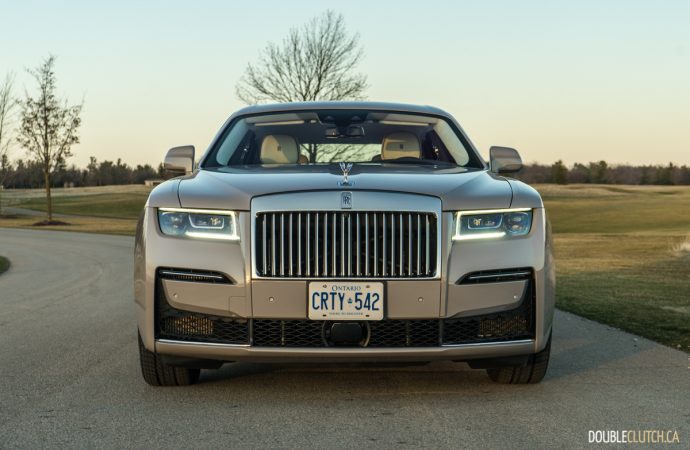 While many may chalk off Rolls-Royce vehicles as not exactly being driver's cars, it's very evident from the development of the Ghost that it was made with the driver in mind. Its road manners are crisp and poised, and while there is some body roll in the corners, the four-wheel steering and 50/50 weight balance means road manners are more impressive than expected. The steering has sharper response than before, though there's little feedback, as expected.
A twin-turbocharged 6.75-liter V12 is standard, with direct fuel injection. Output is 563 horsepower at 5,000RPM and 627 lb-ft. of torque at a low 1,600RPM. An eight-speed automatic transmission is coupled to this behemoth of a motor and no, there is no manual mode. This engine operates with the utmost quietness and serenity. It can barely be heard on wide-open throttle as the Ghost hammers the highway merge with a welcomed surge of acceleration. Nothing this car does takes away from its main priority – luxury.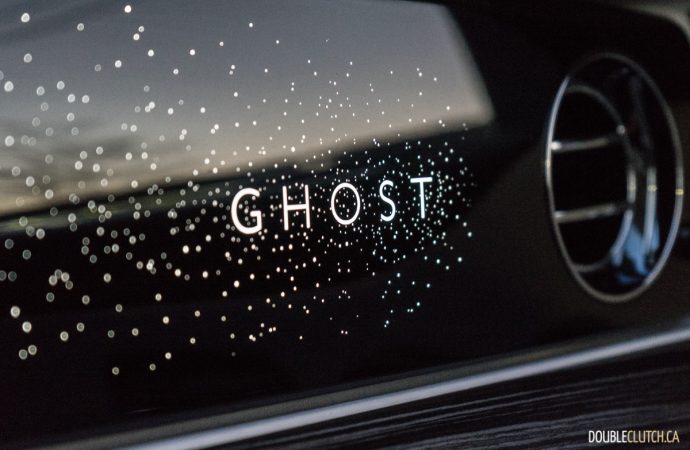 The Ghost's 4.5-second sprint to 100km/h can be paired with a back massage for all passengers, with classical music playing on the satellite radio. It's a very strange sensation, but in a good way. The adaptive suspension system, like the Phantom, uses a camera to scan the road ahead and prepare for potholes or imperfections. As a result, ride quality is some of the best anywhere in the automotive industry. The Ghost does not drive in a floaty manner, and instead hugs the road and tackles both highways and twisty back roads with confidence.
But while the drive is important, what is seriously impressive about the new Ghost is the interior. Our test vehicle was equipped with three colour schemes inside; Grace White, Scivaro Grey and Tailored Purple. It's a stunning cabin, with "theater seating" in the rear. A console between the rear seats folds down to reveal a small fridge and two champagne glasses, and tray tables that fold down behind the two front seats allow you to enjoy either Grey Poupon or whatever your heart desires from Taco Bell's drive-thru.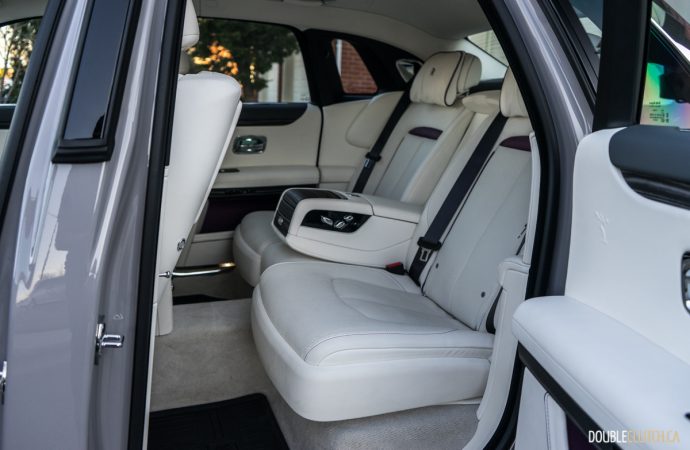 There's plenty of head and legroom to stretch out front and rear, and the Shooting Star headliner that simulates a starry night sky adds to the ambience whether stationary or in motion. The Ghost a wonderful place for the driver and front passenger to spend time as well, with open pore Obsidian Ayous wood and veneer everywhere. Every single material is just stunning to the eyes and fingers, and the rich smell from the leather makes for a truly immersive experience. Every single drive in this car is simply an event of its own.
Technology isn't missing, with infotainment provided by a re-skinned version of BMW's truly wonderful iDrive system. There is wireless Apple CarPlay on board, along with an actual touchscreen this time around, and a Wi-Fi hotspot on board. The premium audio system boasts 1,300 watts of power, and sublime quality as expected. The climate control is still Rolls' "Soft, Med, High" system with plenty of adjustability, but lacks a fully automatic mode that we would like to see in upcoming models. Obviously all of the seats are heated, ventilated, and provide a massage feature.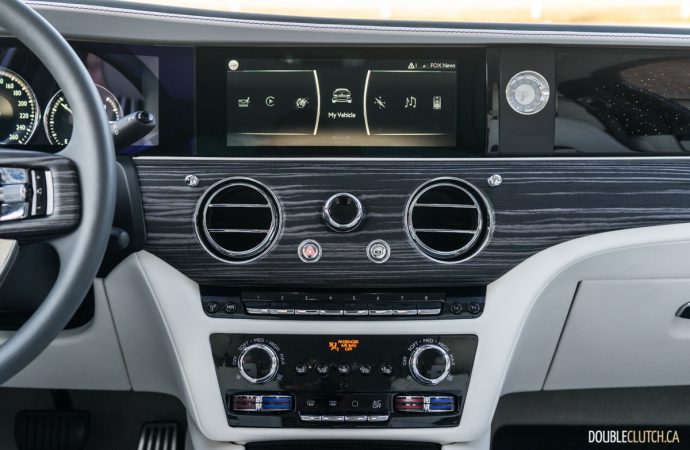 Pricing for the 2021 Rolls-Royce Ghost starts at $343,140 in Canada, but there won't be a single car sold at that price. The variability of customization through Rolls-Royce's bespoke program means the sticker will climb, but most sold will have at least the $32,137 "Ghost Package" that adds some basic upgrades. Our test car was pretty well loaded, with things like Rolls-Royce's Bespoke Audio package, rear picnic tables, Immersive Seating, and more, for an as-tested price of $461,000 before taxes and fees.
Competition doesn't really exist for these cars, but Bentley's Mulsanne or the Maybach version of Mercedes-Benz's S-Class try to provide similar levels of ultra-luxury for the elite class. The value proposition also doesn't quite exist, because cars like the Ghost are purchases made out of desire and not need. Flagship luxury sedans like the S-Class and 7-series obviously provide 80 to 90 percent of the luxury for a small fraction of this sticker price, but it's those little touches and the Spirit of Ecstasy on the hood that make all of the difference for Rolls-Royce buyers.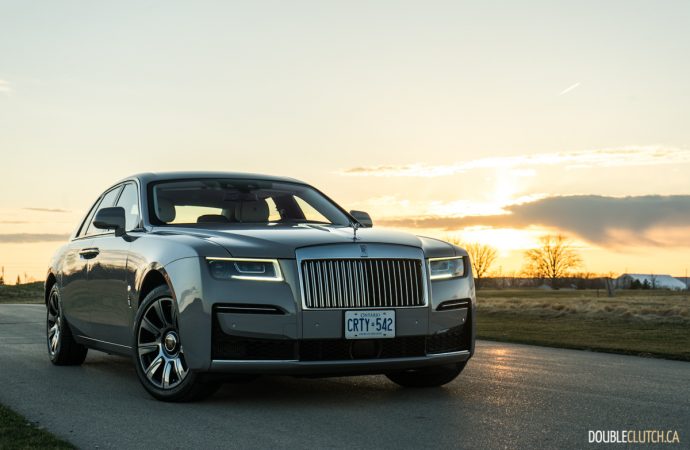 Despite the ongoing situation in the world today, the Rolls-Royce brand has had their best-ever first-quarter sales in their 116-year history this year, a number that is up a whopping 62% over the same period in 2020. Vehicles like the Cullinan and this new Ghost have everything to do with this, but it surely answers the question of who this car is for. The 2021 Rolls-Royce Ghost is a brilliant example of an ultra-luxury car that feels far from "entry level", and continues to defend the brand's claim of being simply the finest motorcar in the world.
See Also:
2020 Rolls-Royce Wraith Black Badge