A lot has been said about the design of the latest BMW 7-series, with much of the attention around the size of its signature BMW kidney grille. BMW says the front grille has grown 40-percent during its mid-cycle refresh, and armchair critics on the Internet had a field day with it at its initial launch and created endless memes to mock BMW's new corporate fascia.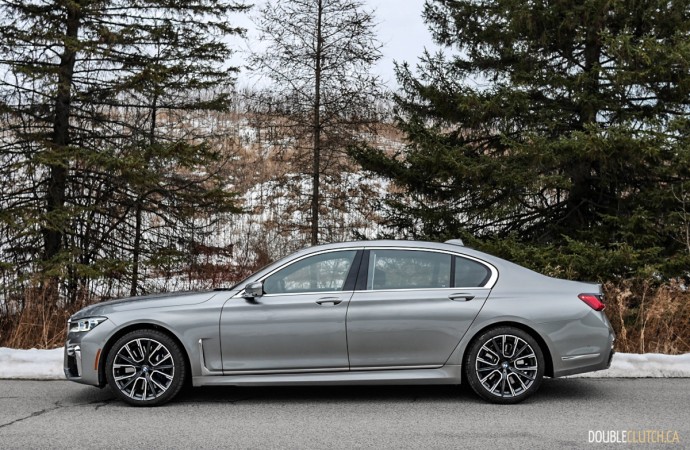 A year has gone by since the refresh made its debut to the world, and through time, familiarity, as well as seeing other products designed with similar approach, the current sixth-generation 7-series has aged very well and become a design benchmark for the luxury sedan segment. This week, we have the opportunity have the 2020 BMW 750Li xDrive in our garage, to evaluate its appeal in the flagship executive segment over an extended road trip.
The 2020 BMW 750Li xDrive, painted in a gorgeous Donington Grey Metallic colour, makes a stunning entrance wherever it goes. The extra length created by the long wheelbase added tremendous presence to its design, and is the most suitable application of the oversized front grille in the lineup. The grille features active air flap control that opens or closes automatically, and works alongside the front fender vents (aka Air Breathers) to create optimal aerodynamics. The optional BMW Laserlight headlights look focused and do an exceptional job in illuminating the road. The refreshed LED taillights have a distinctive design that perfectly rounds out the 750Li's elegant exterior.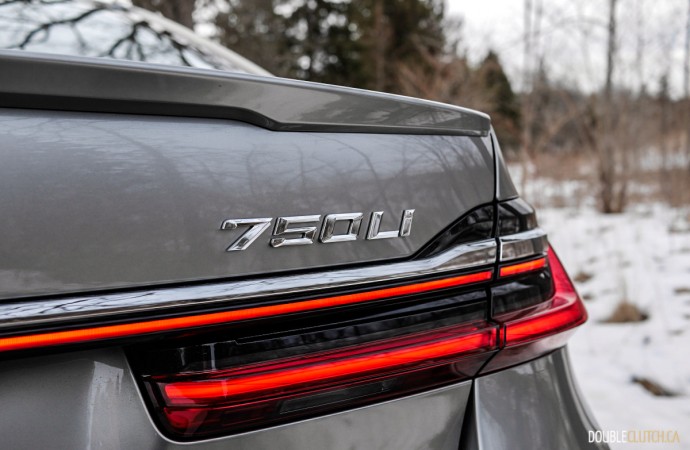 Power comes from an updated version of BMW's turbocharged V8 engine that produces 80 more horsepower than the powerplant it replaced. Displacing 4.4 litres, horsepower is rated at 523 at 5,500 to 6,000 RPM, and peak torque of 553 lb-ft. arrives as early as 1,800 RPM. Power comes on smooth and strong in the 750Li, delivering a blistering 0 to 100km/h acceleration figure of 4.1-seconds that is impossible to feel without staring at the speedometer. This potent engine is slotted in the middle of the 7-series lineup, in between the 394-horsepower 745Le plug-in hybrid, and the top-dog BMW M760Li that accelerates to 100 km/h in 3.8 seconds using a whopping 600-horsepower 6.6-litre V12 engine.
The task of transmitting power to all four-wheels is performed by an improved eight-speed automatic, a familiar choice in the BMW family and the best gearbox BMW could have picked for moving the 4,722-pound mammoth. Even though the steering feels a bit disconnected, BMW has done magical work with its chassis tuning to make the 750Li handle like a car half its size. The xDrive system sends power to the rear wheels at all times until traction is needed in the front, and the result is a vehicle that pushes through in any situation like no other luxury sedan of its size can. Body roll is at a minimum thanks to electronically controlled dampers and self-leveling two-axle air suspension, and the 750Li's ride height can be manually raised up to 0.8-inch to help navigate over rough terrain.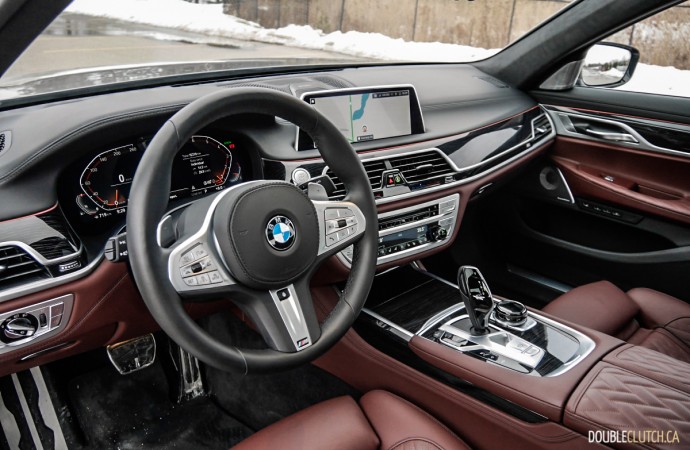 Fuel economy is measured at 14.5L/100km in the city, and 9.9L/100km on the highway, for a combined 12.4L/100km. Our observed fuel economy in the heart of winter returned a higher 15.2L/100km in the city and 9.9L/100km on the highway. Fuel tank capacity is rated at 78-litres, and as expected, premium fuel is required.
The interior of the 750Li xDrive is everything one has come to expect from a flagship sedan. It is beautifully crafted with the richest materials possible, laden with the most technology imaginable in the automotive world. The Fiona Red full Merino leather interior upholstery as part of the BMW Individual package looks beautiful against the piano black trim, and feels absolutely luscious.
With the optional Executive Lounge package, our tester stretches the limit on technology even more by including power reclining rear seats with built-in heat, ventilation, and massaging features, ambient air package that releases fragrance into the cabin based on one of three selectable intensity, and BMW's Touch Command seven-inch Samsung tablet for rear passengers for control over features such as seat and sunshade operation and media control.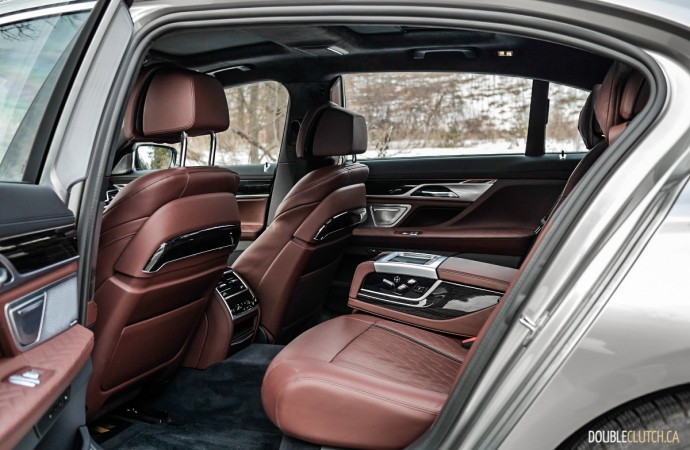 The magical Sky Lounge panoramic glass sunroof deserves special mention for bringing a new level of cabin ambient lighting by illuminating the sunroof in one of the six predefined colours. To top off the luxurious experience, the 750Li even receives an optional mini fridge in behind the rear armrest compartment to keep drinks cool. It does take up a considerable amount of space in the trunk, but can be removed for maximum cargo capacity.
The BMW 750Li's ride quality is firmer than its chief rival, the Mercedes-Benz S 560 4MATIC (reviewed here), but is far from punishing. Keeping the drive mode in Comfort or Comfort Plus will ensure your VIPs get the plush ride they deserve, and the cabin is whisper quiet thanks to the double-pane glass and solid soundproofing. The long wheelbase configuration ensures there is more legroom than most would ever need, with our only complaint being the strength of the seat massager. It is a common shortfall that is shared in many BMW products, and its fatigue reducing capability trails Mercedes-Benz, Audi, and even Volvo.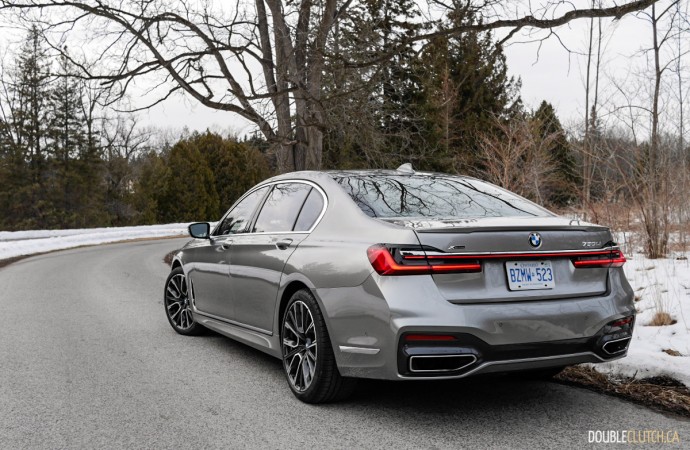 Infotainment is delivered by the new BMW iDrive 7 system. It has the usual user-friendliness of the BMW iDrive system that we have come to love, and drivers can use one of five methods to enter commands (rotary controller, voice control, steering wheel buttons, touchscreen, and gesture controls). The latest Personal Assistant is quite good with responding to conversational commands such as 'I'm cold' or 'Take me home', however it tends to be overly responsive by mistaking our usual conversation with the 'Hey BMW' voice prompt.
Wireless Apple CarPlay connectivity is supported; however, its connection is not consistent enough and we resorted to using the tried-and-true Bluetooth connection for phone and music functions. The Bowers and Wilkins Diamond surround sound system produces high quality sound, and the ambient lighting inside its tweeters further embellished the 750Li's world-class interior.


Being one of the leaders in automotive technology, BMW wasted no effort in assisting its drivers and making sure its occupants are kept safe while travelling in the 750Li. The optional Advanced Driver Assistance Package includes Active Cruise Control with Stop & Go, Traffic Jam Assistant, Steering and Lane Control, and Active Lane Keeping Assistant functions that allows the 750Li to nearly drive autonomously. Regulations still require drivers to maintain control at all times, and the BMW Mobileye interior camera is tasked with making sure of that.
Pricing of the 2020 BMW 750Li xDrive starts at $126,400, and our tester was equipped with a host of optional equipment including the $4,900 Individual Package, $5,250 Executive Lounge Tier I Package, $7,500 Executive Package, and $2,000 Advanced Driver Assistance Package. Standalone options include the Sky Lounge Panoramic Sunroof, cooling box, Bowers and Wilkins sound system, M Sport brakes, and  BMW Laserlight headlights, bringing the as-tested total to $155,850.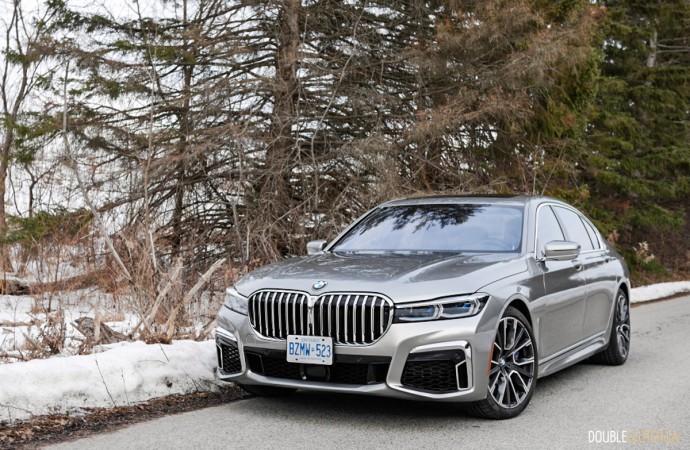 With so much attention garnered around its appearance, the 2020 BMW 750Li xDrive now packs a serious punch to back up its commanding looks. It sits atop amongst all luxury flagships for having a potent engine to match its sporty driving dynamics, and the sheer amount of technology packed into this opulent package is second to none.

See Also:
2018 Mercedes-Benz S 560 4MATIC
2020 Genesis G90 5.0 Prestige
2020 Audi A8 L quattro