Roughly seventeen years ago, Mercedes-Benz set the four-door car market alight by calling its swoopy CLS a four-door coupe. While other premium carmakers drummed up similarly low-slung four-doors, it wasn't until Volkswagen launched the Passat CC in 2008 that we saw mainstream automakers get in on the low roofline action. In fact, it's now incredibly difficult to buy a mainstream mid-size sedan that doesn't have a dramatic sloping roof. So then, that begs the question. Will the 2021 Volkswagen Atlas Cross Sport do for the coupe crossover what the Passat CC did for the four-door coupe?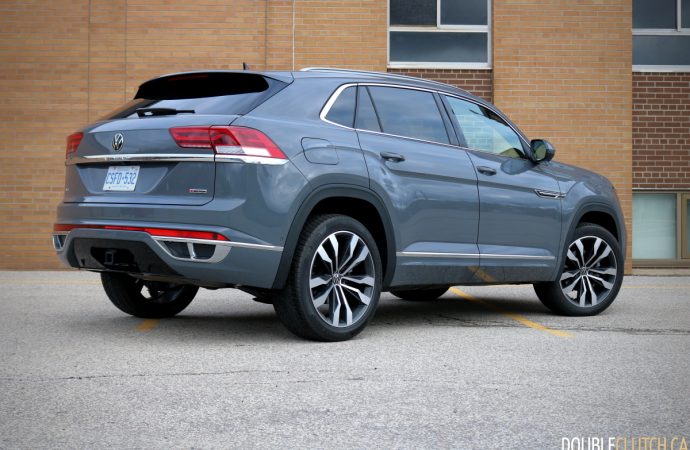 It's easy to dismiss coupe crossovers as abhorrent because in most cases, they are. The concept of desiring a utility vehicle with less utility seems so vain, so egotistical and so steeped in mindless consumption that coupe crossover drivers ought to be on Greenpeace's most wanted list. However, the Atlas Cross Sport stops short of adopting a full-on coupe crossover form by being more of a conventional two-row crossover and less like something that offers the practicality of a car with the poor fuel economy and top-heavy handling of an SUV.
While it does have a steeply-raked rear glass treatment, the actual roofline isn't so low as to give rear seat passengers a surprise haircut every time the panoramic sunroof shade is closed. Plus, at thirteen centimetres longer than a Honda Passport, the Atlas Cross Sport has the length for more elegant proportions than most large two-row crossovers. More importantly, the Atlas Cross Sport keeps what's brilliant about the regular Atlas – being an alternative choice to other best-selling large two-row crossovers while having absolutely zero learning curve.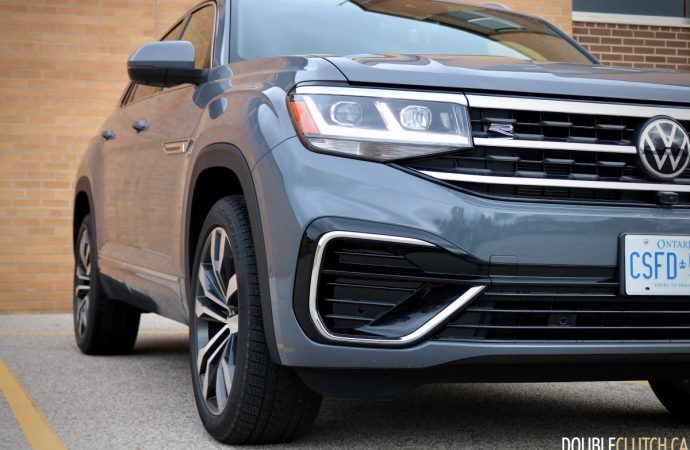 The first way that the Atlas Cross Sport stakes its position as an extremely user-friendly vehicle is in how you get in and out. Like most mainstream crossovers, the Atlas Cross Sport has keyless proximity entry. Unlike most mainstream crossovers, the Atlas Cross Sport features capacitive touch pads on all four doors. Oh, and these capacitive touch pads are extremely sensitive. Do you have both arms full of groceries and other things? No problem. Tap your elbow or leg or sick tats or even your back through a t-shirt and the Atlas Cross Sport's lock pads simply work.
On the inside of the Atlas Cross Sport, everything just makes so much sense. There's a volume knob on the left of the touchscreen, a tuning knob on the right, the heated steering wheel button is on the steering wheel and nothing is obtuse in any way. Climate controls? Three knobs. The left one's for the driver's climate zone, the centre one's for fan speed, the right one's for the passenger's climate zone, exactly as it should be. A small panel with buttons for heated and ventilated seats, among other things, sits directly above the two knobs while drive modes and the electronic handbrake sit just behind the standard, conventional-style shifter.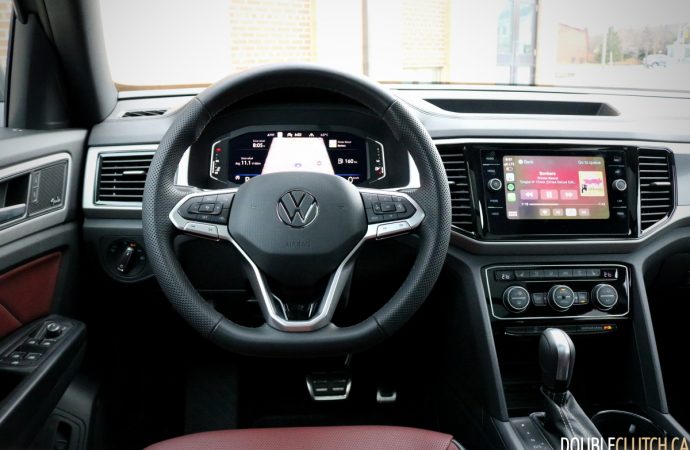 As a nod towards the future, USB-A ports are absent from the Atlas Cross Sport, although there are plenty of USB-C plugs for charging. Are you shamelessly cheap? No problem, even if you don't have a USB-C cable for your phone, plug your power brick into the household plug socket on the back of the centre console and you can charge your phone right up. When you're done, toss that cable to your passengers and enjoy wireless CarPlay that works flawlessly.
Powering for the Atlas Cross Sport is a choice of two different engines. The first engine is Volkswagen's omnipresent EA888 turbocharged four-banger making 235 horsepower and 268 lb-ft. of torque. It's probably fine, but the Atlas Cross Sport is large enough to have its own gravitational field so more thrust is likely desirable. Our tester came equipped with the 3.6-litre VR6 engine that makes nearly the same torque as the four-cylinder but 276 horsepower. It still won't set anyone's hair on fire, but the extra top-end pull is nice and it makes a really good noise getting up to speed.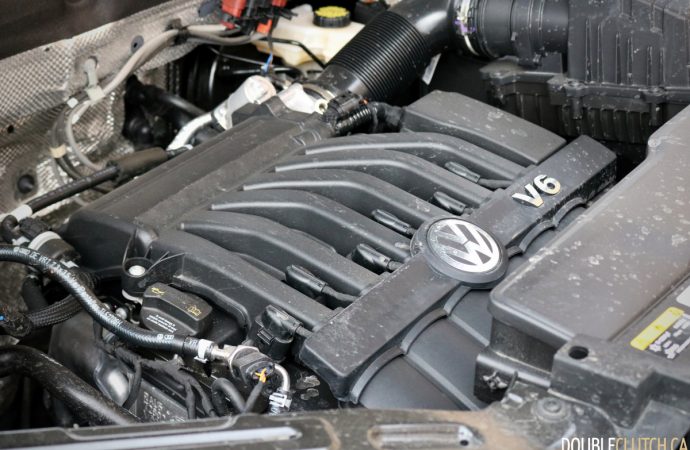 Regardless of engine choice, all Atlas Cross Sports feature an eight-speed automatic gearbox and 4MOTION all-wheel-drive. What does 4MOTION mean? In this case, a Haldex all-wheel-drive system that's mostly front-wheel-drive until the rear wheels slip, but it has a good marketing tradename and works reasonably well in snow. The automatic gearbox is reasonably smooth and does a great job of engine braking to slow the Atlas Cross Sport on downhill stretches of road and whilst coming to a stop. The ratios are also long enough that manual mode is entirely usable, plus there's a sport programming mode.
As for how the Atlas Cross Sport carries itself down the road, there's a distinct blend of lightness and solidity on display. For example, the ride is marvellously damped, neither floaty nor harsh. Moreover, the steering is light and effortless enough for easy parking but has a distinct on-centre when at speed. As for fuel economy, we averaged 11.2 L/100km over a week of driving, handily beating the government's estimate of 12.3 L/100km combined for V6 Atlas Cross Sport models.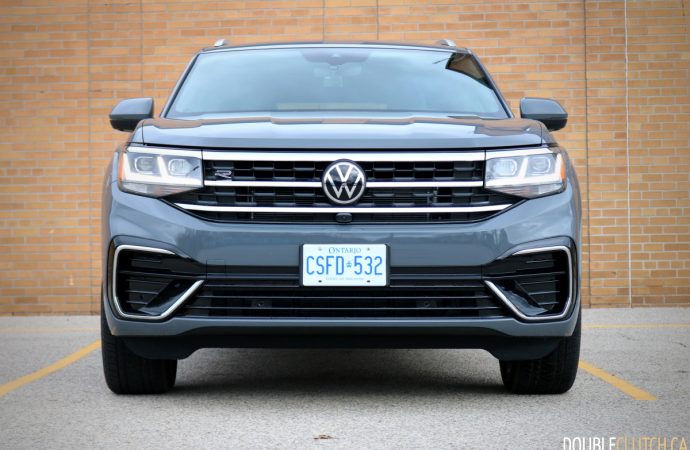 At $55,985 fully-loaded, the Atlas Cross Sport is a bit more expensive than its rivals. That being said, it's physically more car than its competitors. It's so wide that as soon as it leaves a parking spot in Toronto, developers put up condos there. A Smart Fortwo could fit inside the Atlas Cross Sport's wheelbase with almost enough space to spare for a footlong Cold Cut Combo from Subway. It's a genuinely family-sized two-row crossover that can comfortably fit three fully-grown teenagers in the back seat.
However, it does have a deadly rival. For just $1,300 more, Volkswagen offers the regular Atlas, a vehicle that adds an extra row of adult-sized seats, an extra 500 litres of cargo space and a minimal size gain of just seven centimetres of length over the Atlas Cross Sport. While some may find the Atlas Cross Sport to be more stylish than its three-row counterpart, opting for the extra space just makes so much sense. However, if two rows are all that you desire, it's difficult to beat the 2021 Volkswagen Atlas Cross Sport as an overall package.
See Also:
2021 Volkswagen Atlas Execline
2021 Honda Pilot Black Edition