Sure, other SUVs existed before Ford rolled out their PTA meeting assault vehicle in 1990 but none of them seemed to have the same mass appeal as Ford's mid-size SUV. Now over twenty years later, everyone offers an SUV of some sort and tall utility vehicles are still all the rage. We grabbed the keys to the new 2021 Ford Explorer Hybrid to see if Ford's bread and butter SUV can still hang with the segment's best.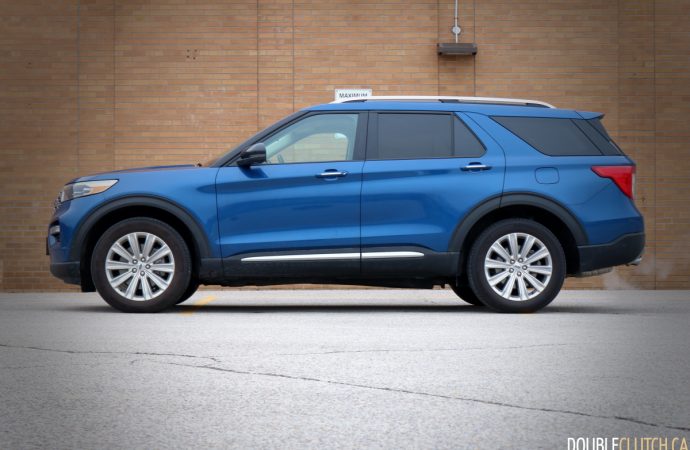 Upon first glance, the new Explorer certainly makes a good impression. It's a handsome thing with chiseled lines, modern LED lighting, squared-off edges and a long dash-to-axle ratio that helps cut a stylish silhouette. All Hybrid Explorers run on 20-inch wheels which do a good job of filling the wheel arches and don't fall into the common design trap of black wheels with diamond-cut accents. One interesting note, the Explorer Hybrid's tires are self-sealing which should make small punctures from road debris a thing of the past.
On the inside, logical is the word of the day. Ford was one of the first manufacturers to try capacitive touch controls and they got flamed harder than Kylie Jenner's Pepsi commercial for it, so everything in the new Explorer is controlled by nice, traditional buttons and knobs. Unfortunately, the main electronics are buggier than a cheap motel room in the run-down part of Niagara Falls. The entire infotainment crashed twice during our testing period and some functions in the cluster screen were more intermittent than sunny weather in Vancouver. Also disappointing in terms of electronics is the B&O stereo. With twelve speakers and the B&O name behind it, it should be impressive but distortion runs rampant and staging is sub-par. It's certainly loud, but loud doesn't mean good.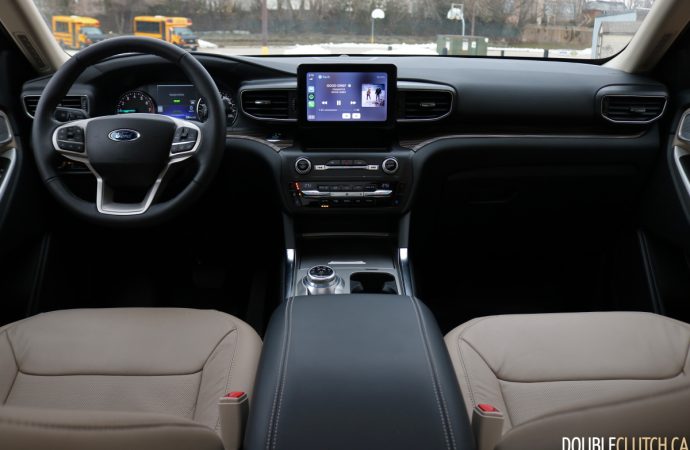 On the bright side, the Explorer's heated seats are strong enough to cook a DiGiorno on and the heated steering wheel completely negates the need for gloves in winter. For those with the BMI of a Cirque Du Soleil performer, the Explorer's climate features are positively superb. Also superb is the vast array of storage cubbies in the Explorer's interior. There's a deep one under the centre armrest, one with wireless charging for phones, one ahead of the shifter with USB ports, a 12-volt socket and a lid that can be closed while still allowing wires to pass through, one under the infotainment screen for a wallet or face mask and deep bins in the doors. Parenting comes with a lot of stuff and the parents who buy Explorers will find these cubbies indispensable.
Seat comfort in the Explorer is also quite good with fair upper back support, lumbar support that adjusts swiftly and plenty of thigh support. It's much the same story in the second row, although the bench seat optioned on our test car brings with it a curious quirk. The middle part of the bench doesn't appear to slide which hampers middle-seat comfort a bit. Moving back one more row, and the space limitations become more apparent. The Explorer's third-row just doesn't have legroom for adults which is disappointing when most competitors could accommodate adults in the way back comfortably enough for short trips.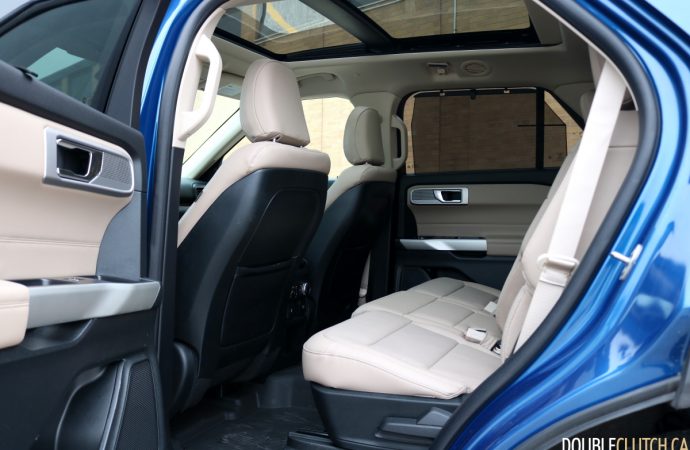 Instead of bunging in an eco-focused four-cylinder lump, Ford has fitted the Explorer Hybrid with 3.3-litre naturally-aspirated V6. Combined with an electric motor and viewed through the lens of fuzzy maths, it produces 318 horsepower and 322 lb.-ft. of torque which sounds quite good. However, the Explorer Hybrid weighs almost as much as a Kia Sorento with an entire original Mini bolted to the roof and that enormous weight disadvantage makes the Explorer Hybrid feel curiously inert. It's still certainly quicker than a Toyota Highlander Hybrid but it isn't quick enough to outgun a Kia Telluride, let alone a Honda Pilot.
What isn't fine is the ten-speed automatic transmission's programming. The average human being could make a cup of minute rice in the time it takes for the Explorer Hybrid to settle into tenth gear after merging while shift-flaring and harsh shifts are more commonplace than they should be. These faults are bad enough to sour many drivers, but combine them with abrupt transitions from electric to hybrid power and the whole powertrain stutter-steps its way into eliciting a tsunami of vomit from occupants in the second and third row seats.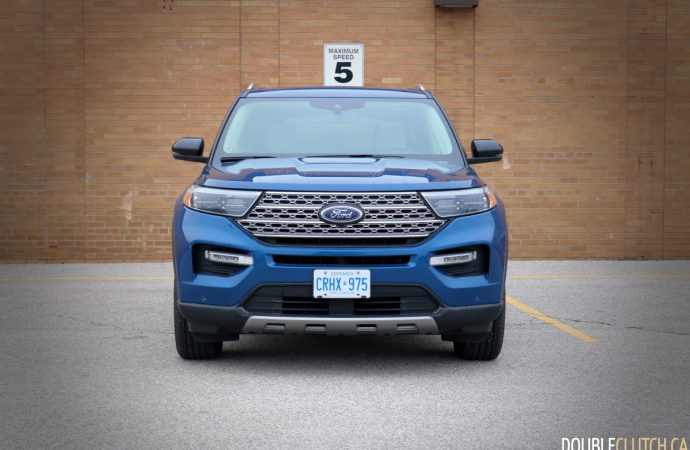 At least the hybrid system results in great fuel economy, right? Not so fast. Over our testing period we only saw 12.9 L/100km, significantly worse than the government's combined rating of 9.6 L/100km and worse than what we've seen from some traditional gasoline-powered competitors. While winter-blend gas certainly played a part in this, even with summer-blend gasoline the hybrid powertrain may be a false economy for some.
Powertrain hysterics aside, and that's putting a lot aside, the Explorer does handle and cruise better than most competitors. It features such an incredible sense of highway solidity thanks to good noise control, taut steering, a well-sorted ride and a hefty curb weight that guards against crosswinds. That taut steering may be much heavier than what most three-row crossover shoppers are used to but it has great on-centre feel and effort builds in a linear manner when the Explorer is thrown into a corner. Speaking of cornering, the Explorer Hybrid exhibits great confidence and grip when carving down highway on-ramps.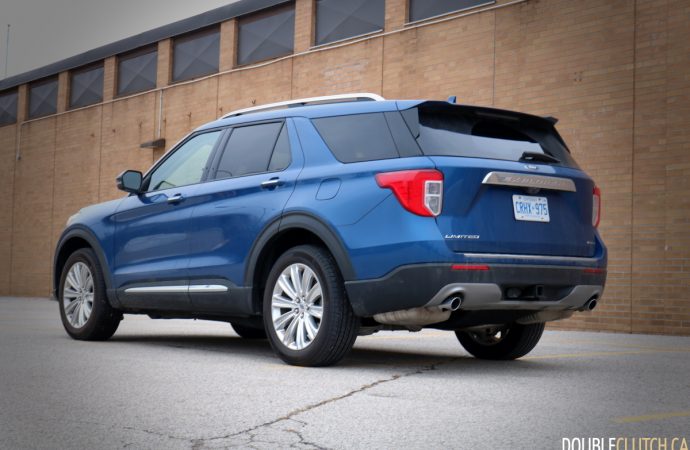 By canceling cars and expediting the roll-out of its new generation of SUVs, Ford adopted the "move fast and break stuff" mantra loved by many Silicon Valley tech bros who microdose psychedelics with their breakfasts. For those who have an IQ of more than seven, "move fast and break stuff" doesn't seem to be a great motto for something that will be the second-most expensive thing most Canadians will buy in their lives and something that has to work flawlessly at freeway speeds.
During our testing period with the Explorer Hybrid, the right-side second row map light fell out of the headliner, the aforementioned screen-based functions including Apple CarPlay disappeared now and then like everyone's TV remote and poor fit-and-finish was noted on the seat skins. All on a production-spec vehicle with less than 3,000 kilometres on the clock.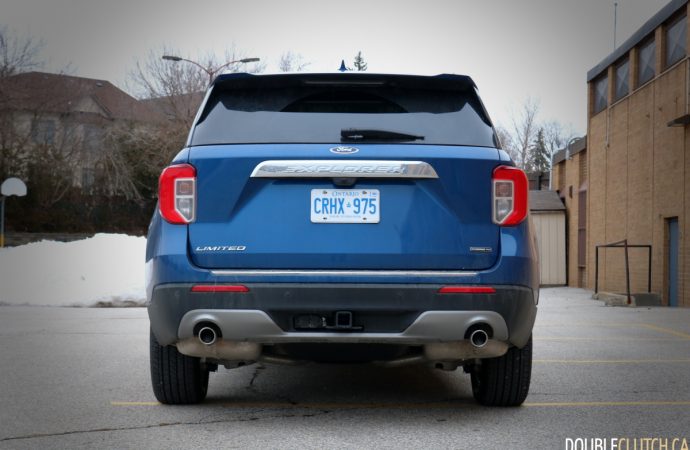 So then, the 2021 Ford Explorer Hybrid is a bit of a mixed bag. On the one hand it handles confidently, features plenty of storage cubbies, looks quite nice and is quite comfortable. On the other, it's poorly-built, inefficient, curiously inert and glitchy. That just leaves price to tip the balance, and unfortunately it doesn't do so positively. Because the Explorer Hybrid only comes in Limited trim, it starts at $57,299 in Canada. Add a few things that really should be standard or no-charge options at that price such as a panoramic moonroof and seating for seven and our test car totaled out to $60,449. That's $4,299 more than a fully-loaded Toyota Highlander Hybrid Limited Platinum which is the Explorer Hybrid's only competition.
Fundamentally, the 2021 Ford Explorer Hybrid isn't a bad car. It just needs a bit more time in the oven to finish baking in things like the electronics and transmission tuning. While we are disappointed in the current model, we're hopeful for the inevitable mid-cycle refresh.
See Also: