There are very few vehicles that come close to the iconic status of the Jeep Wrangler. While many other cars have come and gone, the Wrangler has managed to carry on over several decades and during this time, expanded to its own brand with several models. To celebrate, Jeep has released an anniversary edition on a handful of models. We got behind the wheel of the one that started it all; a 2021 Jeep Wrangler Unlimited 80th Anniversary in a beautiful shade of Sarge Green.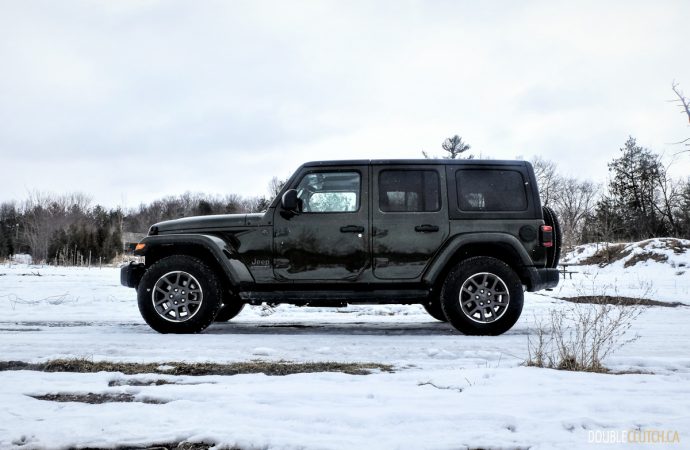 The Wrangler marches to its own drum and makes no excuses. There have been improvements to its on road manners, engines and user technology but not much has changed to the delight of loyal owners. As someone who has never owned a Jeep, my week behind the wheel of a Jeep Wrangler was truly an eye opener. Inside, where I normally look for small panel gaps, soft touch materials and a quiet ride, I got none of these qualities.
But then I came to realize why none of this matters to buyers. If it wasn't the dead of winter, the first thing I would have done is used the tool kit provided by Jeep to remove the doors, roof and lower the front windshield. Panel gaps make this chore easier to manage. Soft touch materials get dirty and become difficult to clean, and the cloth seat covers can be removed and washed, not so with leather.  Road noise is part of the Wrangler's charm. This is no luxury car where silence is king, and that's okay.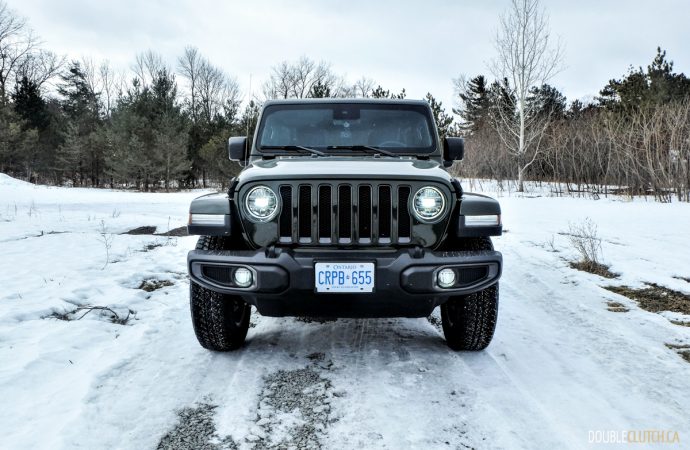 Jeep has blessed the Wrangler with their Uconnect infotainment system which remains one of the most intuitive in the industry. Standard Android Auto and Apple CarPlay make usage a snap. The system is quick to react and gives access to all of the functions you would expect to find and also variables such as pitch and descent, coolant temperature and transmission temperature in the Off Road app. The 8.4-inch screen is average in size and does the job., with high resolution and an impressive rear view camera.
With this being the 80th Anniversary Edition, buyers may be expecting some crazy design cues or badges adorning the interior; prepare to be surprised. Jeep has been quite modest in this regard as they use emblems with silhouettes of a Jeep emblems on the shift knob and console. Small tags are also found on the seats and floor mats. A much larger 80th Anniversary plaque is in the cargo area that proudly shows off the vehicle's heritage.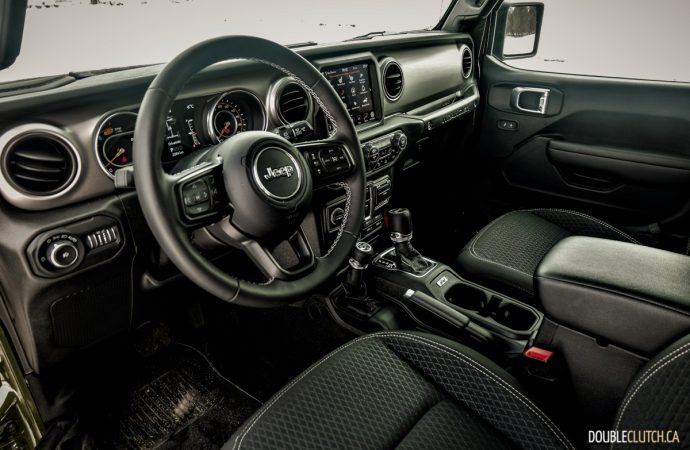 The Wrangler has not strayed far from the original design, but has managed to stay modern enough as not to alienate its core buyers. The 80th Anniversary Edition comes with exclusive 18-inch Granite Crystal Wheels mounted on 255/70R18 BSW all-terrain tires. There are anniversary badges on both front fenders and for off-road fun, and a heavy duty suspension with gas shocks.
Power in this model comes from the 2.0-liter turbocharged four-cylinder that pushes out a robust 270 horsepower and 295 lb-ft. of torque.  It can be optioned with the V6 for an additional $400 or the 3.0-liter EcoDiesel for an eye popping $7,595. Though the Turbo four may be down on horsepower when compared to the six, the additional 35 lb-ft. of torque make it a more usable daily driver when powering off the line and also offers better fuel economy. All 80th Anniversary models come with an eight-speed automatic transmission.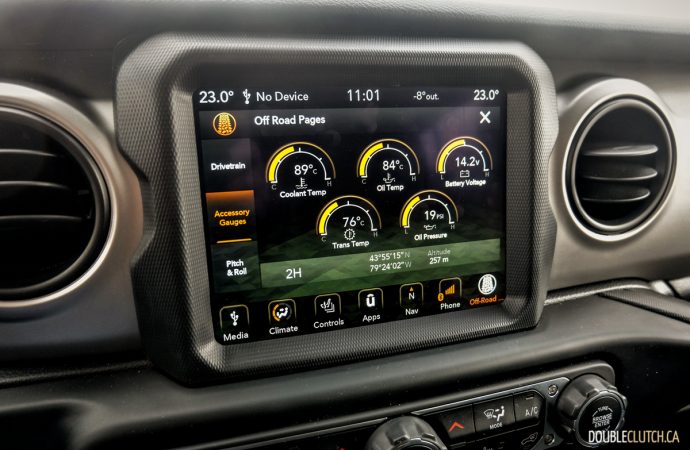 The turbo-four and automatic transmission work well together with smooth shifts and power exactly when the Jeep needs it. Drivers can expect a 0-100km/h sprint time of around seven seconds. Buyers should note that during cold starts, the engine can be a bit loud and raspy, perfectly expected for a modern turbocharged engine, but things settle down once it warms up. Sadly during my test week, deep snow never came so we didn't have the opportunity to test the Wrangler in harsh weather.
With the Jeep Wrangler spitting in the face of aerodynamics, road and wind noise are quite apparent but in keeping with its appeal, nothing less is expected. It's loud on the highway and crosswinds will keep your hands full especially since the slow steering takes some getting used to. For the class of vehicle, space for things and adventures is more than adequate. The cargo area can fit 898-litres of camping gear and with the rear seats folded down, this jumps to 2050 litres.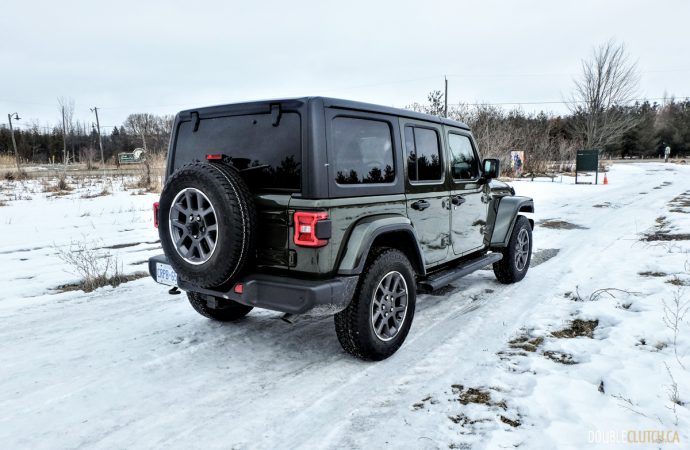 Even though the average Wrangler buyer will not rate fuel economy as a key reason for purchasing this icon, Jeep has expanded their lineup from the tried and true V6 for the purpose of maximizing efficiency. Our Wrangler with the 2.0-liter turbo-four and automatic transmission is rated for 11.5L/100km city and 9.9L/100km on the highway. We observed 12.1L/100km with a heavy city mix over our test, as well as cold temperatures. This engine only requires 87-octane regular fuel for optimal performance.
Pricing for the 2021 Jeep Wrangler Unlimited with this trim level starts at $46,888. Our tester with options and upgrades that are too numerous to list here bring the total cost to $60,220, which is significant. The beauty of opting for a Wrangler is that enough customization is available right at the dealer so buyers can have exactly what they want.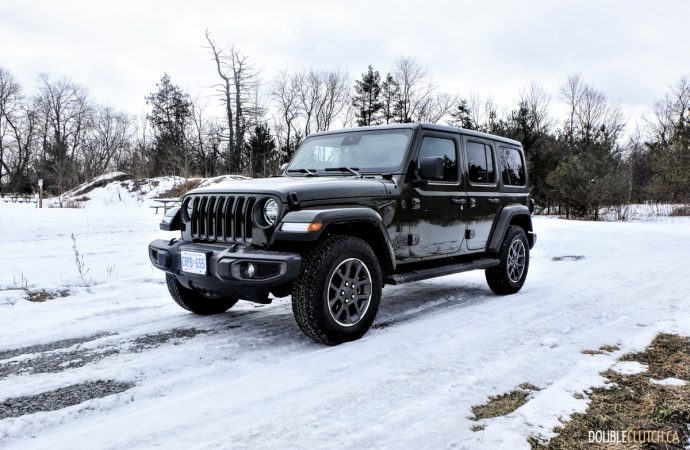 The success of the Jeep Wrangler comes from its ability to attract buyers that normally aren't "car people".  These customers are more forgiving of its shortcomings such as ride, fuel economy or value in favour of factors like the rugged looks, capability and the feeling of being part of a larger community.  The fantastic resale value is a nice bonus where most vehicles normally drop significantly year after year.
For 2021, the Jeep Wrangler faces its biggest competition ever in the face of Ford's all new Bronco.  With a fresh face and strong off road capabilities, Jeep has every right to look over their shoulders.  However, pretenders to the throne have come and gone while we now celebrate the 2021 Jeep Wrangler Unlimited 80th Anniversary. Let's see if the new contender can stand the test of time.
See Also:
2021 Jeep Wrangler Sahara EcoDiesel