You have all heard this before – minivans are uncool and minivans are awesome. These two statements are usually used in a mutually exclusive manner though; no one wants to be seen driving a minivan, yet everyone who has spent time with one suddenly cannot stop talking about the new lifestyle. Recognizing this paradox, Kia Canada introduced the all-new 2022 Kia Carnival, and touted it as a new Life Utility Vehicle with SUV-inspired design and a luxurious interior in hopes of recreating the minivan image.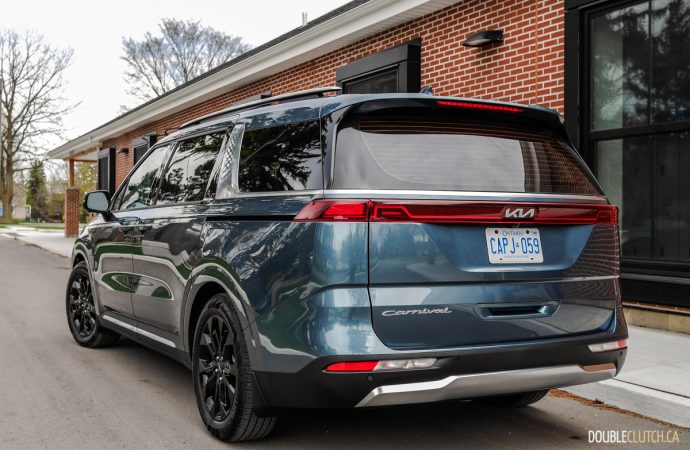 The 2022 Kia Carnival features the traditional body shape of a minivan, with a short front overhang and a boxy silhouette. The ride height looks a bit raised to resemble a crossover and the front end is stylishly sculpted to incorporate a sleek looking grille and front bumper design. The brand-new Kia logo is displayed proudly all around the vehicle to denote the company's continued transformation from strictly value to a more premium and well-rounded brand, and the Carnival's distinctive appearance is one that will surely further elevate its brand image.
Powered by a 3.5-litre V6 GDI engine with 290-horsepower and 262 lb-ft. of torque, the Carnival packs plenty of get-up-and-go power. The powertrain is creamy smooth and drivers with a gentle right foot will be rewarded with poised and linear power delivery. The eight-speed automatic transmission delivers power to its front wheels seamlessly with a slight lag only during abrupt throttle commands. While some would balk at the V6's 12.0L/100km city and 8.9L/100km highway fuel economy, we think the trade-off is worth it as the Carnival has one of the most refined powertrains amongst all mid-size crossovers.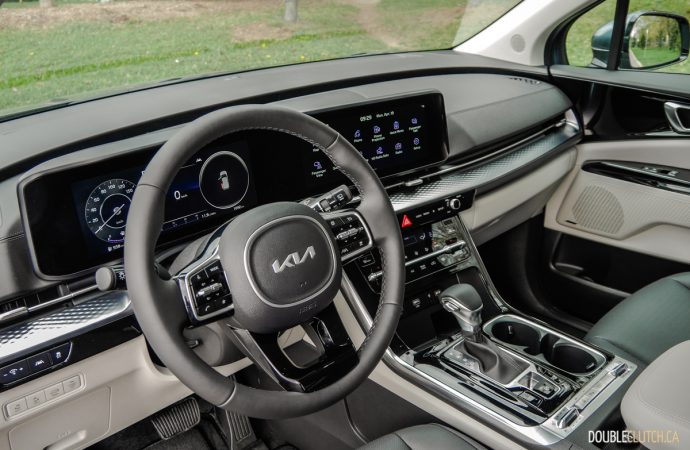 The Carnival is a big car and drivers can feel its bulkiness behind the wheel. There is good road feel transmitted but drivers will definitely have to be mindful of its size and moderate their speed in corners which is typical for this segment. The suspension is tuned for street comfort as it soaks up road imperfections admirably without feeling floaty, and harshness is well isolated from the cabin. Overall the cabin is quiet but we noted that the Kia Telluride does a better job in keeping out wind and tire noise.
Kia has made a significant effort in ensuring that the Carnival features a luxurious interior space that rivals many luxury crossovers. The combination of high-gloss black and chrome trims create a futuristic atmosphere and we love the clever integration of the air vents with the dashboard. The front seats are nicely cushioned but we find the seatbacks too flat for longer trips, and their seating ergonomics can be improved with the addition of a higher armrest.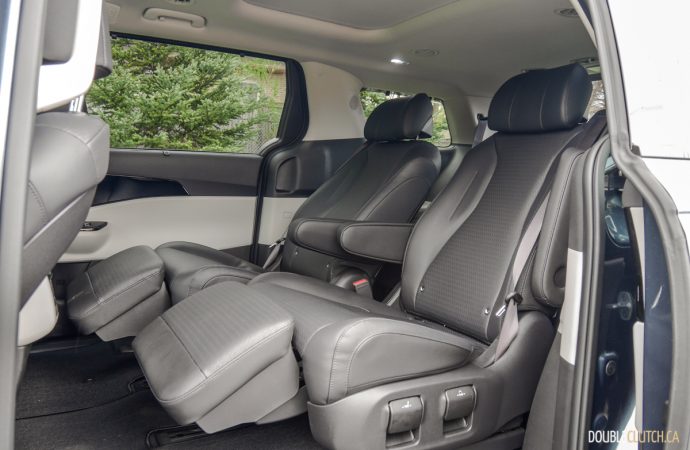 Where you can find armrests, four of them to be exact, is in the second row where we were treated to a business class-esque experience with the optional VIP Lounge Seats that are heated, cooled, and power-adjustable. The head and leg rests can extend at a touch of a button to allow the occupants to truly relax during the journey, and the seats ride on a long rail to give a limousine-like legroom. The third row is no penalty box either with easy entry through the captain's seats and you can fit up to 1,139 litres of cargo behind.
Infotainment is controlled using the 12.3-inch touchscreen display atop the centre console with an intuitive software design and vivid graphics. Wireless Apple CarPlay and Android Auto is supported, and there are nine USB charging ports, two inverters, and a wireless charger onboard to keep those devices and playlists going. Kia has included a couple of smart functions designed for parents with younger children; a Quiet Mode in the main menu that quickly turns off all the speakers behind the front row and a Passenger Talk feature that projects the front row occupants' voice to the back through its speakers. These features are designed around real users and enhances its appeal for families.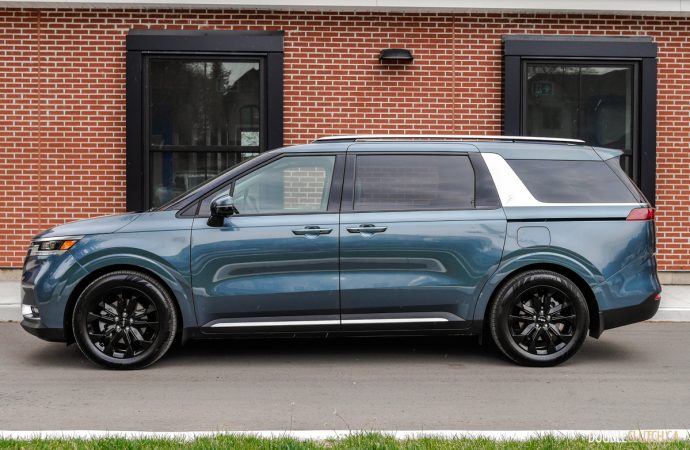 A full suite of drivers assistance features is available for the 2022 Kia Carnival, including standard Lane Keeping and Following Assist, Smart Cruise Control, high Beam Assist, Forward Collision-Avoidance Assist, and Rear Occupant Alert systems, as well as optional features such as surround-view monitor, blind-spot view monitor, Smart Cruise Control with Highway Driving Assist, and Safe Exist Assist systems.
The 2022 Kia Carnival starts at $34,495 for the base LX model and tops out at $48,295 for the top-of-line SX trim. Time will tell whether the Life Utility Vehicle concept will hit it off with the public and be perceived as cool and trendy, but early indication is that the Carnival is way more than just the good old boring minivan and prospective buyers will find real value in it with its long list of features and unbeatable comfort wrapped in a premium package.
See Also:
2021 Toyota Sienna Limited AWD