This latest generation of parents is most curious – it seems as though everybody needs a three-row crossover immediately after their first child is born. In my day, we all got by with sedans, coupés and in some cases, station wagons. Regardless, if you're in the market for a large crossover, the choices are endless. From segment leaders like the Honda Pilot (reviewed here) and the Toyota Highlander to more engaging entries like the Mazda CX-9, there's a family hauler for everyone. In 2019, two new entries from South Korea have captured this market by storm – the Hyundai Palisade (reviewed here) and Kia Telluride.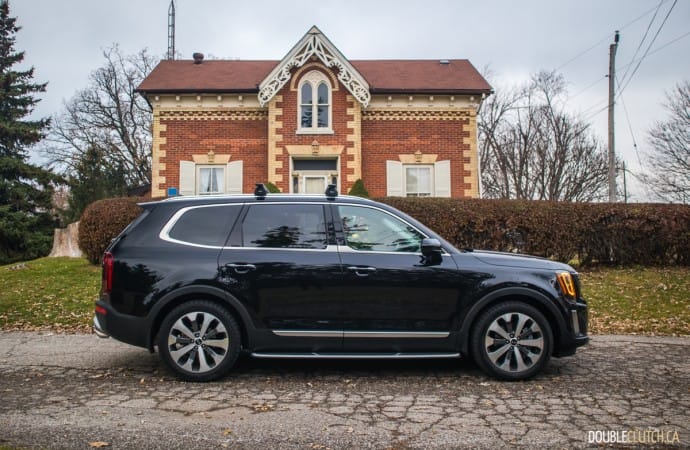 These twins, built on the same underpinnings and packing the same powertrain, are trying to change the game by bringing their respective brands upmarket, offering more premium amenities and higher quality than their Japanese rivals at a very similar price. We have carefully evaluated every entry in this segment and typically recommend the Pilot for its overall package and the new Subaru Ascent Convenience (reviewed here) to those who really seek basic value – until now. This 2020 Kia Telluride SX makes a great first impression and seeks to provide more than just basic transportation.
With three rows as standard equipment, the Telluride is a size up from its Sorento sibling, which gets pretty tight if you load up all of the seats. I'll get this right out of the way – the new Telluride, along with its sibling the Hyundai Palisade, is just about the best large crossover currently offered by a mainstream manufacturer. In fact, it even surpasses certain luxury entries like the Acura MDX and Volvo XC90 (reviewed here) in many aspects, including road feel and overall comfort. The boxy styling evokes that of the flagship Range Rover, with its 20-inch wheels, crisp lines and an attractive stance on the road.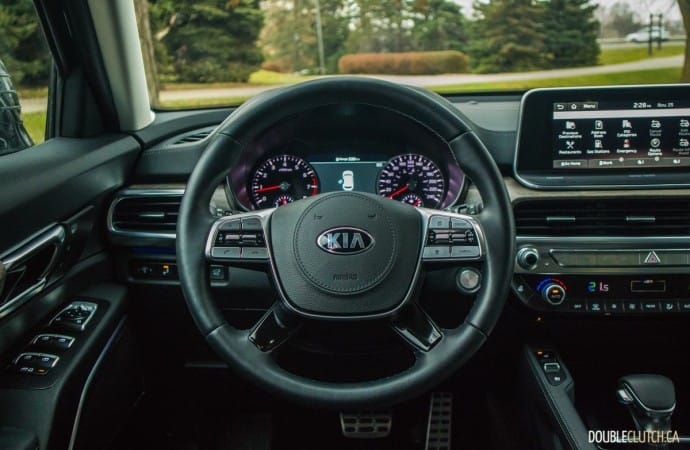 The 3.8-liter direct-injected V6 is naturally aspirated, with creamy smoothness in its power delivery. The Telluride is not fast by any means, and there are times when we wish it had 50 more horsepower, but the average buyer will never notice. The quick response of the naturally aspirated six-cylinder is preferred over the turbocharged-fours in the Mazda CX-9 and Ascent, with immediacy and virtually no lag. The Kia packs 291 horsepower at 6,000RPM, and 262 lb-ft. of torque at 5,200RPM. While smooth in delivery, the Telluride could benefit from some more torque off the line, though it comes alive in the higher end of the rev range.
An eight-speed automatic transmission does a great job keeping power on tap when needed – adjustable drive modes calibrate the throttle response and transmission shift points to the specific driving situation. There are no paddle shifters available, which is fine, because the average Telluride buyer has no motivation to change their own gears. This all comes in for rated fuel economy of 12.5L/100km city and 9.6L/100km on the highway, operating on 87-octane fuel. Our test consisted of cold weather conditions and resulted in 12.1L/100km.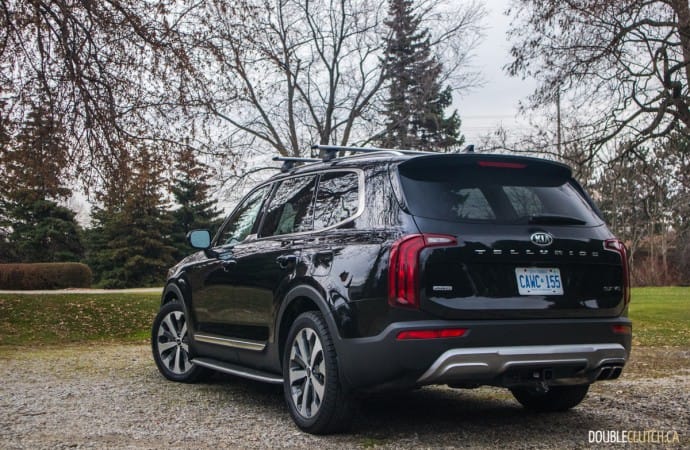 We actually had the chance to take the Telluride up north for a 300km round trip into cottage country, including towing an unloaded 1,500-pound trailer for the first half of the trip. This wasn't even close to being an issue, as Kia rates their largest crossover to tow a generous 5,000 pounds. Total highway efficiency observed was 10.0L/100km, though our managing editor took an SX Limited (reviewed here) on an extended voyage to Ottawa, and observed 9.3L/100km loaded with passengers.
Perhaps the most impressive characteristic of the Telluride is road comfort and feel. Its smoothness surpasses that of the more expensive and premium Acura MDX and Infiniti QX60 (reviewed here), and is definitely segment topping when compared to three-row crossovers at its own price point. It's exceptionally quiet at highway speeds, with virtually no road or tire noise allowed into the cabin. It rides well too, about the best it gets without going to an air suspension setup. The benefit here is that the Telluride maintains a traditional suspension layout and won't cost an arm and a leg when worn components have to be refreshed down the road.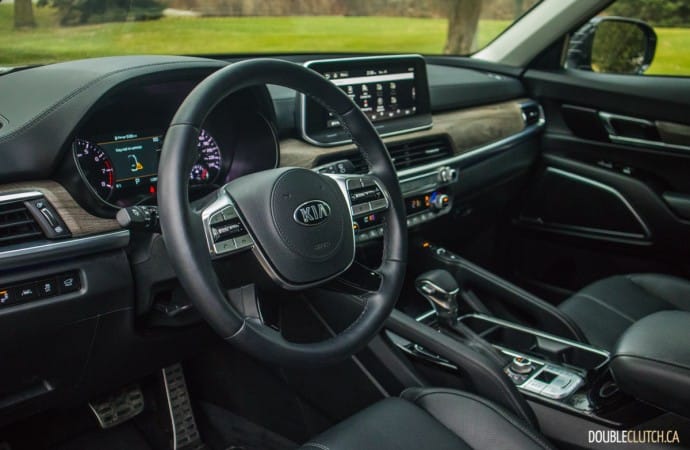 The interior is a spectacular place to spend time. Our SX V6 tester had a rather simplistic black colour scheme, but the seats (heated and cooled up front) are supremely comfortable. The Nappa leather available in the top-trim SX Limited is nice, but at $5,000 less, the standard synthetic leather does just fine. The open pore wood trim looks great, and a step up from the dust-attracting piano black in the Pilot and CX-9. The seats are very comfortable, with adjustable thigh support for the driver. Surprisingly, the third row is actually usable for adults, albeit just barely. It'll suffice well for kids, and 601-liters of cargo will fit even with eight people on board.
A 10.25-inch infotainment houses Kia's UVO system, which supports Apple CarPlay and Android Auto. It's a straightforward interface, with physical buttons for major functions rather than full reliance on the touchscreen. Depending on your size and seating position, controlling Apple CarPlay or Android Auto using the touchscreen may require a far reach, which can be cumbersome. The Palisade is no better in this regard – both could benefit from a control knob mounted within arm's reach. All things considered, the Palisade has a slightly more upscale and visually appealing interior. A great feature is the implementation of cameras in the side-view mirrors that bring up an image of the blind spot in the gauge cluster when changing lanes – very nifty.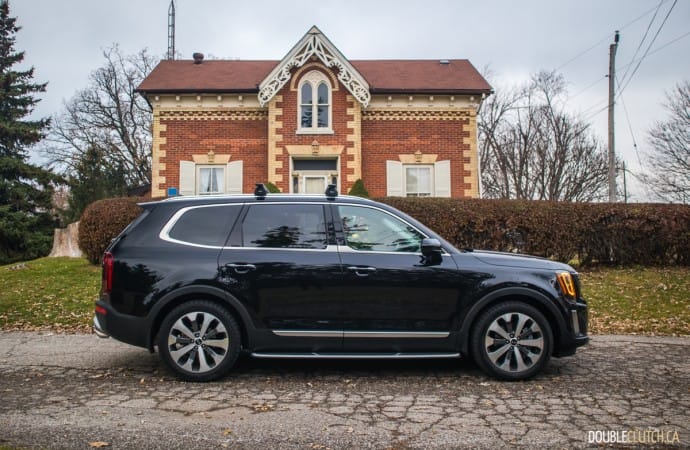 Kia Canada prices the Telluride from $44,995 for the basic EX, which comes standard with wireless charging, heated seats and steering wheel, the 10.25-inch screen, Apple CarPlay/Android Auto, V6 engine and all-wheel-drive. The SX tested here at $49,995 adds a 360-degree camera, blind-spot monitoring, Harman/Kardon sound, ventilated seats, dual sunroofs, and interior ambient lighting. The $53,995 SX Limited adds a self-leveling rear suspension, captain's chairs in the second row, heated and cooled second row seats, and a heads-up display. One omission on the SX tester is rain-sensing wipers, which are only available on the SX Limited.
It's not often we get excited about three-row crossovers, but this is one that I couldn't stop raving about throughout the test week. The 2020 Kia Telluride SX punches above its weight class in many ways. While other crossovers are competing for fuel efficiency, electrification and weight savings, Kia has genuinely knocked it out of the park with luxury, comfort, and road manners. Between the Telluride and Palisade, you really can't make a poor decision – they really are the best of the best right now.

See Also:
2020 Kia Telluride SX Limited
2019 Honda Pilot Touring AWD
2020 Subaru Ascent Convenience