The third-generation Mazda6 has been around since 2014 and has long been one of our favourite models in the segment as it relates to driving engagement and interior quality. Despite being long in the tooth, the Mazda6's design has held up well. For the last model year of this generation, Mazda introduced a special edition to give it a proper sendoff before the highly anticipated fourth generation model, and we managed snag the keys. This is the 2021 Mazda6 Kuro Edition.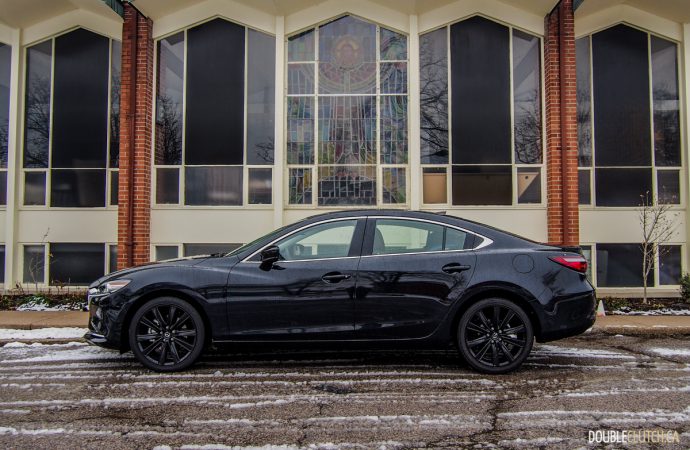 The Kuro Edition comes in Polymetal Grey or the Jet Black exterior colour like our tester. It features 19-inch black wheels with gloss black side mirrors for a quasi stealth fighter look. The Mazda6 is still a good-looking car even after seven years in production and the fluid bodylines and handsome proportions contributed a lot to this handsome profile.
An upgraded 2.5-litre SKYACTIV-G turbocharged engine lines all Mazda6 Kuro Edition and Signature models. Horsepower is rated at 250 at 5,000RPM, and torque is measured at a healthy 320 lb-ft. at 2,500RPM. There is a bit of turbo lag when you get moving from a standstill before the turbocharger spools up, but the Mazda6 picks up speed quickly and will surprise a lot of mainstream sedans in a drag race.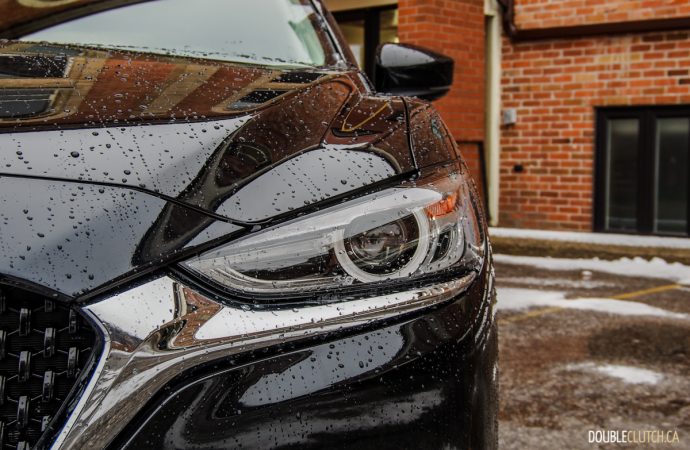 Mazda is a company that emphasizes driving dynamics and the Mazda6 has remained one of the more engaging mid-size sedans in its segment. Mazda's G-Vectoring Control system uses the engine to optimize load control in the corners which in turn creates a nimble and lively driving experience, and we enjoyed the good road feel that gets transmitted into the driver's hands. With rumor swirling that the next generation Mazda6 will be going rear wheel drive, this might be the last to use its front wheels to drive and it was still a solid one.
Fuel economy is rated at 10.0L/100km in the city and 7.5L/100km on the highway. We observed a thirsty 11.5L/100km during our week of city-heavy commuting, but we noted that the wintry conditions experienced during our test drive negatively impacted fuel consumption results. While the turbocharged powerplant's rated output is based on 93-octane fuel, it can accept regular fuel and its horsepower output will drop to 227. The Mazda6's fuel tank capacity is measured at 62 litres, about on par for the class.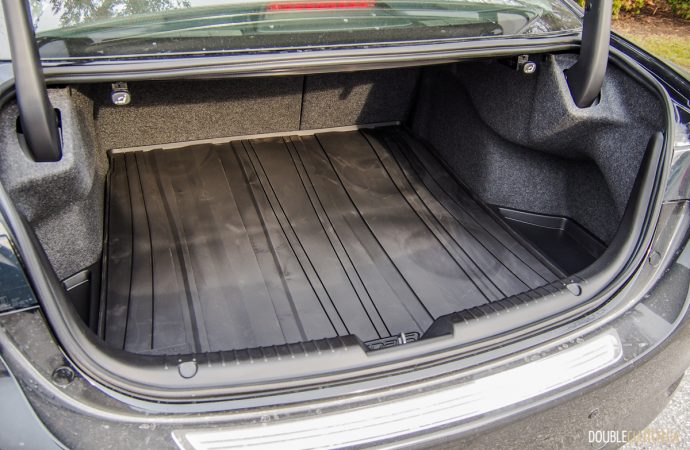 Another strong suit of the Mazda6 lies in its simplistic and elegant interior design. It is pleasing to the eyes and materials manage to rival some entry-level luxury sedans like the Acura TLX or the Lexus IS. The 2021 Mazda6 Kuro Edition receives dedicated Garnet Red leather seats and black hairline accents on its interior panels that accentuates the appearance.
Mazda has opted to use a combination of digital and traditional dials in the instrument cluster. We would have liked to see the digital multi-information display improve to include more information such as media or navigation. A head-up display is standard on the GT trim and above, and remains one of the better systems in the segment with clever inclusion of blind spot information and road sign display.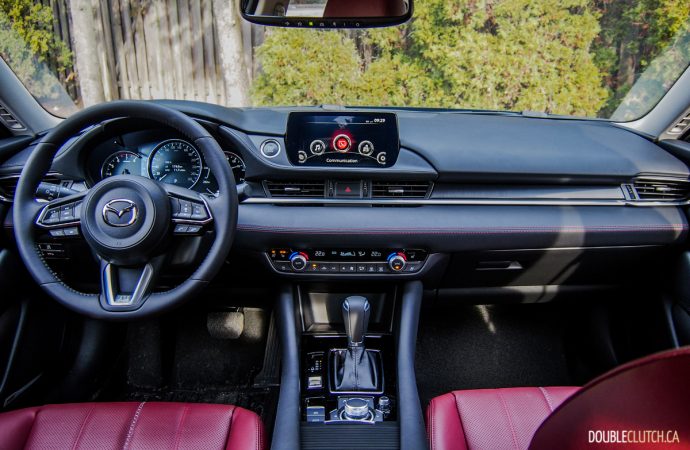 The Mazda6 has below-average cabin space in the segment. Head and legroom up front are acceptable but taller passengers will feel tight in the rear. The seats are supportive and we like that they are heated and ventilated in front, and the two outbound rear seats are heated. The Mazda6 has a firm and sporty ride but it's not harsh by any measure, and interior noise level is nicely controlled as well. We observed a wide opening for the 416-litre trunk, allowing for ease when loading awkwardly-shaped objects.
The weakest link to the Mazda6's interior remains the standard eight-inch touchscreen and the infotainment that it houses. The screen size and resolution are not up to par when compared to most of its peers and the operation is rather clunky. Accessing basic functions such as navigation and radio presets often require digging through submenus using the rotary knob. The good news is that Apple CarPlay and Android Auto integration is now standard on all Mazda6 models, and GT and above trims now support wireless CarPlay connectivity along with an excellent eleven-speaker premium Bose audio system.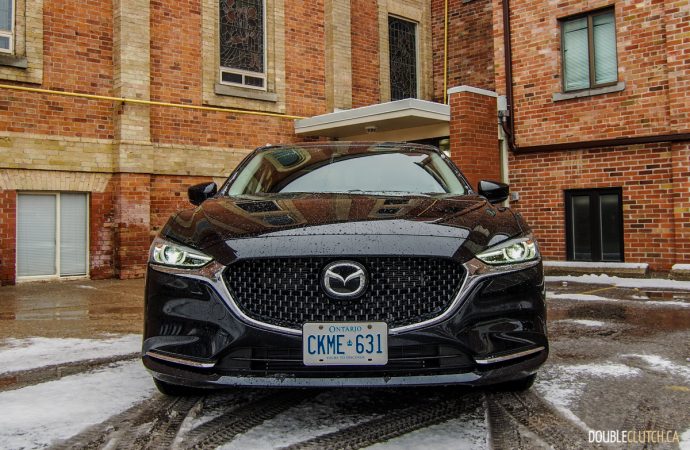 The 2021 Mazda6 Kuro Edition is equipped with most of the safety and driver assist features found in the lineup. These features include Advanced Blind Spot Monitoring, Rear Cross Traffic Alert, Lane Keep Assist, Lane Departure Warning, 360-degree view monitor, and Smart City Brake Support front systems. We expect the next generation Mazda6 to have a full suite of proactive safety and driver's assistance systems across all trim levels.
The Mazda6 starts at $27,550 with our as-tested 2021 Mazda6 Kuro Edition asking for an all-inclusive price of $37,950, which includes freight and PDI as well. It competes closely with Honda Accord 2.0T and they both offer similar performance in front-drive layouts. The Mazda6 has a more engaging driving dynamic, while the Accord is the all-around choice with better interior space and a more intuitive infotainment system.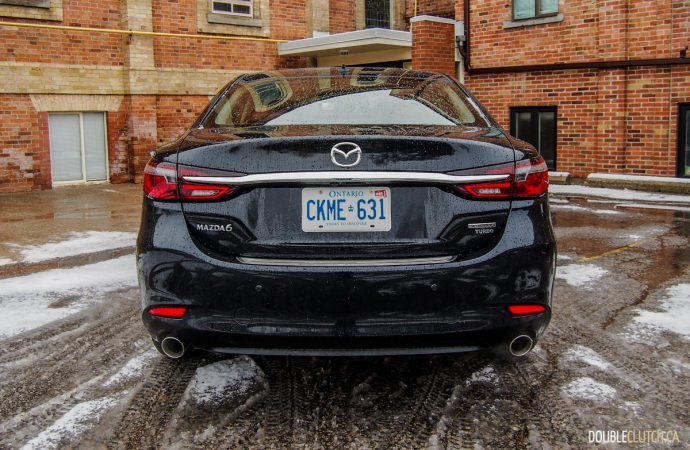 The 2021 Mazda6 Kuro Edition is an elder member of the mainstream midsize sedan segment but has managed to stay relevant with its sporty looks and handling. However, the segment is quickly changing with the new Nissan Altima and the Toyota Camry going all-wheel drive. If the rumors about the next generation Mazda6 are true, it will also go through drastic changes to incorporate an inline-six engine and rear wheel drive with an all-new styling, and we await to see it unveiled in the near future.
See Also:
2019 Honda Accord Touring 2.0T