In Canada, snowier winter climates mean that consumers gravitate to all-wheel drive equipped vehicles for family use. The crossover sport utility vehicle craze certainly plays on the heartstrings even more, with practicality and all-weather usage crammed into one. While a front-wheel drive car with proper winter tires will still excel in the vast majority of situations, automakers are not asleep at the switch and are beginning to offer all-wheel drive in more vehicles in their fleet. The 2020 Nissan Altima Platinum that the DoubleClutch.ca Magazine team has this week is one such sedan, and comes with all-wheel drive as standard equipment. It'll be in the ring with competitors like the Subaru Legacy, and starting for the 2020 model year, the Toyota Camry as well.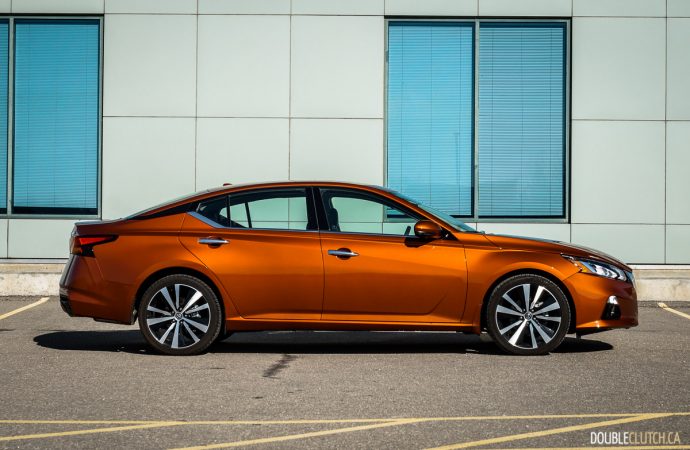 Altima sedans come in three trim levels – S, SV, and Platinum. While the base S starts at $28,098, the top-tier Platinum weighs in at $35,098. For your money over the S and SV, there's voice command navigation, Bose audio, 19-inch wheels, LED headlights, power sunroof, dual-zone automatic climate control, a 360-degree camera system, a remote start system, Apple CarPlay and Android Auto, eight-way power driver and four-way power passenger seats, leather seating surfaces, and a heated steering wheel. The only options available are $135 to $300 for premium paint options – including the test car's snazzy Sunset Drift – but buyers will have to cough up for all colours except black.
For safety, the Altima features all of today's autonomous technology. There's a forward and rearward collision warning system with pedestrian detecting and automatic braking, lane departure warning with lane keeping steering assist, a blind spot monitor, a rear cross-traffic alert system, as well as adaptive cruise control with steering assist.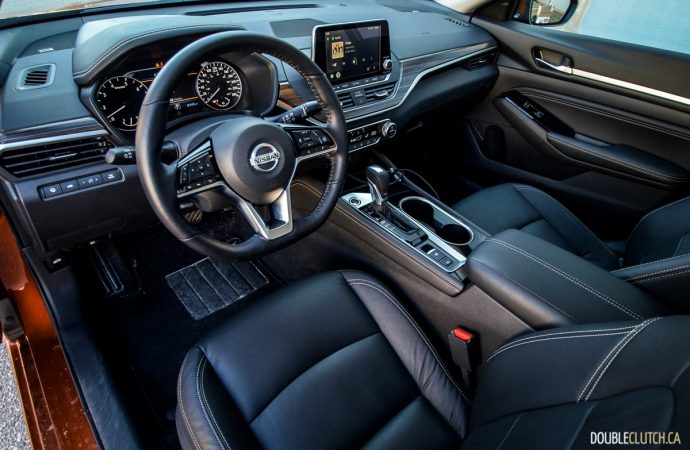 As a family car, the Nissan Altima puts practicality just about near the top of its list. There's ample legroom in all seating positions, although the relatively fast roofline does cut into rear seat head room a bit. Nissan touts the Altima's space-age seats as Zero Gravity, which are supposed to reduce fatigue on longer drives. Despite the fancy name, even average height drivers will find themselves wishing for more thigh support thanks to a very short bottom cushion. To be fair though, bottom cushion support is probably not very important in a gravity-free environment like space.
On the plus side, the midsize Nissan brings to the table a decently sized trunk, albeit one with big cargo-crushing gooseneck hinges. With the rear seats folded, moving a folding 25-foot ladder was no sweat, and the Altima found itself making itself useful for cargo all week long. As for the rest of what's inside, interior fit and finish is good, although its slightly cheap material could be better – ditching the fake wood trim would be a good start.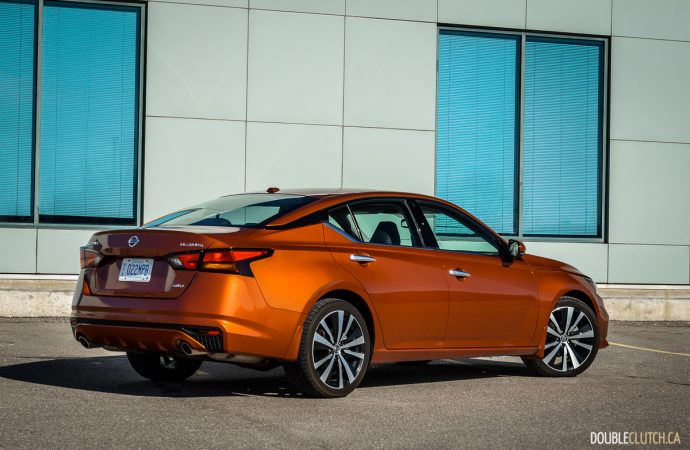 Canadian Altimas are available with only one powertrain option – a 2.5-litre four-cylinder. Peak output is 182 horsepower at 6,000RPM, as well as 178 lb-ft. of torque at 3,600RPM. The relatively smooth big four is paired to a continuously variable automatic transmission (CVT), which does an admirable job of keeping the Altima in its optimal torque band. There's plenty of grunt at around 2,000RPM, and the CVT is more than happy to keep the revs around that point under normal day-to-day driving. Gone is the high strung, constant rubber band feel that used to be characteristic with CVTs – Nissan got it right with this one. Americans, whose warmer climate can get front-wheel drive, are also offered a turbocharged 248 horsepower 2.0-litre in addition to the base 2.5.
Fuel economy ratings for the 2020 Altima are nominally rated at 9.3L/100KM in the city, and 6.7L/100KM on the highway. Tank capacity is 60.6 litres, and regular octane fuel is acceptable. With a bias towards more cold weather city driving in dense downtown Toronto traffic, observed economy came in at 10.0L/100KM. In any case, these figures are quite respectable for the extra weight and drivetrain losses of all-wheel drive, and having all four wheels driven doesn't result in the same kind of fuel economy penalties as before – the Altima can disconnect from driving the rear axle when it is not needed.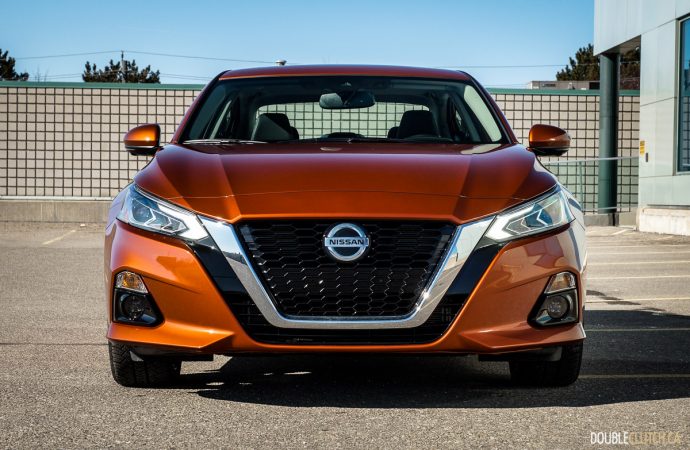 On the road, the Altima Platinum has noticeably agile steering when running around town. Tossing the family sedan around turns and into off-ramps was quite fun, which beats out the archrival Subaru Legacy by decent margin. The 235-section width tires and 19-inch wheels likely have a good bit to do with the good handling prowess, although body control, overall grip, and stability at the limit don't hold a candle to the TNGA-platform Toyota Camry. Ride quality is tuned well for daily comfort, and the cabin features noise-insulating double pane side glass. While this does help a lot with high-speed wind noise, it's mismatched with thinner sound deadening underneath the car that lets in road (tire) and suspension impact noise.
Despite a shrinking market share, sedans are still a big volume seller and source of profit for automakers. Nissan cannot afford to neglect non-crossovers like the Altima, and they've done well enough here. Compared to the Subaru Legacy, the Altima has the edge on driving dynamics, infotainment ergonomics, a slight win on price (Legacy Premier is $36,295), but doesn't have as capable an all-wheel drive system. Against the $36,650 Toyota Camry XSE AWD, the Nissan once again just barely wins on price, but that's about it. Overall, the 2020 Nissan Altima Platinum is a jack of all trades that drives well with only a few misses with well intentions.

See Also:
2020 Subaru Legacy Limited
2019 Honda Accord Touring 2.0T
2019 Toyota Camry XSE V6