WHISTLER, BRITISH COLUMBIA – Over the past decade, Volkswagen has teased us with numerous concepts that would eventually replace the Touareg premium sport-utility. While none of them really came to fruition, we were instead graced with the gigantic Atlas (reviewed here) three-row and the second generation Tiguan, both competitive entries in their respective classes. This time around though, a new player has entered the ring – we were invited to Whistler to sample the 2020 Volkswagen Atlas Cross Sport, a two-row entry that'll rival other popular crossovers.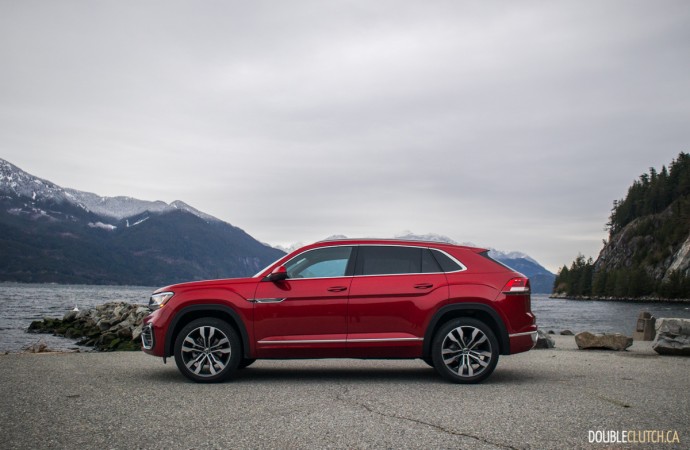 The Atlas Cross Sport sits on the same MQB platform as its larger sibling, and also shares its underpinnings with the Golf, Jetta, and Audi A3 among others. Though shorter than the Atlas, the Cross Sport shares its wheelbase and makes do with shorter overhangs thanks to cuts made front and rear. The proportions are fairly handsome, and with no available third row, rear seat legroom is fairly generous. The Atlas Cross Sport's design is in line with other models in Volkswagen's current portfolio, with a sloped roofline and raked rear end reminiscent of the Audi Q8 (reviewed here).
That said though, excluding the size there are virtually no similarities to the Touareg that disappeared from our market a few years ago. The Atlas Cross Sport is an Atlas through and through, and this means that it's not quite as premium as the Touareg. Despite this, the interior is quite nice to look at and more premium feeling than the competing Nissan Murano (reviewed here). Some plastics are definitely visible, but in typical German fashion, they feel higher end than other offerings. Various interior combinations are available, and the dashboard is sharp-looking and nice to the touch. Heated and ventilated seats are available, as is the 10.25-inch Digital Cockpit instrument cluster.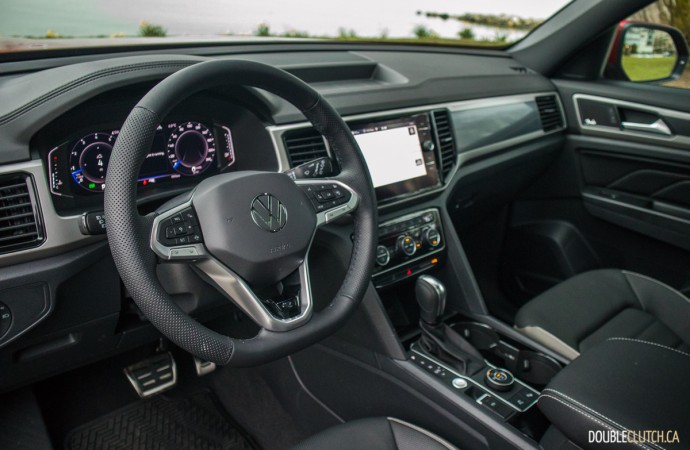 Like the Atlas, interior volume is generous, with a plethora of space for four adult passengers (or five in a pinch). Behind the rear seats there's space for 1,141 liters of cargo, and folding them down reveals 2,203 liters of space. Space for front passengers is up there, with no room compromised by console bits jutting in as in the Ford Edge (reviewed here). The infotainment system is easy to use, the touchscreen is quick to respond, and supports both Apple CarPlay and Android Auto connectivity.
Two powertrains are available and shared with the full-size Atlas, starting with the entry-level 2.0-liter turbocharged four-cylinder that's a staple across Volkswagen's lineup. In this application output is 235 horsepower at 4,500RPM and 258 lb-ft. of torque at 1,600RPM. The real sweetheart here is the 3.6-liter V6, offering 276 horsepower at 6,400RPM and 266 lb-ft. at 3,600RPM. Both engines are mated to an eight-speed automatic transmission and standard 4MATIC all-wheel-drive on all Canadian models.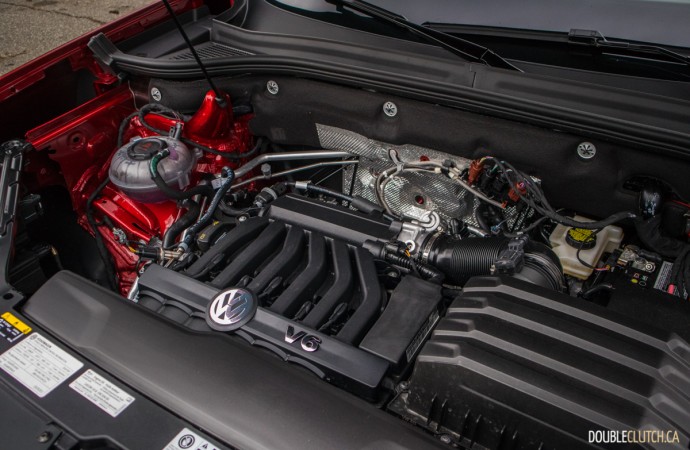 The V6 is extremely smooth in operation and also quiet, but it's not nearly as quick as we expected it to be. The 2.0T is torquey and feels livelier than the numbers would lead you to believe. The MQB platform is a bit on the firm side when compared to soft rivals like the Murano, but really comes alive in its ability to provide confidence in all driving situations. Sprinting at highway speeds is no issue, with the Atlas Cross Sport in typical VW form dominating the road while keeping occupants coddled and comfortable. The steering is light, though as expected from a crossover, there's plenty of body roll. It's worth mentioning that most rivals only offer six-cylinder engines, so the availability of a four is somewhat a rarity.
Both engines of the Atlas are rated to operate just fine on 87-octane regular fuel in the 70-liter tank. Four-cylinder models are rated at 12.6L/100km city and 10.4L/100km highway, for a combined 11.7L/100km. Jump into the peppy V6 and you'll be graced with 14.3L/100km city and 10.7L/100km highway, for a 12.7L/100km average. It's a bit on the thirsty side, especially considering we've observed sub-10L/100km highway numbers from most three-row six-cylinder crossovers in this price range. We'll be reporting back on real-world fuel efficiency once we've had a chance to test it on our home turf for an extended period.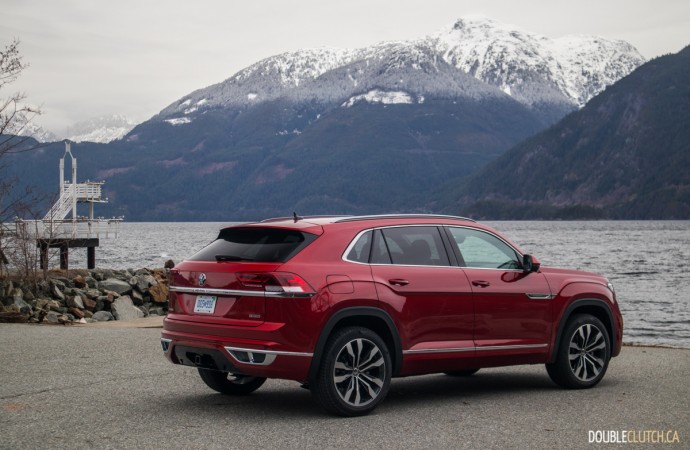 Pricing for the 2020 Atlas Cross Sport starts at $38,995 for the Trendline 2.0, and $47,395 for the entry-level V6, which starts at the Comfortline trim level. Comfortline and Execline models are available with both engines, with the range-topping Execline 3.6 at $54,495. Standard features across the board include hill descent control, blind spot monitoring, autonomous emergency braking, rain-sensing wipers, and LED headlights and taillights.
Active safety features such as adaptive cruise control and park assist are only available on Comfortline and up – it would be appreciated to see adaptive cruise included across the board as it's standard on many much-cheaper vehicles. An optional R-Line Package is available on the Execline trim and adds 21-inch wheels (over the standard 20-inchers), stainless steel pedals and sport appearance kit for an additional $1,690. The full-jam Execline with R-Line looks seriously top-notch and is a winner in the segment as far as appearance is concerned.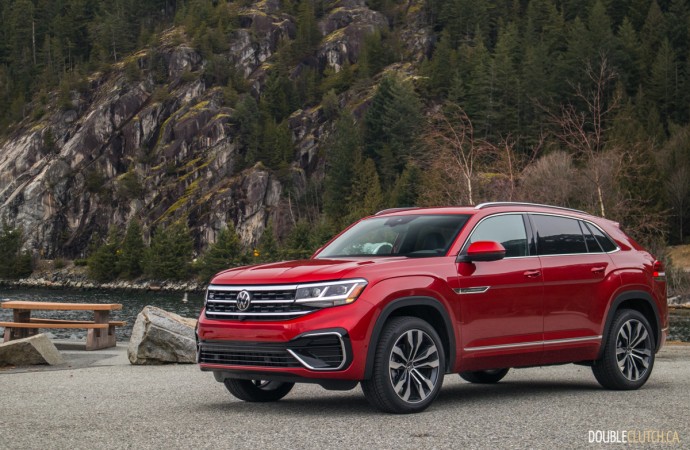 Sitting above the Tiguan in the VW family, the Atlas Cross Sport's immediate competition lies with the aforementioned Murano, Edge, and Honda Passport (reviewed here). The lack of a third row disallows it from playing ball with the likes of the Toyota Highlander, Subaru Ascent and Honda Pilot, which is the full-size Atlas' job. The Cross Sport and Passport (try to say that five times really quickly) remain our favourites of the bunch, with the Volkswagen offering a bit more style and a much more appealing interior while the Honda focuses wholly on functionality and practicality. Wildcard: the Jeep Grand Cherokee is also a great option in this class, but can get expensive if optioned up.
Entering a hot segment is never easy, but the 2020 Volkswagen Atlas Cross Sport has come in relatively quietly with a mission to offer outdoorsy young buyers, or empty nesters a European alternative to some popular Japanese and American entries. Its tried and tested underpinnings are a strong point, as are the sharp driving dynamics and amicable driving personality. If you're looking for a two-row crossover with some premium feel to it, the new Atlas Cross Sport is probably right for you – just don't call it a Touareg.

See Also:
2019 Nissan Murano Platinum
2019 Honda Passport Touring
2019 Ford Edge Titanium